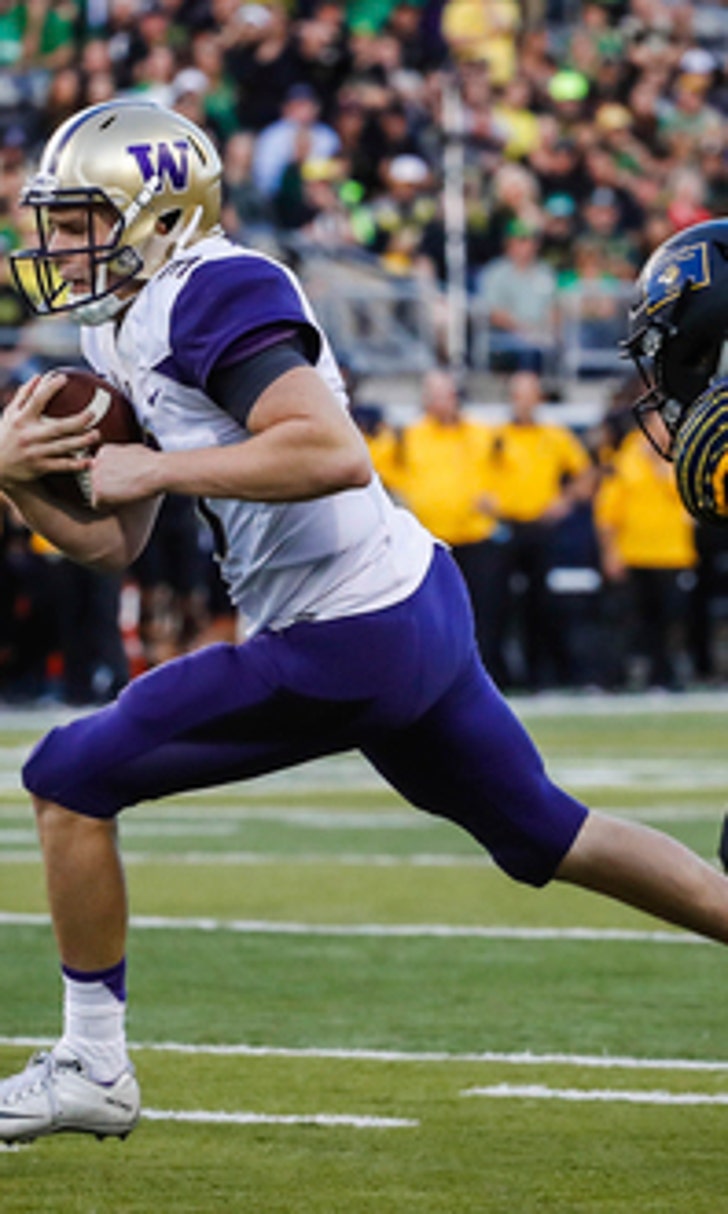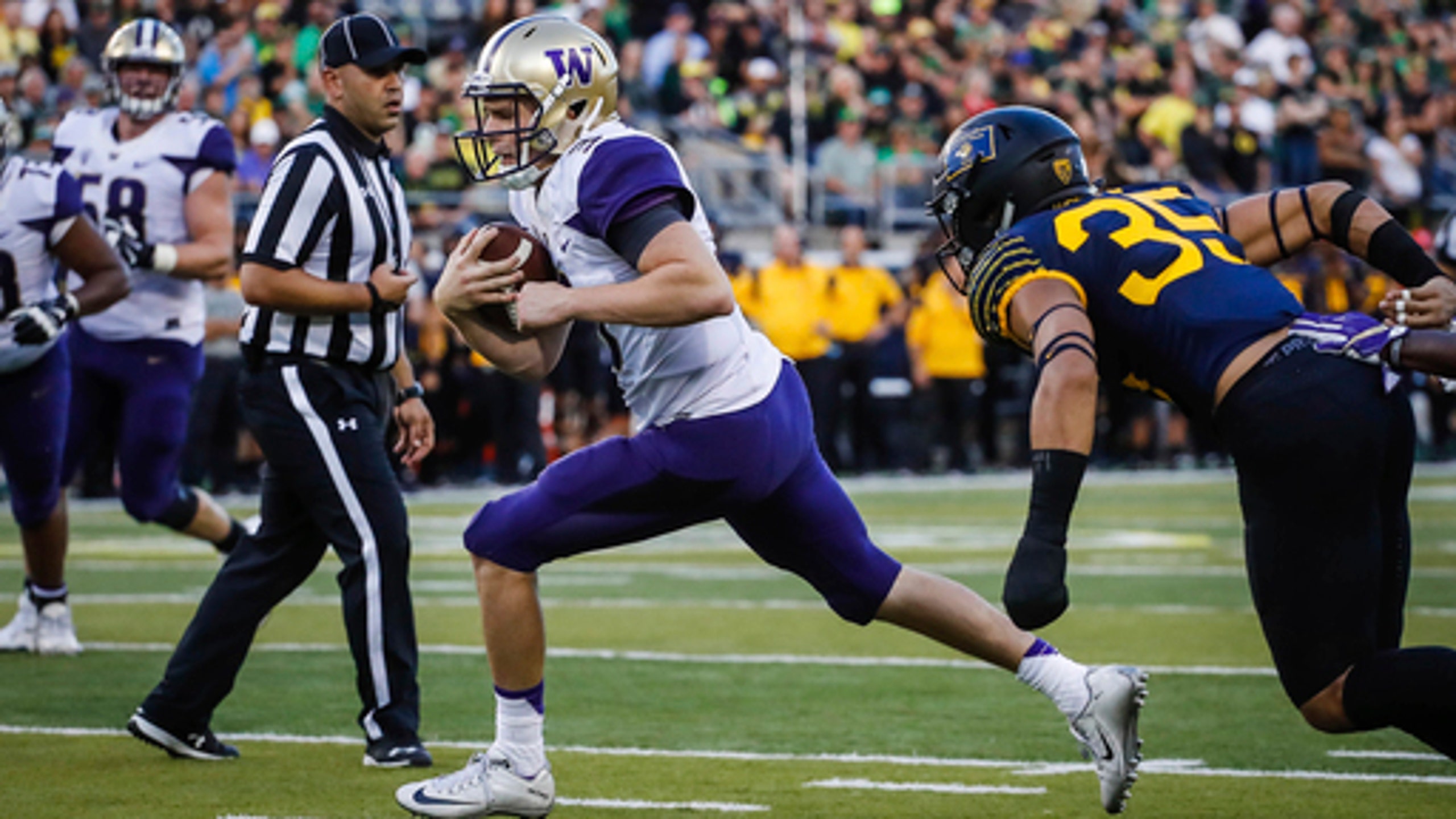 Washington beats Oregon 70-21 to snap 12-game losing streak
BY foxsports • October 9, 2016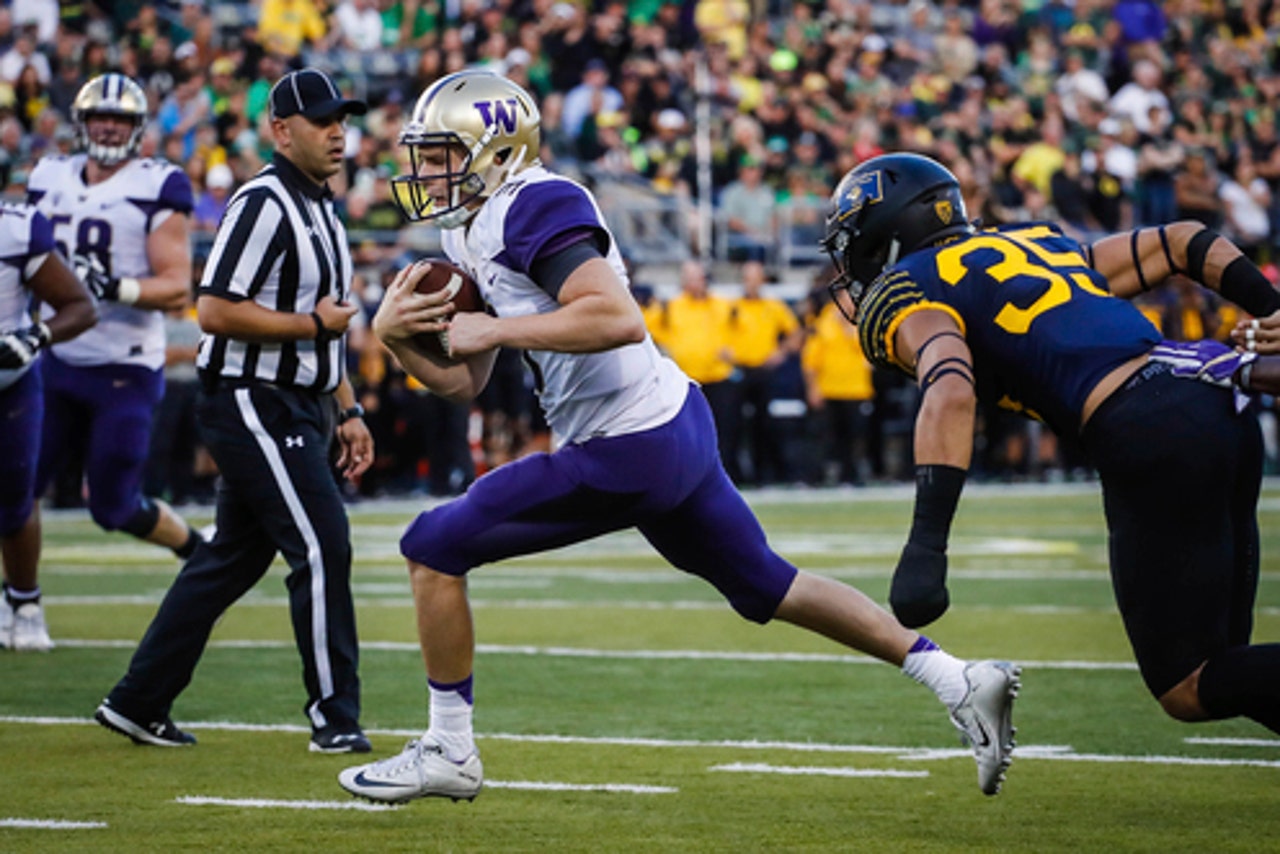 EUGENE, Ore. (AP) Jake Browning threw for 304 yards and a school-record six touchdowns and ran for two more scores and No. 5 Washington snapped a 12-game losing streak against Oregon with a 70-21 victory on Saturday night.
Myles Gaskin ran for 197 yards and a touchdown for the undefeated Huskies, who have won nine straight games going back to last season. Dante Pettis caught eight passes for 134 yards and two touchdowns, while John Ross had nine catches for 94 yards and three scores.
''Everybody is going to talk about the yards and touchdowns, but I was just doing my job, going through my reads,'' Browning said. ''I don't think there was anything outside of what I was supposed to do.''
Freshman Justin Herbert made his first college start and threw for 179 yards and two touchdowns for the Ducks, who continued their dramatic slide with a fourth straight loss. Oregon (2-4, 0-3 Pac-12) hadn't lost four straight since the 2006 season.
''I wish we could have kept the streak (against Washington) alive because I know how much that means to everyone here,'' Herbert said.
Herbert was intercepted on his first pass of the game, and Washington went on to score on the ensuing series on Browning's 1-yard touchdown run.
Washington (6-0, 3-0) upped the lead on Browning's 3-yard TD pass to Ross. Rose also scored on a 15-yard pass from Browning as the Huskies built a 28-0 lead. Browning scored on a 7-yard keeper to put Washington ahead 35-7 at the end of the first half.
Pettis caught touchdown passes of 10 and 28 yards as the Huskies built a 63-21 lead in the opening minutes of the final quarter.
''We don't really focus on the past, we try to focus on the present, but there's a lot of people back home who really, really wanted this so it feels good,'' Pettis said.
A local prospect out of Eugene's Sheldon High School, Herbert is the first true freshman to start for the Ducks since Chris Miller in 1983. Graduate transfer Dakota Prukop started at quarterback in the Ducks' first five games.
''It's like a broken record but we just have to keep getting after it,'' said Oregon defensive coordinator Brady Hoke. ''That's the only way to fix it.''
POLL IMPLICATIONS
The decisive victory in a hostile setting - and the end of that 12-game losing streak - should reassure any doubters of Washington's place in the top 10, although Oregon is clearly struggling this season. The most points scored against Oregon ever was 71 by Texas on Dec. 6, 1941 (71-7 loss).
TAKEAWAYS
Oregon: Despite his obvious inexperience and that initial interception, Herbert showed potential. At one point in the first half he followed up a pump fake with a flip pass to tight end Pharaoh Brown. The issue for the Ducks continues to be the defense, which allowed the Huskies 682 yards in total offense.
Washington: The Huskies with Browning continue to be an offensive force, completely dominating Oregon's re-tooled D under Hoke. Washington had already led the Pac-12 with an average of 45.4 points per game, and they went up 21-0 in the first quarter alone at Autzen Stadium.
KEY INJURY: Oregon was without senior receiver Dwayne Stanford with an undisclosed injury. He was third on the team with 13 catches for 175 yards and a touchdown. In his honor, Brown wore his No. 88 jersey against the Huskies. When Brown was injured in 2014, Stanford wore his No. 85 jersey.
UP NEXT
Washington: The Huskies return home for a bye next week before hosting Oregon State on Oct. 22
Oregon: The Ducks also get a bye next weekend before a Friday night game on Oct. 21 in Berkeley.
---
AP college football website: collegefootball.ap.org
---