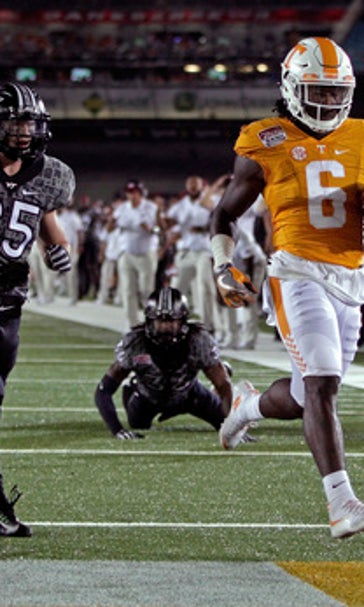 Vols' Kamara carries momentum into matchup with his old team
BY foxsports • October 11, 2016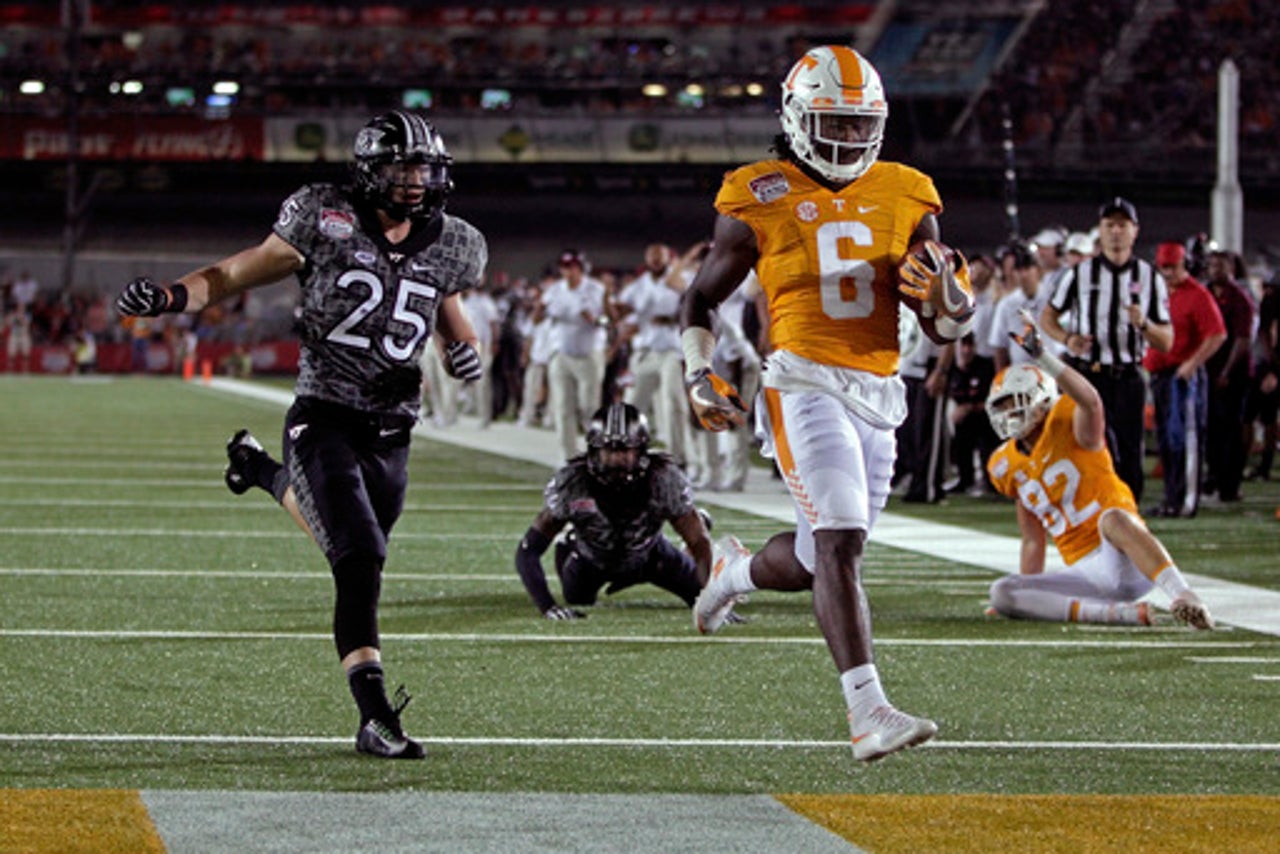 KNOXVILLE, Tenn. (AP) Tennessee running back Alvin Kamara wants to carry the momentum of a career-best performance into Saturday's showdown with his former team.
Kamara gained a school-record 312 all-purpose yards - the second-highest total by a Football Bowl Subdivision player all season - in a 45-38 overtime loss last week at No. 6 Texas A&M, which was ranked eighth at the time.
''I feel like I could have done more, but I feel like it was a pretty good statement game,'' Kamara said.
Tennessee would love to see Kamara make a similar statement Saturday when the ninth-ranked Volunteers (5-1, 2-1 SEC) host No. 1 Alabama (6-0, 3-0).
Kamara began his college career at Alabama, though he never played a down for the Crimson Tide. After redshirting in 2013, Kamara transferred and spent the 2014 season at Hutchinson (Kansas) Community College before arriving at Tennessee last year.
This marks the second time Kamara has faced his former team. He had five carries for 21 yards and four catches for 44 yards in a 19-14 loss at Alabama last season.
''I do still have friends at Alabama,'' Kamara said. ''We talk and just pray for each other's safety every game and just keep up with each other. It's another game. I was at Alabama a couple of years ago. I'm at Tennessee now, loving my teammates, loving where I'm at right now. That's all I'm focused on.''
Kamara was suspended twice and struggled with injuries during his brief stint at Alabama, yet the junior from Norcross, Georgia, has developed into a leader at Tennessee.
His emergence has caught the attention of his former coach.
''Alvin, to me, is an outstanding player,'' Alabama coach Nick Saban said. ''I think he's got great speed. He's very instinctive. He's a very good receiver, very good at running the ball inside or out, and (he) uses his speed to his advantages on the perimeter.''
Kamara commands such respect from his teammates that he was the only non-senior chosen as one of four team captains this season.
''When he speaks, guys listen,'' quarterback Joshua Dobbs said.
Kamara has shown his leadership in the way he's handled his situation as part of a running-back tandem with Jalen Hurd. Through Tennessee's first five games, Hurd had 101 carries and seven catches while Kamara had 38 rushes and 12 receptions.
With an unspecified injury sidelining Hurd last week, Tennessee needed a big performance from Kamara. He responded by rushing for 127 yards and two touchdowns on 18 carries while also catching eight passes for 161 yards and one score.
His 18-yard touchdown reception with 41 seconds left helped force overtime as Tennessee erased a 28-7 deficit. Kamara also returned three punts for eight yards and had a 16-yard kickoff return.
''I don't think I've been around a performance like that in a long time,'' Tennessee coach Butch Jones said.
Kamara's 312 all-purpose yards broke the school record of 294 set by Chuck Webb against Mississippi in 1989. The only Football Bowl Subdivision player to have more all-purpose yards in a game this season is Florida State's Dalvin Cook with 329 against South Florida.
His performance was so noteworthy that even Los Angeles Rams running back and former Georgia star Todd Gurley tweeted ''Stop being so good bro (at)A-kamara6,'' a reference to Kamara's Twitter handle. Kamara said he has spoken with Gurley since the game.
''He was just (saying to) keep working hard and you're going to receive everything you're looking for,'' Kamara said.
Kamara's big game may give him a bigger role, even whenever Hurd returns.
Jones hasn't updated Hurd's injury status and potential availability this week. Kamara says he hasn't gotten frustrated about his lack of carries in certain games, but his performance last week spoke volumes about his capabilities.
''I just do what's asked of me,'' Kamara said. ''Good things come when you do what you're supposed to do.''
---
AP college website: collegefootball.ap.org
---
AP Sports Writer John Zenor in Tuscaloosa, Alabama, contributed to this report.
---