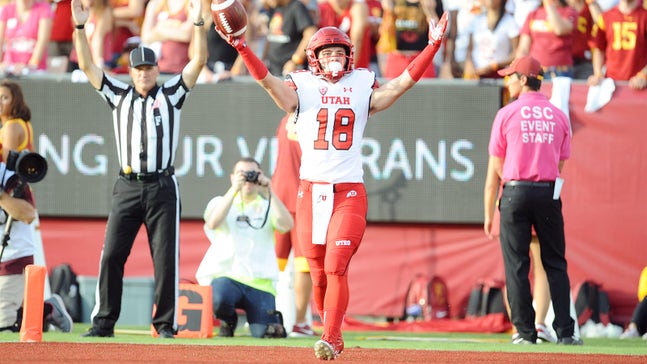 Utah-Washington Preview
Published
Nov. 3, 2015 9:32 p.m. ET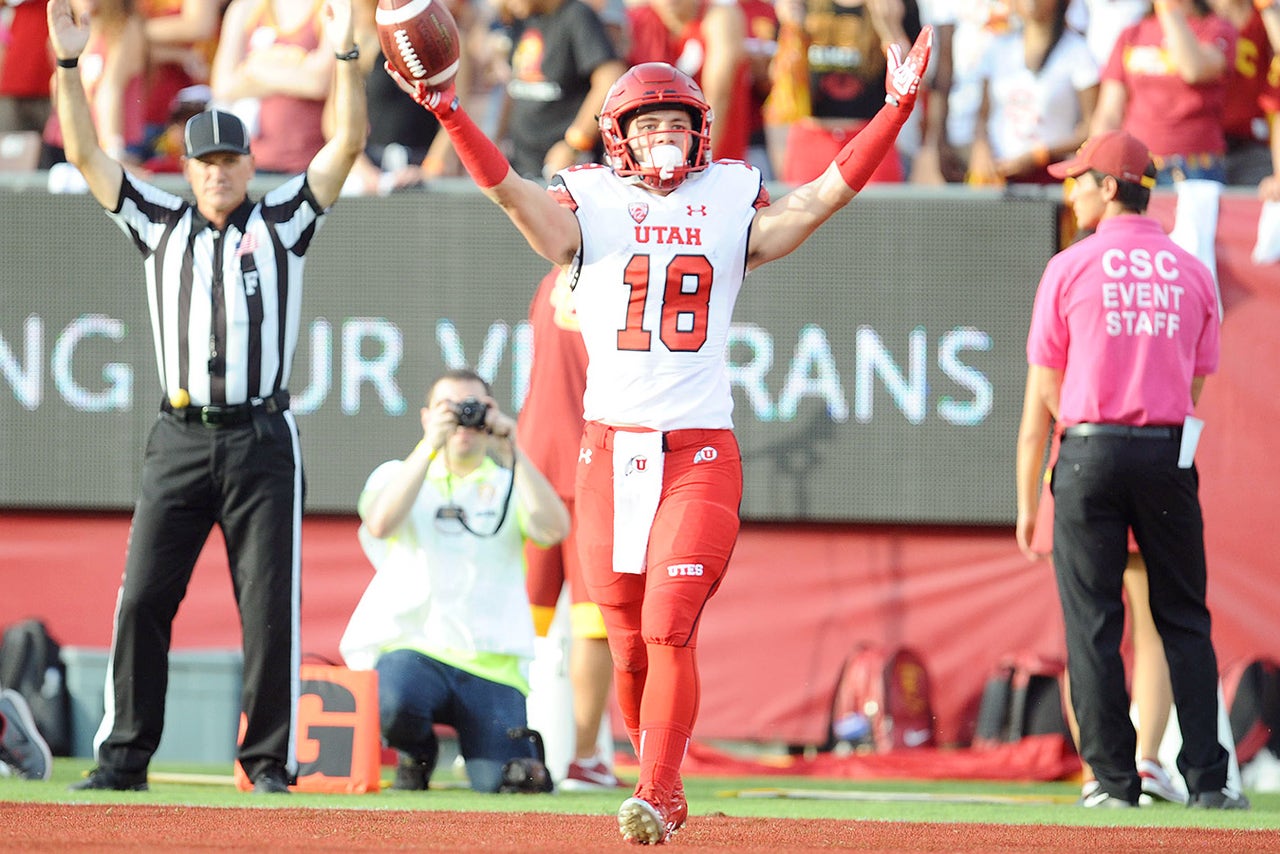 The Pac-12 is full of high-scoring offenses, but Utah is trying to ride its stout defense to the conference championship game.
Points may be at a premium Saturday when the 13th-ranked Utes visit Washington and the league's best scoring defense.
Utah (7-1, 4-1) bounced back nicely from its first setback, winning 27-12 last Saturday against Oregon State after losing 42-24 at Southern California a week earlier. The Utes found themselves at No. 12 in the season's first College Football Playoff rankings Tuesday and control their destiny to play in the league's title game in Santa Clara on Dec. 5. They own a one-game edge over UCLA in the Pac-12 South and host the Bruins in their second-to-last game Nov. 21.
"It was very positive to be able to put the previous week behind us and just move forward," coach Kyle Whittingham said. " ... Washington is the one team we haven't beaten yet since we joined the Pac-12. That's a challenge for our guys right there to step up."
Whittingham's group has limited conference foes to 23.2 points per game, a number made more impressive by the fact that eight Pac-12 teams are averaging 29.0 or better. The Utes have been particularly effective against the run, holding opponents to 3.5 yards per carry.
Offensively, though, Utah has been unsteady at times. The unit scored 14 in the first quarter against the Beavers but was shut out in the second and third.
"Started out really fast offensively. We had almost 200 yards in the first quarter and two touchdowns and then we hit a lull for a long time. We fired it back up again after a few quarters so we have to figure that out," Whittingham said. "We can't be as inconsistent offensively as we have been. Even though we did a lot of nice things, we need to be more consistent."
Improvement this week could be difficult to come by against the Huskies (4-4, 2-3), who are allowing 20.4 points per game in Pac-12 play. Arizona had averaged 41.8 points in its first eight contests before losing 49-3 at Washington last Saturday.
The blowout may have been cathartic in a sense for the Huskies, whose three conference losses were each by six points or fewer.
"I've been saying we're going to get good if we can persist," coach Chris Petersen said. "If we can continue to stick to this process which is really, really difficult to do when all the results aren't coming right away."
Petersen will be game planning to slow down Utah star Devontae Booker, who ranks eighth among FBS running backs with 156.0 yards from scrimmage per game. He has accounted for 43.2 percent of his team's scrimmage yards and his 232 touches lead the nation.
Despite those numbers, Booker isn't necessarily gaining much attention nationally.
"I've always been pretty much underrated my whole career playing football. It's nothing new," he said. "Even if I did have all the limelight and everything, I'd still approach it the same way as I am now."
Whittingham was pleased with quarterback Travis Wilson's improved play against Oregon State. After being intercepted four times by the Trojans, Wilson was 14 of 17 for 198 yards and a TD, also rushing 14 times for 56 yards as Utah played its fourth turnover-free game of the year.
"This game I just focused on holding on to the football but wanted to take some shots down the field. I was glad we were able to land a couple near the end of the game," Wilson said. "I had a lot to prove after the performance in the USC game. I just wanted to give it my all today and leave it out on the field."
Washington freshman Jake Browning was 16 of 24 for 263 yards and a season-high four TDs against Arizona after missing the previous week's loss at Stanford with a shoulder injury.
The Huskies have won all eight meetings, including 34-15 in Seattle in the most recent one in 2012.
---
---