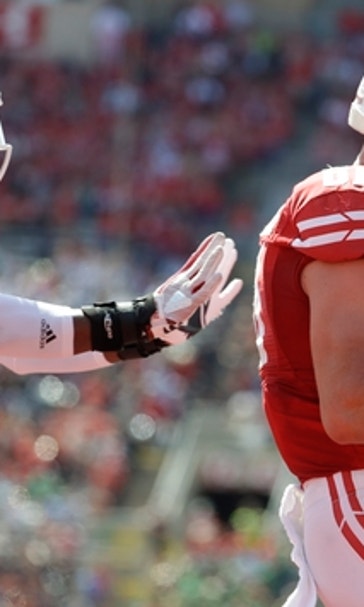 Tight end usage up in the Big Ten this season
October 19, 2017

Tight ends are back in vogue in the Big Ten.
There has been a noticeable rise in the use of players at the end of the line as receivers in 2017. Tight ends in the Big Ten have combined to catch 47 passes a week this season, up from 36 in 2016.
Wisconsin senior Troy Fumagalli leads the way with 18 receptions for 267 yards and three TDs, followed by Indiana's Ian Thomas (17 receptions, 260 yards and three TDs) and Purdue's Cole Herdman (11 receptions, 250 yards and two TDs).
Penn State's Mike Gesicki is averaging just eight yards a catch, but he has 22 of them with four touchdowns for the second-ranked Nittany Lions.
But perhaps no tight end in the league has had a bigger impact on his team's success than Thomas.
Thomas was rated the second best junior college tight end in the country coming out of Nassau Community College in Garden City, New York. But he caught just three passes in 2016 - two of them in the Foster Farms Bowl against Utah - before emerging in 2017.
Thomas had two touchdown receptions in a season-opening loss to Ohio State and has been a staple for Indiana, which averaged less than a catch a game from its tight ends before Thomas' breakout season.
''That's a big part of our offense and he's a matchup problem for sure,'' Indiana coach Tom Allen said of the 6-foot-5, 248-pound Thomas. ''We said it all along: that he was going to be a big part of what we wanted (to do).''
Fumagalli and Herdman - who along with the emerging Brycen Hopkins has given Purdue a 1-2 punch at tight end - have played major roles for the teams for years, so it's not a surprise to see them among the league leaders.
But the emergence of Iowa's Noah Fant and T.J. Hockenson has allowed the Hawkeyes to expand their offense.
Fant came on late last season as a freshman and has 13 catches for 201 yards and three touchdowns in 2017. Hockenson, a redshirt freshman, has become as a valuable asset for sophomore quarterback Nate Stanley across the middle. He's caught 10 balls for 157 yards and a score.
''Hockenson hadn't played a down here, and I think he's one of the better ones or has a chance to be one of the better ones we've had. Noah Fant has been excellent for us,'' Iowa offensive coordinator Brian Ferentz said.
At Michigan, sophomore Sean McKeon has helped the Wolverines fill the void left by star Jake Butt's graduation.
Butt was the Big Ten's tight end of the year in both 2015 and 2016, combining for 97 receptions and seven TDs. McKeon hasn't found the end zone yet, but his 15 grabs for 187 yards are a big reason why Michigan is up a catch a game from its tight ends in 2017 despite losing one of the best in school history in Butt.
Rutgers might not be a contender in the East like Michigan. But the Scarlet Knights have gotten better, and transfer Jerome Washington is a big reason why.
Washington has 16 receptions, matching the total for all of Rutgers' tight ends in 2016.
''Jerome has been a great addition to the offense. He's a great combination of a receiver and a run blocker. He can play on the line. He can flex out. He can do a lot of things for us. He's got great hands, really good route runner,'' Rutgers coach Chris Ash said.
---
More AP college football: http://collegefootball.ap.org and https://twitter.com/AP-Top25
---
---