South Dakota Coyotes
South Dakota Coyotes
Three teams in hunt for MVC title
Published
Nov. 19, 2015 3:45 p.m. ET

(STATS) - While three teams are still in the running for at least a share of the Missouri Valley Conference crown, several others hope to pad their playoff resume on the final weekend of the regular season.
Four-time defending national champion North Dakota State can secure its fifth straight conference title on its Senior Day. The second-ranked Bison appear to have the easiest road of the three contenders, needing a win over Missouri State (1-9, 0-7) at the Fargodome.
Quarterback Easton Stick has shined in place of injured starter Carson Wentz, a Senior Bowl invitee who has missed the past four games with a broken wrist but could return in the FCS playoffs. The freshman might not be as talented a passer as Wentz but has been more dangerous with his legs, rushing for 382 yards in four starts.
Stick's second touchdown run last Saturday came with 35 seconds left as North Dakota State rallied back from a 14-point, fourth-quarter deficit in a 27-24 win at Youngstown State.
"It was good for him to have a game like that where he had to go make some plays on the road because we may have to do that in the playoffs," coach Chris Klieman said.
The Bison (8-2, 6-1) have won the last four meetings with the Bears by an average of 21.0 points, including a 45-10 road victory last November.
Missouri State has allowed 50.5 points per game while losing a program record-tying eight straight by an average of 40.5.
ISU SEEKS HISTORY=
The sixth-ranked Redbirds (8-2, 6-1) can clinch a share of the title in back-to-back seasons for the first time in school history and reach the playoffs in consecutive years for the first time since 1998-99 with a win over visiting South Dakota (5-5, 3-4).
It's not likely to come easy against the much-improved Coyotes, who handed North Dakota State its only loss on Oct. 17.
Illinois State does have Marshaun Coprich to lean on after the star running back had 254 yards - four short of his career high - and three touchdowns in last Saturday's 42-21 win at Southern Illinois.
South Dakota got a close-up look at Coprich last November when he rushed for 221 yards and two scores in the Redbirds' 45-26 road victory. The Coyotes do rank third in the MVC against the run this season, allowing 136.8 yards per game.
"He's been tremendous for us," Redbirds coach Brock Spack said. "... He's physical and tough and really improved. I'd like to think he's one of the better players in the country."
Quarterback Tre Roberson also has been effective running the ball, totaling 302 yards on 6.4 per carry with six touchdowns in his last four games. He threw for 226 yards and ran for 71 while totaling three TDs in last year's meeting with South Dakota, which has lost all four meetings with Illinois State.
"They're a two-headed monster, that's for sure," Coyotes coach Joe Glenn said. "Tre has been as good throwing against us as he has running. That's kind of what scares you when you get a guy like that."
Anthony Warrum has 652 yards receiving and eight touchdowns over the last four games for Illinois State, which has won an FCS-best 17 consecutive home games.
SO YOU'RE SAYING THERE'S A CHANCE=
South Dakota State (8-2, 5-2) can finish tied atop the MVC race by winning at Western Illinois (5-5, 4-3) while Illinois State and North Dakota State both lose. That would also give the fifth-ranked Jackrabbits their first nine-win regular season since 1979.
They've been one of the nation's best road teams at 4-0, including a season-opening 41-38 win at Kansas and a 30-23 victory at South Dakota last Saturday. They trailed by 10 before outscoring the rival Coyotes 20-3 in the final quarter en route to their third straight win.
Coach John Stiegelmeier said freshman Taryn Christion and junior Zach Lujan will continue to share the quarterbacking duties even though Lujan sparked the club by completing six of eight passes upon entering against South Dakota.
"They're both healthy, they're both content and I know they're both competitive and want to play every down. So it's good and it's unique," Stiegelmeier said.
Jake Wieneke finished with 10 receptions for 159 yards and three touchdowns in last season's 59-24 home win over Western Illinois. He's totaled 17 catches for 445 yards and three scores in his last three games overall.
The Jackrabbits have won seven straight meetings in this series.
PLAYOFF HOPEFULS=
Although 6-5 usually hasn't been good enough to qualify for the playoffs, Western Illinois, Youngstown State (5-5, 3-4) and South Dakota hope to make one last case on the final weekend. No. 15 Northern Iowa (6-4, 4-3), meanwhile, can move closer to securing its postseason berth with a win over visiting Southern Illinois (3-7, 2-5).
"I think the strength of our league speaks for itself," Leathernecks coach Bob Nielson said. "Any team that can finish .500 in our league is very good just because of the depth and quality of the teams. That's kind of where we're at in our league."
---
---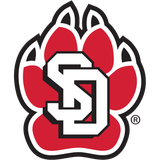 Get more from South Dakota Coyotes
Follow your favorites to get information about games, news and more
---