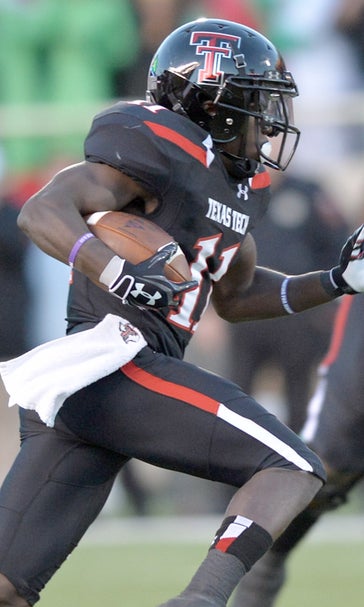 Texas Tech WR Jakeem Grant has first quarter of a lifetime
October 31, 2015

Texas Tech receiver Jakeem Grant raced his way to 210 all-purpose yards in the opening 11 minutes of Saturday's game to help the Red Raiders grab an early lead on No. 12 Oklahoma State.
Grant ran a kickoff back 100 yards for a touchdown with 4:33 to go in the first quarter to answer an Oklahoma State touchdown that had cut Texas Tech's lead to 17-7.
Four minutes into the first quarter, he came up with a play that could go down as the best individual effort in the nation all season. With the ball at its own 3-yard line, Tech quarterback Patrick Mahomes dropped off a short pass to Grant at the 4. Grant then went into video-game mode, cutting and juking east, west, south, north, zig-zagging and weaving through would-be tacklers until he was finally dropped inside the Oklahoma State 10-yard line.
Texas Tech would cap it off with a touchdown for a 14-0 lead.
Grant finished the game with 13 catches for 178 yards, but despite Texas Tech taking a 10-point lead into the half, Oklahoma State rallied for a 70-53 win on the road and improved its season mark to 8-0.
---