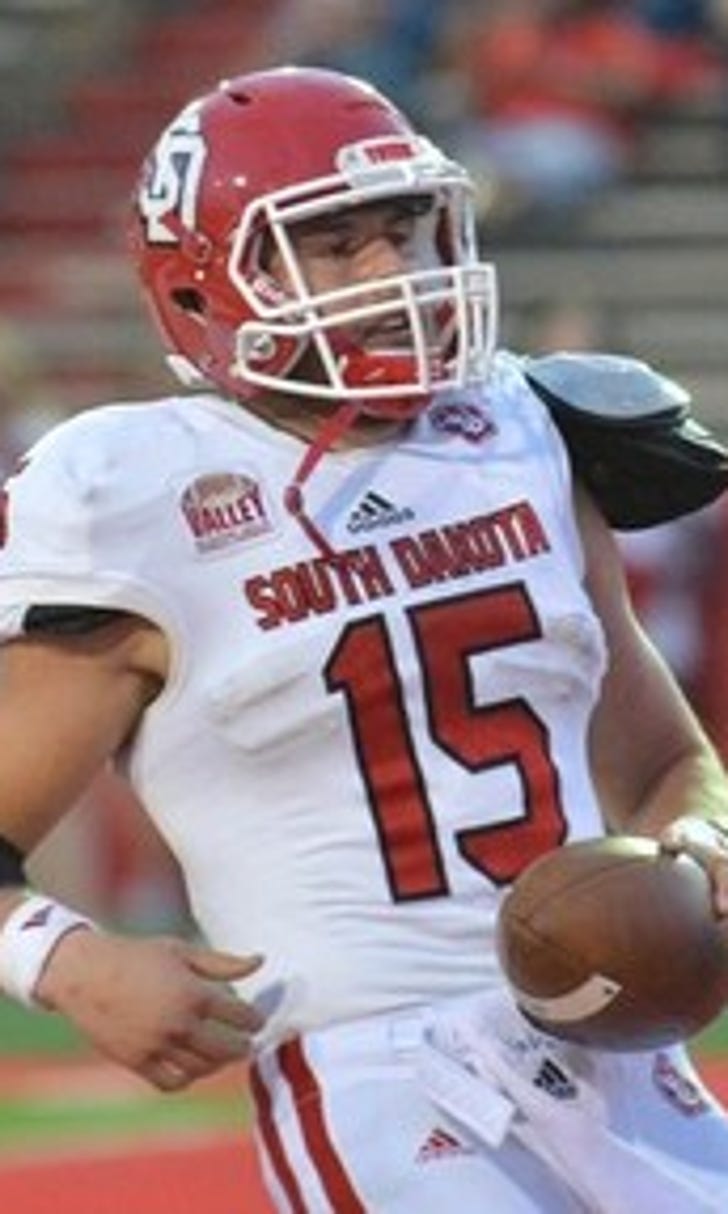 South Dakota pounds rival North Dakota
BY AP • September 16, 2017
(STATS) - South Dakota let a 20-point second-half lead slip away in a loss to rival North Dakota last year. The Coyotes made sure that wouldn't happen again Saturday - their matchup was over by halftime.
The No. 23 Missouri Valley Conference squad kept making its lead grow bigger until there was no coming back by No. 10 North Dakota in a surprising, 45-7 rout at USD's DakotaDome.
South Dakota, which scored the first 38 points, improved to 3-0 for the first time since 2006, when the Coyotes won their first four games. They have won 15 consecutive home openers dating to 2003.
"It proves we can compete with the best teams in the country," South Dakota second-year coach Bob Nielson said.
North Dakota (1-2) gave the Big Sky its only win in five games against Missouri Valley teams last week in the two conferences' challenge series. But South Dakota overwhelmed the Fighting Hawks, outgaining them decisively in yards (575-257) and first downs (33-11) while running 34 more plays offensively.
Quarterback Chris Streveler, off to one of the hottest starts among FCS quarterbacks, had 352 total yards and three touchdowns (two rushing, one passing). Kai Henry led a balanced running attack with 80 yards on 12 carries, rumbling for touchdowns of 8 and 34 yards.
"Our staff put together really good plans on both sides of the football today. Our guys went out and executed it," Nielson said. "We played with a lot of confidence and a lot of enthusiasm."
North Dakota's only touchdown came on a Keaton Studsrud 10-yard pass to Travis Toivonen in the third quarter. John Santiago accounted for 222 all-purpose yards
"This is one of those games you really have to learn from," UND head coach Bubba Schweigert said. "We can't just flush this one way. Early on, it was penalties that cost us. We had third-and-two and third-and-three that turned into third-and-long situations. You just can't do that.
"Then we couldn't get stop their run game. We had chances to get them off the field and could not come up with a stop. That was the most disappointing part of it.
Despite the loss, North Dakota holds a 61-30-5 series.
---
---