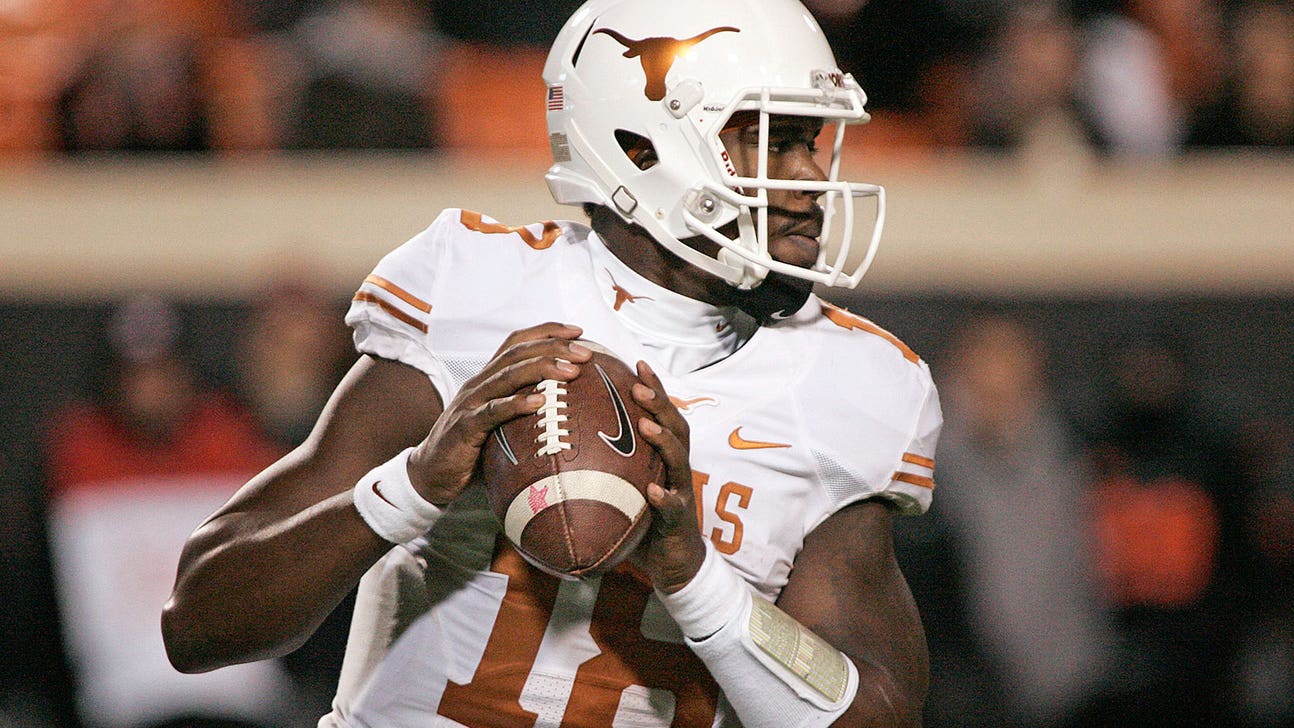 Should Texas have moved to the SEC or Pac-12 after all?
Published
Jun. 17, 2015 2:43 p.m. ET

Editor's note: The following question was featured in Stewart Mandel's June 17 Mailbag.
Click here for the full Mailbag, and send future questions to stewart.mandel@fox.com.
***
So five years after realignment hell broke loose, and after five years of Texas being the picture of mediocrity, what do you think? Did Texas make the right move by staying in the Big 12, a conference that seems to be an afterthought of the Power 5? Or do you think it would have been better off moving to the Pac-10 or SEC?
-- Gerard, New Milford, Conn.
Sometimes it's hard to see the bigger picture midstream. Yes, Texas has sunk into mediocrity since that decision to remain in the Big 12 -- but there's almost no causation between the two (unless you think the 'Horns should have moved west to escape Baylor's offense.) Case McCoy and Tyrone Swoopes would have struggled whether they were facing Oklahoma State or Oregon State. In that winners and losers column I tried to avoid rendering judgments based on a few seasons of football performances and rather based on likely long-term potential.
Selfishly, I would have loved to see Texas and Oklahoma come west, but realistically, Texas made the right move staying put. It gets to continue being the big bully ... er, fish, in its small pond rather than one of many voices in a 16-team conference. It's one of two legacy programs in a conference rather than being one of many in the SEC (which gladly would have taken the 'Horns). And those other leagues likely wouldn't have allowed the Longhorn Network, which is putting $300 million in Texas' coffers. I also don't buy the Big 12 as an afterthought. It may seem that way after last year's playoff snub and/or because Baylor and TCU are the current darlings. If Charlie Strong ever gets the 'Horns in order, their conference affiliation won't prevent them from contending nationally.
***
For readers: Do you think Texas' decision to stay put will pay off in the long run? Let us know in the comments below.
And for more on the subject, click on the embedded player above. Chip Brown of HornsDigest.com joins the Audible to talk about how the Longhorns drove realignment chaos five years ago and almost killed the Big 12.
Stewart Mandel is a senior college sports columnist for FOXSports.com. He covered college football and basketball for 15 years at Sports Illustrated. You can follow him on Twitter @slmandel. Send emails and Mailbag questions to Stewart.Mandel@fox.com.
---