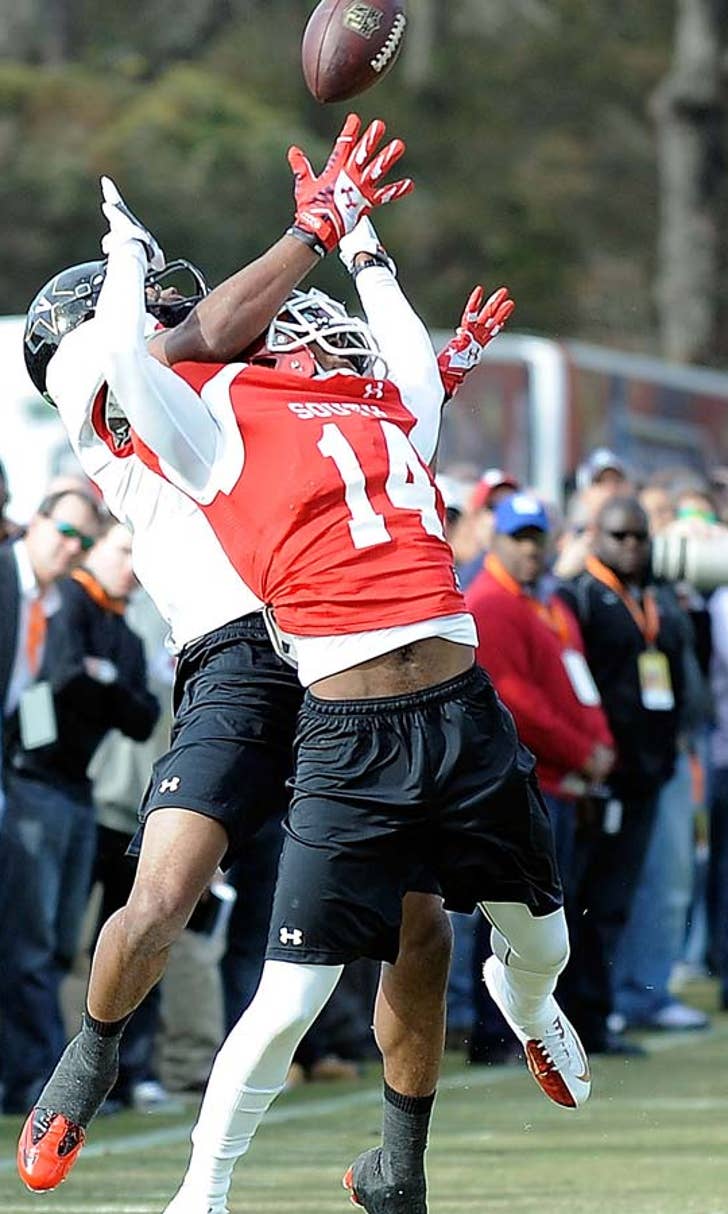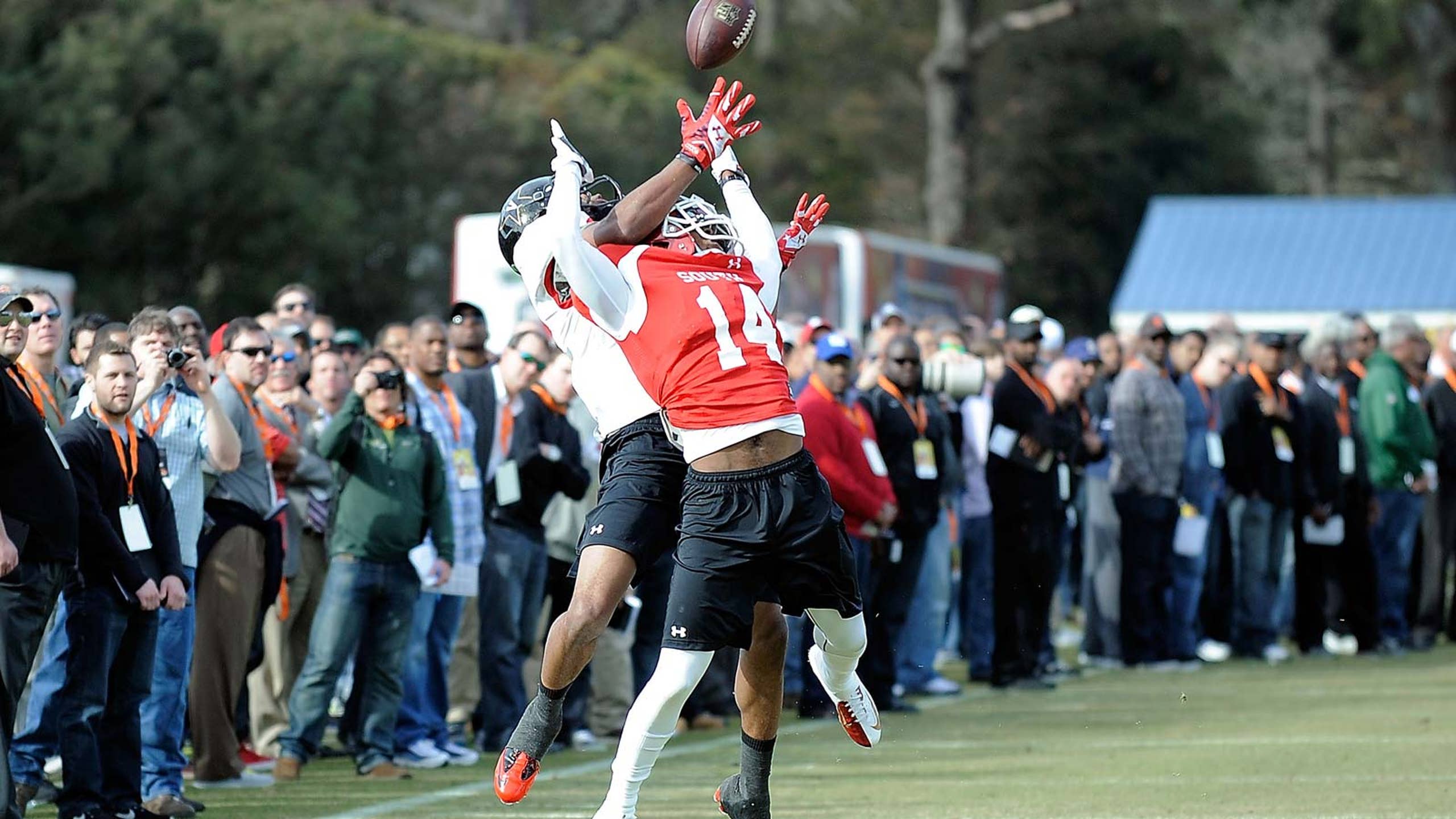 Senior Bowl: Silver lining for top CB after ACL tear sinks his stock
BY foxsports • January 22, 2014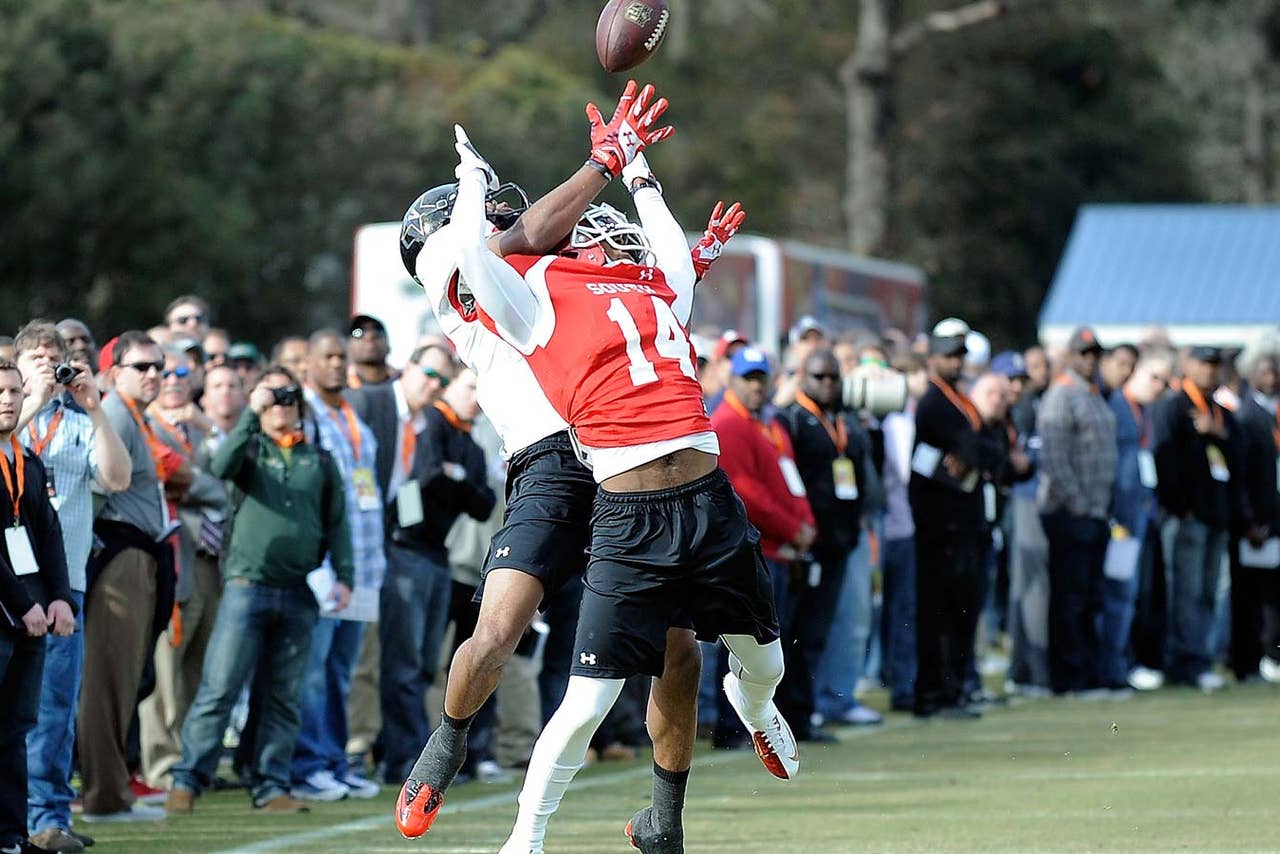 MOBILE, Ala. — Aaron Colvin was having one of the most impressive Senior Bowl showings of any cornerback in Mobile.
On a simple route in a simple drill, all of that changed.
"My spirit is just so crushed," the Oklahoma Sooner told FOXSports.com Tuesday night after tearing his ACL in practice earlier in the day. "I'm just tired of my family struggling, and it's a lifelong dream just to ball." 
Colvin was alone in his hotel room. No friends. No family. There were many other football players and coaches in Mobile, but almost every single one was a stranger. They were not his teammates. They were not his coaches.
A day that started as one of opportunity became a nightmare in one brief moment during the one-on-one period of practice on the second day of Senior Bowl workouts. In front of the watchful eyes of NFL executives, scouts and coaches, it was the period Colvin and other defensive backs had the opportunity to show they can compete at the next level.
"It was just a dig route," Colvin said. "I don't even know what happened."
The wide receiver pushed his route vertically about 12 yards, directly at Colvin, and then suddenly broke his route off and darted towards the middle of the field. In great position, Colvin read the route perfectly and his mind, body and intentions reacted with the receiver, darting in.
His knee did not. Colvin said he knew immediately it was bad, as his knee gave out and he crumpled to the field. That was the end of what had been a very productive showing in Mobile.
"The sad part is that he was having a really good camp," Clayton Lopez, who's coached defensive backs for more than a decade in the NFL including last season with the Oakland Raiders, told me. "I thought he was the best corner out there."
A secondary coach with an NFC team echoed Lopez's sentiments.
Coming into the Senior Bowl, Colvin was tabbed as a potential second- or third-round selection in the NFL Draft. The most important physical ability of a cornerback in the NFL is the quickness to recover when you get beat, because you're going to get beat. Colvin flashed that ability in workouts, consistently hanging with receivers even when he was beat off the line.
Listed at 5-foot-11 and 182 pounds, he has the necessary size and strength for his position and performed well against Texas' Mike Davis and Vanderbilt's Jordan Matthews, who a handful of coaches noted as two of the most impressive receivers at the Senior Bowl. In general terms, the quickness and fluidity with which Colvin moved was impressive for a bigger corner, one who fits a more physical brand of defense.
What does Colvin's future look like now? Obviously, the ACL injury delivers a big blow to his draft stock. He won't be selected in the second or third round. I asked one NFL scout who has studied Colvin extensively on tape if Colvin would be drafted at all after this injury.
"It's hard to find good corners," the scout said. "I think there's a good chance someone will still pick him up. If he's still there in the seventh round, I'm going to tell my people that I will be pissed if we do not take him."
The scout mentioned Chicago Bears running back Michael Bush, who suffered a broken leg during his senior season at Louisville in 2006 and slipped in the draft before Oakland took him in the fourth round.
"He had broken his leg and broke his leg badly, but a team took a chance on him and put him on the shelf," the scout said. "You see it happen. You see teams draft a guy with an injury based on what he has already put on tape."
That could be the case with Colvin, whose injury, as awful as it is for him, creates an opportunity for NFL teams to get a potential steal in the late rounds. Even as he rehabs his knee, teams will be impressed with Colvin's mind during interviews.
Colvin was an All-Big 12 first team selection as a junior and played through several injuries to earn the same honors in his final campaign as a Sooner. Despite the pain, Colvin still showed up for his teammates and made big plays.
In a text the day before OU's 33-24 victory over Oklahoma State, Colvin said, "I've been playing through this turf toe and shoulder, so it's been tough, but it is what it is. Can't cry about it."
That toughness and attitude will help Colvin through the countless hours of rehab, the many doubts that will creep into his mind and the constant wonder of why this happened. His chances of making his dream come true just got tougher, but if it's any silver lining, so will he by enduring this process.
As the scout said, good cornerbacks are hard to find. Colvin is still one of them. Come draft day, the entire Sooner nation, and even complete strangers, will be rooting for him and hoping he is surrounded by friends and family, far from a lonely hotel room in Mobile, celebrating a lifelong dream come true.
Senior Bowl notes
Dee Ford, DE, Auburn: Ford was one of the most impressive edge rushers I saw in the first couple days of workouts. When you watch him move, you think he's a linebacker or safety given his agility. At 6-2 and 240 pounds, you wouldn't think he could move as well as he does. Because of that athleticism, he was head and shoulders above the other edge rushers at practice.
Ford impressed scouts with his great ability to bend at the waist and get his pads underneath offensive linemen who are trying to hit him and knock him off his path. He's able to fight through that and continue his route to the passer without stumbling or any hitch in his giddy-up. As a defensive end, he'll be knocked by some for his size, but he'd be perfect for a team running a 3-4 defense. At 240 pounds, Ford would be able to drop back into zone coverage and matchup with both tight ends and running backs out of the backfield.
Here's film of Ford in the SEC Championship Game against Missouri:
Kyle Van Noy, OLB, BYU: I didn't see one running back block Van Noy in one-on-one pass rush drills, and there are some good backs here. Van Noy showed a variety of moves — jab step, club the arm and swim — to get past the blocker and made running backs look silly on several occasions. At 6-3 and 245 pounds, he has superior strength and great potential as a blitzer and edge rusher.
In the team period of workouts, Van Noy was aligning at the weak-side linebacker position, behind the defensive tackle, and looked good standing up in space. He showed the ability to read blocks and then manipulate those trying to block him so he remained in good tackling position on the running back. He has the athleticism to slip a block without having to engage but also the upper-body strength to use his hands to punch and shed an offensive lineman to make a play.
A lot of linebackers who are fluid and athletic like Van Noy can't also engage bigger linemen and punch and shed those blocks. But Van Noy showed the ability to do both, which gives him a chance to be a great hybrid edge rusher who can play off the ball when need be.
Here are some highlights prior to his senior season if you want to take a look:
Antonio Andrews, RB, Western Kentucky: I love Andrews' toughness. At 6-0 and 211 pounds, he's physical and brought that to workouts in Mobile. He was excellent in one-on-one pass blocking drills, stoning every rusher he faced by planting his face mask right up under their chins and finishing after the whistle.
In team sessions, he showed patience when a hole opened in the interior line and then possessed an incredible burst to get through the line. He showed off his vision on one play where the defensive end gave away the edge — that's called "losing contain" — by breaking inside. Andrews saw that and bounced to the edge, taking off for a nice gain. That combination of burst, vision and lower-body strength — along with his pass-blocking ability — endeared Andrews to the NFL types in attendance.
Here's Andrews against Tennessee last season:
Michael Sam, OLB, Missouri: Sam was a beast last season for the Tigers, ranking eighth in the country with 11.5 sacks and ninth with 19 tackles for loss, so there's no question he has talent as an edge rusher. But at 6-2, 255, the big question entering the Senior Bowl was whether or not he can stand up and play in space.
Sam has played only with his hand in the dirt up until this point, and NFL officials I spoke with were excited to see what he could do off the ball. So far, Sam has struggled a bit as a linebacker playing behind the line. He seems to be a bit out of water in that position, but it's important to remember he's had only a couple days of doing this. It's tough to backpedal for the first time.
No team expects Sam to be polished in this area when he leaves Mobile, but the rest of the week is an opportunity for him to prove he's a quick learner and show flashes that there's something more in his game than just being a hand-in-the-dirt guy.
Here's some film on Sam in the South Carolina game:
Chris Borland, ILB, Wisconsin: Borland, the 2013 Big Ten Defensive Player of the Year, is a name to keep in mind because he'll probably be overlooked by some. He measured in at 5-11 and 246 pounds, which is shorter than teams would prefer their linebackers to be; if Borland was 6-2 or 6-3, he'd probably be a first-round selection.
But sometimes too much emphasis is placed on those measurements, and a guy just has a knack for making plays. That's Borland. Anytime you pop on the film, he's making a play, and he's done the same thing since arriving at the Senior Bowl. He may not have the physical upside of others, but he still has a good chance to be a very productive player in the NFL, one who outperforms his draft slot.
Coy Wire is a college football analyst for FOX Sports 1 and writes CFB and NFL for FOXSports.com. He played college ball at Stanford before a nine-year NFL career with Buffalo and Atlanta. Follow him on Twitter @CoyWire.
---