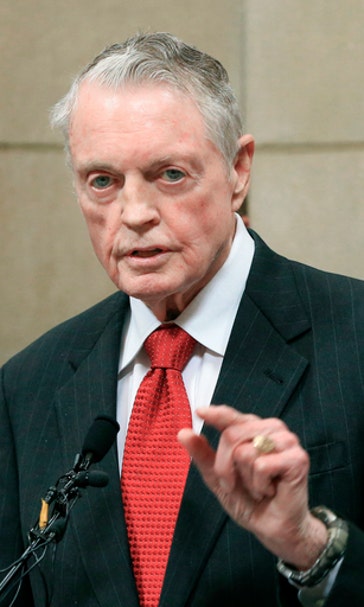 Q&A: Nebraska coaching great Osborne not slowing down at 80
February 23, 2017

It's going on 20 years since Tom Osborne last coached a football game and 10 years since the end of his three terms as a Nebraska congressman. He was Nebraska's athletic director from 2007-12, served two years on the College Football Playoff committee and continues to work as many as 50 hours a week with the teen mentoring program he started with his wife in 1991.
On Thursday Osborne turned 80. He spoke with The Associated Press on a variety of topics. Responses were edited for brevity.
AP: Does it seem like 20 years since you wrapped up your coaching career with the last of Nebraska's three national titles in four years?
Osborne: In one sense it seems like a long time ago. In another, not very long at all. Hardly any day goes by that I don't hear from some former players. That's been nice.
AP: Besides recruiting mentors for the TeamMates program , what are you doing?
Osborne: I do some public speaking. I manage to wet a line. I never get too far away from fishing, but I don't do a tremendous amount of it. I try to schedule a fishing trip every three or four weeks and enjoy that, and enjoy my grandkids.
AP: Are you still working out?
Osborne: Five days a week, mostly on an elliptical and a little weightlifting.
AP: Lots of discussion this week about whether one of the last coaches you hired, Tim Miles, should be retained as basketball coach. Any thoughts on that?
Osborne: I like Tim and I feel like he's got a good team this year. They've had some good luck and had some bad luck. Played a pretty good schedule. They look like a team that on any given day can beat most anybody and on any given day can lose to most anybody. Looks like he has some good young athletes now.
AP: Did you miss not being a part of the playoff committee in 2016?
Osborne: I thought two years was about right. I wanted to be on the first two years where the protocol would be established and things would be put in place. It is definitely an improvement over the last selection process.
AP: What is the biggest issue in college athletics in 2017?
Osborne: There is a pretty large amount of money at the professional levels. As a result, there is more impact on college sports in terms of players either leaving early for the draft or transferring from one school to the next to try to position themselves better for a career. It's even down to the high school age and younger where parents begin to (select their children's schools) so they can be better positioned to play in a professional league.
AP: What is the biggest football-specific issue?
Osborne: Concussion is always an ongoing discussion.
AP: Do you agree with those who say fear of concussions could lead to the end of football?
Osborne: I kind of doubt football will disappear. Right now, football is very safe because of awareness, equipment, rule changes. There's no activity that is totally without risk. My guess is that a young person is probably at more risk getting into an automobile driving around town for two hours than they are out there on the football field for two hours after school.
AP: You led Nebraska into the Big Ten in 2011. How do you think it's gone so far?
Osborne: One good thing is we'll be fully vested financially (in July) for the first time ever. Quite a while coming. So that's good. Generally speaking, it was a good move.
AP: You attend every Nebraska home football game. How do you think things are going under Mike Riley?
Osborne: Every year is a new experiment. When I was coaching I never knew how it was going to go. Hopefully they'll have a good year this next year.
AP: How's it feel to be 80?
Osborne: Years are piling up. It doesn't feel much different than any other day.
AP: How are you feeling these days?
Osborne: I'm doing fine. I had open-heart surgery when I was 48, so I think I'm fairly fortunate. Here it is 32 years later, and to still be vertical and moving around... things are going pretty good.
---
More AP college football: www.collegefootball.ap.org and https://twitter.com/AP-Top25
---
---