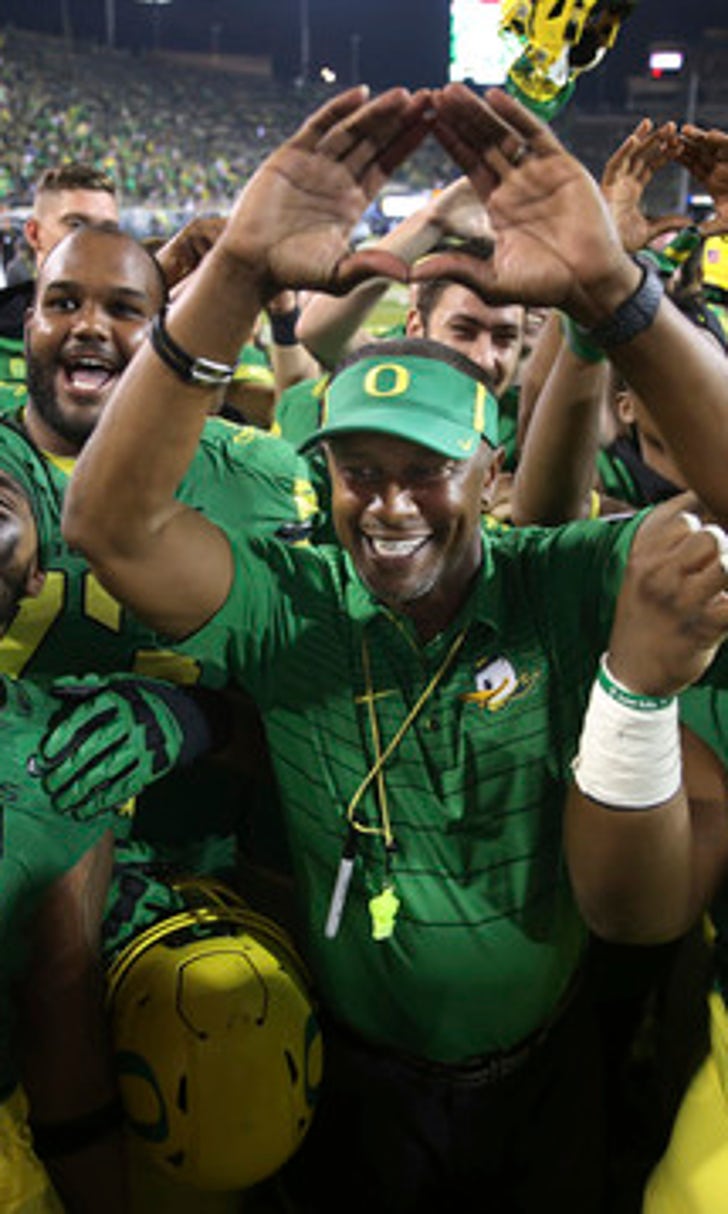 Proof of the Ducks new positive attitude? Swag Surfin'
BY AP • September 7, 2017
EUGENE, Ore. (AP) The Oregon Ducks have welcomed coach Willie Taggart's infectious positivity with a new kickoff tradition: Swag Surfin'.
But the sideline dance is not the only manifestation of the brand-new Ducks under Taggart. The whole team seems to be lighter and looser than last season.
''It's just part of the culture that we want to build here,'' Taggart said. ''We want to have fun and have a lot of energy. I believe so much in positive energy and enthusiasm, and the more we can have that - by everyone at Autzen - the better it's going to be.''
Taggart took over at Oregon after the school dismissed coach Mark Helfrich following a 4-8 season. Taggart comes to Eugene after four seasons at South Florida, where he guided the Bulls from a 2-10 record his first year to a 10-2 mark last season.
Borrowing a phrase from friend Jim Harbaugh when he was hired, Taggart said he'd require his staff and players to attack each day with an ''enthusiasm unknown to mankind.''
It certainly seems the Ducks have taken that command to heart.
It was apparent last weekend against Southern Utah when the 2009 song ''Swag Surfin''' blared in the stadium on kickoffs - and the players broke into the dance on the sidelines. (Need a primer? There are lots of examples on YouTube.)
''That song brings energy to anybody, it doesn't even matter,'' cornerback Arrion Springs said. ''It's just to bring us a lot of energy, get us enthusiastic about kickoff coverage.''
There were other things, too: The dramatic white smoke billowing from the tunnel as players - and the motorcycle carrying the Duck - came onto the field at Autzen, the raucous celebration that could be heard from the locker room after the game, and Kani Benoit's shimmy in the end zone following a 10-yard TD run in the first quarter.
''That's all coach Taggart. He wants us to have fun,'' said running back Royce Freeman. ''He wants us to enjoy playing football, not to be uptight. Go out there and be loose for four quarters, no matter what the score is.''
Of course it also helped that the Ducks won. They beat the lower-tier Thunderbirds 77-21 for Oregon's most points in a single game since 1916. The team racked up 703 yards in total offense and set a new Autzen record with nine rushing touchdowns. Freeman had four of them.
While Taggart is known for his positivity, it didn't keep him from assessing the Ducks' shortcomings on Monday following the win. Namely, penalties. Oregon had 12 for 115 yards.
''We're not good enough as a football team yet to have all those penalties or turn the ball over and think we're just going to go out and beat a quality opponent,'' he said. ''So we've got to make sure that we cut down on those and execute a little better.''
One of those quality opponents comes to town on Saturday when the Ducks host Nebraska. The Cornhuskers are coming off a 43-36 win over Arkansas State in their opener last weekend.
The Huskers beat the Ducks 35-32 in Lincoln last season. Taggart said there's not much the Ducks will draw from that game.
''Their offense is different, defense is different. We watched it to kind of look at the personnel, look at our guys, but not necessarily with anything to help us this upcoming season because things are so different for both teams,'' he said.
Taggart joked he even saw room for improvement in the team's dancing. Players spent the week appealing to fans on social media to join in on the Swag Surfin'.
''It's something I encourage. I believe in it,'' Taggart said. ''I think you guys have heard me say it before, but enthusiasm is contagious. You watch the sidelines, you can see some of the people in the stands and you hear all the people talking about it - you can see how contagious it is.''
---
More AP college football: www.collegefootball.ap.org and https://twitter.com/AP-Top25
---
---