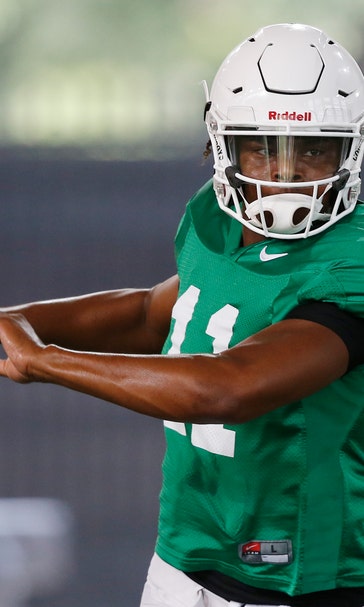 Oklahoma St seeks replacement for longtime QB Mason Rudolph
August 16, 2018
STILLWATER, Okla. (AP) — It has been a long time since someone other than Mason Rudolph was the starting quarterback at Oklahoma State.
It was late in the 2015 season when the Cowboys faced Oklahoma, and that was because Rudolph wasn't at full strength. He closed his career by starting the next 27 games and left the school as its all-time leader in passing yards, completions, attempts and touchdowns.
Now that Rudolph is with the Pittsburgh Steelers, several players are competing for the job at Oklahoma State. Senior Taylor Cornelius led the pack at the end of the spring. Dru Brown, a graduate transfer from Hawaii, and Spencer Sanders, a freshman, also are battling for the position. Neither was on campus during the spring and are catching up. Keondre Wudtee, who was injured during spring practice, is in the mix, too. They'll try to keep things going for a squad that went 10-3 last season and won the Camping World Bowl. The Cowboys will have to choose before their Aug. 30 opener against Missouri State.
Oklahoma State coach Mike Gundy believes Cornelius, Rudolph's backup last season, can get the job done.
"I don't have any doubt that he can be a really good college quarterback," Gundy said. "We just don't know what he's going to do in front of a crowd because he's never done it. That's the only thing we don't know about him."
Brown started the past two seasons at Hawaii and passed for a combined 5,273 yards and 37 touchdowns. Sanders was the Texas Gatorade Player of the Year last season for Denton Ryan and was one of the nation's top quarterback recruits.
"I'm still shocked that they can absorb as much information as they can and play the game the way we play it so fast as early as they have in their careers (at Oklahoma State)," Gundy said Tuesday. "I mean, they've been here 12 days, and they're doing really well. I think they're really intelligent football players, and they're gathering information. I like where those guys are at. They're doing a good job."
KNOWLES KNOWS
New defensive coordinator Jim Knowles will implement an attacking 4-2-5 scheme. Knowles held the same position at Duke for seven years before joining the Cowboys staff. He has more than 30 years of coaching experience. He has an anchor in defensive end Jordan Brailford. The 6-foot-3, 250-pounder was a second-team All-Big 12 performer last season after piling up 57 tackles and 10.5 tackles for loss. He also had 4.5 sacks. Brailford likes Knowles and his defense.
"I like him a lot," Brailford said. "I like the new defense. I think everyone on the defense likes the new defense. I think we're going to have a lot of fun with it this season."
JUSTICE SERVES
Junior running back Justice Hill ran for 1,142 yards as a freshman and tacked on 1,467 as a sophomore. He's one of four players in Oklahoma State history — along with Barry Sanders, Thurman Thomas and Terry Miller — to average at least 100 yards per game for a career. At 5-foot-10 and 190 pounds, Hill is compact and powerful, yet he's shifty and has breakaway speed. He also caught 31 passes last season. He could creep into the Heisman conversation if the Cowboys can pull a few upsets.
RECEIVERS
Oklahoma State lost Biletnikoff Award winner James Washington to the Steelers , starter Marcell Ateman to the Oakland Raiders and reserve Chris Lacy to the Detroit Lions. The Cowboys have three productive returnees in Jalen McCleskey, Dillon Stoner and Tyron Johnson. McCleskey was third on the team with 50 catches for 645 yards and five touchdowns last season. Stoner had 44 catches for 576 yards and six scores. Johnson had 18 catches for 293 yards and three touchdowns.
"The timing for the quarterback at this time is pretty good for a guy that's just stepping in after having three guys going into the NFL," Gundy said.
EXPERIENCED O-LINE
Oklahoma State returns three starters up front, led by left guard Marcus Keyes, a first-team All-Big 12 pick last season. Right guard Larry Williams is back for a sixth year of eligibility. Johnny Wilson, who started 10 games last season, looks to be the starting center.
SCHEDULE
The Sept. 15 game against Boise State will be a major early test. Many expect the Broncos to challenge for a major bowl slot, and the trip to Stillwater could be their biggest stumbling block. The Cowboys will have two games to get their quarterback situation settled before that matchup. The Big 12 slate includes visits to Kansas State and TCU and home dates against Texas and West Virginia. The annual Bedlam game is at Oklahoma.
---
---