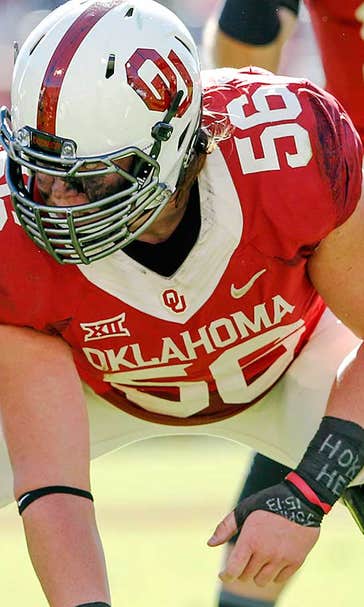 Oklahoma center Darlington: SAE scandal almost tore us apart
April 16, 2015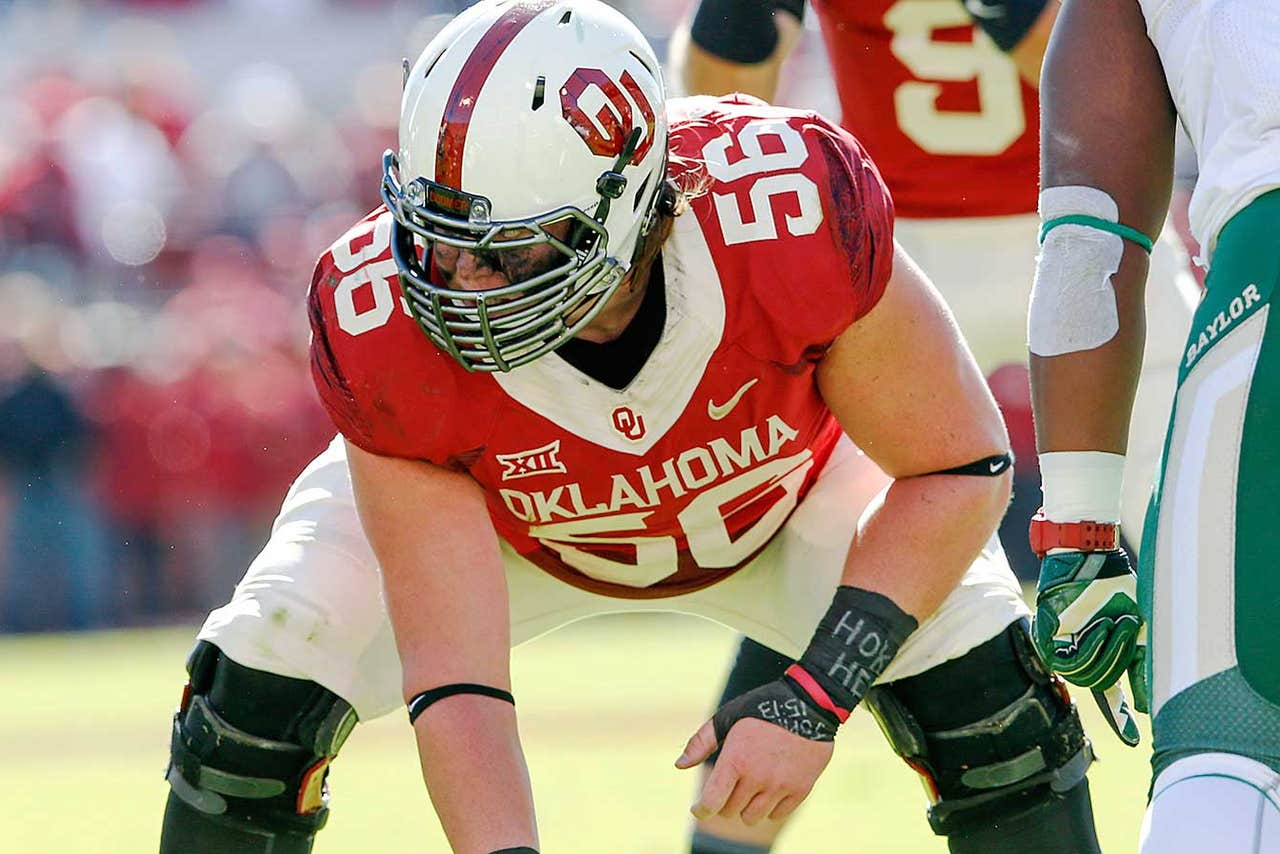 NORMAN, Okla. -- Just over a month ago, Oklahoma's players walked on to their practice field arm-in-arm, clad in black, in a powerful image of unity. The Sooners -- including coach Bob Stoops standing front and center -- had spent hours that week planning their response to a disgusting viral video that showed members of the school's SAE fraternity singing a racist chant aboard a party bus.
OU went on spring break the following week, and with the fraternity members from the tape expelled and the chapter shut down, coverage of the story largely dissipated. But over the past month, the Sooners' leaders have been busy fulfilling the pledge they made in a March 12 statement to "raise awareness of racism and discrimination on college campuses nationwide."
"At this point I don't even feel like a student right now -- I feel like an administrator trying to push and get things done," said linebacker Eric Striker. "It's meeting after meeting."
Striker was the first to shed light on a deeper rift on campus between fraternity members and black athletes, first in an angry Snapchat video and then in some pointed comments to The Oklahoman. On Monday, Striker, center Ty Darlington and other OU athletes met with representatives of various campus fraternity councils to discuss how to move beyond the incident and make positive changes to student life.
"How do we make our campus more inclusive?" said Darlington. "How do we get athletes off of the stage and have students see us as regular people? And how do we get to know them as more than filling a seat in the stands?"
The seeds of the Sooners' activist stand inadvertently took hold months before anyone saw the SAE video. Coming off a disappointing 8-5 season, six fourth- and fifth-year returning starters -- Darlington, Striker, Knight, cornerback Eric Sanchez, receiver Sterling Shepard and defensive end Charles Tapper -- formed an unofficial leadership council to kick their teammates into gear.
"We already had the leadership in place to move things forward, so we used that for the SAE issue as well," said Striker. "We were tackling getting back to winning games. Now we're tackling a social issue and cultural diversity issue as well."
In the emotional hours and days following the video's release, OU players held a series of heated team meetings. According to numerous accounts, the roster was split between those who felt they should take a stand and put football on hold, and those who wanted to proceed with business as usual.
"It almost tore us apart," said Darlington. "We had the longest couple days of our life. A lot of screaming and yelling, some near physical altercations."
Eventually a smaller group of about 15 moved their discussions from OU's team room to Striker's house, with the group of six coordinating efforts with campus leaders and other sports' captains. It helped that they had a supportive ear in Stoops, who not only signed off on the players canceling two practices, but in fact, he came up with the idea for the on-field march.
"To me as a coach, it's really important to have the pulse of your team," said Stoops. "It was such an emotional issue to them that I felt they needed to have that opportunity to express themselves that way."
In the process, he and the OU community learned a great deal about their team's leadership. Darlington, for one, may be destined for a career as a future diplomat. In January, the Academic All-American attended the NCAA convention in Washington D.C. as one of 15 student-athletes who voted on the new Power 5 autonomy measures. And on Monday, the self-avowed House of Cards fan will return to Washington to speak at the Big 12's State of College Athletics forum.
But Darlington said he's learned more about leadership from all those hours spent hatching what he hopes will be a much farther-reaching initiative.
"Hopefully we leave a legacy here," said the Apopka, Florida, native. "There's been a lot of Sooners before us and a lot after us. We want to leave something unique, that this group really cared more about right and wrong, and using our platform to make a stand for what we believe is right."
Stewart Mandel is a senior college sports columnist for FOXSports.com. He covered college football and basketball for 15 years at Sports Illustrated. You can follow him on Twitter @slmandel. Send emails and Mailbag questions to Stewart.Mandel@fox.com.
---