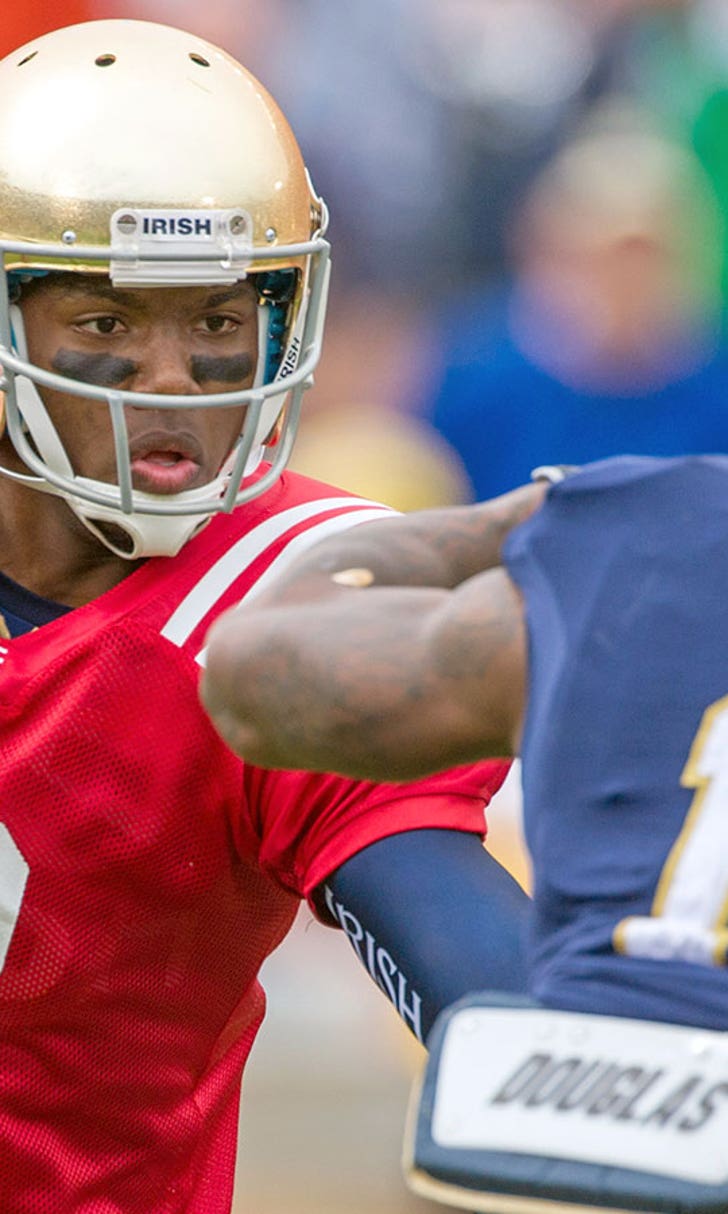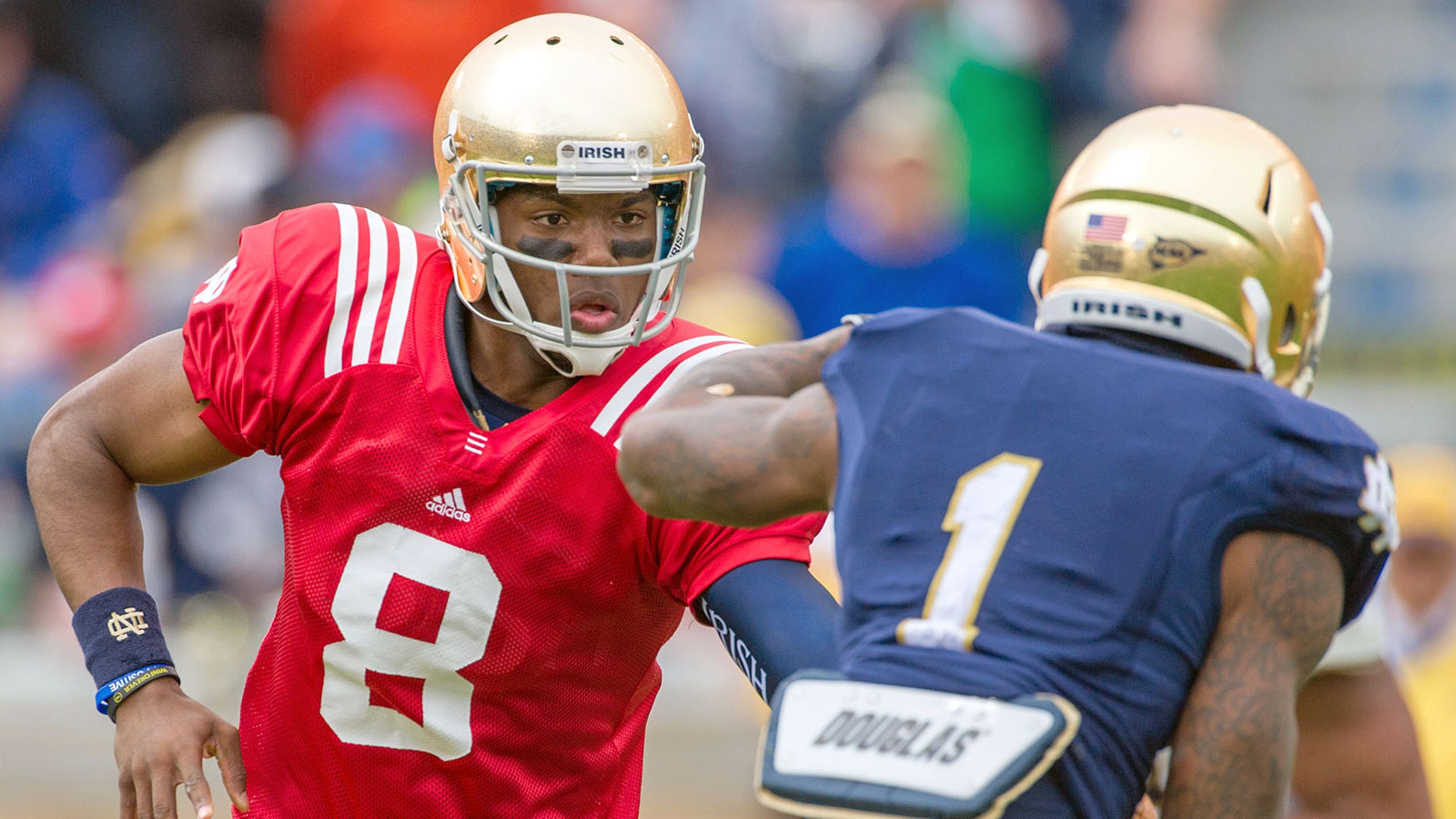 Notre Dame OC has three simple rules for evaluating quarterbacks
BY Marcus Hartman • August 19, 2015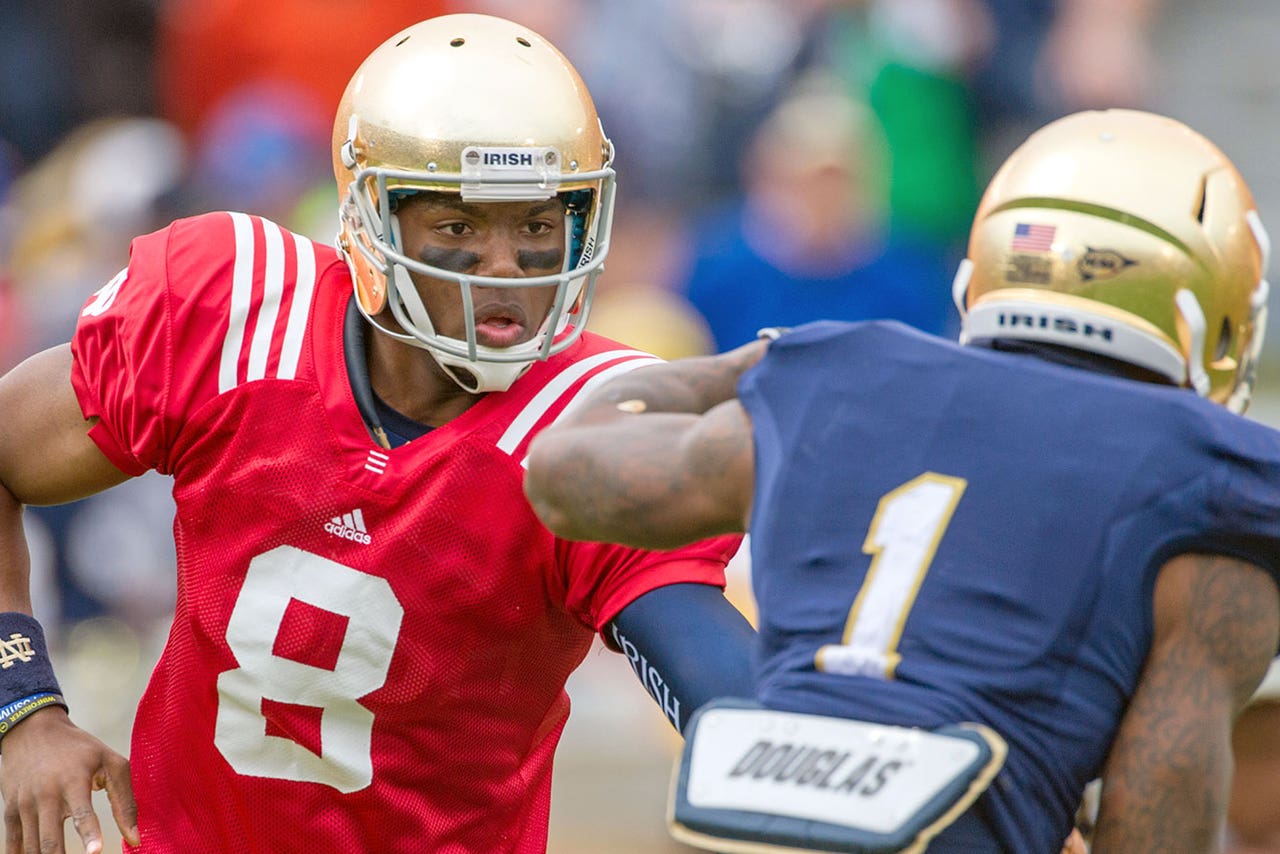 Notre Dame offensive coordinator/quarterbacks coach Mike Sanford admits his method for evaluating young quarterbacks is simple. 
That doesn't mean he needs to apologize for it. 
"They've got to be able to throw the football," Sanford told reporters at Notre Dame's media day Tuesday. "I know it sounds very simple, but a lot of coaches at our level think they have to 'fix' a flawed throwing motion, so they have to have a natural stroke to begin with. For them to think that you can change somebody's arm action, I still have yet to see that accomplished. So they have to be a natural thrower first and foremost." 
Next, Sanford values a signal caller who has a history of winning. 
"Someone who, winning surrounds them," Sanford said. "Because that's what we're all about is winning football games." 
And for No. 3, Sanford relies on the wisdom of a Super Bowl-winning coach credited with developing a passing system that is used throughout the NFL and college. 
"I had a chance to be around Bill Walsh in his last days at Stanford, and he talked (about) a quarterback play," Sanford said. "He said 'You're always looking for a guy that can get you a minimum of three first downs a game with his legs'. That would fit into the ability to improvise, and it fits nicely into what we try to do with the quarterback running game. You want a guy that does strike some fear into the defensive coordinator's mind throughout the course of the week, and has him thinking 'we better contain this player, otherwise he's going to get out of the pocket.'"
Whether or not Sanford's first Notre Dame starter, Malik Zaire, can check off all three boxes remains to be seen, but the early indicators are positive. 
The 6-foot, 222-pound sophomore comes from a high school in southwestern Ohio that is a traditional power, Kettering Alter, and he averaged 5.7 yards per carry last season in limited playing time. 
As for his throwing motion? Head coach Brian Kelly said he likes what he has seen so far from the lefty. 
"I think he's already made some really good progress," Kelly said. "Ball placement, touch, things like that that were not really part of what he did, he was always throwing the fastball and never really changing speeds at all."
That is not uncommon for highly regarded prospects such as Zaire. 
"These young quarterbacks get rated by their strength of arm," Kelly said. "You should really rate them by touch passes and ball placements and level two balls. Then you really get the sense of the full picture, and those were the things he needed to work on, and he's made great progress and those touch passes and those ball placement kind of issues, because he was just a rear it up and rip it guy. He's come so far from that. I think Mike's made really good progress with him in a short period of time." 
---