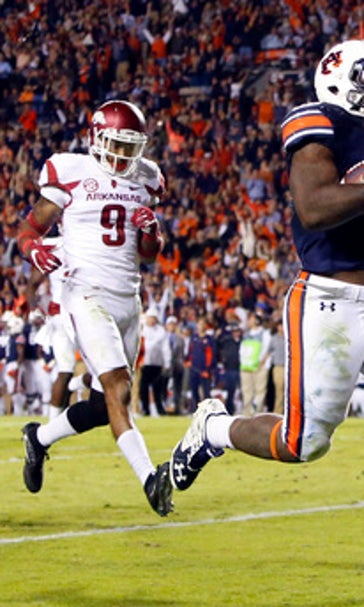 No. 8 Auburn hoping to have RB Pettway ready for Georgia
BY foxsports • November 11, 2016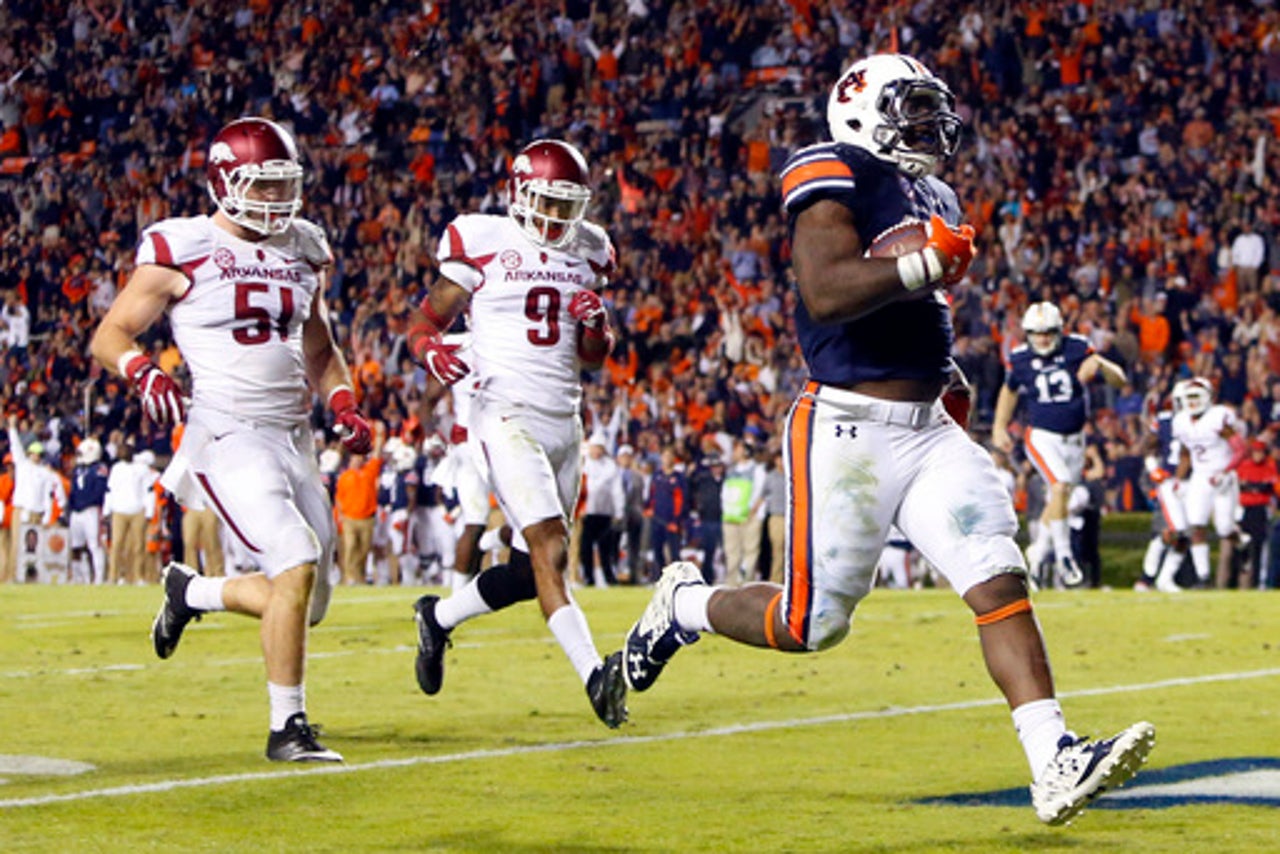 ATHENS, Ga. (AP) Auburn is hoping to have its best running back healthy when the No. 8 Tigers visit Georgia on Saturday hoping to continue their run for a Southeastern Conference championship.
The status of Kamryn Pettway, the SEC's leading rusher, has been uncertain all week. The 240-pound Pettway hurt his left leg on a long run in last week's 23-16 win over Vanderbilt .
Auburn coach Gus Malzahn said Pettway, the nation's No. 4 rusher, will make the trip.
''He's healing, so we'll see,'' Malzahn said. ''We're a run, play-action team so no matter who our running back is we need to be successful.''
Auburn (7-2, 5-1 SEC, No. 9 CFP) controls its destiny in the Western Division and still has another conference game remaining against No. 1 Alabama. Georgia (5-4, 3-4) is trying to become bowl eligible following an encouraging 27-24 win at Kentucky last week.
Backup Kerryon Johnson has two 100-yard games this season. Converted wide receiver Stanton Truitt and freshman Kam Martin could get some carries, too. Ditto for backup quarterback John Franklin III.
''Obviously we're going to need to continue to run the ball,'' Auburn right tackle Robert Leff said. ''Who knows what the running back situation will be like, but I don't think it will really matter as long as we make holes for them.''
Georgia coach Kirby Smart, who recruited Pettway as Alabama's defensive coordinator, said Auburn will bring a strong running game to Athens, no matter who starts at running back.
''We have to prepare as if he's going to be there,'' Smart said. ''If he's there or not, they're going to be able to run the ball, trust me. They did it at the beginning of the year sometimes without him.''
---
Some other things to watch in No. 8 Auburn's visit to Georgia:
WHITE RETURNS: Malzahn said quarterback Sean White will start after playing in a reserve role last week due to an undisclosed injury. With Franklin at quarterback, Auburn trailed Vanderbilt 13-10 at halftime.
UNDERGROUND RAILROAD: There is a long history of close ties in the rivalry. Former longtime Georgia coach Vince Dooley was an Auburn graduate. Former longtime Auburn coach Pat Dye played at Georgia. Smart has seen the rivalry up close as a player at Georgia. He said Georgia-Auburn is ''one of greatest rivalries in college football,'' in part because the series, which began in 1892 and the Bulldogs lead 56-55-8, has great balance. ''It's always heated,'' Smart said. ''It never ends because it goes on recruiting trail. Both schools recruit the same area primarily.''
NEW GO-TO RECEIVER: Javon Wims, a junior college transfer, has emerged as a new favorite target for Georgia quarterback Jacob Eason . Wims set career highs with five catches for 90 yards in last week's 27-24 win at Kentucky. ''It felt good,'' Wims said. ''It just confirmed that my hard work is just starting to pay off. I've just got to continue to work hard.'' Wims (6-4, 215) has excellent size.
HOLSEY'S CLUTCH PICKS: Cornerback Josh Holsey leads the SEC with 10 pass breakups. He has three interceptions, including a late theft in Auburn territory that helped save last week's 23-16 win over Vanderbilt. On Oct. 29, Holsey had an interception in the fourth quarter to set up the Tigers' final touchdown in their 40-29 win over Mississippi.
SAME DEFENSE, DIFFERENT RIVALRY: Malzahn and Auburn are very familiar with Smart's defenses from his time at Alabama. ''We know each other very well, have a lot of history,'' Malzahn said. ''We've been against each other a lot.'' In fact, Smart also interviewed with Auburn before Malzahn's hiring in 2013.
---
AP Sports Writer John Zenor contributed to this report.
---
More AP college football: www.collegefootball.ap.org and http://www.twitter.com/AP-Top25
---