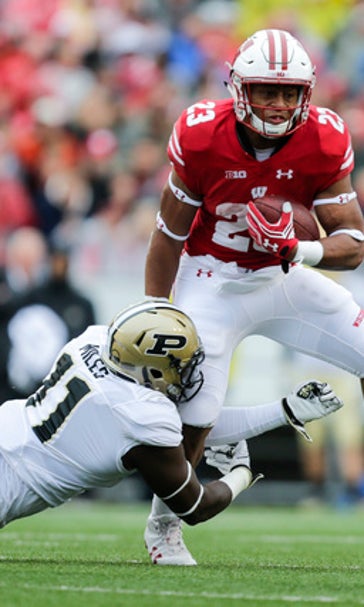 No. 5 Wisconsin drive for Big Ten title arrives at Illinois
October 27, 2017

CHAMPAIGN, Ill. (AP) Illinois hasn't won a game in the Big Ten yet this season. Its chances won't get any easier when No. 5 Wisconsin comes to town Saturday for homecoming.
Wisconsin brings high hopes for a Big Ten title, and perhaps more, and boasts the conference-best rushing attack led by star freshman Jonathan Taylor.
Taylor is averaging 158.6 yards per game, easily the lion's share of his team's 256.9 average, and has rushed for over 200 yards in three games. With a 126-yard performance last week, it took only seven games for him to eclipse 1,000 rushing yards, matching the FBS freshman record. He joins NFL Hall of Famers Emmitt Smith and Marshall Faulk, and 2012 NFL MVP Adrian Peterson, as the only true freshmen to pull off the feat.
''I don't think he is doing anything now that he didn't do, or you didn't see glimpses of in all of camp,'' coach Paul Chryst said.
The Badgers (7-0, 4-0 Big Ten) have won five out of their games by double digits and by an average of 23.3 points per game behind a fairly stout defense. This doesn't bode well for the Illini (2-5, 0-4), who have dropped five straight, rank second to last in the Big Ten in total offense and are averaging a conference-worst 18.3 points.
Coach Lovie Smith has experimented with his lineups all season, giving valuable playing time to young players with an eye toward seasons to come. Last week, quarterback Cam Thomas played for the first time all season. He led the team with 79 rushing yards against Minnesota, but only had 33 passing yards and was picked off for a touchdown in a 24-17 loss.
Smith said that Thomas made solid plays through the air and on the ground, but definitely made a few freshman mistakes.
''We thought he did some things, gave us a little boost,'' Smith said. ''Unfortunately, we'd like to have one (pass) back.''
Thomas shared time at quarterback with Jeff George Jr., who started his third game of the season. George finished with 128 passing yards and one touchdown in his first game this year without an interception.
Smith said he plans to use both Thomas and George against the Badgers, who have won their last 10 games in the Big Ten and their last seven against Illinois. Chryst said he does not want his team to underestimate the Illini.
''You always respect your opponent,'' Chryst said.
Some other things to watch for:
STEADY QUARTERBACK
Wisconsin's offense is clearly built around the run game, but Alex Hornibrook has been a steady option under center. This year, he has 1,435 passing yards, 13 touchdowns and seven interceptions. He has also completed nearly 66 percent of his pass attempts. If Illinois manages to bottle up Taylor, Hornibrook has shown he's capable of getting the job done through the air.
SPECIAL SEASON
Taylor has amassed 1,112 rushing yards and scored 11 touchdowns in just seven career games. He leads the Big Ten in both categories, and is ranked seventh in the country in rushing touchdowns and fourth in rushing yards. If he is able to keep this up against the Illini, and throughout the rest of the year, he would become only the second freshman in school history to run for 2,000 yards.
INJURED ILLINI
Receiver mike Dudek suffered a knee injury against Rutgers and missed last week's game against Minnesota. Smith said he is hopeful Dudek will return this weekend. Dudek has recorded 229 receiving yards his season and is third on the team with 21 catches. He has also shown big-play ability as a punt returner. The Illini quarterbacks will at least have Ricky Smalling available. He leads the team with 343 yards on 22 catches.
''We are going to have those one-on-one matchups on the outside,'' Smith said.'' ''Ricky has made those plays when we've thrown it to him.''
EMERGING SAFETY
One of the many Illinois freshmen, Bennett Williams, had his best performance of the season against the Gophers. He totaled a season-high 14 tackles to go along with one forced fumble and one pass breakup. Williams is also second on the Illini with 43 tackles this year, including a team-high 23 solo tackles.
''He's a very intelligent football player and he really does get it,'' Smith said. ''I thought his takeaway, that forced fumble, was pretty big.''
SIDELINED RECEIVERS
Wisconsin's Jazz Peavy and Danny Davis III will both be sidelined against Illinois. Peavy has missed the last two games, while Davis sat out last week against Maryland. Davis is the Badgers' fourth-leading receiver.
---
More AP college football: http://collegefootball.ap.org and https://twitter.com/AP-Top25
---
---