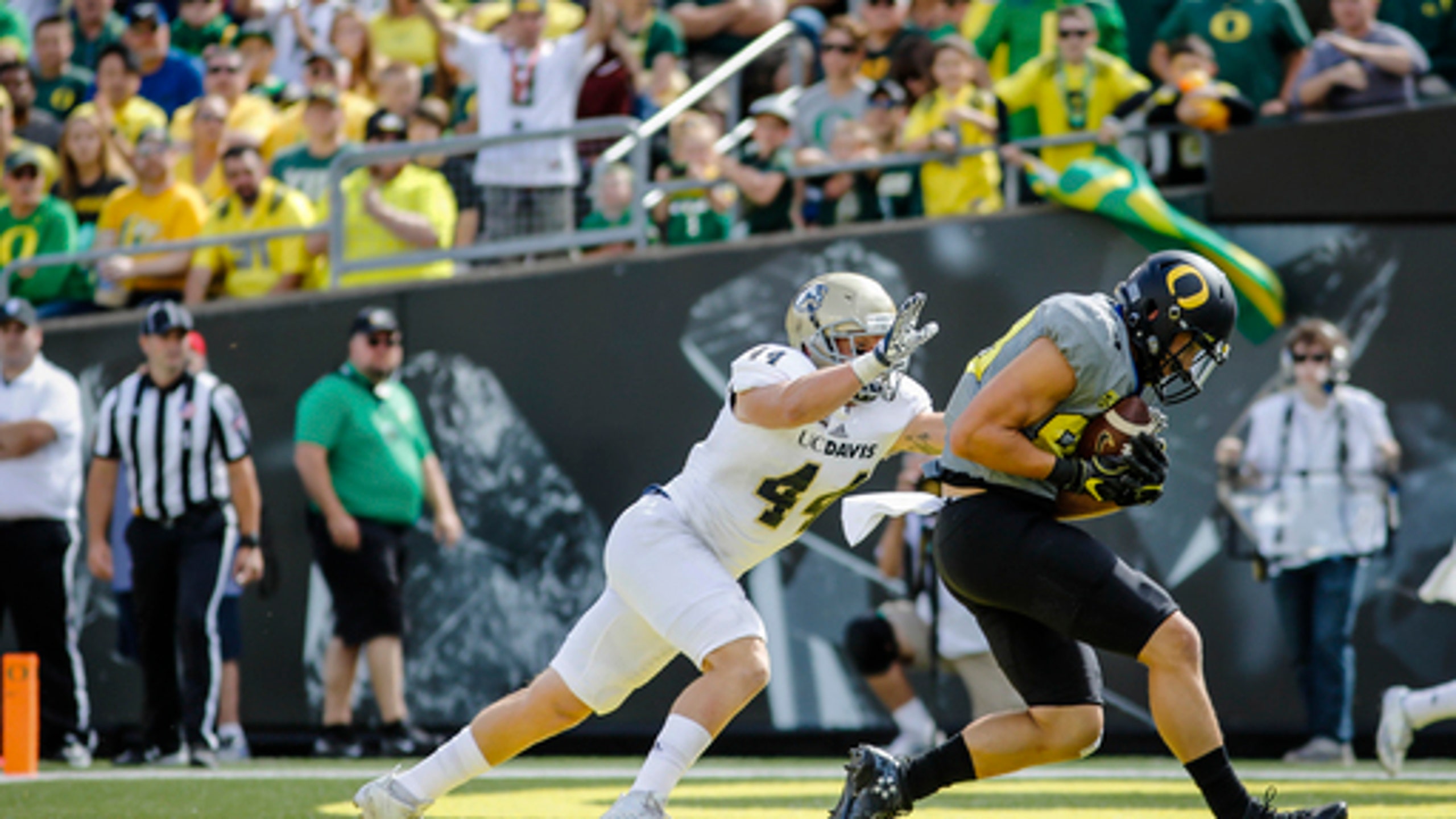 No. 24 Oregon downs UC Davis 53-28 in Prukop's debut
BY foxsports • September 4, 2016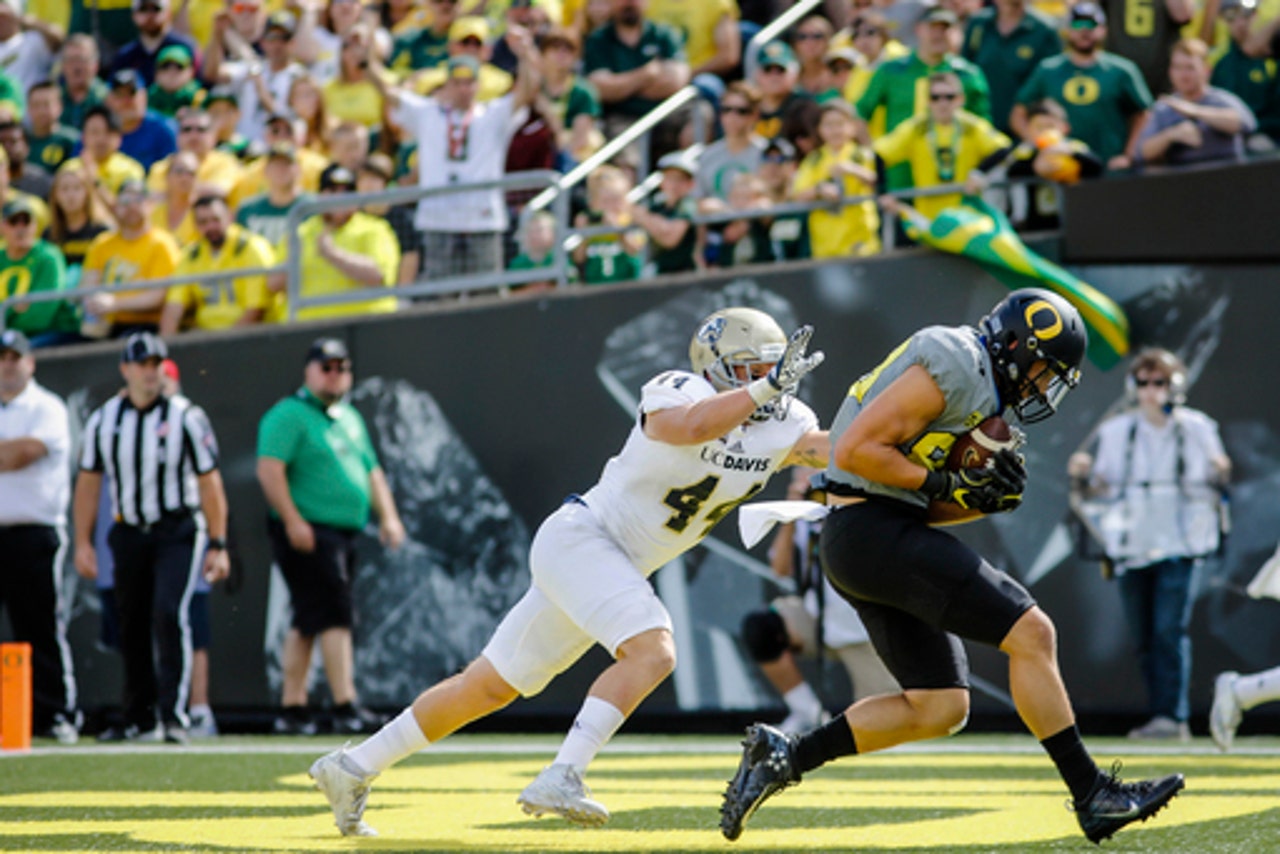 EUGENE, Ore. (AP) Dakota Prukop made his debut for No. 24 Oregon, throwing for 271 yards and three touchdowns, and the Ducks overcame a rocky start to defeat UC Davis 53-28 on Saturday.
Royce Freeman rushed for 87 yards and two scores for the Ducks, who have won five straight season openers. Darren Carrington caught seven passes for 117 yards and a touchdown.
Prukop, a graduate transfer from Montana State, completed 21 of 30 passes for the Ducks, while also scoring on a 1-yard keeper. He follows in the footsteps of Vernon Adams, a graduate transfer out of Eastern Washington who started for the Ducks last season but was dogged by injuries.
Ben Scott completed 27 of 47 passes for 303 yards and ran for a 9-yard touchdown for UC Davis. Manusamoa Luuga rushed for 96 yards and three scores.
The Ducks got off to a slow start, allowing Scott's rushing touchdown on the first series of the game and then punting on their first two possessions. But they pulled it together by the end of the first quarter with Freeman's 6-yard scoring run.
The turning point for the Ducks came with about 10 minutes left in the first half, when Jalen Jelks intercepted Scott and four plays later the Ducks scored on Prukop's 10-yard pass to Johnny Mundt. A second successful 2-point conversion put the Ducks ahead 19-7.
The Ducks pretty much cruised the rest of the way against the lower-division Aggies.
Saturday marked the end of Oregon's 110-game sellout streak. The announced attendance was 53,817, while capacity is listed at 54,000.
THE TAKEAWAY
UC DAVIS: After keeping their choice under wraps all week, the Aggies started senior Scott at quarterback over sophomore C.J. Spencer. Scott started the first eight games last season before he was hampered by injury and threw for 1,595 yards and 11 touchdowns.
OREGON: The difference maker for Oregon was Charles Nelson, who stood out on both special teams and as a receiver. Nelson finished with 288 all-purpose yards, including a 48-yard punt return and a 62-yard kickoff return. He also was the rusher for a pair of successful 2-point conversions in the first half.
Nelson, has moved back to offense after switching to safety for a time last season, went into the game needing 591 kick return yards to match all-time leader De'Anthony Thomas.
UP NEXT
UC DAVIS: The Aggies get another Oregon team next weekend, this time Southern Oregon. It will be the ninth meeting between the two teams, but the first since 1953, with UC Davis holding a 6-1-1 series lead. Southern Oregon was the NAIA champion in 2014 and last year it was runner-up, finishing 11-3.
OREGON: The Ducks face Virginia in a night game at Autzen next Saturday. Oregon's only other meeting with the Cavaliers came in 2013, when sophomore quarterback Marcus Mariota led the Ducks to a 59-10 victory.
Virginia lost to Richmond 37-20 earlier Saturday.
---
Follow Anne M. Peterson on Twitter: (at)anniempeterson
---