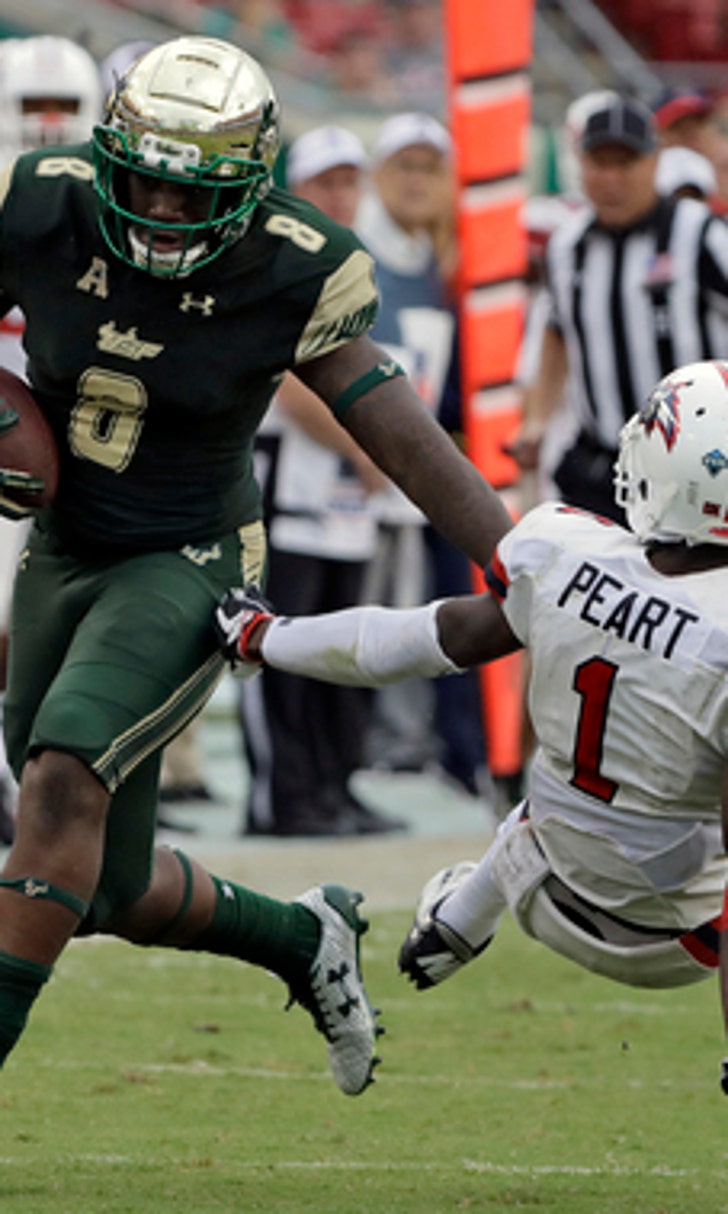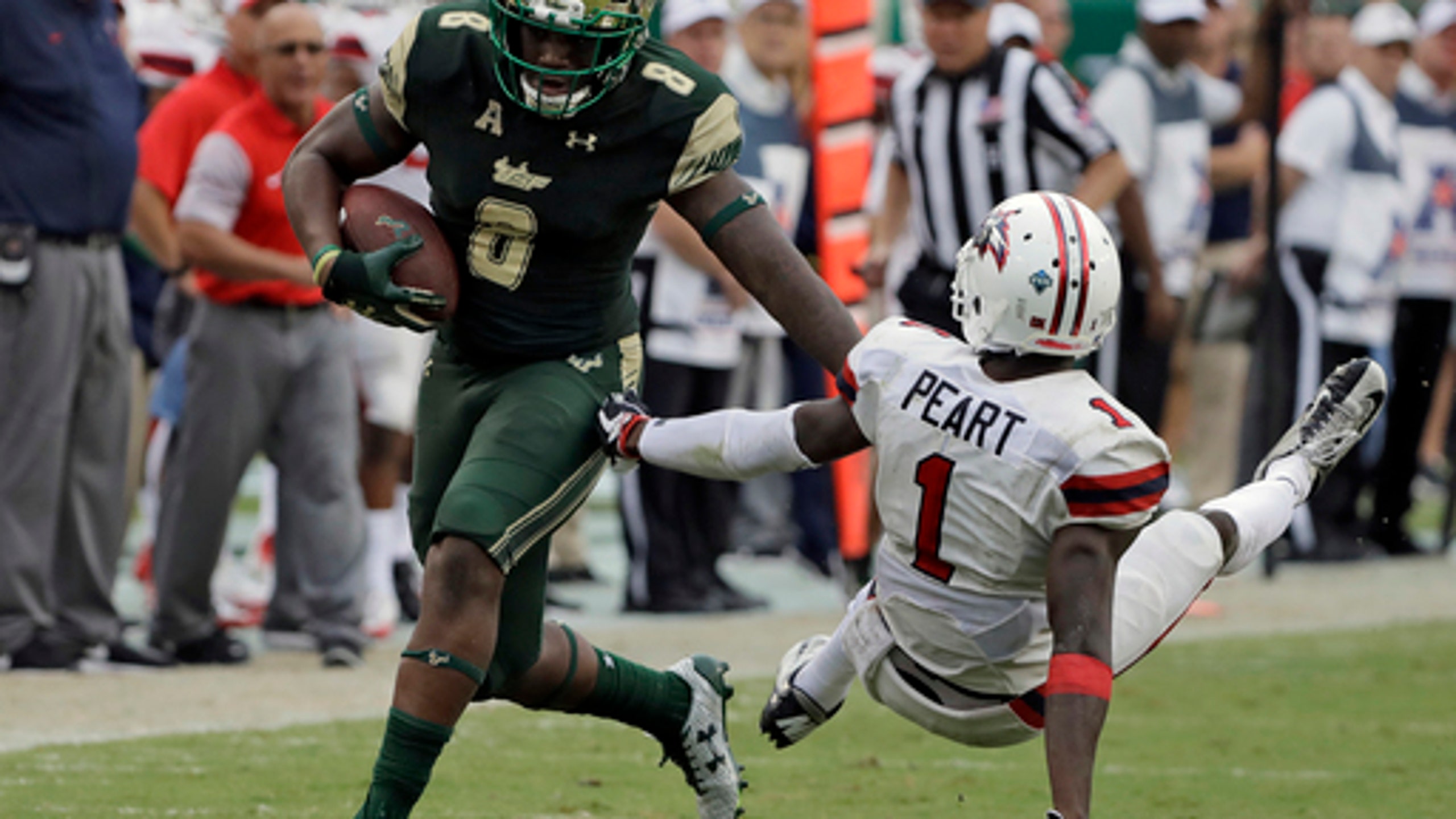 No. 19 USF overcomes slow start, beats Stony Brook 31-17 (Sep 02, 2017)
BY AP • September 2, 2017
TAMPA, Fla. (AP) Charlie Strong insisted he knew No. 19 South Florida was in for a stern test against Stony Brook.
Now, his players realize the Seawolves love a challenge , too.
Quinton Flowers threw for 186 yards and a pair of second-half touchdowns, helping the Bulls shrug off a slow start to win their home opener under Strong, 31-17 on Saturday.
''They didn't surprise us. We knew what we were getting,'' Strong said. ''As a ranked team, we're going to get everyone's best.''
Tyre McCants' 65-yard TD reception put USF (2-0) ahead for good with 11:23 remaining. Mazzi Wilkins' interception set up a late TD that ended any hopes for Stony Brook (0-1) to rally for an upset.
''It's 24-17 and we've got the ball moving, and we've got a chance to be in position,'' Stony Brook coach Chuck Priore said. ''They made a play, and I give them credit. Their kids kept on playing, and they had to keep on playing. We made them keep on playing.''
Darius Tice scored on runs of 1 and 14 yards for the Bulls, who overcame a slow start for the second straight week.
The Seawolves led 10-7 at halftime and put themselves into position to pull off a shocker when Stacey Bedell swept left end on a 54-yard TD burst that made it 17-all with just over 13 minutes to go.
Flowers was superb after falling behind San Jose State 16-0 in USF's opener, and the senior's composure was a factor again Saturday.
He threw a 6-yard TD pass to Marquez Valdes-Scantling for a 14-10 lead late in the third quarter, then put his team in front for good with a deep sideline throw to McCants.
Stony Brook's Augie Contressa recovered a blocked punt in the end zone to give the Seawolves an early lead.
Joe Carbone completed 17 of 34 passes for 137 yards with two interceptions. Bedell finished with 71 yards rushing on 10 carries.
Flowers, meanwhile, was 19 of 32 passing with two TDs and one interception. He also led USF in rushing with 67 yards on 18 attempts.
''Coming into the game, we know that we can play with anybody, we can compete with anybody,'' Carbone said. ''It just comes down to execution, and we didn't execute at the end of the game.''
THE TAKEAWAY
A tougher than expected test against Stony Brook reinforced the message Strong delivered to his players after last week's rout of San Jose State - that there's no room for complacency if USF wants to achieve its goals this season . The Bulls figure to be favored in most - if not all - of their games. Saturday showed, however, that they are still learning that being ranked in the Top 25 puts a target on their backs every week. Stony Brook, which hasn't had a winning season since 2012, showed it's plenty capable of competing with everyone else on its schedule
CONFIDENCE BUILDER
Stony Brook dropped to 1-8 all-time against FBS opponent. The lone victory came against Army in 2012. Saturday was the first time the Seawolves faced a ranked FBS team. USF won the only other meeting between the schools 59-14 in 2010.
IMPRESSIVE STREAK
Tice's second touchdown, with 1:40 remaining, extended USF's streak scoring at least 30 point to 19 consecutive games. The Bulls outgained Stony Brook 339 yards to 229, including a 153-92 edge rushing. Tice gained 57 yards on 16 carries.
Priore was not surprised that Stony Brook came close to ending the streak
''Whether you know this or not, two years ago we were No. 1 in the country in total defense,'' the Seawolves coach said. ''Last year we were No. 3, so we play D. And we play it physical.''
POLL IMPLICATIONS
Shrugging off slow starts to rout San Jose State and Stony Brook in the first two games won't do much to improve the Bulls' position in the rankings. The challenge Saturday was to resist the temptation to take a heavy underdog lightly, and instead view Stony Brook as an excellent opportunity to get better heading into next week's American Athletic Conference opener at Connecticut.
---
More AP college football: www.collegefootball.ap.org and https://twitter.com/AP-Top25
---
---