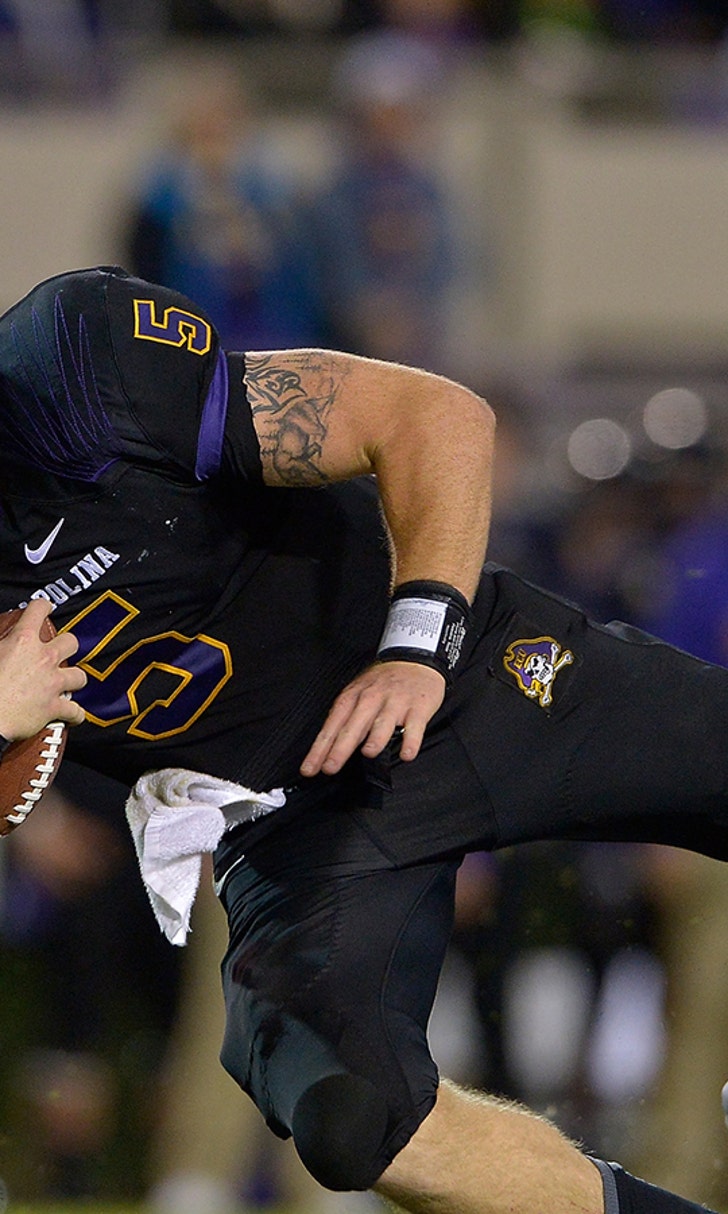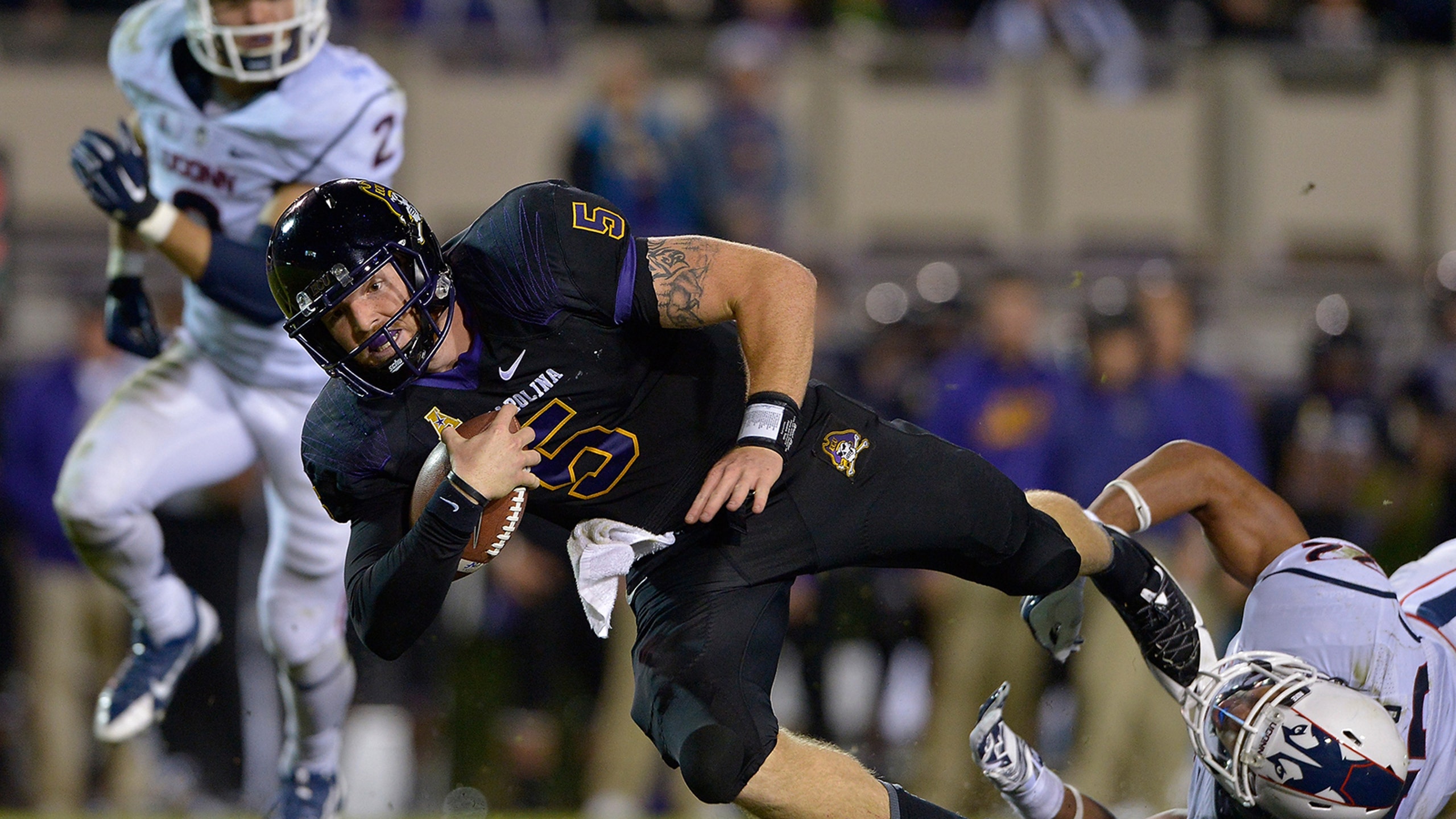 No. 18 East Carolina takes UConn's best shot, wins 31-21
BY foxsports • October 24, 2014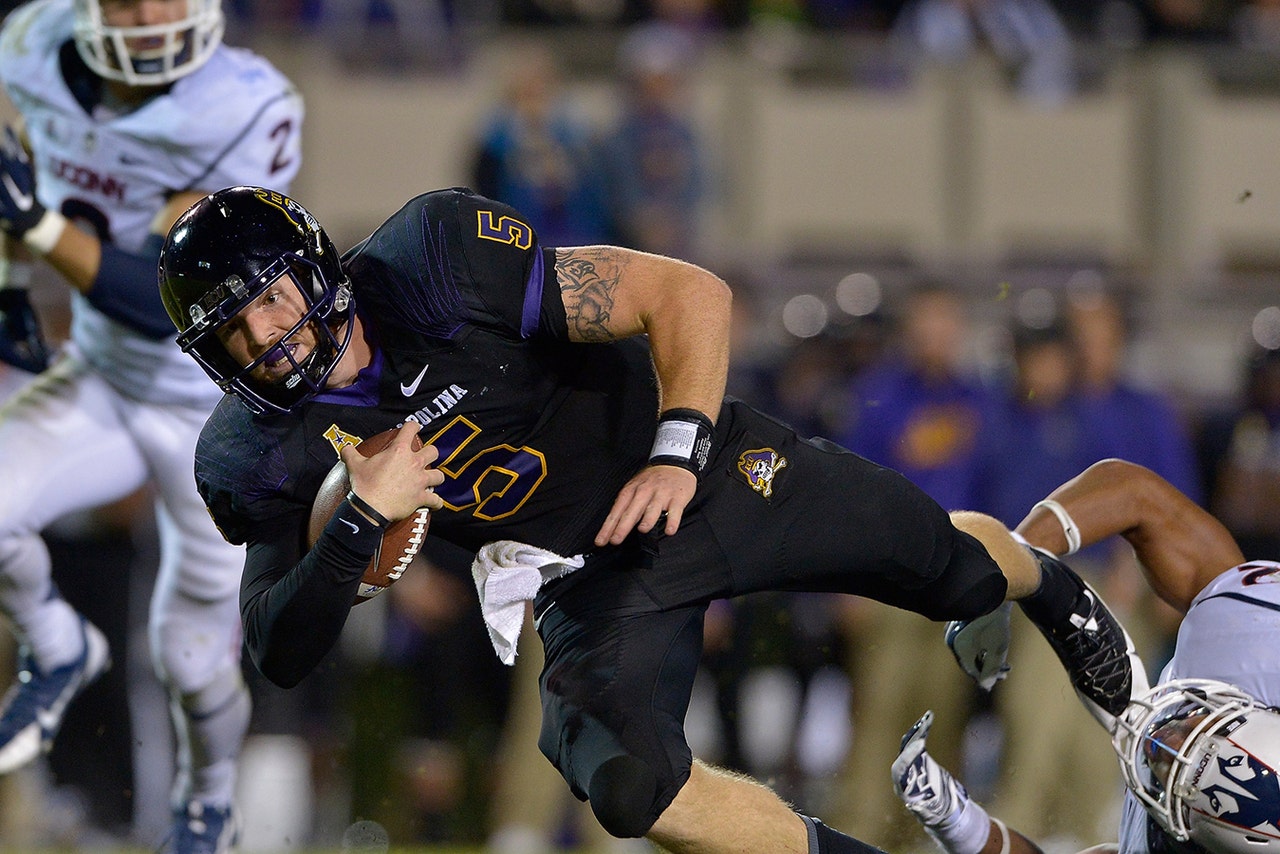 GREENVILLE, N.C. -- Coach Ruffin McNeill doesn't care about impressing the committee that will decide if No. 18 East Carolina deserves a major bowl berth.
''We just want to win by one,'' McNeill said, ''and get up out of there.''
That's not far from what happened Thursday night against Connecticut.
The Pirates needed a strong fourth quarter -- and another huge performance from Shane Carden -- to pull away from the pesky Huskies, 31-21.
Carden threw for a season-high 445 yards -- his seventh career 400-yard performance -- on 38-of-64 passing, and Breon Allen ran for two touchdowns.
They helped the Pirates (6-1, 3-0 American Athletic Conference) sidestep a major upset bid by four-touchdown-underdog UConn (1-6, 0-4) in East Carolina's first prime-time, weeknight showcase game in its new league.
''We understand we're going to take everybody's best shot,'' Carden said. ''We want to win games, and that was a win.''
Warren Harvey kicked the go-ahead 31-yard field goal with 6:15 left, Carden threw touchdown passes of 13 yards to Justin Hardy and 10 yards to Bryce Williams, and Allen scored on runs of 1 and 9 yards.
Chandler Whitmer was 18 of 30 for a season-high 303 yards with two tying touchdown passes in the third quarter after rushing for a short score for the Huskies.
''There are no moral victories,'' first-year UConn coach Bob Diaco said. ''We didn't come here to play well. We came here to win a football game, and we didn't.''
Carden started the Pirates' go-ahead drive with a 30-yard throw to Hardy one play before Allen's 23-yard run to the 12. When that drive stalled, Harvey --who earlier missed from 33 yards -- kicked his field goal to make it 24-21.
East Carolina forced a three-and-out, got the ball back with 5:22 left and ran most of the clock before Allen iced it with his 9-yard scoring run with 1:25 remaining.
''Those guys, when they had the chance to make plays, those guys made plays,'' Diaco said. ''And our guys did not.''
Hardy finished with 14 catches for 186 yards, and Cam Worthy added 138 yards receiving on seven receptions.
''Any receiver we have can have a breakout game,'' Hardy said.
The Pirates extended their best start since 1999, earned bowl eligibility for the eighth time in nine years, and kept themselves in position to contend for one of the major New Year's bowls.
But while everyone else will undoubtedly start comparing the Pirates to the other candidates -- with the most obvious being No. 23 Marshall (7-0) -- McNeill refused to begin to build a case for his team.
''I will not fall into that and I will not be talked into that,'' McNeill said. ''We'll work on making sure we do the best we can, getting better, and let it fall where it happens because I can't control what they do.''
This one wasn't always so secure -- largely because of some untimely mistakes by the Pirates.
In addition to Harvey's missed field goal, Carden threw an interception in the end zone and East Carolina finished with 11 penalties for 105 yards.
Whitmer's 32-yard TD to Noel Thomas made it a 14-all game. His 88-yard catch-and-run to Deshon Foxx -- after cornerback Josh Hawkins whiffed on the coverage -- pulled UConn to 21-all with 3:43 left in the third.
East Carolina's defense stiffened after that, allowing the Huskies 35 yards combined on their next four possessions.
Still, that this would turn into a tight game seemed almost inconceivable after the quick-starting Pirates scored touchdowns on their first two series.
The first came when Hardy laid out in the end zone - and UConn defender Jhavon Williams grabbed a handful of his jersey - to catch his TD. Carden's scoring pass to Williams made it 14-0 not even 10 minutes in.
That's when UConn tightened things on defense, and got to work on offense. Whitmer countered with a short scoring plunge on fourth-and-goal from the East Carolina 1 on the next possession.
The Huskies tied it for the first time on their opening possession of the second half, making it 14-all on Whitmer's touchdown pass to Thomas - who broke wide open after Detric Allen fell.
''We made a few mistakes. We may give up some deep balls,'' Hawkins said. ''Once again, we came together as a team, as a defense, as an offense.''
---