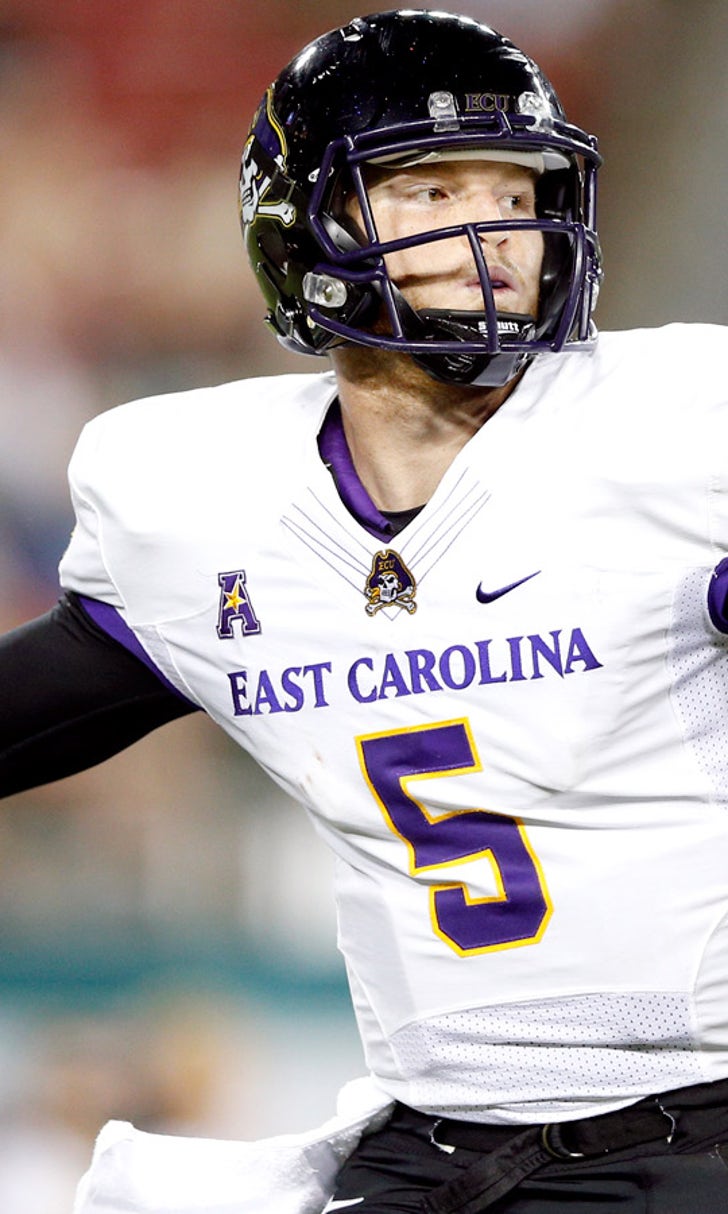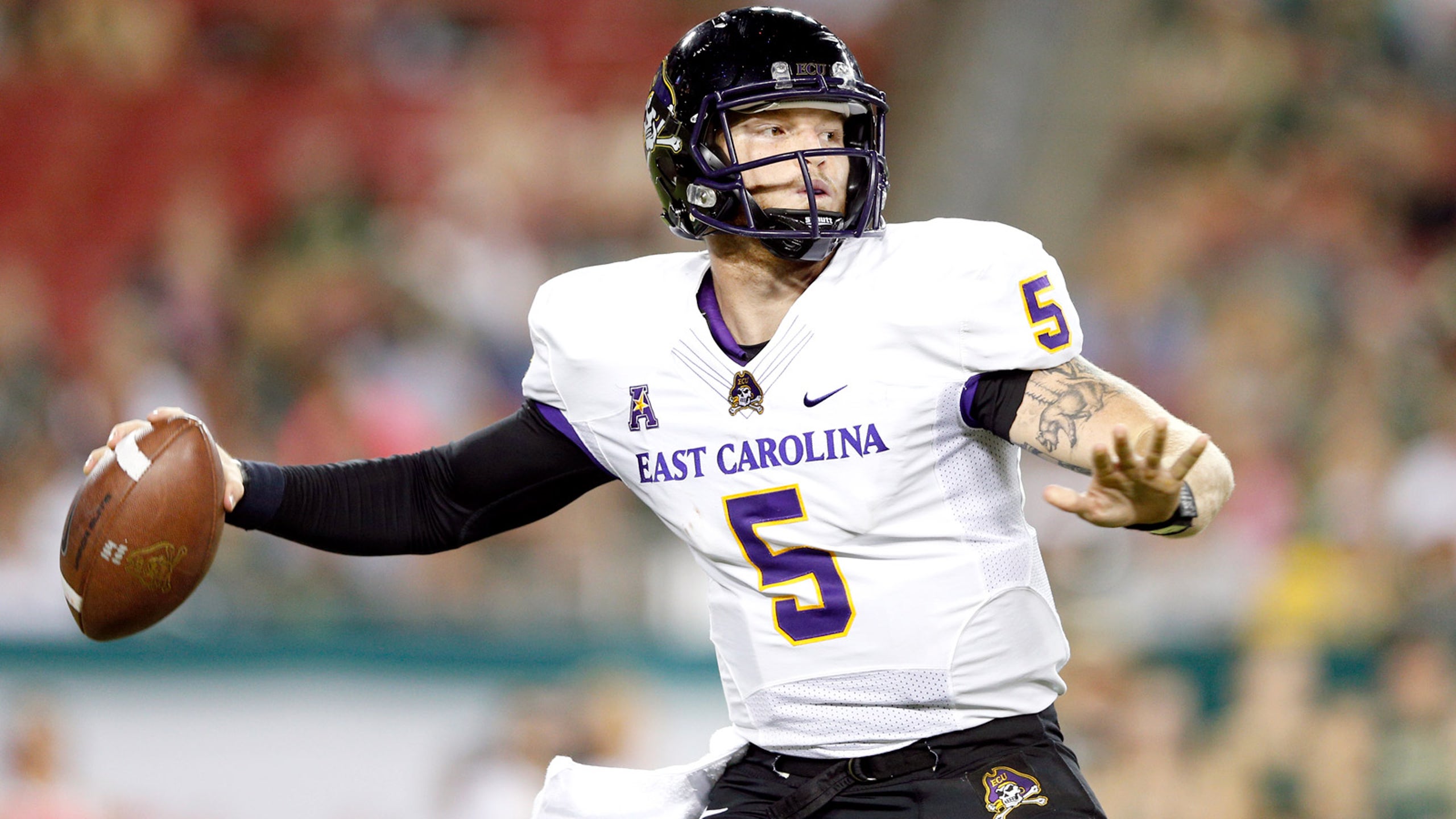 No. 18 East Carolina on roll, ready for Connecticut matchup
BY foxsports • October 22, 2014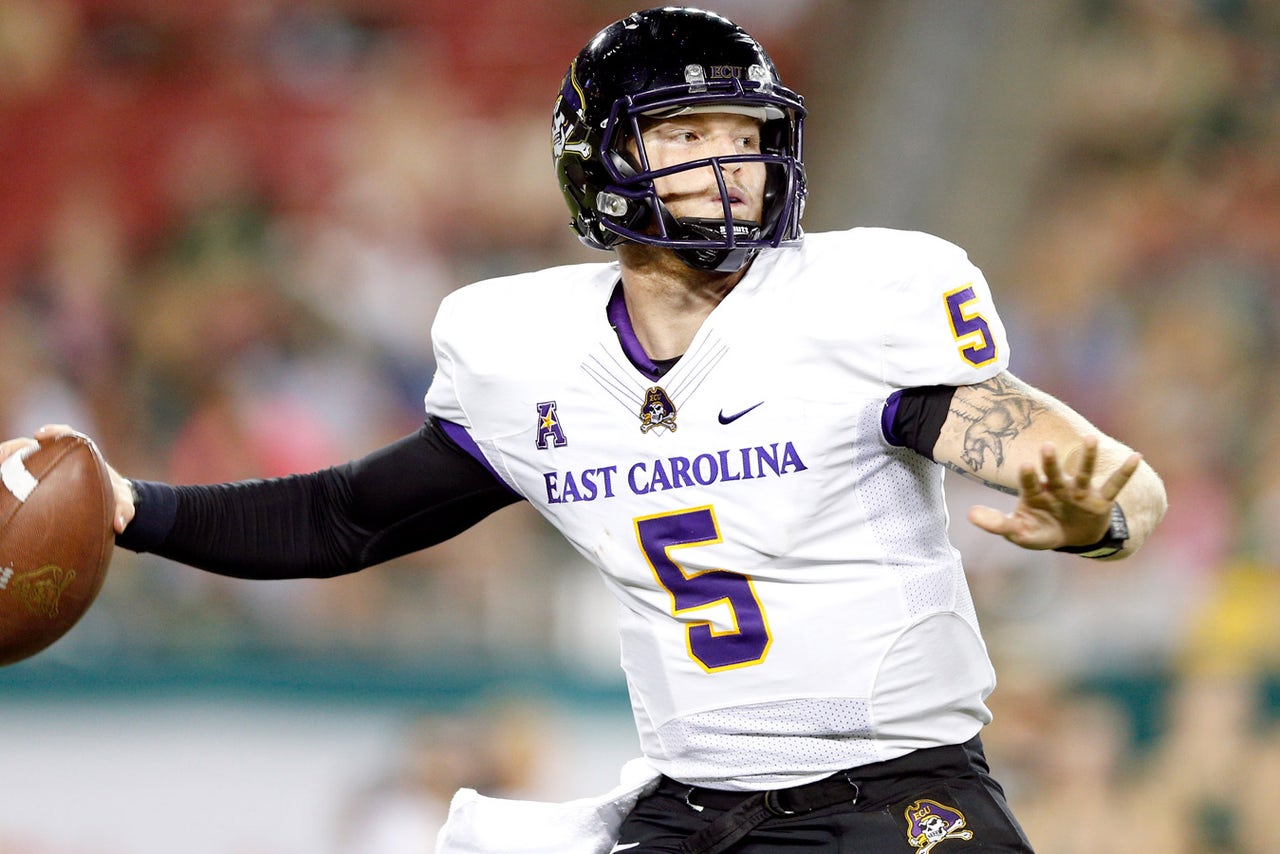 GREENVILLE, N.C. -- East Carolina hasn't been on a roll like this in quite a while. For these 18th-ranked Pirates, there's really no time to savor it -- not with so much more left to pursue.
They're off to their best start in 15 years, have settled into their first national ranking since 2008 and have a prime-time audience for their latest high-scoring show when Connecticut visits Thursday night.
"No doubt, it's an unprecedented level for us right now," offensive coordinator Lincoln Riley said. "I think the thing we've got to do and we've been talking about it offensively, let's stay focused on how good we can get."
The Pirates (5-1, 2-0 American Athletic Conference) haven't started 6-1 since 1999. A win over four-touchdown-underdog UConn will make them bowl eligible for the eighth time in nine years.
It will also keep them on track for a pretty big one.
East Carolina remains positioned to earn a spot in one of the big New Year's bowls that goes to the highest-ranked champion as determined by the selection committee from the so-called Group of Five -- the American, Mountain West, Sun Belt, Mid-American and Conference USA.
The top-ranked champion from one of those five non-contract conferences will most likely earn a spot in the Peach Bowl in Atlanta.
Quarterback Shane Carden -- who ranks among the national leaders in a handful of offensive stat categories -- doesn't think the ranking adds any pressure.
"It makes us focus and kind of realize what we're capable of, and down the road what could possibly be there for us," he said. "And understand we've got to take each game seriously, because we understand we're going to get teams' best."
The Huskies (1-5, 0-3) have lost four straight and have yet to beat a Bowl Subdivision team under first-year coach Bob Diaco.
"You got to be looking forward to these moments," Diaco said. "This is why you put your pads on and come to work to have these exciting chances."
Some things to know about East Carolina's first Thursday night game of the season:
Carden party: Carden ranks among the national leaders in just about every major offensive stat category. The East Carolina QB ranks fifth in yards passing (354.8 per game), fifth in total offense (367), seventh in completions (27.7) and 12th in points responsible for (19).
Husky D: UConn is doing something right on defense. The Huskies allow a league-best 325 total yards per game and have allowed 17 or fewer points in three of their last five games. Diaco says his defense is "not a feast-or-famine outfit" that chases sacks and negative-yardage plays at the expense of occasionally being burned. "Our objective, and we are built, because we want to keep the points down," Diaco said. "So nothing is going to compromise that charge."
ECU'S D: The Pirates' prodigious offense gets most of the headlines but East Carolina's defense has quietly been productive, too. The Pirates trailed South Florida by 10 in their last game but held the Bulls scoreless in the second half of a 28-17 victory. East Carolina has the nation's 15th-best defense against the run.
Skip ties: East Carolina and Connecticut have never met in football but the schools share one thing in common: Skip Holtz. He spent five years at each program, leading the Huskies from 1994-98 when they were still playing at the Division I-AA level, and guiding the Pirates from 2005-09.
UConn vs. Top 25: Connecticut is chasing just its third victory against a team in the AP Top 25. The Huskies are 2-21 in those games with the wins coming against No. 19 Louisville in 2012 and against No. 11 South Florida in 2007. 
---