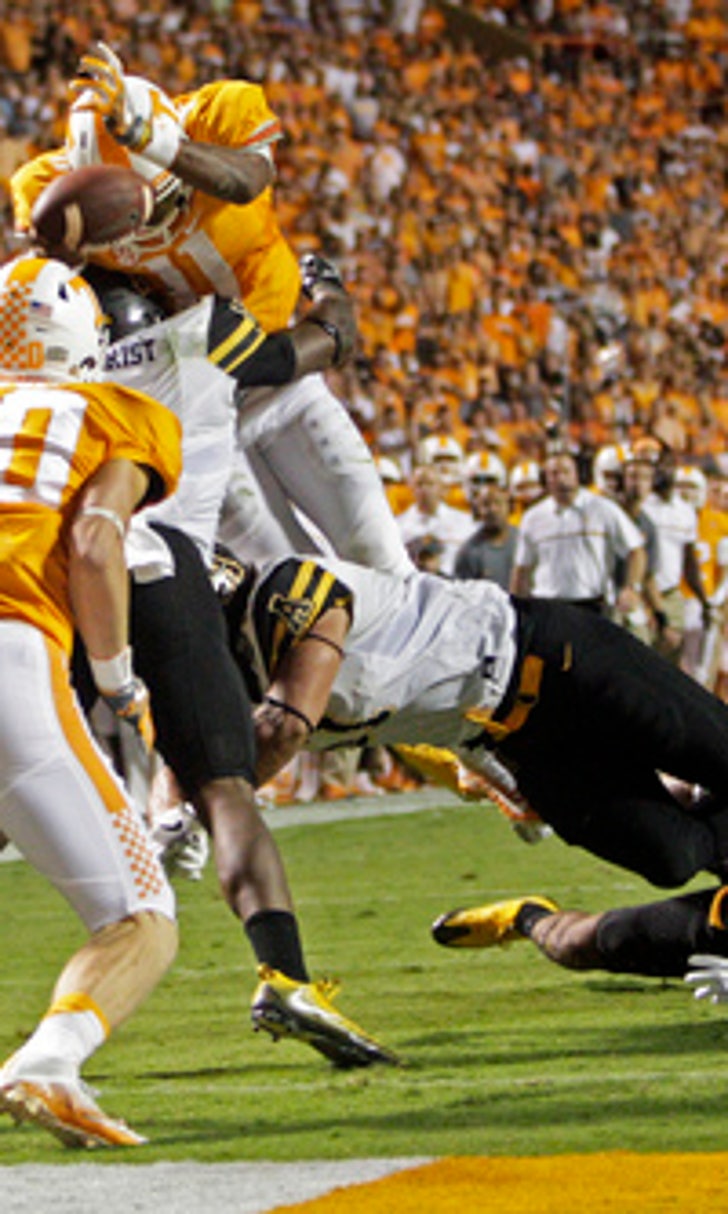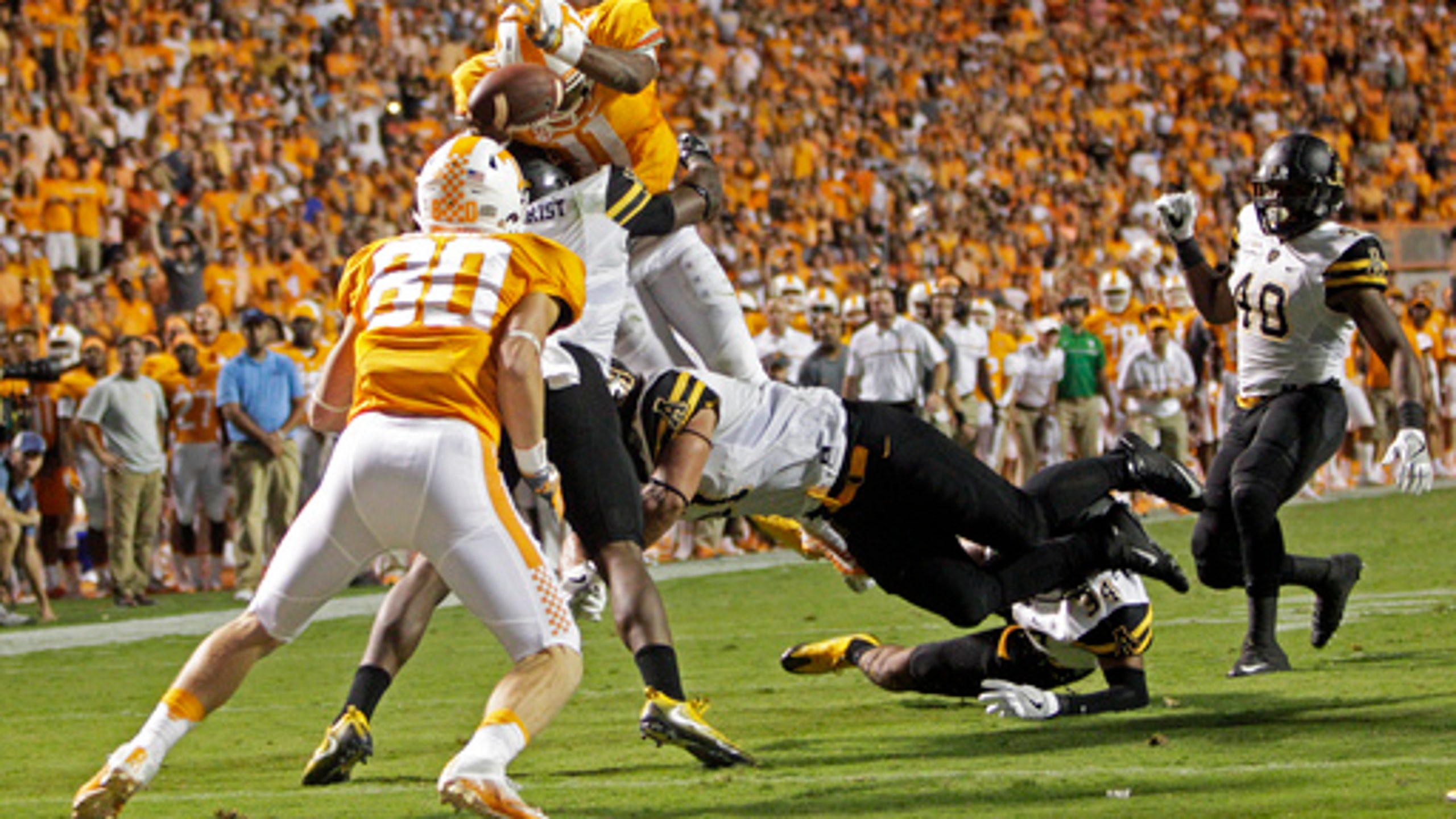 No. 17 Vols look for more offensive production vs. Hokies
BY foxsports • September 8, 2016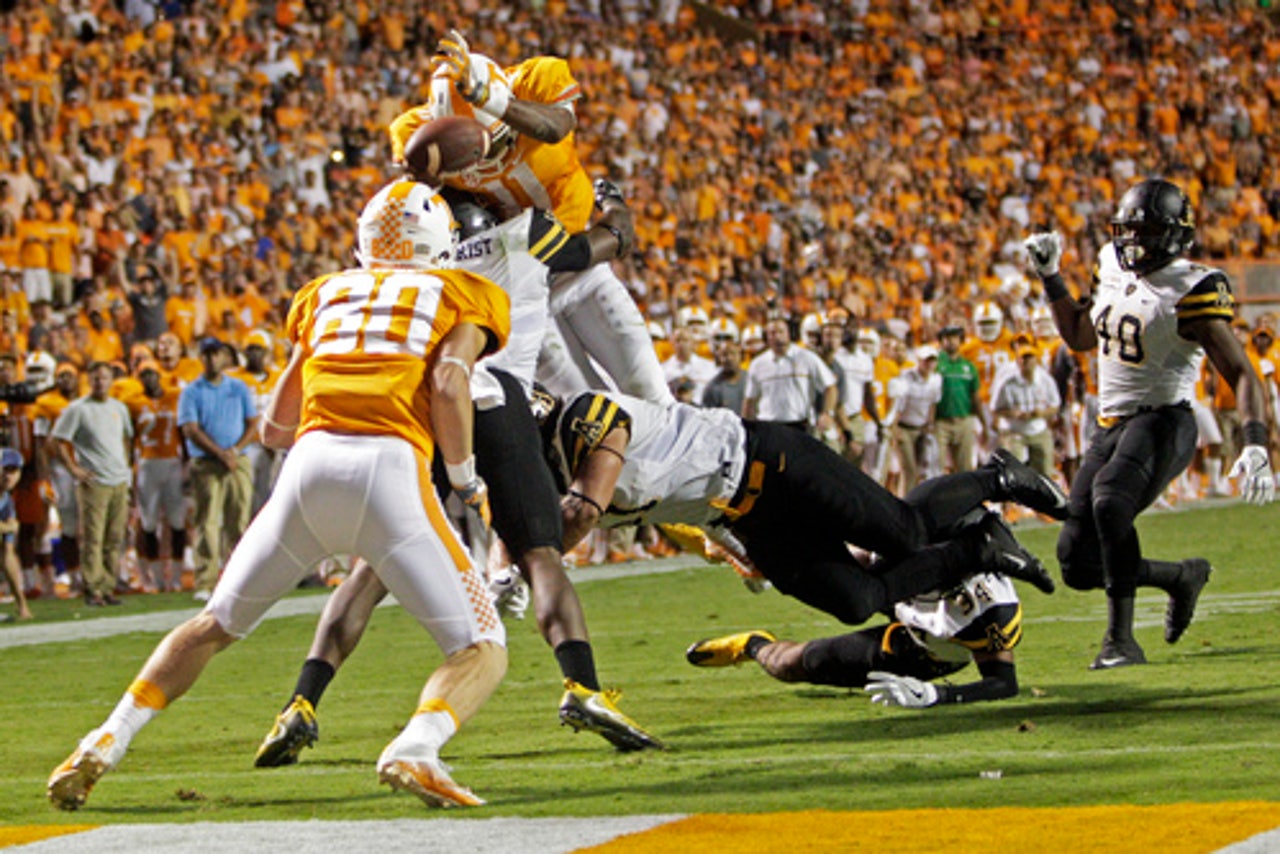 KNOXVILLE, Tenn. (AP) Tennessee believes it isn't far away from correcting the problems that stifled its offense in a season-opening overtime victory.
The Volunteers were kept out of the end zone for the first 49 + minutes of that 20-13 triumph over Appalachian State and had just one touchdown in regulation. Tennessee struggled despite returning the nucleus of an offense that had averaged 35.2 points per game last year to rank third in the Southeastern Conference.
''We just were one guy away,'' offensive coordinator Mike DeBord said. ''It wasn't the same guy all the time or whatever. On offense, when you execute, you have to be 11 for 11. We just had one guy that didn't get his technique down, and that's what slowed us up in execution.''
No. 17 Tennessee (1-0) faces potentially an even tougher challenge Saturday when it heads to Bristol Motor Speedway to face Virginia Tech (1-0). Since Bud Foster took over as Virginia Tech's sole defensive coordinator in 1996, the Hokies have the most sacks and interceptions of any Football Bowl Subdivision program.
Tennessee can't repeat last week's mistakes, particularly in first-down situations.
Vols coach Butch Jones said an effective offense should pick up at least 4 yards on first down 65-75 percent of the time. Tennessee gained that much yardage on less than one-third of its first-down plays against Appalachian State.
''We had way too many negative-yardage football plays,'' Jones said. ''You can't recover having second-and-12, second-and-19. Those were self-inflicted wounds.''
And they were committed by an experienced group.
Offensive tackle Kyler Kerbyson and wide receiver Von Pearson are the only offensive starters missing from last season's Outback Bowl victory over Northwestern, though tackle Chance Hall is currently sidelined after undergoing arthroscopic knee surgery last month.
Still, the Hokies know how talented the Vols are offensively.
''Obviously their tailback (Jalen Hurd) stands out,'' Virginia Tech coach Justin Fuente said. ''He is a large, athletic, downhill runner. Boy, he's a good football player, and they've got weapons on the outside, and they seem to be pretty big and athletic up front. All of that combined with a dual-threat quarterback.
''So there is plenty to say grace over when you watch their offense.''
Tennessee's passing attack was one of its major questions heading into the season, and it remains a concern. Joshua Dobbs went 16 of 29 for 192 yards and an interception against Appalachian State, though he did have a game-tying 67-yard touchdown completion to Josh Malone.
But the running game figured to be a major strength, as Hurd, Alvin Kamara and Dobbs all returned after combining to rush for 2,657 yards and 30 touchdowns last season. Tennessee gained just 127 yards - including 110 from Hurd - on 43 carries against Appalachian State.
DeBord wants to get the ball in Kamara's hands more. Kamara had just six carries for 21 yards to go along with three catches for 20 yards last week.
''At the end of the day, there are always things you can improve on,'' Dobbs said. ''That's what we're hunting for. We're hunting for consistency and continuing to improve and make a big jump from Week One to Week Two.''
Dobbs took a hard shot to the chest in overtime last week but has said he is feeling fine. Jones said Dobbs is ''100 percent healthy.''
Many of the offense's issues stem from a line that struggled to create running room and give Dobbs adequate time to throw last week. DeBord acknowledged that his offense wasn't physical enough and that the line lacked consistency.
''Every week last year I thought we really worked at getting better every week up front,'' DeBord said. ''I thought that group did that. That's what this group has to do.''
---
AP college football site: http://collegefootball.ap.org
---