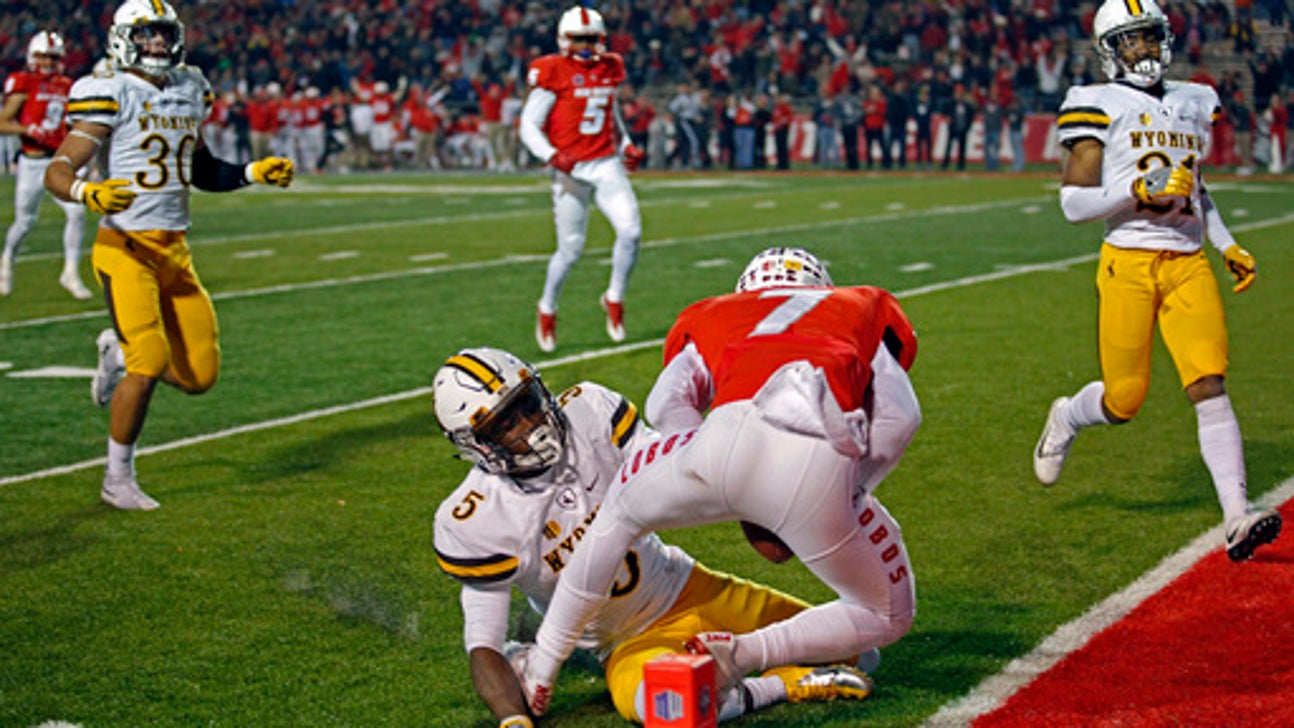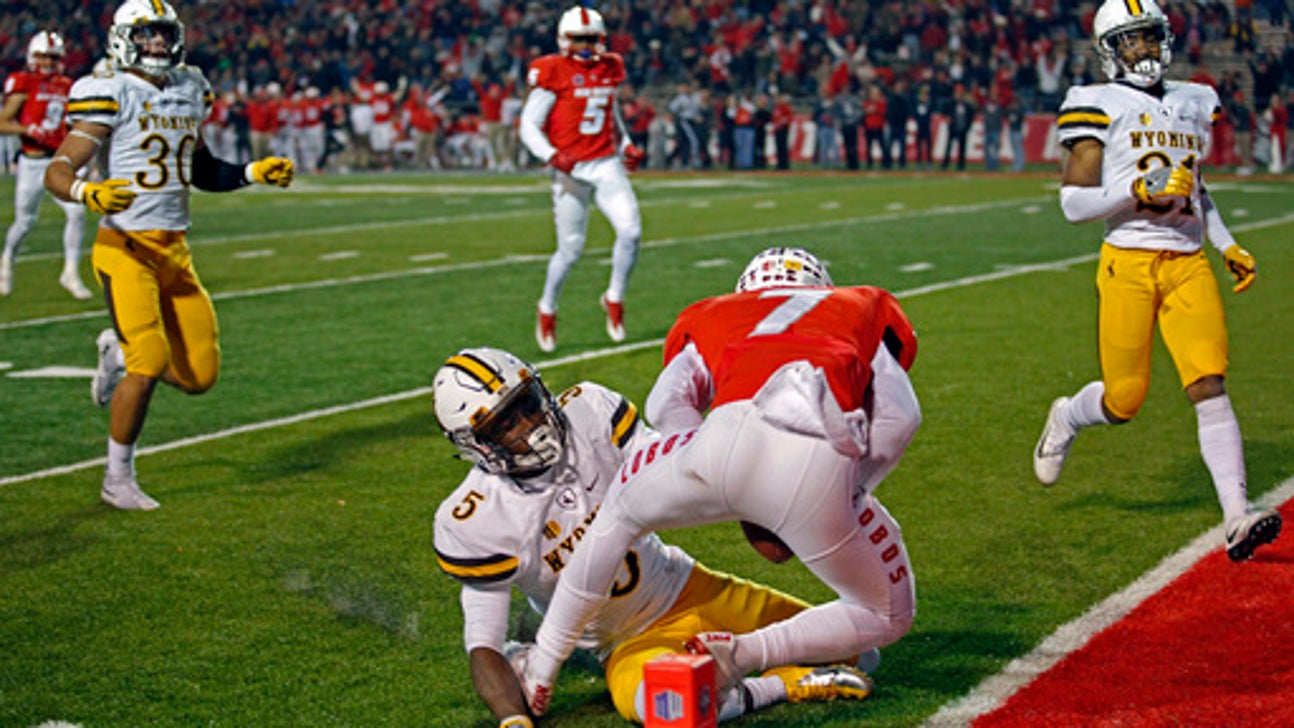 New Mexico plows through Wyoming in 53-35 win
Published
Nov. 27, 2016 3:06 a.m. ET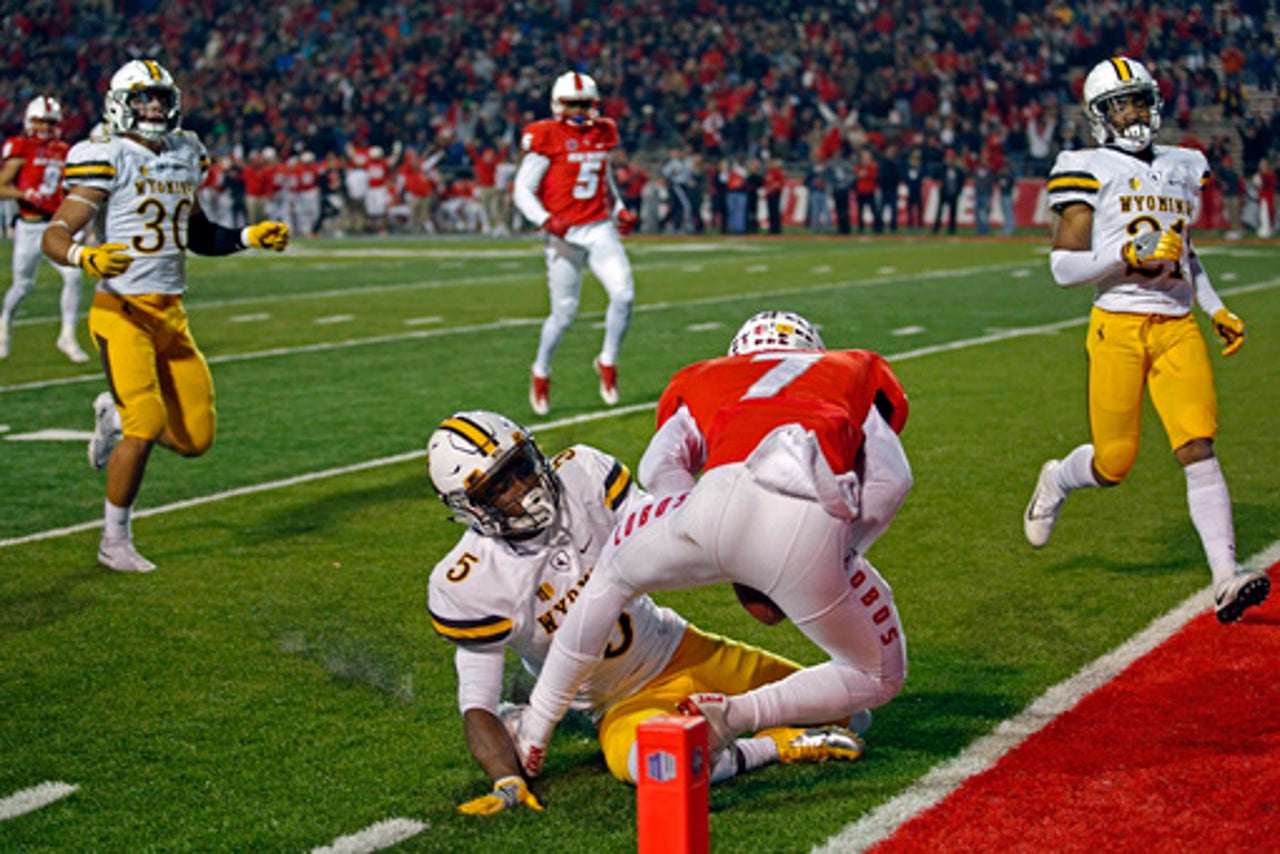 ALBUQUERQUE, N.M. (AP) Teriyon Gipson ran for a career-best 217 yards and two touchdowns and Richard McQuarley had three touchdowns and 121 yards, leading a New Mexico rushing onslaught Saturday for a 56-35 win over Wyoming.
Lobos quarterback Lamar Jordan also had a career-best with 176 yards on the ground, and threw for 122 yards.
Brian Hill ran for 126 yards and three touchdowns for Wyoming (8-4, 6-2 Mountain West).
But New Mexico (8-4, 6-2) could not be stopped on the ground with 568 yards rushing, the most Wyoming has ever permitted.
''Against a team representing our division in the championship game next week, a team that is very well coached on defense, without a doubt, you can't play much better than that,'' Lobos coach Bob Davie said.
The Lobos scored their first three possessions, taking just 12 total plays in building a 21-0 lead, a deficit from which Wyoming never recovered.
''It was a rough night,'' said Wyoming coach Craig Bohl. ''I think we really need to give credit to New Mexico. They finished off on a high note. In particular, their offense was more troublesome than what we anticipated. Their numbers were true (Saturday). The speed of the game, we could never get caught up to that. Obviously it was something we need to prepare better for and we will.''
The Lobos didn't attempt their first pass until three minutes into the second quarter. They had already rolled up 262 rushing yards by that point.
THE TAKEAWAY: New Mexico entered the game leading the country in rushing with 342 yards a game, but what it did to the Cowboys was downright ridiculous, reeling off 428 yards - in the first half. The Lobos had 10 rushing plays of 20 or more yards - in the first half.
''It was a ton of big plays,'' Bohl said. ''It was an abysmal defensive performance; I'm not going to sugar coat it.''
New Mexico finished with 568 rushing yards and 690 yards of total offense.
''I don't think you can ask for much more offensively,'' Davie said. ''As we continue to go, we've got a pretty good answer for certain things.''
The Cowboys lost two of their final three games, sandwiching a win over then-No. 24 San Diego State between road losses to UNLV and the Lobos. Wyoming, New Mexico and Boise State tied for the lead of the conference's Mountain Division, but the Cowboys get the championship berth based on tiebreakers.
STATS: With three touchdowns, McQuarley has 16 on the season, second most in school history.
New Mexico's eight regular-season wins are its most since winning eight in 2007.
''It's a lot better waiting when you have eight wins, being 8-4, waiting to hear where we're going to go,'' Davie said.
UP NEXT: Although the Lobos have the possibility of going to one of several different bowl games, New Mexico coach Bob Davie has already lobbied for a berth in the hometown New Mexico Bowl.
''I'd probably like to play in the New Mexico Bowl,'' he said at his weekly news conference. ''The thought of, if we're bowl-eligible, somebody else playing in our stadium, somebody else using our locker room. ... I think the chance to play at home and win a game here, win a bowl game here (is preferable to going elsewhere).''
The Cowboys next play San Diego State in Saturday's conference championship game at a site still to be determined. Wyoming just beat the Aztecs 34-33 on Nov. 19.
''We didn't get it done and we need to get ready to play San Diego State in a short amount of time,'' Bohl said. ''What we have to do is get ready for an offense that is 180 degrees different and lick our wounds, we'll learn from this and move forward. We're playing for a championship and that's why we have to bounce back.''
---