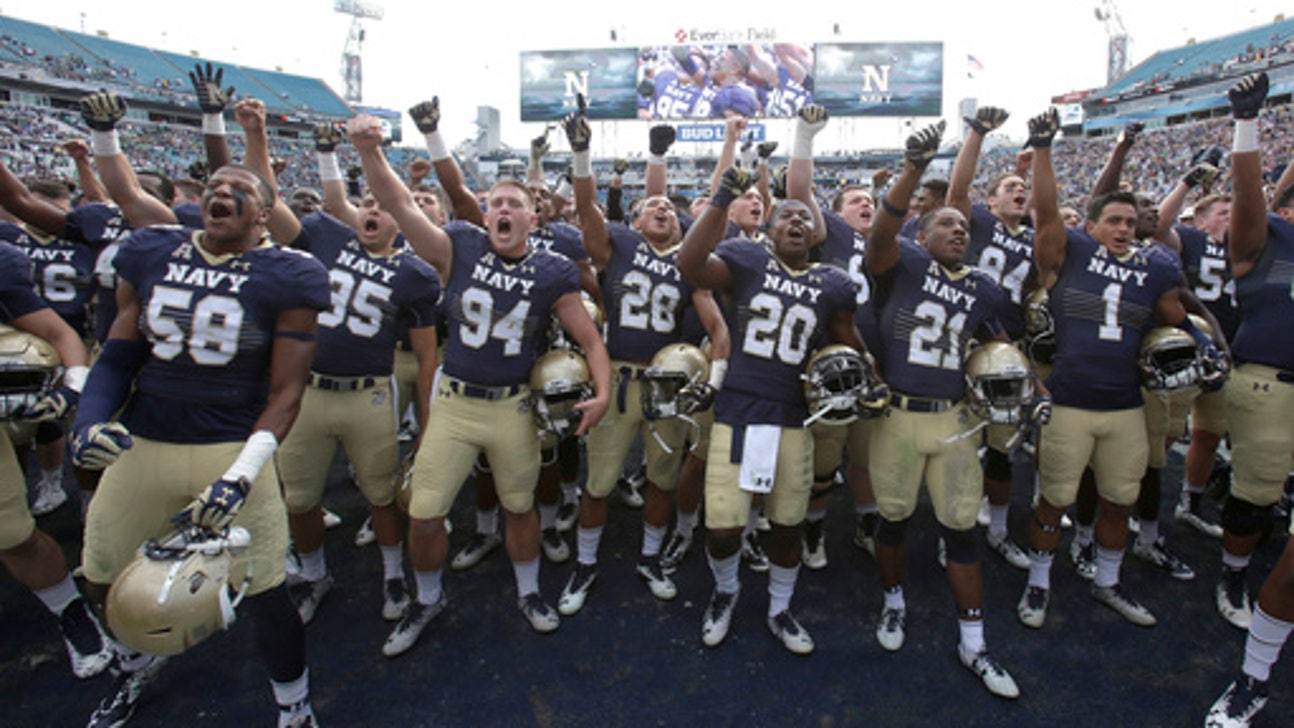 Navy, Western Michigan could put bowls on hold if CFP waits
Published
Dec. 2, 2016 11:13 p.m. ET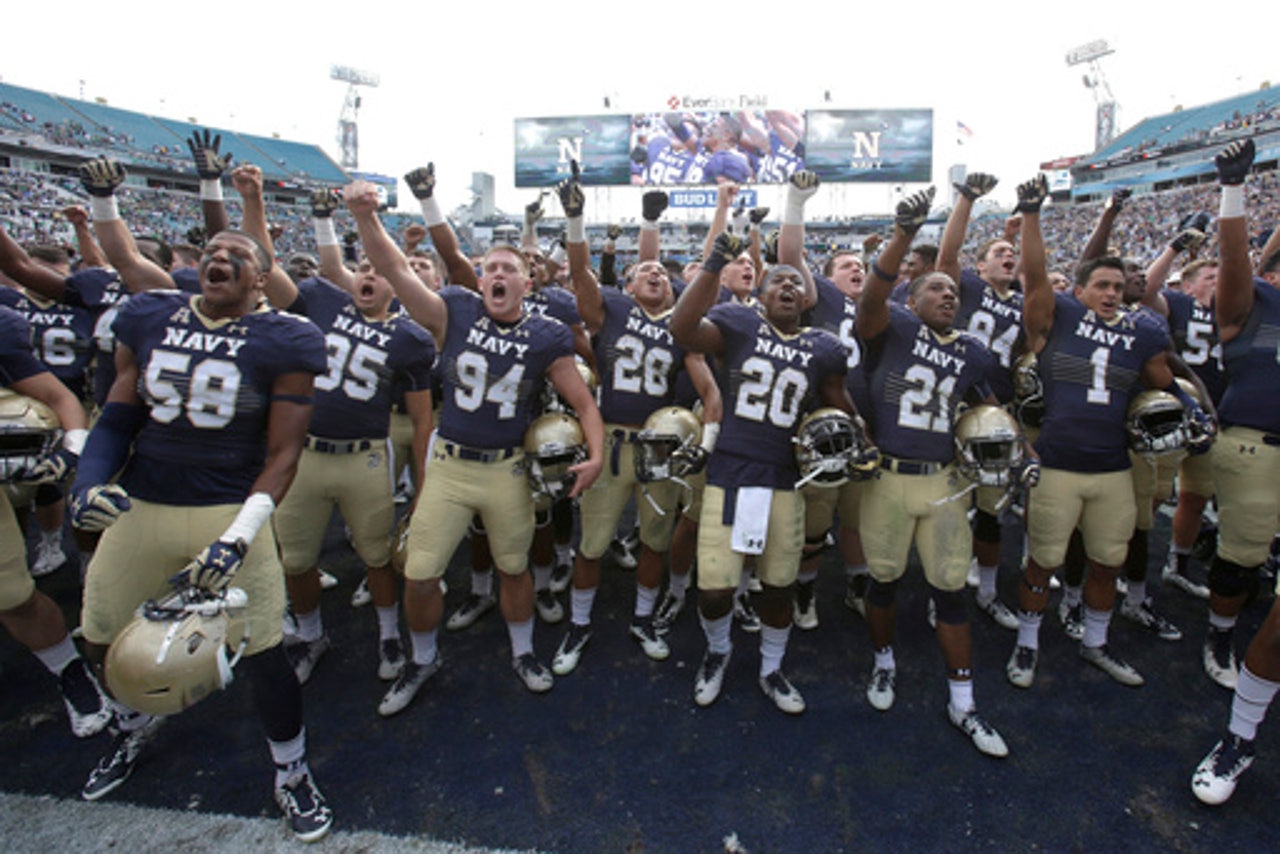 No. 13 Western Michigan and No. 20 Navy could put a bunch of bowls on hold, depending on what the College Football Playoff selection committee thinks of their performances this weekend.
If Navy is in position to earn a spot in a major bowl game when the rankings and semifinal pairings are set Sunday, the 12-person committee will wait a week for Navy to play Army to make a final call on where the Midshipmen should be ranked.
Navy (9-2) is 19th in the latest playoff rankings, two spots behind unbeaten Western Michigan heading into the Midshipmen's matchup with Temple in the American Athletic Conference championship game Saturday. The Broncos (12-0) play Ohio in the Mid-American championship game Friday night in Detroit.
The highest ranked team from the so-called Group of Five - American, MAC, Mountain West, Conference USA and Sun Belt - gets an automatic bid to a New Year's Six bowl. This season that means the Cotton Bowl in Arlington, Texas, on Jan. 2.
Selection committee chairman Kirby Hocutt said this week that the committee has had a conference call scheduled for Dec. 10 since the summer, just in case this issue came up.
If Navy was to pass Western Michigan, it is all but certain the committee would wait to make sure the Midshipmen beat Army (6-5) before it set a Cotton Bowl matchup.
If Navy remains behind WMU come Sunday, it will be up to the committee to determine if it needs to see the Army result.
''The committee is not limited by any specific number, distance behind or ahead. The committee only has to evaluate whether the Army game could affect Navy's selection,'' said Bill Hancock, the executive director of the College Football Playoff. ''The problem with numerical metrics with something like this is two spots behind could be as close as four spots behind depending on how the committee views that cluster of teams together.''
Waiting a week to determine whether Western Michigan, Navy or some other team plays in the Cotton Bowl is an inconvenience for organizers of that game, but the bigger issue is the trickle-down effect to other bowls.
Wright Waters, executive director of the Football Bowl Association, said Thursday that 10 to 14 bowls could be impacted by the delay in setting the Cotton Bowl matchup.
''The problem is not the number, it's the number on that first weekend,'' Waters said.
The first day of the bowl season is Dec. 17. There are six games, all involving Group of Five teams. Delaying setting those matchups until Dec. 11, when teams would have to be at a bowl site three days later, would create a logistical nightmare.
The Navy issue is not the only one facing bowl organizers as they try to fill 80 spots for 40 games. Several conferences, including the Pac-12, Big 12 and Big Ten, do not have enough bowl-eligible teams to fill all their contracted spots. There will be at least a couple of 5-7 teams competing in bowl games this season. North Texas and Mississippi State are in line to get bowl bids with sub-.500 records because of their Academic Progress Rate scores, but they will have to wait until all the teams that qualified with six victories are accommodated. Army, an independent, is also in the mix, no matter how it does against Navy.
''What's occurring this year is not necessarily different than what occurs every year at this time,'' MAC Commissioner Jon Steinbrecher said. ''You have different parties exploring different scenarios.''
If Navy does not end up in the Cotton Bowl, it is contracted to play in the Armed Forces Bowl in Fort Worth, Texas, on Dec. 23. If Navy goes to the Cotton, the American would not have enough bowl-eligible teams to fill all its spots, which is how the Cure Bowl in Orlando, Florida, on Dec. 17 could be affected by all this.
Swapping out Western Michigan for Navy in the Armed Forces Bowl might be part of a solution. There is also a spot the Big Ten cannot fill in the Heart of Dallas Bowl on Dec. 27 that could be a good fit for Western Michigan if it falls out of the New Year's Six.
ESPN owns and operates 11 bowls, all of which involve Group of Five schools, and it will be involved in putting the postseason puzzle together, too.
''There are a few twists that could be a little more complex,'' American Athletic Conference Commissioner Mike Aresco said, ''but for the most part it's not going to involve the whole system.''
---
Follow Ralph D. Russo at www.Twitter.com/ralphDrussoAP
----
More AP college football: www.collegefootball.ap.org
---