Monmouth Hawks
Monmouth Hawks
Monmouth savoring first trip to FCS playoffs
Published
Nov. 24, 2017 11:26 a.m. ET

(STATS) - An outstanding season that included a seven-game winning streak appeared to be slipping away from Monmouth last Saturday, when the Hawks' hopes at a Big South title went up in smoke in the program's biggest game in years.
They'll only have to wait a week to play what's unquestionably the biggest game in Monmouth history.
The Hawks make the first playoff appearance in the program's 25-year history Saturday at No. 20 Northern Iowa, which is hoping one of the nation's most grueling schedules has it well-prepared for a deep postseason run.
Monmouth (9-2) was picked to finish fourth of five eligible Big South teams in the conference's preseason poll, yet it found itself heading to Kennesaw, Georgia, with a chance to win the league title last Saturday after seven consecutive victories.
It was hardly a guarantee that the subdivision's smallest conference would get both teams from its de facto title game in the playoffs, so the Hawks were left to sweat after a 52-21 loss to Kennesaw State. But less than 24 hours after that disheartening defeat, the selection show delivered good news.
"We came into the room hopeful that we would have an opportunity to play again," Kevin Callahan, the only coach in program history, said on Sunday. "You're never quite sure when ... your fate is decided by a committee.
"A few minutes ago they were disappointed with how things went down on Saturday, but now they've got a new energy, having been rewarded for all their hard work and investment and belief in the approach and the process."
Trusting the process had to be tough at times for Northern Iowa (7-4), which started 2-3 ahead of a four-game gauntlet that included a trip to South Dakota State and visits with two of last season's four national semifinalists. But the Panthers beat the Jackrabbits - a potentially season-saving victory at the time - and wound up winning five of six heading into their 19th visit to the playoffs.
Beat the Hawks, and Northern Iowa will find itself heading north for a rematch with South Dakota State.
"We've been in the playoffs for six weeks now," said UNI coach Mark Farley, referencing the strenuous schedule. "(The veterans) had to bring that stability and that mindset to our football team then. We've been in that mindset, and I think this will just be a continuation of it."
The Panthers' turnaround coincided with the return of running back Marcus Weymiller, who suffered an ankle injury in early September and didn't have a carry in the team's first five games. So how did they ease the junior back in? By giving him 42 carries - an FCS single-game high in 2017 - in the win over the Jackrabbits.
He scored two TDs in that victory and has totaled eight in the last six games, averaging 28.3 touches as the workhorse UNI lacked early in the season.
It hasn't been a cure-all, though. UNI still averages an FCS playoff field-low 2.86 yards per rush, and is facing what prior to a week ago had been a pretty stout run defense.
But the Hawks, who had allowed just 3.2 yards per carry in their first 10 games, were shredded by Kennesaw State's triple-option attack. The Owls racked up 405 yards on the ground and ran for six touchdowns.
Monmouth is one of the more balanced offensive teams in the field, with Pete Guerriero, Michael Jolly and Devell Jones all averaging at least 5.0 yards per carry and totaling 26 TDs. Sophomore quarterback Kenji Bahar has thrown 11 touchdown passes and averaged 8.18 yards per attempt in his last six games, but he's also been picked off six times in that stretch. Star wideout Reggie White Jr. was limited to two catches for seven yards last week.
Will the Hawks just be happy to be there in their playoff debut? They don't think so, and the Panthers certainly see no novelty in simply making an appearance after missing the field last season.
"Just getting in wasn't our goal," UNI defensive tackle Adam Reth said. "We want to see how far we can go and see how good we actually are."
---
---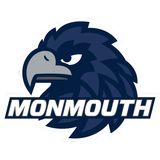 Get more from Monmouth Hawks
Follow your favorites to get information about games, news and more
---