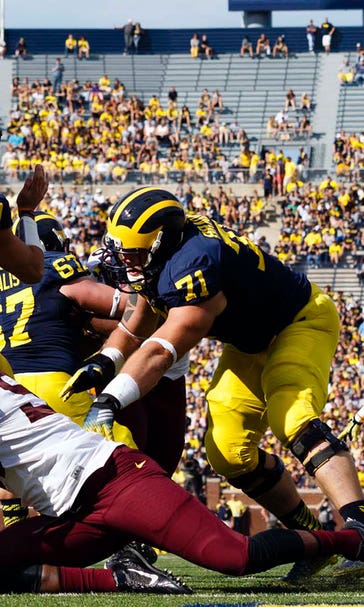 Minnesota coach identifies the Harbaugh difference for Michigan
October 27, 2015

Minnesota shut down Michigan's offense last season, claiming the Little Brown Jug with a 30-14 victory in Ann Arbor. 
It sounds like the defensive coordinator of the Golden Gophers sees a greater challenge coming this time around with Jim Harbaugh having replaced Brady Hoke as the head coach of the Wolverines. 
"That's the downhill running game," Tracy Claeys said on the Big Ten coaches teleconference Tuesday. "They're doubling you a lot and not allowing the penetration." 
Hoke also wanted his offense to be able to dominate the line of scrimmage, but the Wolverines have been more effective more consistently on the ground this season. 
They are averaging nearly 20 more yards rushing and eight more points per game than they did last season when they went 5-7. This year they have already won five games with five left to play. 
"The other thing is their fullback carries the ball more than any team in 10 years," Claeys said. "That's just getting back to no negative plays and they don't get themselves in a bad situation."
He noted that is a different approach from the emphasis on creating explosive plays that exists at many programs across the country these days. 
"Everybody talks about explosive plays on offense, and they want 20- and 30-yard plays," Claeys said. "They're just at the point where we don't want any negative plays and keep the ball manageable and they've been able to do that and play well on special teams." 
(H/T Detroit Free Press)
---