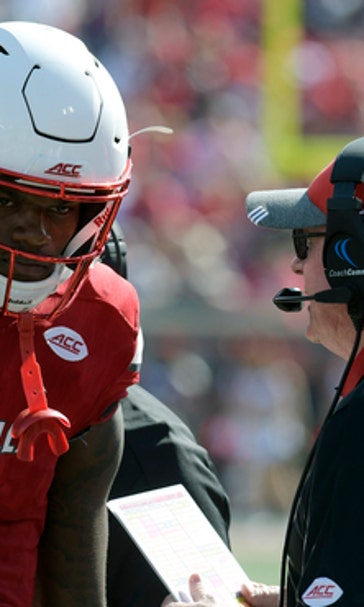 Midseason checkup: SEC twofer in playoff?
October 17, 2017

To mark the halfway point of the college football season, a sampling of statements that seemed true a month and a half ago but no longer do:
- Alabama-Florida State, a College Football Playoff preview.
- Sam Darnold, Heisman Trophy front-runner.
- Clemson is bound to take a step back without Deshaun Watson.
- Brian Kelly is on the hot seat at Notre Dame.
The takes were not all cold. Only one of the teams that started the season ranked in the top 15 has tanked - and who knows how Florida State's season might have played out if not for an injury to quarterback Deondre Francois and weather-induced schedule changes.
Penn State's Saquon Barkley has delivered on his Heisman Trophy hype. Butch Jones is most definitely in trouble at Tennessee. And, as expected, Alabama is crushing everything in its path.
Time to hand out some first-half awards and look forward to the teams, players, coaches and games that will determine where the season goes from here.
BEST OFFENSIVE PLAYER
Bryce Love, RB, Stanford
The numbers games that can be played with Love's stats are great fun. For example: Love has nine runs of at least 50 yards this season and nine straight games, dating to last season, with at least one 50-yard run. UCLA has not had a 50-yard run since 2015 when the Bruins had two. Love is averaging 10.27 yards per carry, earning him the mathematically correct nickname The Human First Down from former ESPN college football reporter Brett McMurphy.
Next: Baker Mayfield, QB, Oklahoma; Saquon Barkley, RB, Penn State; Lamar Jackson, QB, Louisville; Rashaad Penny, RB, San Diego State.
BEST DEFENSIVE PLAYER
Minkah Fitzpatrick, DB, Alabama
The versatile Fitzpatrick lines up everywhere. He can cover like a cornerback, fill gaps like a linebacker and pressure quarterbacks like an edge rusher. He is also as close to being an extension of coach Nick Saban on the field as any player can be. His stats are not overwhelming - 32 tackles, one sack, one interception - but his impact is huge.
Next: Bradley Chubb, DE, North Carolina State; Maurice Hurst, DT, Michigan; Roquan Smith, LB, Georgia; Hercules Mata'Afa, DT, Washington State.
BEST FRESHMAN
Jonathan Taylor, RB, Wisconsin
The Badgers have found their next star tailback. The 214-pound Taylor is a yards-after-contact machine . Taylor is third in the nation in rushing at 164.33 yards per game and averaging 7.76 yards per carry. Running backs often make an early impact and there are plenty of freshman runners doing that this season, including J.K. Dobbins of Ohio State; Travis Etienne of Clemson; Cam Akers of Florida State; Trey Sermon of Oklahoma; Spencer Brown of UAB; and A.J. Dillon of Boston College.
MOST SURPRISING TEAM
Virginia (5-1)
No. 4 TCU, No. 13 Notre Dame, No. 18 Michigan State, Arizona and Iowa State have already surpassed last season's win totals, but none of those turnarounds was more unexpected than Virginia's. Reasonably picked to finish last in the ACC Coastal, the Cavaliers have already more than doubled their win total while beating three teams they lost to in 2016. The competition gets tougher in the second half but a solid defense led by star linebacker Micah Kiser has second-year coach Bronco Mendenhall looking good to get Virginia back in a bowl game for the first time since 2011.
MOST DISAPPOINTING TEAM
Louisville (4-3)
Tennessee and Florida both started the season ranked and now have some heavy lifting to do just to get bowl-eligible, but coming off a home loss to Boston College the Cardinals take the title here.
Toss out automatic wins against Kent State and Murray State and Louisville is 2-3 against Power Five competition, after finishing last season with three straight losses. The defense under new coordinator Peter Sirmon has been brutal and the Cardinals still can't protect Lamar Jackson. At least basketball season starts ... never mind.
COACH OF THE HALF SEASON
Gary Patterson, TCU
Kirby Smart makes a great case in year two at Georgia for turning the Bulldogs into a national championship contender, and, really, Nick Saban could be coach of the year every year at Alabama. But Patterson is the choice for again proving to be college football's Mr. Fix-it. TCU can't consistently recruit at an elite level. It's a player development program. Occasionally, the Horned Frogs are going to hit a rough patch, like last year when they went 5-6. But since joining the Big 12, Patterson has been adept at making sure the Frogs not only don't stay down for long, but can contend for conference titles.
MOST PROMISING FIRST-YEAR COACH
Jeff Brohm, Purdue
The Boilermakers won nine game total in the previous four seasons. Brohm has them 3-3, playing a creative and entertaining style of offense, and looking good to reach the postseason.
HOT SEAT WATCH
SCORCHING - Butch Jones, Tennessee; Tyson Summers, Georgia Southern.
SIZZLING - Mike Riley, Nebraska; David Bailiff, Rice.
TOASTY - Jim Mora, UCLA; Bret Bielema, Arkansas; David Beaty, Kansas; Barry Odom, Missouri.
WARMING UP - Jim McElwain, Florida.
COOLING OFF - Kevin Sumlin, Texas A&M; Todd Graham, Arizona State; Rich Rodriguez, Arizona; Steve Addazio, Boston College.
HOT COACHES
Scott Frost, UCF
Mike Norvell, Memphis
Chad Morris, SMU
Neal Brown, Troy
MOST INTERESTING TEAM OF THE SECOND HALF
Notre Dame
The 13th-ranked Fighting Irish face the toughest second-half schedule in the country, with four ranked teams plus Navy and Wake Forest (combined 9-3). The possibilities for Notre Dame range from serious playoff contender to total collapse and renewed talk of Kelly's job status.
MOST SIGNIFICANT GAMES REMAINING
Oct. 21 - No. 11 USC at No. 13 Notre Dame.
Oct. 28 - No. 2 Penn State at No. 6 Ohio State.
Nov. 4 - No. 7 Clemson at No. 16 North Carolina State; No. 14 Virginia Tech at No. 8 Miami.
Nov. 10 - No. 12 Washington at No. 22 Stanford.
Nov. 11 - No. 4 TCU at No. 8 Oklahoma; No. 3 Georgia at No. 21 Auburn.
Nov. 18 - No. 19 Michigan at No. 6 Wisconsin.
Nov. 24 - No. 16 South Florida at No. 20 UCF.
Nov. 25 - No. 1 Alabama at No. 21 Auburn; No. 6 Ohio State at No. 19 Michigan.
HEISMAN TROPHY WATCH
Mayfield, Love and Barkley are trending as the front-runners for the Heisman heading into the second half. All three have plenty of big-stage games to either enhance their candidacies or sink them.
Three players who could surge in the second half: Josh Adams, RB, Notre Dame; J.T. Barrett, QB, Ohio State; Khalil Tate, QB, Arizona.
PROJECTING NEW YEAR'S SIX BOWLS
Sugar (CFP semifinal) - No. 1 Alabama (SEC champion) vs. No. 4 Georgia (at-large).
Rose (CFP semifinal) - No. 2 Miami (ACC champion) vs. No. 3 Ohio State (Big Ten champion).
Peach - North Carolina State (at-large) vs. TCU (at-large).
Orange - Clemson (at-large) vs. Wisconsin (at-large).
Fiesta - USC (Pac-12 champion) vs. San Diego State (Group of Five).
Cotton - Oklahoma (Big 12 champion) vs. Penn State (at-large)
---
Follow Ralph D. Russo at www.Twitter.com/ralphDrussoAP
---
More college football coverage: http://collegefootball.ap.org and www.Twitter.com/AP-Top25
---
---