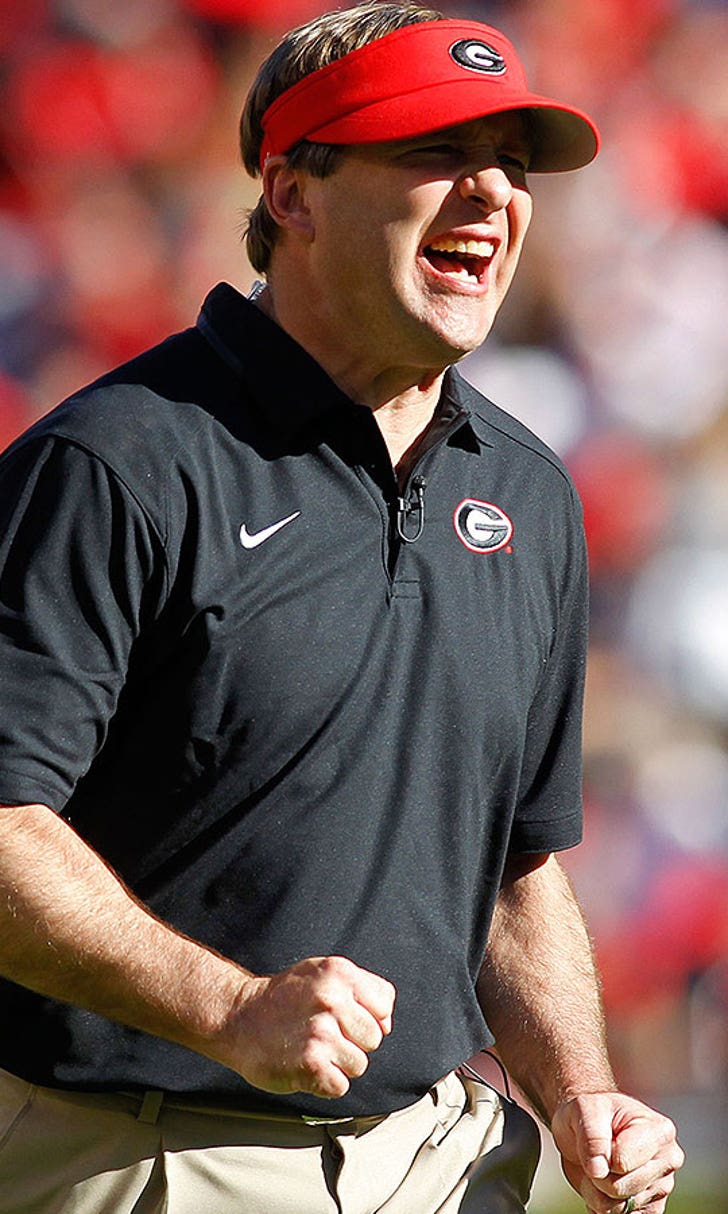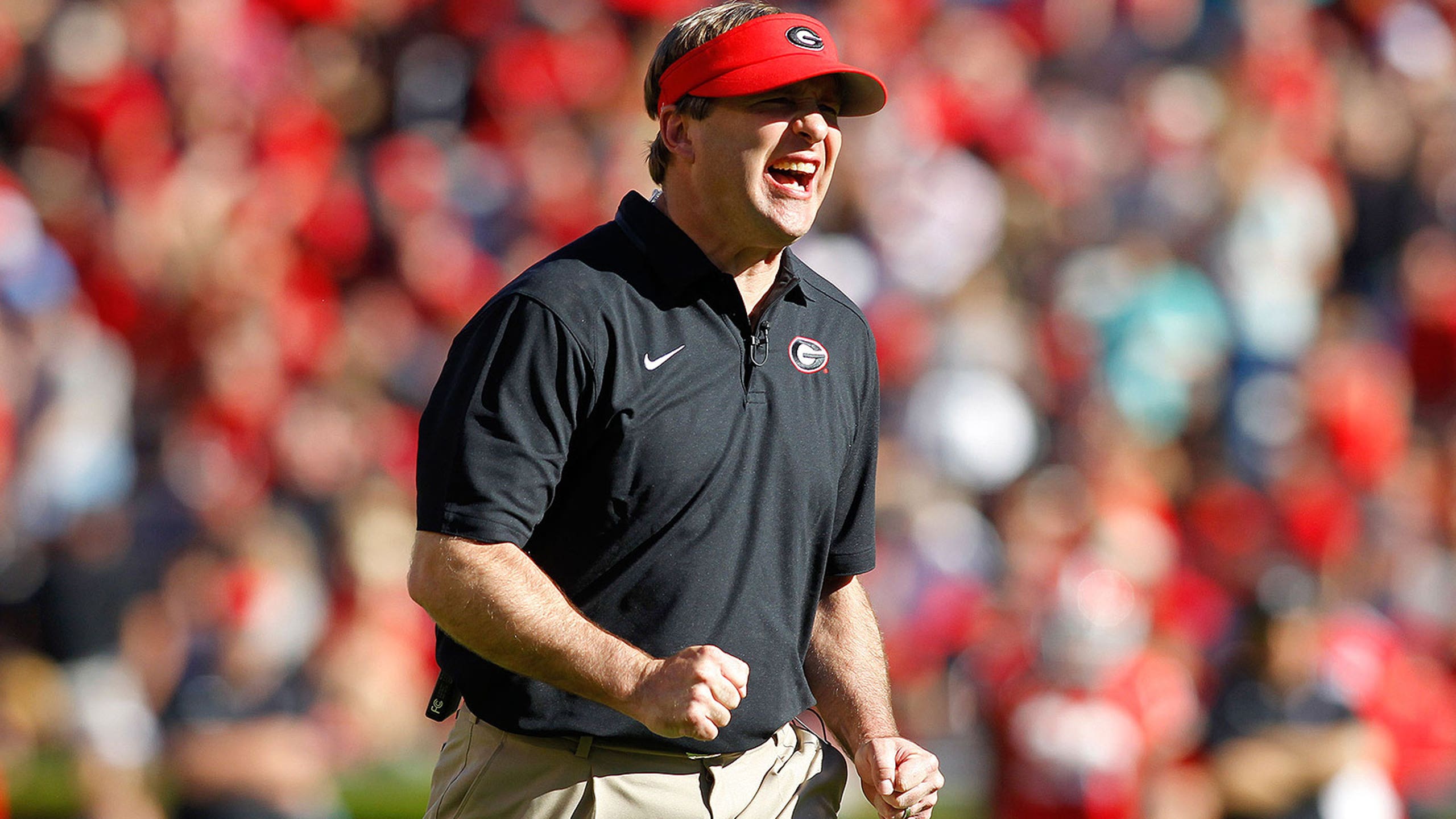 Mailbag: How will Georgia do under new coach Kirby Smart?
BY Zack Pierce and Bruce Feldman • October 20, 2016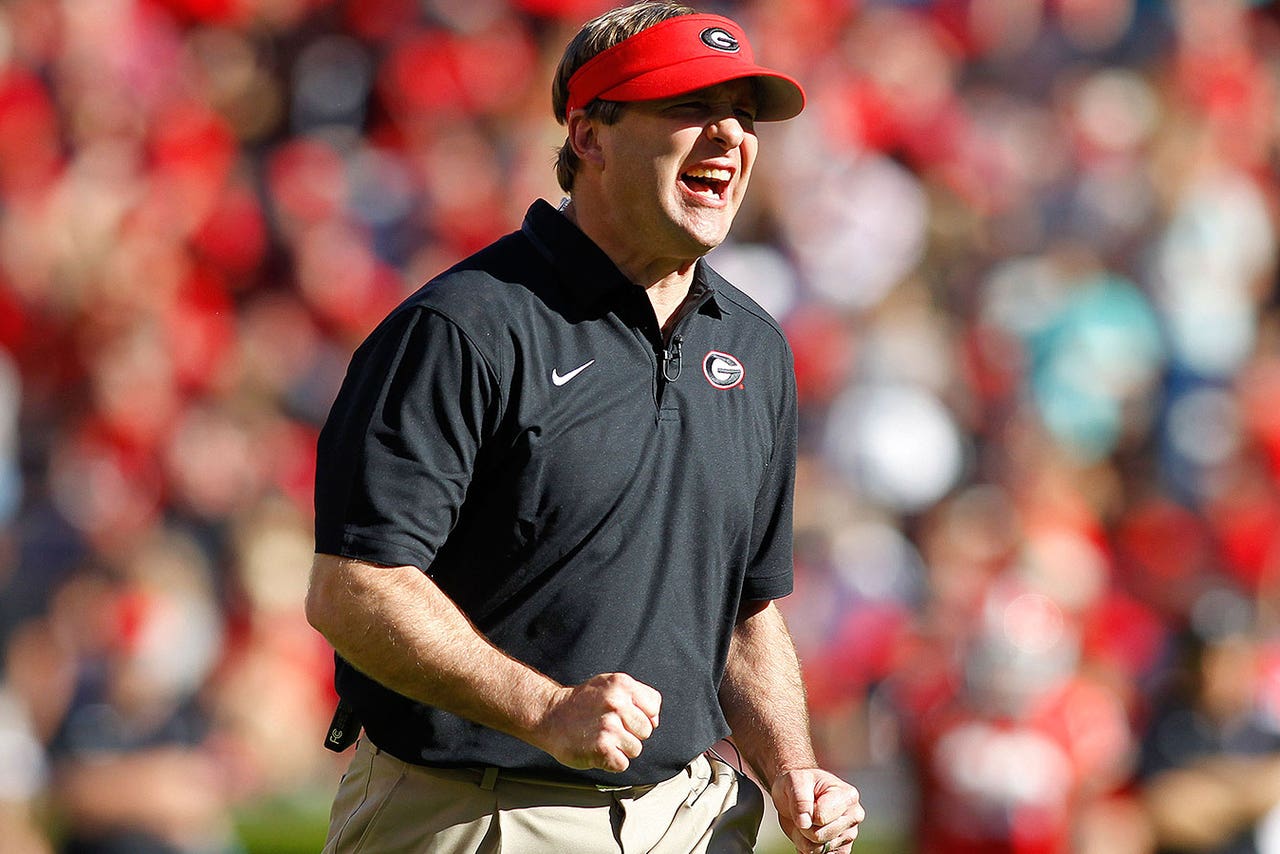 Here is this week's mailbag. As always, you can send questions to me via Twitter to @BruceFeldmanCFB or emailing me at www.brucefeldman.com.

https://twitter.com/jaystuckey3/status/743445138953871361

I suspect Jacob Eason, the touted true freshman quarterback, will be the Dawgs starter sooner than later even if it's not in the opener against UNC. He's talented, but keep in mind that unlike some other also hyped true freshman QBs, Eason didn't quite face the same level of competition in high school these other guys did. Adjusting to the speed of the SEC could take more than many expect.

If Nick Chubb is back to 100 percent, the offense should still be formidable, although they do have to fill some holes on the O-line and there is pressure for a new No. 1 WR (Terry Godwin?) to emerge. Maybe 6-5 JC transfer Javon Wims can be that guy.

Losing to any ACC team that isn't Clemson or Florida State in Atlanta won't look good to UGA fans, but UNC is underrated. I still think the Dawgs win, but the double of at Ole Miss and then Tennessee, is much trickier. My hunch is Georgia opens 3-2, but after that things ease up a bunch. They get Auburn and Georgia Tech in Athens and Florida is a fringe top-25 team this year. I'll say anything less than nine wins would be disappointing.

https://twitter.com/jackbender1100/status/743453949341032448

They could surprise folks again. They do have to find another starting QB and replace Booker, and when teams usually don't have much "star power" at the skill positions, they fly beneath the radar. But they still have some difference-makers, especially on the D-line, led by
Lowell Lotulelei, Hunter Dimick and Kylie Fitts, and DB Marcus Williams is very good too.

The schedule also does set up pretty well. Most of their toughest opponents have to come to play them at Rice-Eccles Stadium: BYU, USC, Washington and Oregon. The only other opponent in the regular-season who I see as a top-25-caliber team is UCLA, who the Utes have to visit. My gut feeling is the Utes are more of an eight-win team this season because I don't think they'll be strong enough on offense to be a top-10 team.

https://twitter.com/TheDrewTTU/status/743446273739526144

I defined "dark horse candidates" as any player listed as more than a 20/1 pick this season. Seven guys come to mind: Texas Tech QB Patrick
Mahomes (30/1); Miami QB Brad Kaaya (40/1); Wazzu QB Luke Falk (45/1); Tennessee RB Jalen Hurd (50/1); Houston QB Greg Ward (50/1); Penn State RB Sequon Barkley (80/1) and Louisville QB Lamar Jackson (100/1).

Of this group, I'd arrange this way: Kaaya, Ward, Hurd, Jackson, Falk, Mahomes, Barkley.

Kaaya's accurate and smart. He also plays for a glamour program at which he will get a lot of attention, if he and new Miami head coach Mark Richt can get on a roll. Problem for him is there are already two bigger Heisman names in the ACC in Clemson's Deshaun Watson and Florida State's Dalvin Cook. If the Canes can beat FSU this year and move to 5-0, Kaaya could be in the mix.

Ward's a dual-threat guy on a team that is primed to make a run at a Playoff spot. He can move up on the radar right away with a huge game against OU in the opener.

Hurd could be this year's Derrick Henry. He is a big physical back with freaky speed on an SEC title contender. But even if the Vols do live up to the hype this year, QB Josh Dobbs would likely get plenty of the spotlight. Also, Hurd's back-up Alvin Kamara is also very talented and probably will
keep Hurd from getting too many touches.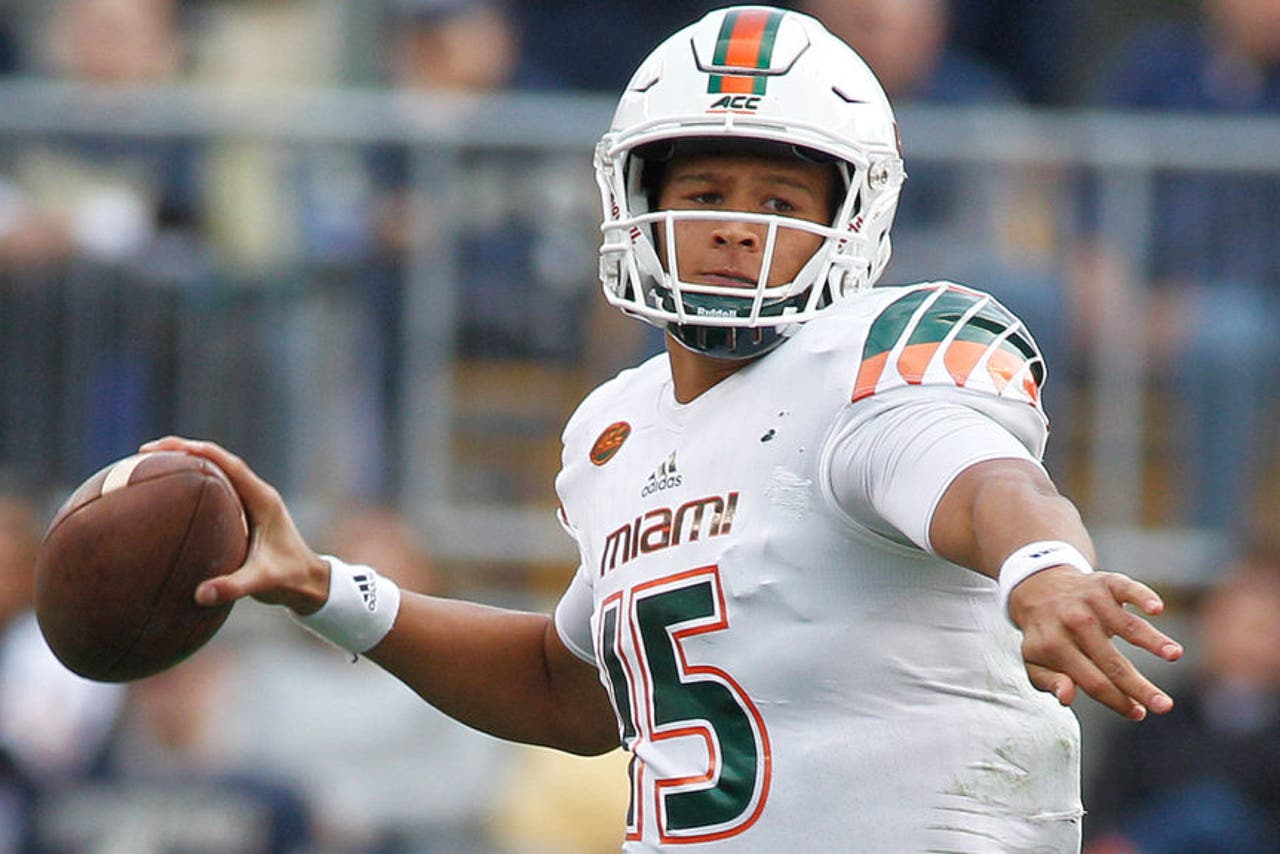 Jackson was fantastic against the Texas A&M defense in their bowl game. Folks inside the Louisville program rave about this potential. Like Kaaya, he's overshadowed now by Watson and Cook, but Jackson will have plenty of chances to change that. He'll also have a late-season Thursday game against Houston and Ward that will be very interesting.

Falk may lead the nation in passing. He's also got a lot of weapons back to rely on and WSU could be a legit contender in the Pac-12 race. Given how dismal this program was before he took over, that'd be a nice point for his candidacy.

Mahomes has eye-catching talent in his ability to extend plays and make accurate — and strong — throws from all sorts of arm angles. He's also in a system where he should put up huge numbers. The down side: Tech has to replace most of its O-line, and I doubt they'll win more than eight games.

Barkley ran all over a loaded Ohio State D last year. I still think Penn State's probably another year away from being a top-20 team, but if they mature earlier than expected, he'll be the cover guy.

Seems like you are really after baylor for some reason. How about you give the same attention to Tennessee or Mississippi State? 

-- Scot House

The attention we paid to the Baylor scandal was due to the serious nature of the allegations and how it was handled by the university and the football program, which was deemed egregious enough by the investigators that the school dumped the school president and head coach Art Briles. And keep in mind, that Briles was the most successful head coach Baylor football's ever had and they just built him a new stadium. No one there was looking for an excuse to get rid of him. This wasn't some 4-8 coach. This was a coach at the top of his game.

As for the Mississippi State story regarding Jeffery Simmons, Stew Mandel and I discussed it at length several times on our podcast, and I also wrote this column taking issue with MSU and AD Scott Stricklin.

As for the Tennessee situation, there are some significant differences between Baylor and UT's handling of sexual assault cases.

According to the Pepper Hamilton investigation that Baylor commissioned, choices made by the Bears coaching staff "posed a risk to campus safety and the integrity of the University... In certain instances, including reports of a sexual assault by multiple football players, athletics and football personnel affirmatively chose not to report sexual violence and dating violence to an appropriate administrator outside of athletics. In those instances, football coaches or staff met directly with a complainant and/or a parent of a complainant and did not report the misconduct."

In addition, football staffers took steps "to actively divert cases from the student conduct or criminal processes. In some cases, football coaches and staff had inappropriate involvement in disciplinary and criminal matters or engaged in improper conduct that reinforced an overall perception that football was above the rules, and that there was no culture of accountability for misconduct."

In the case of Tennessee, all of these players who have been linked to any allegations of sexual assault or domestic assault — A.J. Johnson, Michael Williams, Treyvon Paulk, Von Pearson and Alexis Johnson — were either immediately suspended or dismissed from the team.

https://twitter.com/HuskyBlazerFan/status/743447567640330241

I'll give you five good reasons.

1. Jake Browning is a solid QB who is accurate, very football smart and has excellent vision. When coaches say someone is like Boise State great Kellen Moore only with better size and arm strength, that means you've got a special college quarterback.

2. Myles Gaskin, another sophomore, is coming off a huge freshman season in which he ran for over 1,300 yards. Gaskin gets better as games go on, averaging over 6.6 yards a carry in the second half.

3. The Dawgs may have the best secondary on the West Coast led by do-everything safety Budda Baker and cornerback Sidney Jones, two All-American candidates. Kevin King, Darren Gardenhire and JoJo McIntosh also are solid corners as well.

4. Linebacker Azeem Victor leads a very active front seven that helped spark the Pac-12's top defense last season.

5. It's year three for Chris Petersen in Seattle. I spent some time around the program this spring, and it seemed clear that this is his team. They know what he and his staff expect from them, and I think we'll see why this guy proved to be one of the top 10 coaches in college football when he went 92-12 at Boise.

https://twitter.com/TylerNelsonCO/status/743446432837828608

Fleck, a Greg Schiano disciple, has done a very nice job, taking a WMU squad that was just 1-11 in his first season to back-to-back eight-win seasons, and the Broncos should again be in the hunt for the MAC title.

At 35, Fleck knows he can be pretty choosey about what he jumps to. If a Purdue or an Indiana come open this winter, would he jump for those jobs? Not sure. I think it's a stretch that he could be able to make the jump at this stage of his career to a Power 5 job that is considered in the upper half of those leagues. Maybe he waits a few more years to see how things go at UCF or USF although those jobs will draw a lot of interest from some other good candidates.


---
---