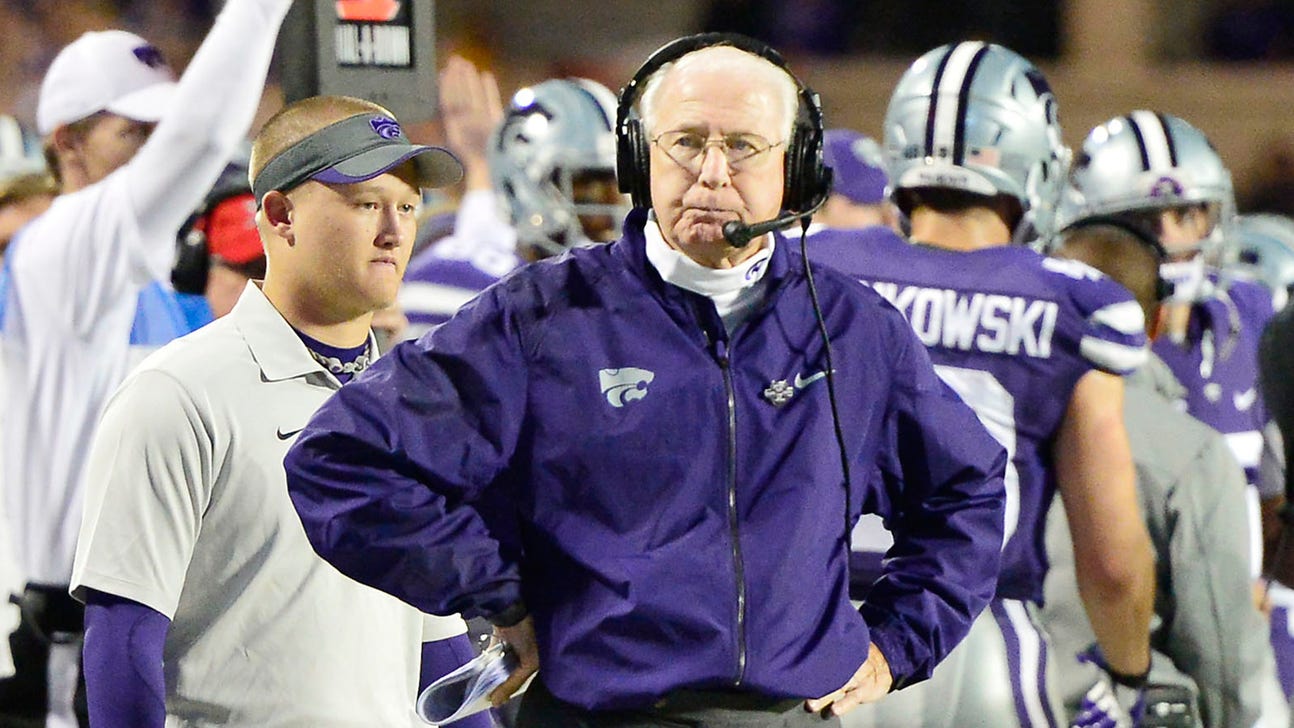 K-State's Bill Snyder rips into college athletics: 'We've sold out'
Published
Aug. 6, 2014 10:03 p.m. ET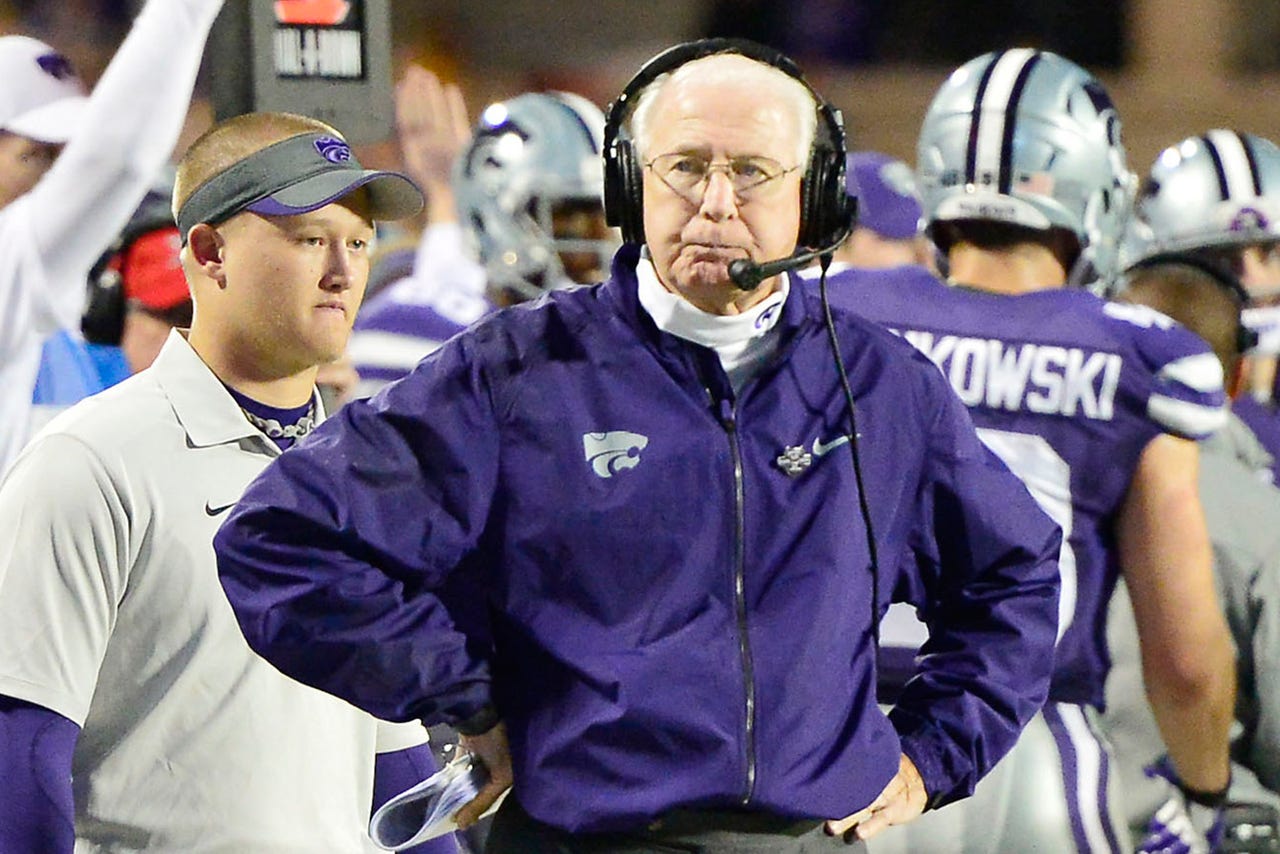 Bill Snyder ripped the big-time nature of college athletics as Kansas State opened fall camp Wednesday, lamenting the way universities have "sold out" in search of the almighty dollar.
During a lengthy oratory in which the 74-year-old coach planned to discuss the upcoming season, Snyder argued that TV has assumed too much control of college sports; education has become a second thought; and that the entire endeavor "distorts" the values of young people.
"It's changed. I mean, college athletics, football in particular, has changed dramatically over the years," Snyder said. "I think we've sold out. We're all about dollars and cents. The concept of college football no longer has any bearing on the quality of the person, the quality of students. Universities are selling themselves out."
Snyder voiced his thoughts one day before the NCAA board of directors voted on a proposal that would give the five wealthiest college football conferences -- among them the Big 12, which counts Kansas State among its membership -- the ability to make rules and pass legislation without the approval of the rest of Division I schools.
The autonomy proposal passed with a 16-2 decision on Thursday, although it still can be rejected in the next 60 days if enough schools sign the override measure.
"It's no longer about education," Snyder said. "We've sold out to the cameras over there, and TV has made its way, and I don't fault TV. I don't fault whoever broadcasts games. They have to make a living and that's what they do, but athletics -- that's it. It's sold out."
While the game changed dramatically from the days when Snyder played defensive back at tiny William Jewell to when he was hired as the coach of Kansas State in 1989, only in the last two decades have the changes picked up speed. Now, schools are building football palaces, coaches are paid millions of dollars and games are broadcast nearly every night of the week.
Kansas State is no different than the rest of them, either.
The Wildcats, who open their season Aug. 30, will play a high-profile Thursday night game against Auburn three weeks later. And it will be played in a stadium that recently underwent a $90 million renovation, with another $65 million in work scheduled to begin after the season.
The school has also opened an $18 million basketball training facility and spent several million to update Bramlage Coliseum in recent years, while also building a new rowing center and tennis stadium -- all told, about $125 million in facilities in less than three years.
"Everybody is building Taj Mahals," Snyder said, "and I think it sends the message -- and young people today I think are more susceptible to the downside of that message, and that it's not about education. We're saying it is, but it's really about the glitz and the glitter, and I think sometimes values get distorted that way. I hate to think a young guy would make a decision about where he's going to get an education based on what a building looks like."
Yet across college sports, schools are in constant competition to do things bigger and bolder. Iowa State recently announced plans to spend $60 million renovating Jack Trice Stadium. Baylor is preparing to open a new, $250 million football stadium this season. Oklahoma has received approval for $370 million in upgrades to Memorial Stadium.
"Our professors -- I have an office I could swim in. They're in a cubbyhole somewhere," Snyder said, "yet they go out and teach and promote education every day, and I value that."
Snyder, who has won 178 games in 22 seasons at Kansas State, also bemoaned the way schedules have bloated, not only in the number of games but the way they are played throughout the week.
When Snyder was a graduate assistant at Southern California in 1966, the Trojans opened the season on Sept. 17, played 10 games and were done with their regular season the Saturday after Thanksgiving. They played in the Rose Bowl on Jan. 2.
This year, Kansas State will play its third game on Sept. 18 and wrap its regular season on Dec. 6. If the Wildcats made the national title game, they would play on Jan. 12.
"Now tell me how that stuff happens. To me, that's not what football is about," Snyder said, shaking his head. "Now, that's only my opinion. I'm not upset with the people that promote some of that stuff because they're trying to do their thing. That's what they do. But I think we've lost sight of what college athletics is all about."
---