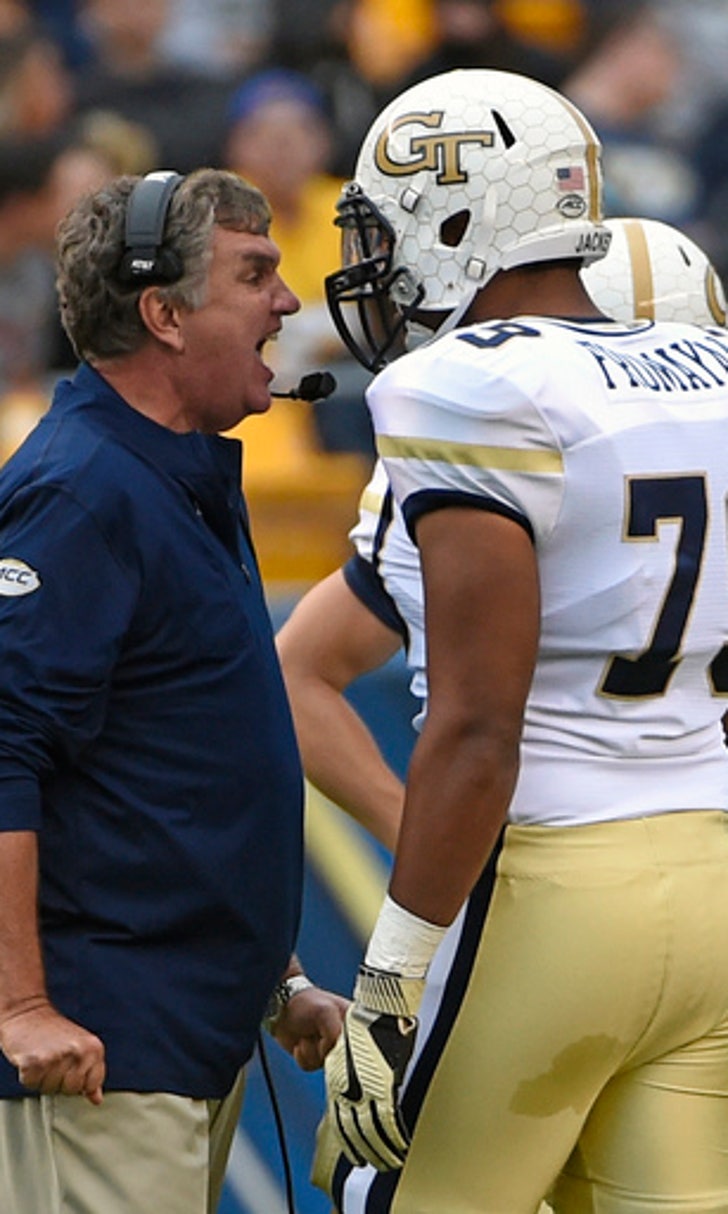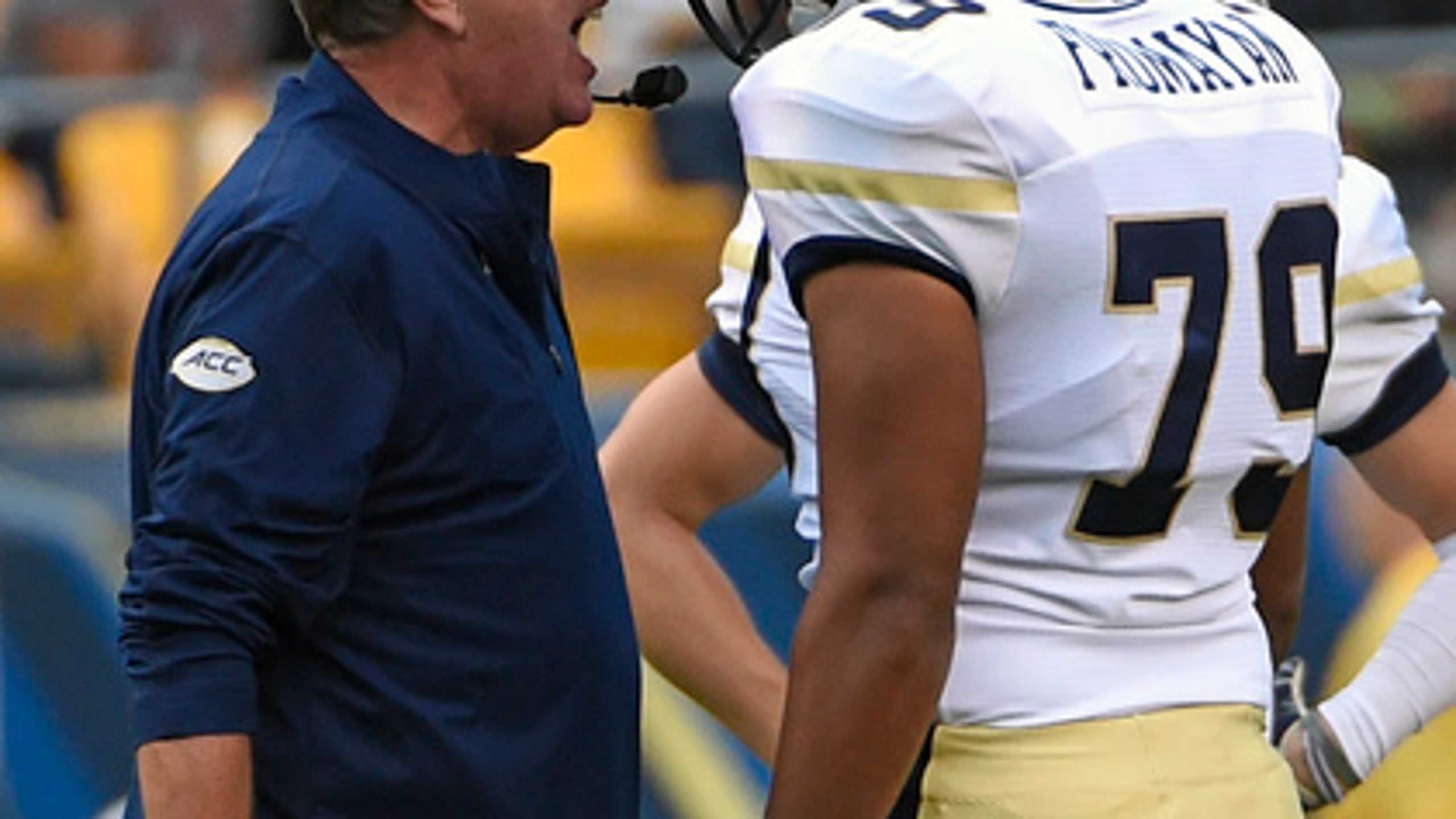 Johnson facing biggest challenge of ending Jackets' slump
BY foxsports • October 11, 2016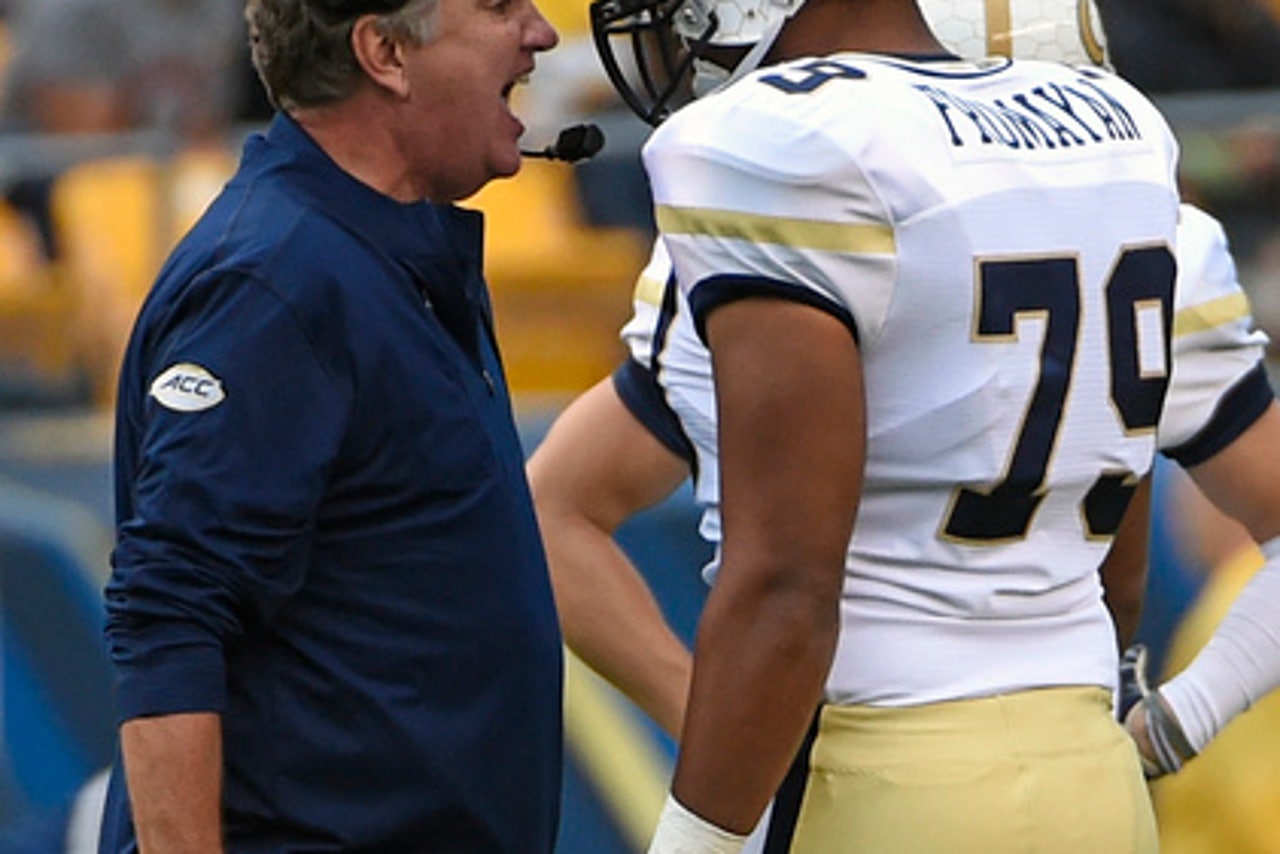 ATLANTA (AP) Paul Johnson always has been able to draw upon recent success when he has hit losing streaks during his nine years as Georgia Tech's coach.
Not now.
Georgia Tech's three straight Atlantic Coast Conference losses have crushed the Yellow Jackets' hopes of winning the Coastal Division. Worse, Georgia Tech's slump comes after Johnson's worst season at Georgia Tech, a last-place finish in the ACC's Coastal Division with only one conference win in 2015.
Midway through this season's ACC schedule, Georgia Tech is on a two-year, 2-10 run in ACC games.
As Georgia Tech takes a break from its conference schedule to play state rival Georgia Southern on Saturday, coach Paul Johnson is facing his biggest challenge: How to bring the team back to the form that produced three ACC championship game appearances his first seven seasons.
''There are still six games left,'' Johnson said. ''You've still got a chance to win nine games. If you did that ... that would be considered a pretty good year, I would think. I would consider nine wins a really good year.
''Now that won't achieve our goals we set to start with, to try to win our division and get in the championship game. As crazy as our division is, who knows? You just keep playing. You play one game at a time and see what happens.''
Georgia Tech (3-3, 1-3 ACC) has no reason to be embarrassed about losses to Top 25 teams Clemson and Miami.
Last week's 37-34 loss at Pittsburgh was more painful, especially coming on field goal that up the upright as time expired.
Defensive end KeShun Freeman said players have moved on to Georgia Southern.
''The locker room seems like everyone is positive and looking forward to this game,'' Freeman said Monday. ''We can look back as much as we want to, but we can't change those things.''
Johnson was second-guessed for his fourth-and-1 call late in the Pitt game. Dedrick Mills was stopped on an inside run, setting up the Panthers' winning field goal.
''That situation as a coach, if you don't win the game, you're an idiot, right?'' Johnson said. ''That's why you get paid. That's why you coach. Because if you punt the ball and they come down and score, then you're an idiot. If you go for it and you don't make it and they score, then you're an idiot.''
Johnson said he doesn't mind having his calls debated. He said he was upset because better execution would have given his team the first down.
''From that aspect we all should take it personal,'' he said. ''I do.''
A turnaround appears possible. Duke, the only team below Georgia Tech in the Coastal Division, visits Atlanta next week. Georgia Tech's other remaining ACC games are against North Carolina, No. 17 Virginia Tech and Virginia.
''We've played two pretty good teams,'' Johnson said, referring to Clemson and Miami. ''Pitt was about the same as us. They beat us by a field goal. They scored on seven of nine (possessions). We scored on six of nine. That's the way it went.
''It's like I told our team, we're close but that doesn't matter. You've got to win. ... We just need to go win the game and shut the hell up until you win a game. Nobody wants to hear it.''
---
Online: http://collegefootball.ap.org
---