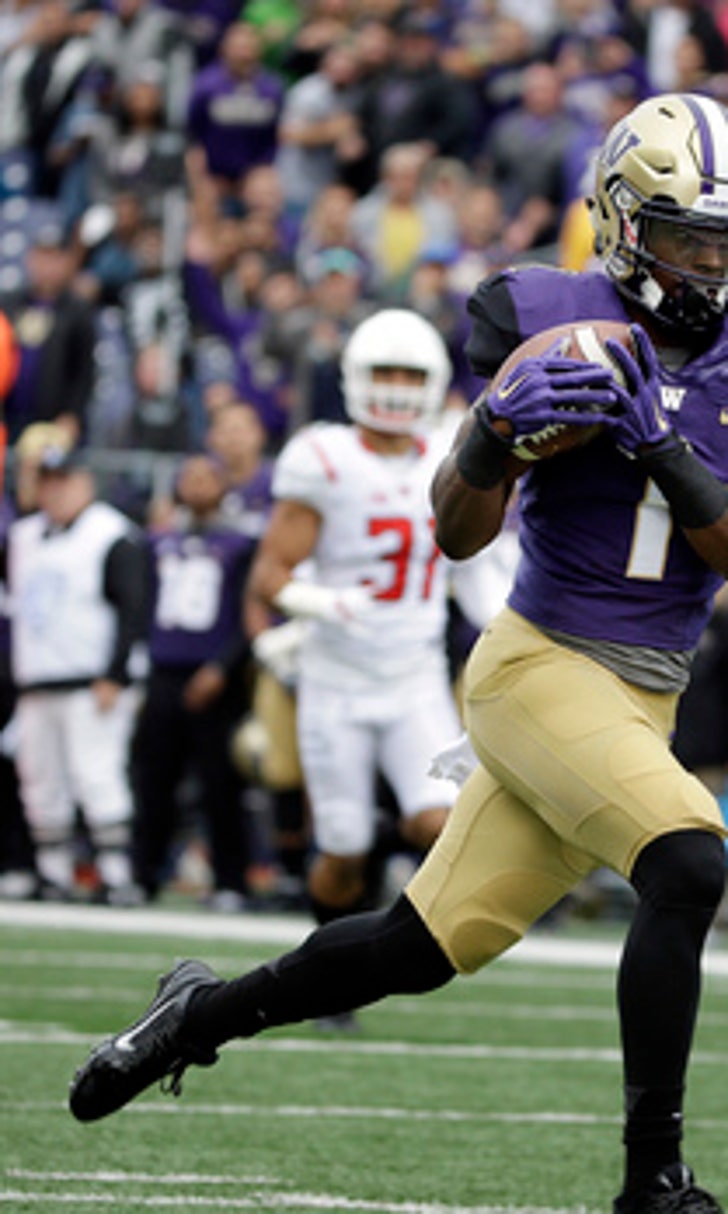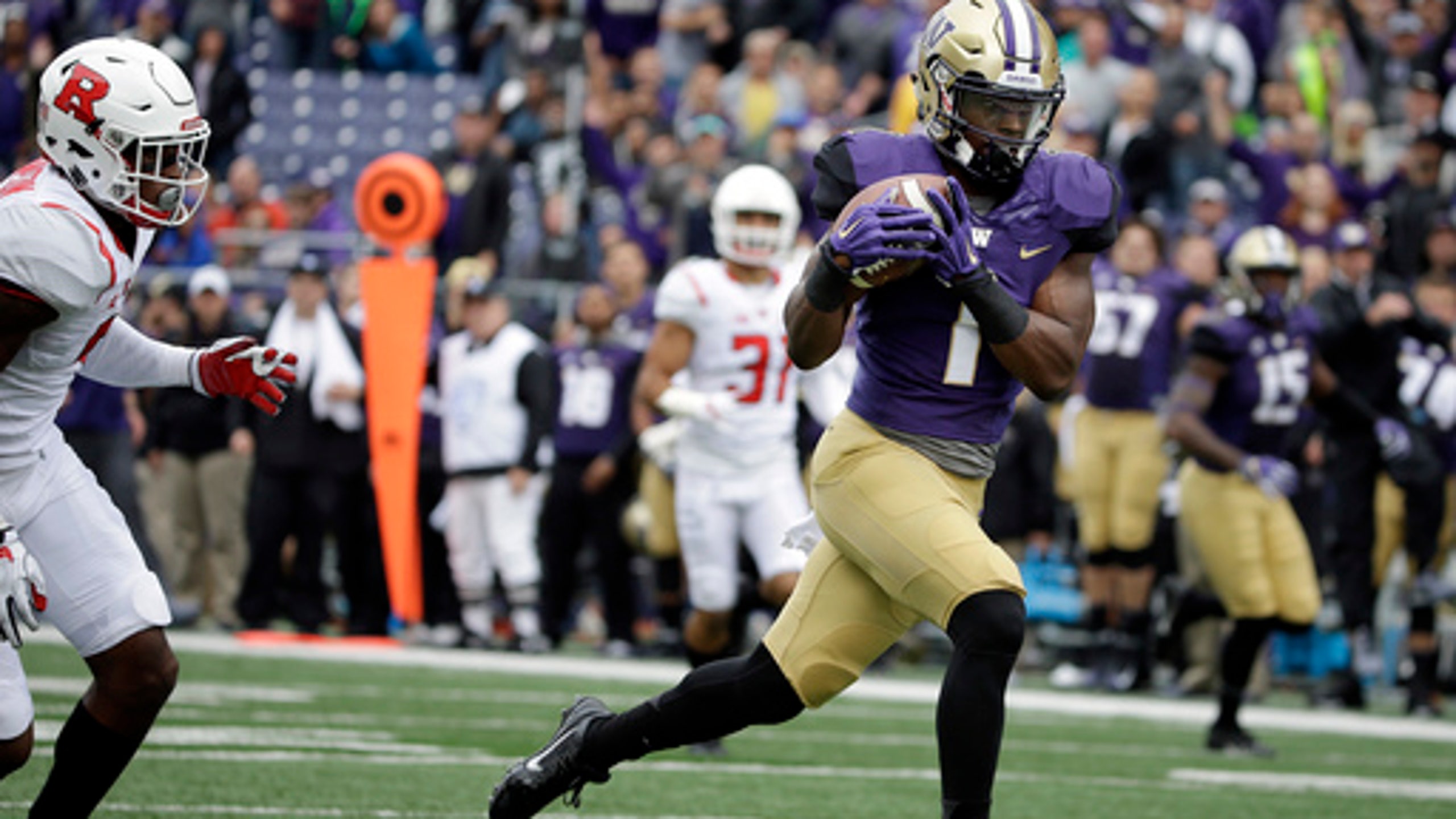 John Ross shows flash of past in return for No. 14 Huskies
BY foxsports • September 5, 2016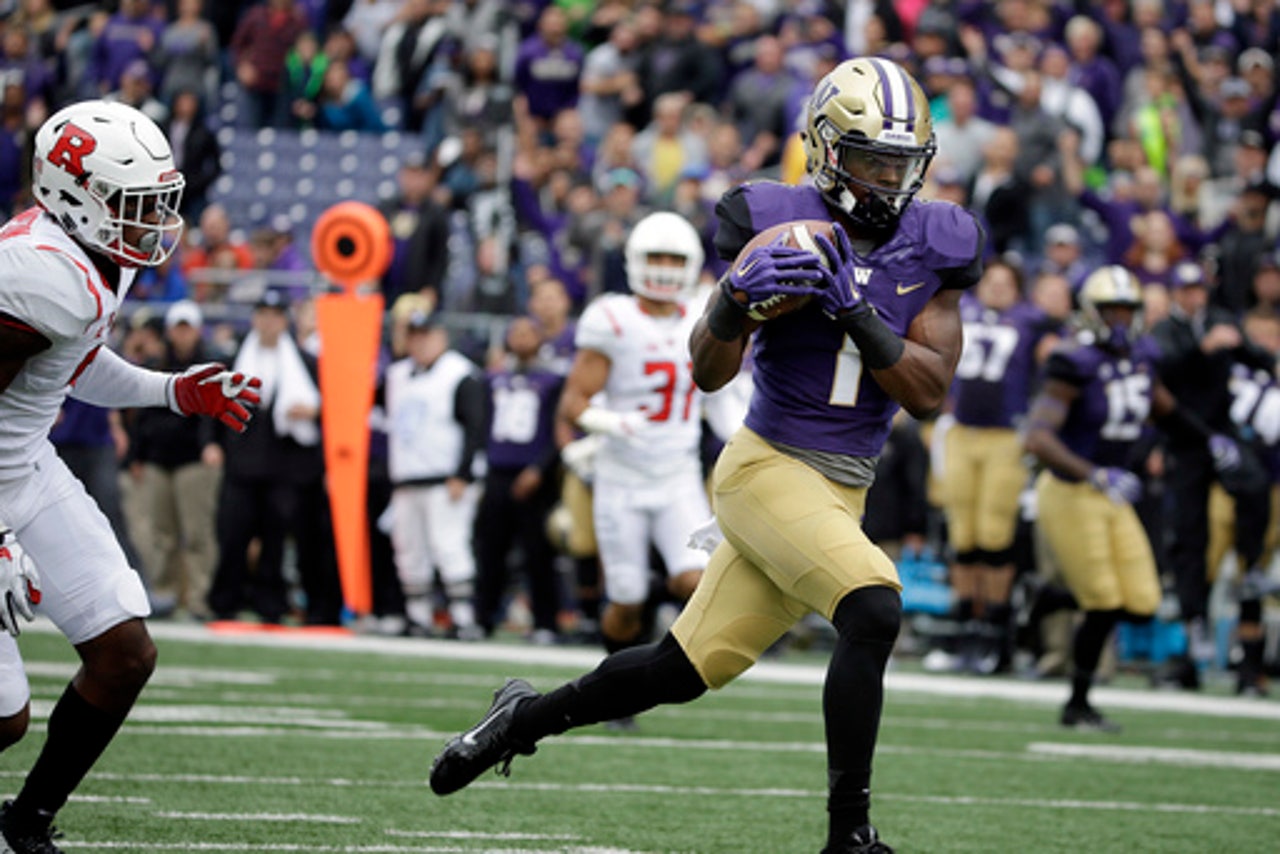 SEATTLE (AP) In the midst of Washington's John Ross returning after 20 months away from football and reminding everyone just how fast he is on the field, the unthinkable happened.
Huskies quarterback Jake Browning actually managed to overthrow Ross when the speedster was open sprinting down the sideline.
''I've got to put more air under it,'' Browning said with a grin.
The return of Ross proved the biggest highlight for No. 14 Washington coming out of its 48-13 win over Rutgers to open the season. While the Pac-12 took its collective lumps on the opening weekend, the Huskies appeared worthy of their preseason billing, even if their first true test of whether they are a top 15 program won't come for a few more weeks. They play Idaho on Saturday.
Ross was the star, playing for the first time since suffering a major knee injury during spring practice in 2015. Ross had five catches for 90 yards, with 88 of those yards coming on two long touchdown catches, and he returned a kickoff 92 yards for a touchdown. It was his fifth touchdown of 90 yards or more in 27 career games at Washington.
''I figured they would kick it to me because I didn't do nothing last year. I haven't really proved'' anything, Ross said. ''Just to see they did I got very excited.''
Ross immediately provided a dynamic that was missing from Washington's offense a year ago when the Huskies struggled to push the ball downfield in the passing game. In 13 games last season, Washington had five passing touchdowns of 30 or more yards.
They had three touchdown passes of 30 or more yards in the opener.
''It can't just be the John Ross show,'' Washington coach Chris Petersen said. ''People will figure out how to slow that down fast. But I think it's really nice to come out of the gate and make some plays there so people have to pay attention to that closely.''
Speed was never the question about Ross prior to his injury. The question was what would be the best position to play him. His exceptional speed made him a threat as a wide receiver, but it also made him effective as a defensive back. With the injuries Washington suffered in its secondary during the 2014 season, Ross split his time between offense and defense.
The last time he was on the field in a game setting prior to Saturday - January 2015 in the Cactus Bowl - Ross started at cornerback, meaning the growth potential at wide receiver is significant. Since suffering his knee injury, Ross has focused solely on being a wide receiver, but it takes game opportunities to really assess where the improvement needs to be.
''I feel better than I have ever,'' Ross said. ''I feel bigger. I feel faster. Just really thankful I'm able to do it again.''
Petersen understands there is more development needed with Ross, pointing out not just the lack of game reps but the limited practice reps for Ross as a wide receiver. His speed will always separate Ross and be his biggest strength, but now it's learning the intricacies of the position that will really allow him to stand out.
''I don't want to say behind, but I still think he has a lot more to him,'' Petersen said on Monday. ''I mean, just in terms of practice reps. He hasn't had a ton of practice reps. I maybe even think about that more than the game reps. Some of these guys have had a lot. As we all know, to build true skill takes hours and years of these reps over and over. He hasn't really had that, with us, at least.
''So it's been nice to watch him this fall progress with some detailed, route-running stuff.''
---
AP college football site: http://collegefootball.ap.org
---