Jim Harbaugh has no interest in being Michigan's savior
Published
May. 5, 2015 2:45 p.m. ET

ANN ARBOR, Mich. -- Jim Harbaugh is wearing blue pants -- not khakis -- and that is practically news, because, well, just about everything Harbaugh does these days is news around Michigan. He is a tweeting machine since coming home to his alma mater, with virtually every tweet proving to be cause for celebration for hungry Wolverine fans. He has riled up SEC and ACC coaches for his plan to hold satellite camps all over the country, triggering college football's hottest debate topic this spring.
He even generated headlines last month when his pre-combine prep Q&A with Jameis Winston for an ESPN show prompted the former FSU star to reveal that he had a hook-up for his infamous crab legs caper. 
The 51-year-old former Wolverine QB's return to Ann Arbor is such a big deal local stores are not only hawking his old jersey number (4) but the school also has signed off on T-shirts touting his now trademarked persona, displaying the school colors (maize and blue -- and khaki) and the Harbaugh family motto, "Who's got it better than us?" tweaked to, "Who's got it better than M?"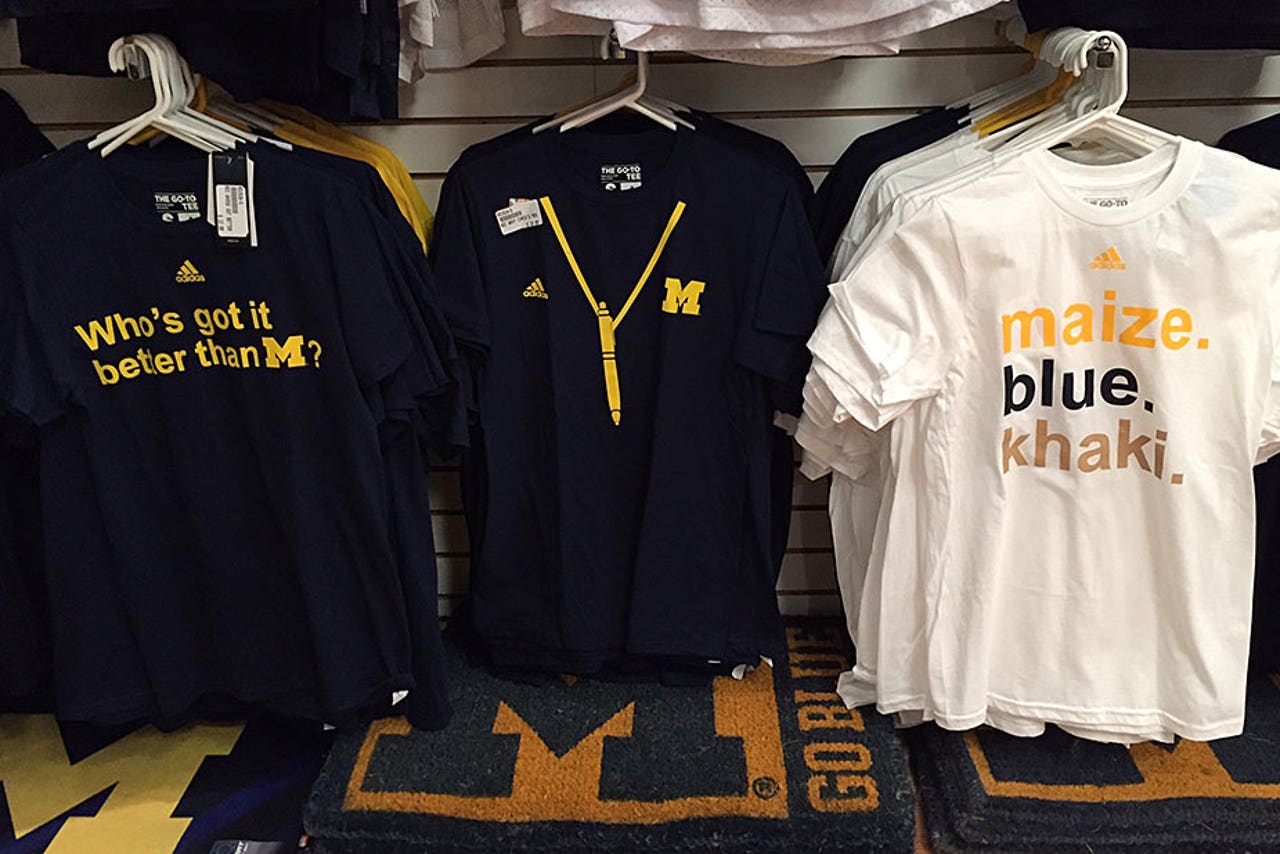 According to Michigan fans, the answer to that question right now is nooooo-body! That's because, just a few months after their hated archrival won a national title, it is the Wolverines' leader who has everyone around the sport buzzing and hanging on his every move. A big part of that intrigue stems from the coach's curious ways of how exactly he turns downtrodden teams around. 
On a cold late-April morning, Harbaugh has no use for explaining the hows and whys of his ability to transform struggling programs into winners. In fact, he takes issue with the notion that he was the reason behind a middling FCS program at the University of San Diego going 29-6 in his three seasons, or Stanford going from being the worst program in major college football to one that won a BCS bowl by Year 4 under Harbaugh, or a San Francisco 49ers team that hadn't had a winning season in almost a decade going to the NFC title game in his first year.
"Saying 'Jim flipped it at Stanford' makes it sound like a personal accomplishment, which it wasn't," Harbaugh replied after being asked about how he makes a team tougher. "It was a team effort at all those places. That's the answer. You win as a team. Everybody does a little and it adds up to a lot."
Harbaugh said he believes that toughness is "a trained thing. I don't think it's something that you're born with."
Toughness, though, is in Harbaugh's coaching DNA, and it is as much a part of his success, if not more so, than scheme or style. That's why -- after going just 24-32 in Big Ten play the past seven seasons, with only one top-25 finish in that stretch, and ranking eighth in the conference in rushing in 2014 -- Wolverines fans are giddy about his return and are embracing the Harbaugh Way.
What exactly that means falls under the umbrella of being relentlessly competitive. "He wants everything to be competitive," says one of his former assistants. "And I mean everything."
At Stanford that meant coaches versus players in everything from basketball, softball and kickball to timed mile runs to timed 300-yard shuttle races at 25-yard intervals to players competing in three-man sock wrestling competitions where there was a sock tied to each guy's ankle. The winner was the last man with the sock still tied on.
In Palo Alto, Harbaugh inherited a team that had just gone 1-11 and promptly took dead aim at the best team in the conference, which also happened to be the best program in the country, in Pete Carroll's USC Trojans. In his debut season, Harbaugh's Cardinal -- a 41-point underdog -- went to USC and shocked the Trojans, winning 24-23. Two years later, they were 8-5, highlighted by a 55-21 thrashing of USC in the infamous "What's Your Deal?" game, where Harbaugh opted to go for a two-point conversion late in the blowout.
The next season, his fourth at Stanford, the Cardinal went 12-1 and won the Orange Bowl, finishing No. 4 in the country. Harbaugh actually ended up with a 2-1 record against Carroll and went 3-1 versus the Trojans before he left for the NFL, leaving behind the West Coast's most physical team. The fact that Urban Meyer just led Michigan's archrival Ohio State to the national title makes his challenge even more tasty.
"Jim's biggest strength is he doesn't give two (blanks) about what other people think," says someone who worked with him at Stanford. "Some coaches are so afraid of losing that it inhibits the team. Jim's the opposite. He just does and says whatever."
***
Most coaches will say they are much better at their jobs than they were a decade ago thanks to experience, but Harbaugh isn't most coaches. "I don't know that I am (a better coach)," he said. "Even though you've proved something before, that's the very nature of football playing or coaching. You could have proved something 1,000 times before. You could prove it again, but now that's all that matters.
"It's irrelevant no matter how many times you prove something. This is the only time that matters."
Is that the rationale because every situation is different or because expecting something to happen like it always has in the past can undermine the grit and dogged effort required to make it happen again? Or both? Harbaugh doesn't elaborate.
Harbaugh's answer about what he loves most about coaching: "I just love it. I love football. I do love the competition. It's the next-best thing to playing."
Asked about the expectations around Michigan with his arrival as some kind of savior and the pressure that comes with it, Harbaugh said he doesn't know when it hasn't existed. "I can't even think of professions where you don't have the pressure to perform and do a good job," he said before a long pause. 
"Man, if there was that profession, I wouldn't want to do it."
Harbaugh takes over a Wolverines team that returns 16 starters, more than anyone else in the conference, but quarterback is a big question mark as is the running game. In the spring Harbaugh put his new players through marathon practice sessions, sometimes going for four hours, sacrificing meeting time for field time.
"It really wasn't that unusual," Harbaugh said. "Meeting time was out on the field rather than in the classroom. The meetings were taking place on the field -- kind of a class on the grass. You're walking through things standing up on the field rather than sitting up in a chair in the classroom. It's not revolutionary."
What is different about Harbaugh are the ways he sometimes comes across while communicating.
I know from talking to Harbaugh in the past he can be very insightful, although it often comes wrapped in ways you seldom hear other coaches talk. About a month before Harbaugh's third season at Stanford, he raved about his new QB, a player who had never played one college game. No matter, Harbaugh even evoked the name Tom Brady when describing redshirt freshman Andrew Luck. 
"He's got a quality that any quarterback anywhere would envy in that he can memorize anything," Harbaugh explained. "He's got great memory talent." In short, Luck rarely made rookie mistakes and never, ever the same mistake twice. At times like these, Harbaugh appears brilliant and prescient.
But there are other times with Harbaugh's reactions where folks -- players and staffers included -- come away shaking their heads, perplexed. Those moments are often accompanied by The Look.
"It's like a great white shark (vacant expression) -- mouth's open, he's just staring at you," said a former Harbaugh assistant. 
A former player of his says, "You're wondering what the hell is he thinking-- or if he's thinking?"
It can be difficult to cut through that exterior. For instance, take this sequence from our visit:
Question: What was the most pleasant development you had this spring?
Harbaugh: "Several things. Not a biggest or most impressive."
Question: What were those (things)?
Harbaugh: "There's, uh, things."
Question: Anything in particular though?
Harbaugh: "We're still asking questions. How can we be better today than we were yesterday? How can we be better tomorrow than we were today? We're continually striving to get 1 percent better. If we can get 1 percent better (each day) as a team in the month of May, we'll be 30 percent better by the time we come to June. That's what we're striving for."
On this day the subject that gets Harbaugh going the most is longtime syndicated court TV show star Judge Judy. 
"I love Judge Judy," he says. "We have some great Supreme Court members, tremendous Supreme Court currently that we have, but I'd love to see Judge Judy on the Supreme Court. I just love everything about her."
Harbaugh and his dad Jack even have been guests of Judy Sheindlin's show. He's also played gin with her, too. "She's much smarter than me, let me tell you that. And she's a much better gin player. I'd hate to be compared to Judge Judy."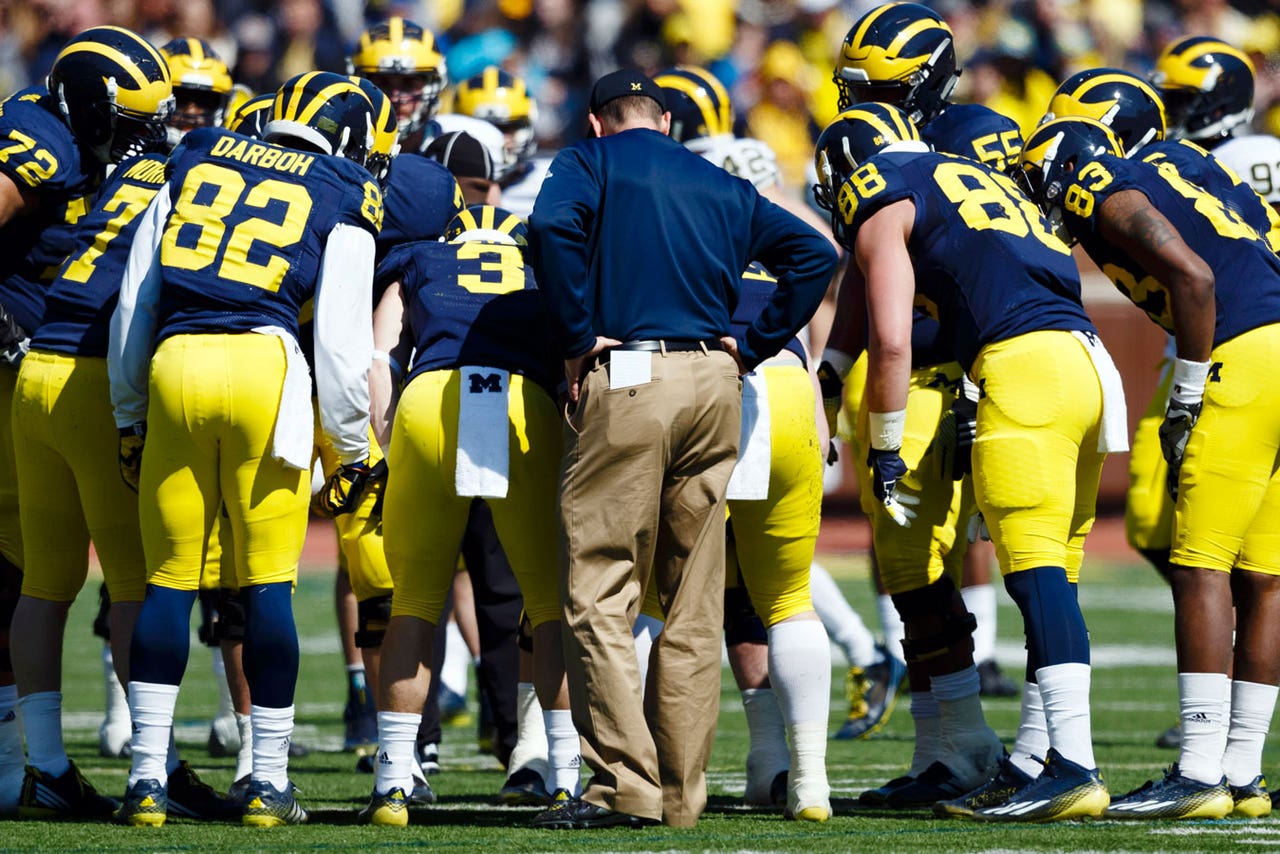 Jim Harbaugh: "You win as a team. Everybody does a little and it adds up to a lot."
***
Harbaugh's persona has made him a must-follow on Twitter since returning to college football, in part because he is so unpredictable.
After he created a little dust-up over Michigan scheduling satellite camps in SEC and ACC programs' backyards and those coaches complained publicly about it -- their own conferences have rules preventing them from staging similar camps, and Michigan's are seen as a way to diminish, at least fractionally, their regional recruiting advantage -- Harbaugh deftly fired back with a tweet that "cordially" invited those coaches to the Wolverines camp. He signed it with the hashtag #Compete.
He's given birthday shoutouts to former Wolverines, posted brilliant black-and-white pictures of his team at work shot by Pulitzer Prize-winning photographer David Turnley (who is chronicling Harbaugh's first season here) and offered Larry King-style ruminations:
Not long after his tweet the school reversed its decision and the movie was shown as initially scheduled.
If Harbaugh sounds more comfortable in 140-character bits than answering questions directly or explaining himself in person, that interpretation isn't wrong. Harbaugh has been painted as the antidote to all of Michigan's recent woes, and instead of embracing that narrative, he's resisting it, turning inward and focusing on all the work at hand.
The coach is just glad to be home. Every day he comes to the office, he gets to walk past the statue of his mentor, Bo Schembechler, and he says that makes him proud. Harbaugh, whose dad was an assistant on Schembechler's staff, had sat in Bo's office with his feet up on the desk. "I was just checking it out, having fun," he says. "I was always enamored with Bo, as a kid and as a player, after I played for him."
Harbaugh, though, stops short of calling Michigan "a dream job."
"That's a catch-phrase," he says. "It doesn't resonate to me. People use it a lot. It's cliche."
Surreal?
"Surreal -- what does that mean exactly?" Harbaugh says. "No, it doesn't seem surreal. It's real. It's happening, and we're getting to work. And we're very excited about that. We have a lot of work to do. It's a good thing."
Bruce Feldman is a senior college football reporter and columnist for FOXSports.com and FOX Sports 1. He is also a New York Times Bestselling author. His new book, The QB: The Making of Modern Quarterbacks, came out in October 2014. Follow him on Twitter @BruceFeldmanCFB.
---