Instant impact recruits: Texas has its own version of Tim Tebow
BY Bruce Feldman • February 3, 2015
Signing Day is almost here. As always, a word of caution to take the recruiting rankings and Signing Day hyperbole with a few grains of salt. Many four- and five-star guys do prove to be difference-makers. Then again, there are a ton of examples of two- and three-star guys who blossom into great players. When sizing up college football recruiting, it's still quite a crapshoot.
(This week's Exhibit A: Scroll through the names you pass before you get to where Russell Wilson was ranked in 2007. 
With all that said, um, here's more hype. This week's Top 10: Recruits with the best shots at making a big impact on college football in 2015:
1. Iman Marshall, CB, uncommitted (UPDATE: Signed with USC): A big corner from Southern California prep powerhouse Long Beach Poly, college coaches say he's every bit as special as his five-star hype. In fact, I spoke to six college coaches in the past week about the player they saw with the best chance to make a big impact in 2015 and Marshall's name came up the most.
"He's a legit 6-2 and he's really long, but also has great change of direction and great hips," one veteran West Coast recruiter says.
"He is just so big and physical," another coach says. "He can be a big-time corner or he'll be a big-time safety depending on what his team wants to do with him."
The hunch here is that Marshall stays local and goes to USC, but Michigan, LSU, FSU, Notre Dame and Oregon all have been battling for him.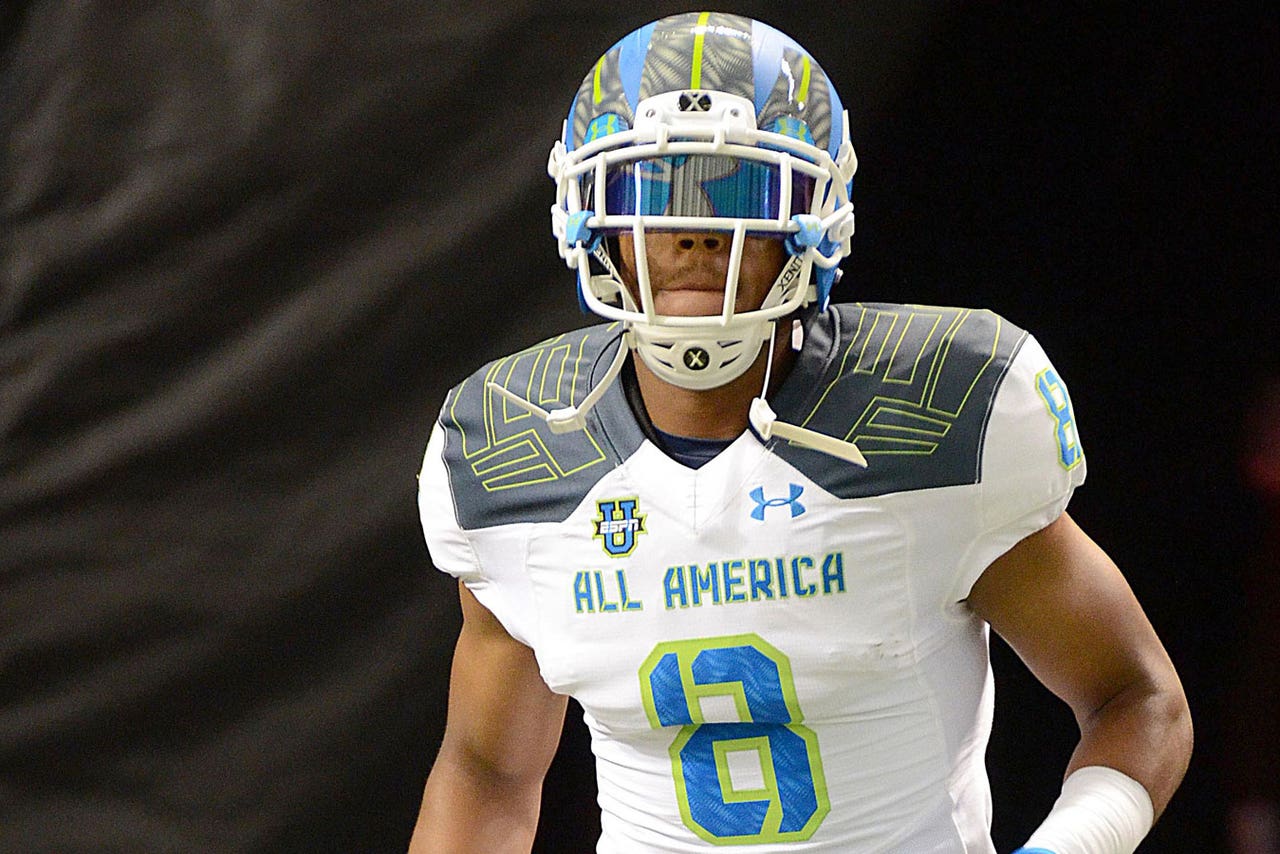 Iman Marshall should provide immediate help to whichever team he chooses.
2. Jovon Robinson, RB, Auburn: There's a bunch of touted junior college guys who coaches brought up, but keep a close eye on Robinson, a 2012 signee with Auburn who should jump in where Cameron Artis-Payne left off. The 235-pound Robinson ran for almost 2,400 yards in his first season of JUCO ball at Georgia Military College.
"He is big and freakishly athletic," one rival SEC recruiter says.
3. Calvin Ridley, WR, Alabama: The Tide just lost the best wideout in the college game, but don't be surprised if the 6-1, 185-pound Ridley (like the great Amari Cooper, a South Florida native) emerges as a star in Tuscaloosa and helps fill that play-making void. Scouts rave about Ridley's body control and speed.
"He is a legit track guy who can really separate," one coach says.
Ridley's temperament also bodes well for him coming in and making a big impact this fall.
4. Malik Jefferson, LB, Texas: The lynchpin of Charlie Strong's first full recruiting class, Jefferson isn't just very talented, he also plays a position where UT now has a big need with both Jordan Hicks and Steve Edmond departing. How big a deal is Jefferson to Texas? Strong compared landing the in-state star to when UF reeled in Tim Tebow.
5. Josh Rosen, QB, UCLA: The Bruins bring back every starter on offense except one, quarterback Brett Hundley. For Rosen — a bright, strong-armed, 6-4, 210-pounder — the timing is ideal. He was the nation's No. 1 QB prospect and already is enrolled at UCLA, and I'm told he has impressed teammates and staff with the way he's fit in.
Talent-wise, Rosen is very, very impressive. One former college coach told me in my book "The QB" that when he watched Rosen play, he thought this is what Troy Aikman probably looked like in high school. To take over Hundley's old job, Rosen must beat out Jerry Neuheisel and Asiantii Woulard. With an offseason to get more acclimated to the Bruins and their offense, that figures to happen sooner rather than later.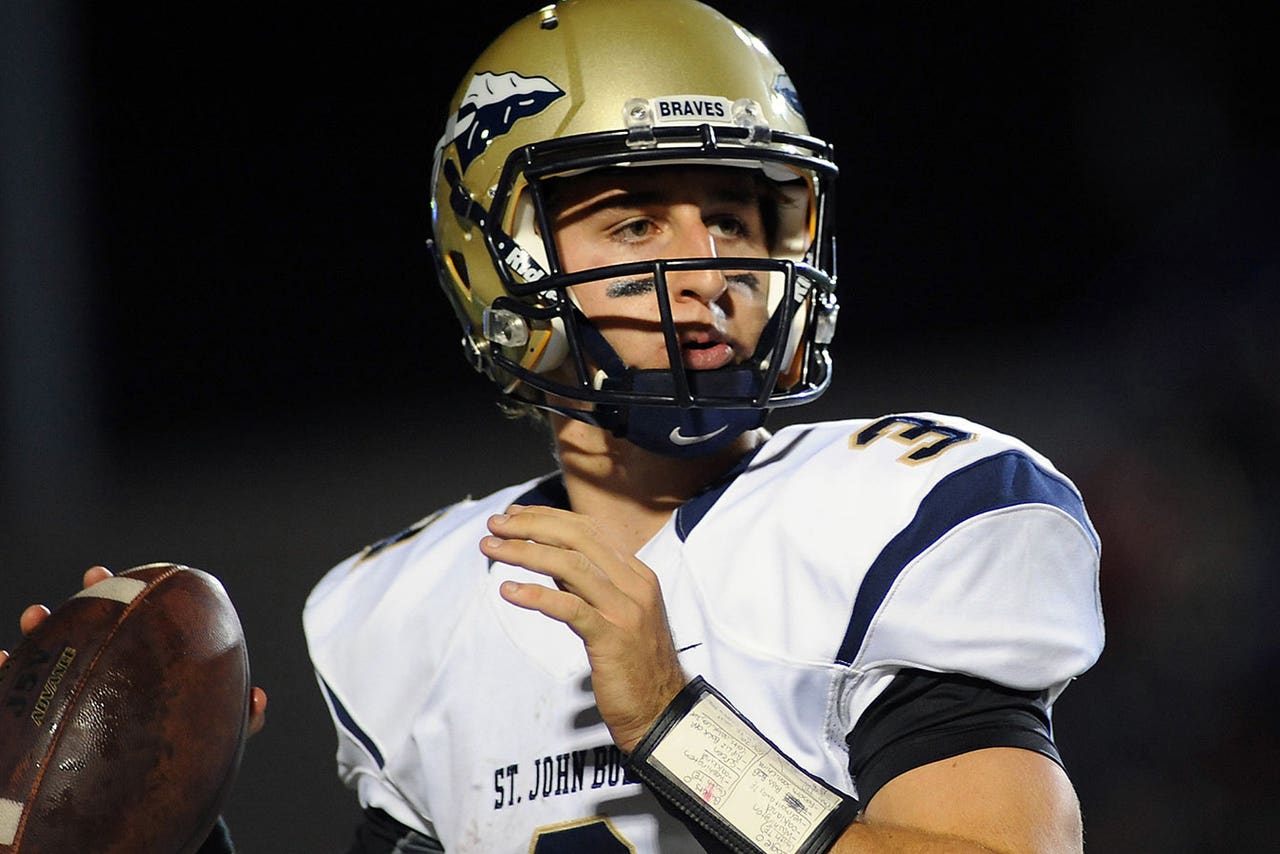 St. John Bosco (Calif.) QB and Bruins recruit Josh Rosen.
6. Byron Cowart, DE, uncommitted (UPDATE: Signed with Auburn): Whoever lands the muscled-up 255-pounder (Florida, perhaps?) will get an immediate boost to their D-line.
"This dude is a man," one veteran O-line coach said this week. "He's just so strong and tough. I wish we were getting him."
7. Khalil McKenzie, DT, Tennessee: Last year, the Vols had the nation's top freshman D-lineman in defensive end Derek Barnett, who proved to be a nightmare (20.5 tackles for loss) for SEC offenses, but with the influx of DL talent Butch Jones will add this winter, UT should be really, really scary very soon on D. Incoming freshman Kyle Phillips was often unblockable in his postseason all-star game, but it's McKenzie who fills the biggest need on defense. Last season, the Vols were very undersized up front. That'll change with the surprisingly agile 6-4, 350-pounder from California, ranked by Scout as the nation's No. 1 overall recruit.
8. Breiden Fehoko, DT, Texas Tech: The Red Raiders were No. 125 in the nation in total defense and have been woeful up front, but the 6-2, 290-pound Hawaiian has the kind of heft and explosiveness to provide immediate help. As a high school junior, Fehoko displayed brute strength that would've had many at the NFL Combine envious, bench-pressing 225 pounds 37 times.
"He's so strong," one SEC coach says. "He moves great. That kid is gonna be an outstanding player in that conference."
9. Christian Kirk, WR, Texas A&M: The Aggies lost a really good wideout in Malcome Kennedy, who was a very heady, versatile player. But the five-star from Arizona has similar traits, in terms of smarts and the ability to do almost everything you'd ask a receiver to do in an offense. Plus, Kirk's so explosive, he's an upgrade physically to Kennedy, and at a solid 5-11, 195, he's physical enough now to the point where he probably could've played running back if he wanted to.
t-10. Trent Irwin, WR, Stanford: Anyone who has seen the Southern Californian in person — either in camps or in games — knows how smooth the 6-2 wideout is. He's often lined up against standout corners and found ways to beat them, showing good speed and superb route-running skills. In high school, against strong competition, Irwin had more than 5,000 career receiving yards and scored 57 TDs. With the Cardinal losing leading receiver Ty Montgomery to the NFL, Irwin has a good opportunity to provide a big jolt to the Stanford offense in 2015 and help take some pressure off fellow receiver Devon Cajuste.
t-10. D.J. Jones, DT, Ole Miss: The Rebels defensive front already was pretty nasty, led by former five-star Robert Nkemdiche, but it'll get even more physical with the arrival of the 310-pound Jones, the nation's top JC D-lineman. Ole Miss beat FSU for Jones, whose explosive first step should be a big headache for rival offenses this coming year.
Bruce Feldman is a senior college football reporter and columnist for FOXSports.com and FOX Sports 1. He is also a New York Times Bestselling author. His new book, The QB: The Making of Modern Quarterbacks, came out in October, 2014. Follow him on Twitter @BruceFeldmanCFB.
---