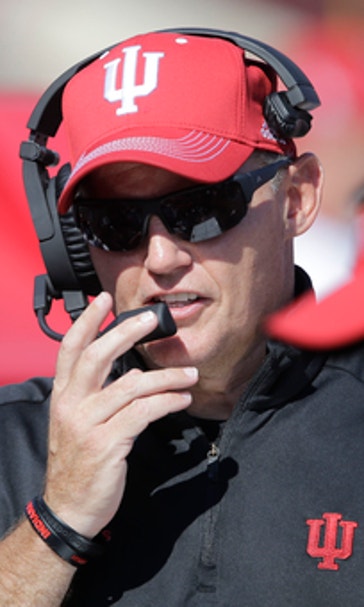 Indiana needs to take advantage of back-to-back road trips
October 16, 2017

The Big Ten schedule-makers certainly challenged Indiana early this season.
Now, it's time to start shifting gears.
After opening league play against Ohio State, Penn State and Michigan, coach Tom Allen and his players need to successfully navigate a more manageable second-half schedule to become bowl eligible.
''You wanted to be able to get one of these first three for sure, and we had our chances this (past) weekend to do it,'' Allen said Monday. ''So to me, I'm never going to say, `Hey, we're right where we want to be,' because we're not. But I do think we're growing. I do think we're progressing as a team and learning to play as a group.''
The Hoosiers (3-3, 0-3) still face some steep challenges.
On Saturday, they visit No. 18 Michigan State (5-1, 3-0) for the Brass Spittoon. Indiana's upset last season sent the Spartans' reeling, and the Hoosiers are seeking their first back-to-back wins in the series since winning three straight in 1967-69. Then it's off to surprisingly competitive Maryland (3-3, 1-2) before hosting No. 5 Wisconsin (6-0, 3-0).
Win one or more of the next three and the Hoosiers would be set up for a strong finishing run and a school record-tying third consecutive bowl game.
It all starts with these next two games on the road.
''I look at where we're at and our schedule and we're the only Big Ten team that's in our first seven games playing four top-20 teams,'' Allen said. ''That's been a great challenge for us and a great opportunity to be able to compete against the really good programs right out of the gate, and really been good for our guys to be able to keep them locked in and focused, and they've responded well to that.''
By virtually any measure, this is not the same Indiana team that stared the season.
The quarterback rotation Indiana opened the season with is officially gone.
Redshirt freshman Peyton Ramsey played well in his starting debut against Charleston Southern and led the Hoosiers back from a 10-point deficit in the final five minutes to force overtime against No. 17 Michigan last weekend . Ramsey just couldn't get the Hoosiers into the end zone to force a second overtime.
Freshman Morgan Ellison has emerged as the Hoosiers' top rusher while averaging 5.1 yards per carry, and receiver Simmie Cobbs Jr. has proven he's healthy after missing almost all of last season with a suspension and an injury. The defense that was shredded for 49 points by the Buckeyes in the season opener has yielded just 21.2 points in its last five games.
Allen appreciates the steady progression his team has made.
''A lot to build off of, but there's no moral victories,'' he said, reflecting on the Michigan game. ''That's not what this is about. It's about competing and putting yourself in position to win the game and then having to make those plays to be the difference in the game.''
Indiana's next chance comes Saturday in East Lansing. After taking three early shots from the Big Ten elites, the Hoosiers are ready to fight back.
''We've battled a lot of injuries, way more injuries than I would have anticipated at this stage of the season, and it's been - it's made it hard for sure,'' Allen said. ''I'd just say that we are at a point in the season where I think that you take what you learned the first six games, and now we've got to strap it up and finish strong, and that's what I expect us to do.''
---
More college football coverage: http://collegefootball.ap.org and www.Twitter.com/AP-Top25
---
---