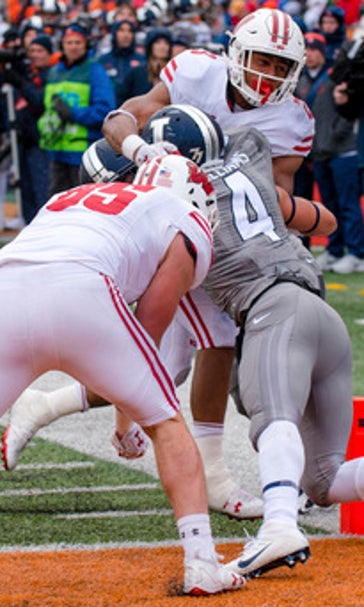 Illinois frosh safety Bennett Williams growing up fast
November 2, 2017

CHAMPAIGN, Ill. (AP) Wisconsin has scored 13 touchdowns through the air this season. None of them came against Illinois and Bennett Williams certainly did his part.
The ball-hawking safety - coming off a career-high 14 tackles against Minnesota - added his second career interception against the fourth-ranked Badgers. Wisconsin handed Illinois its sixth straight loss on Saturday, but the 24-10 win was below its 35 points per game average.
Wisconsin's Alex Hornibrook totaled just 135 passing yards and was held without a touchdown for the first time all season. He was picked off in the second quarter by Williams, who returned it 20 yards to the Wisconsin 45. It was Hornibrook's eighth interception of the year, but the freshman safety wasn't satisfied with the takeaway.
''Next time, I'm trying to take it to the house,'' Williams said.
He finished the game with five tackles, and has emerged as the Illini's second-leading tackler with 48, a team-high two interceptions, two pass breakups and a forced fumble.
Coach Lovie Smith has relied a lot on Williams in the secondary and that trust has been clear since the opener. Against Ball State, Williams became the first true freshman to start at safety for Illinois since 1980.
Williams said that the transition from high school in Campbell, California, to college was a challenge not only because of the stage, but also because he had to embrace a new position. He had played mostly cornerback.
Williams didn't draw much interest from Power Five programs. He received offers from Harvard and Yale, and thought he was going to attend an Ivy League school. But after watching highlight videos of Williams on Facebook, and seeing his versatility and athleticism, defensive coordinator hardy Nickerson decided to take a chance.
''He's a little further along than I thought he would be,'' Nickerson said. ''But I knew he would come in and be an impact player for us.''
Bennett's father, Gary Williams, and Nickerson were teammates at Cal in the `80s. As a kid, Bennett said he spent hours watching football with his father and developed a deep love for the Bears. He envisioned himself one day starring at his father's alma mater.
Williams realized his path had to be different. Instead of staying close to home, he traveled over 1,000 miles to join a program that hasn't had a winning season since 2011.
''You're not going to get all the attention at the start,'' Williams said. ''But, being part of a rebuilding program, bringing something from the bottom up to the top, I think that's really cool.''
Coach Lovie Smith has started an FBS-high 15 true freshman this season, including eight on defense. Jalen Dunlap is one of just 10 seniors on the entire team. As a fellow defensive back, he has taken Williams under his wing.
He said he believes the young safety will continue his growth in Saturday's game against Purdue, but added that Williams will be even more special in the years to come.
''He's just a natural baller,'' Dunlap said. ''When the game slows down a bunch, his sophomore or junior year, I'm expecting big things.''
---
More college football coverage: http://collegefootball.ap.org/ and www.Twitter.com/AP-Top25
---