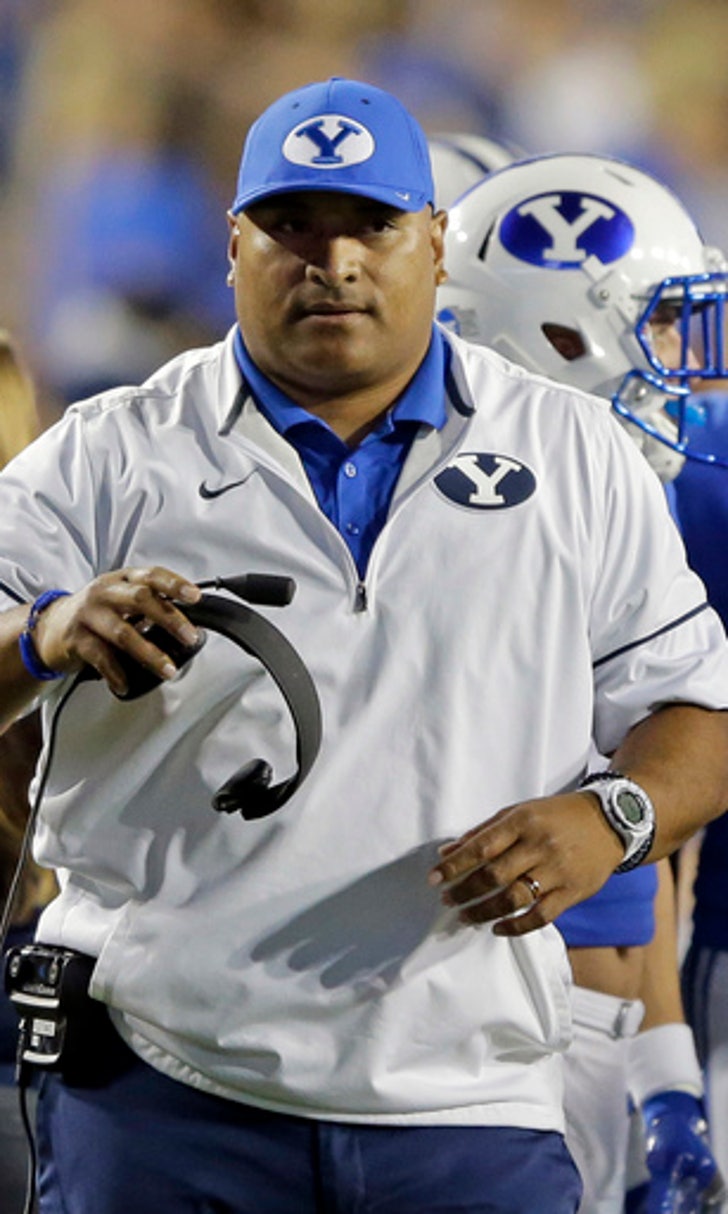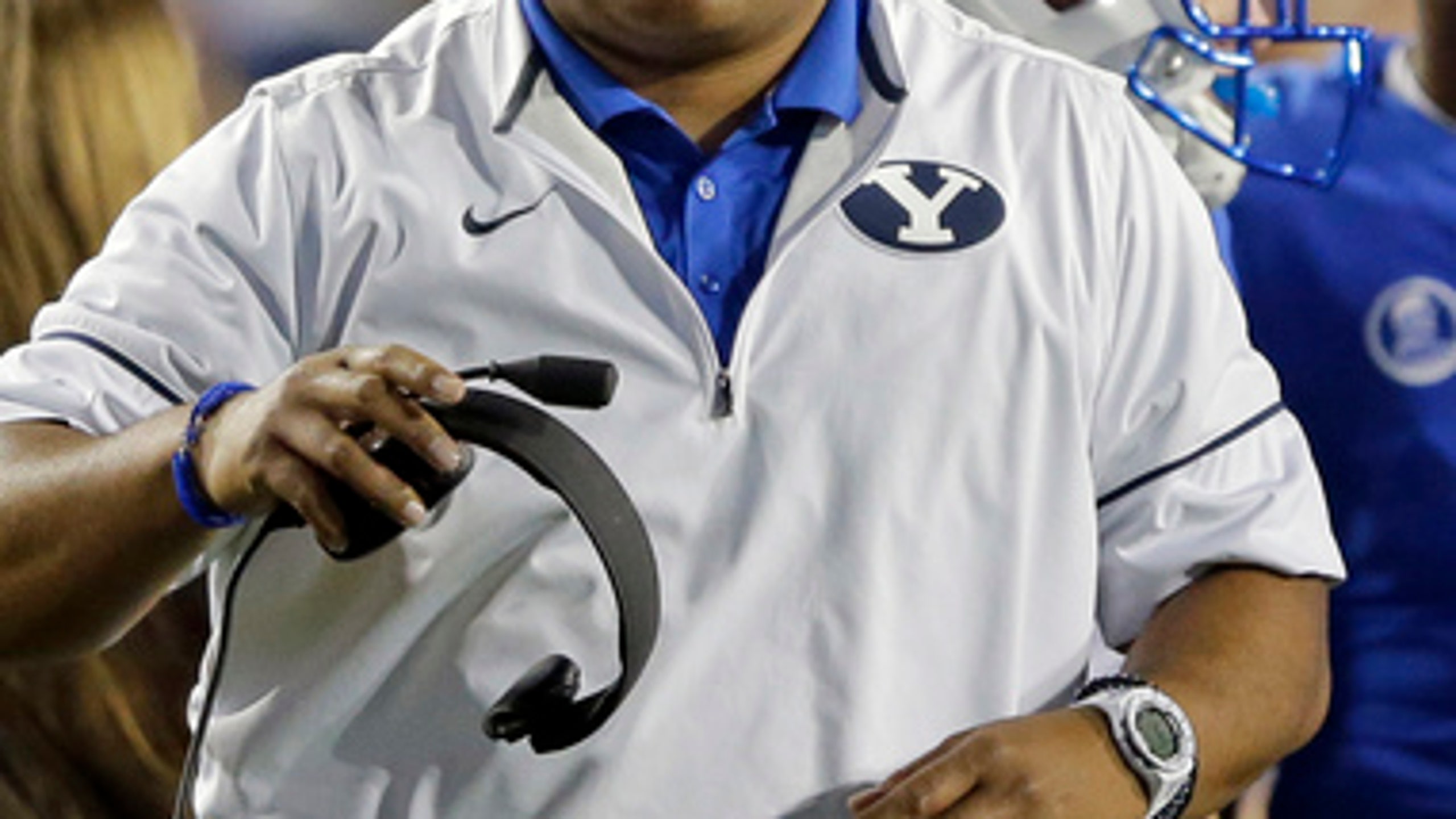 Huntley totals 389 yards, Utah beats rival BYU 19-13 (Sep 09, 2017)
BY AP • September 11, 2017
PROVO, Utah (AP) Utah players danced in the corner of BYU's stadium Saturday night as red-and-white clad fans shouted, ''Seven! Seven! Seven!''
Utah quarterback Tyler Huntley combined for 389 total yards and a touchdown as the Utes beat rival BYU 19-13.
The victory was the seventh straight in the series for Utah (2-0) and 16th in the last 19. The last time Utah won seven in a row in the matchup was from 1951-57.
''Anytime you play down here, it's going to be tough,'' Utah coach Kyle Whittingham said. ''We didn't expect to come here and just have an easy time. We knew it was going to be a dogfight. Every single one of these is. It's just how it goes.''
Huntley did everything but block for the Utes' offense as he finished with a career-high 300 passing yards and 89 rushing yards. He continues to give up on the pass a little too often, but the dual-threat consistently makes plays in Utah's new pass-first, spread system. Utah reached the red zone seven times, but settled for field goals on four of those trips. That allowed BYU to hang around and keep the game within a single score, but the contest wasn't as close as the score indicated. The final red zone trip ended in kneel-downs to end the game.
The Utes outgained BYU 430 yards to 233 and Darren Carrington led the team in receiving for the second consecutive week with seven catches and 129 yards.
''Our offense is fast so as a team we are still getting used to it,'' Huntley said. ''It's only going to get better. It's just our second week.
''We felt like our offense should have scored more points . we left a lot of points on the field.''
The BYU (1-2) offense continued its early season struggles with turnovers and penalties killing any momentum. Tanner Mangum was 21 for 39 with 170 passing yards, one touchdown and three interceptions. The Cougars didn't have much luck during the game - one of the interceptions was tipped by defensive tackle Lowell Lotulelei right into the gut of defensive end Filipo Mokofisi - but they still couldn't move the ball. Mangum threw a seven-yard touchdown to Trey Dye to cut the lead to 19-13 with 2:38 remaining, but it was too little, too late and the Cougars went four-and-out on their final possession that started with 1:34 remaining.
Utah freshman Jaylon Johnson and senior Boobie Hobbs both had their first career interceptions.
''It's Sack Lake City, right?'' Hobbs said. ''Without the D-Line, there's no turnovers. There's no picks. Those guys played a (heck) of a game by getting pressure. When they get pressure, we get picks.''
THE TAKEAWAY
UTAH: The victory won't help the Utes much as far as the rankings go, but beating your rival is always a positive. Penalties remain an issue and Huntley accounted for more of the run game than the coaching staff would like. The rivalry game is often a toss-up regardless of who's the better team on paper, and Utah is now set up for a 3-0 start heading into Pac-12 play in two weeks.
BYU: The Cougars scored their first touchdown in eight quarters and the first in 23 drives. The run game managed just 63 yards after being held to negative-five yards last week. Coach Kalani Sitake called for changes after being shut out last week and it's unlikely he'll feel much better this week.
''I am not happy about it, and I am going to fix it,'' Sitake said. ''We need to fix the problems we are having on offense. It is frustrating that we couldn't put together a drive to win the game.
FLAGS STILL FALLING
Utah struggled with penalties for the second consecutive week. The Utes were penalized 11 times for 97 yards. They were hit for 11 penalties for 135 yards in the season opener.
''We shoot ourselves in the foot sometimes,'' Carrington said.
QUOTABLE
''You don't want to be frustrated with them, because they see that,'' BYU linebacker Matt Hadley said about the offense. ''We wouldn't want to come off after giving up a touchdown and seeing them frustrated with us. We try to keep our heads up and try to help them keep their heads up.
''We would like to see more points, but we've got to do a better job as well.''
UP NEXT
Utah returns to Salt Lake City when it hosts San Jose State on Sept. 16.
BYU plays its third straight Power 5 team when it hosts No. 9 Wisconsin on Sept. 16.
---
More AP college football: http://collegefootball.ap.org and https://twitter.com/AP-Top25
---
---