How an undefeated football season was engineered at MIT
BY Sam Gardner • November 19, 2014
CAMBRIDGE, Mass. — In a fit of frustration a couple seasons ago, Ohio State third-string quarterback Cardale Jones took to Twitter to vent about his classes — or, more accurately, the fact that he was actually expected to attend them — and announced to his followers that that he "ain't come to play school" when he signed with the Buckeyes.
Here at the Massachusetts Institute of Technology, such disdain for education usually isn't an issue.
Instead, Engineers coach Chad Martinovich has bigger problems to worry about when it comes to his team's academic agenda. Like whether the guys he recruits will even get into MIT — hardly a given, considering that the school, one of the most selective in the country, doesn't give preference to athletes — and whether courses in thermodynamics and advanced algorithms will leave those who do gain admission with any free time for football.
Now, before you ask: Yes, MIT does have a football team, and yes, it is called the Engineers. (The school's mascot is a beaver named Tim, and the Engineers play at Steinbrenner Stadium, named for George's dad.) It is one of 33 varsity programs on campus and it has been competing at that level since 1988, catching passes and making tackles just like every other football team out there, with no fear that the Engineers might re-snap their taped-together glasses, unbuckle their suspenders or drop their calculators in the process.
That's not to say that most of Martinovich's players aren't smarter than they are good at football — by and large, they're not built like the FBS athletes you see on TV, and one of the coach's go-to jokes is that his players are more likely to someday own an NFL team than play for one — and historically, MIT football's record has looked about like you'd expect, with far more campaigns below the .500 mark than above it in the last quarter century.
But in the six seasons since Martinovich took over the head coaching job, the football culture at MIT has seen a drastic change, and the Engineers' record has been better for it. In 2012 and 2013, MIT had back-to-back winning seasons for the first time, and this year has been its best yet, with the Engineers taking a 9-0 mark and a New England Football Conference championship into the first round of the D-III playoffs Saturday against Husson.
It's been quite the turnaround for Martinovich, whose team went 1-8 in each of his first two years and 2-7 when this year's seniors were freshmen. The hope is that the program's recent success will only breed more in the future, with winning becoming the expectation — and football, which drew 1,500 fans to its highest-attended game this year, becoming increasingly relevant on campus — in years to come.
"Look at the success Stanford has had, or look at the success Harvard has had — Harvard is undefeated right now, too," Martinovich told FOX Sports last week, before his team capped off its undefeated regular season with a 24-13 win over the Coast Guard Academy. "If you can do it at those schools, why can't you do it at MIT?
"That's been my thought process since I got here. Instead of people telling me I can't do something, I'm going to find a way to do it, and that's the mentality of all the students here, whether they're football players or not."
For the Engineers to achieve the surprising volte face that they have, Martinovich had to start by finding a way to field a team that had a chance to be competitive. When Martinovich took over, the MIT football roster had 50 players, and though he was adamant about not forcing his guys to play two-way football, he was lucky if he could get 40 healthy bodies for a given practice. Most of them hadn't been formally recruited, and it showed on the field with blowout losses often the norm.
Now, MIT fields a roster of 81, and most were recruited to play there, with 26 different states represented among the players. Whereas the team was once effectively assembled by combing through MIT applicants looking for kids who happened to play football in high school, Martinovich and assistant coach Brian Bubna now venture outside the registrar's office hoping to convince scholar athletes looking at other top academic programs to consider a school and team they might not have already.
"I came from Portland (Ore.) out here for a football camp at Harvard and met Coach Martinovich there," said senior quarterback Peter Williams, an aeronautics and astronautics major. "I think he's met all of our current quarterbacks at the Harvard camp, so it's kind of a running joke in the film meetings. So I met him there and it was sort of like, 'Oh, cool, MIT has a football team.' I had good grades but didn't really consider coming here, but he encouraged me to apply early, and I actually got in, which I couldn't really believe."
"I basically applied to all the D-III schools on the West Coast, and one day my head coach got an email from Coach Martinovich, and he was like, 'You're not going to believe this, but the MIT football coach wants you to fill out their questionnaire,'" added senior linebacker Cameron Wagar of West Richland, Wash.
"So I filled it out, and the next day I got an email, and then Coach Bubna called me and told me they wanted me to apply. Still, I didn't think that even coming all the way out here was an option, but I applied anyway because it's MIT."
Often, the football program banks on kids not being able to turn down an MIT education, should they get in, but it's not unheard of for a player to not get in academically despite mutual interest from the football team. In addition, Martinovich also has to consider other schools — even some of the country's most elite — that can guarantee admission in their recruiting pitches, a disadvantage when it comes to some prized targets.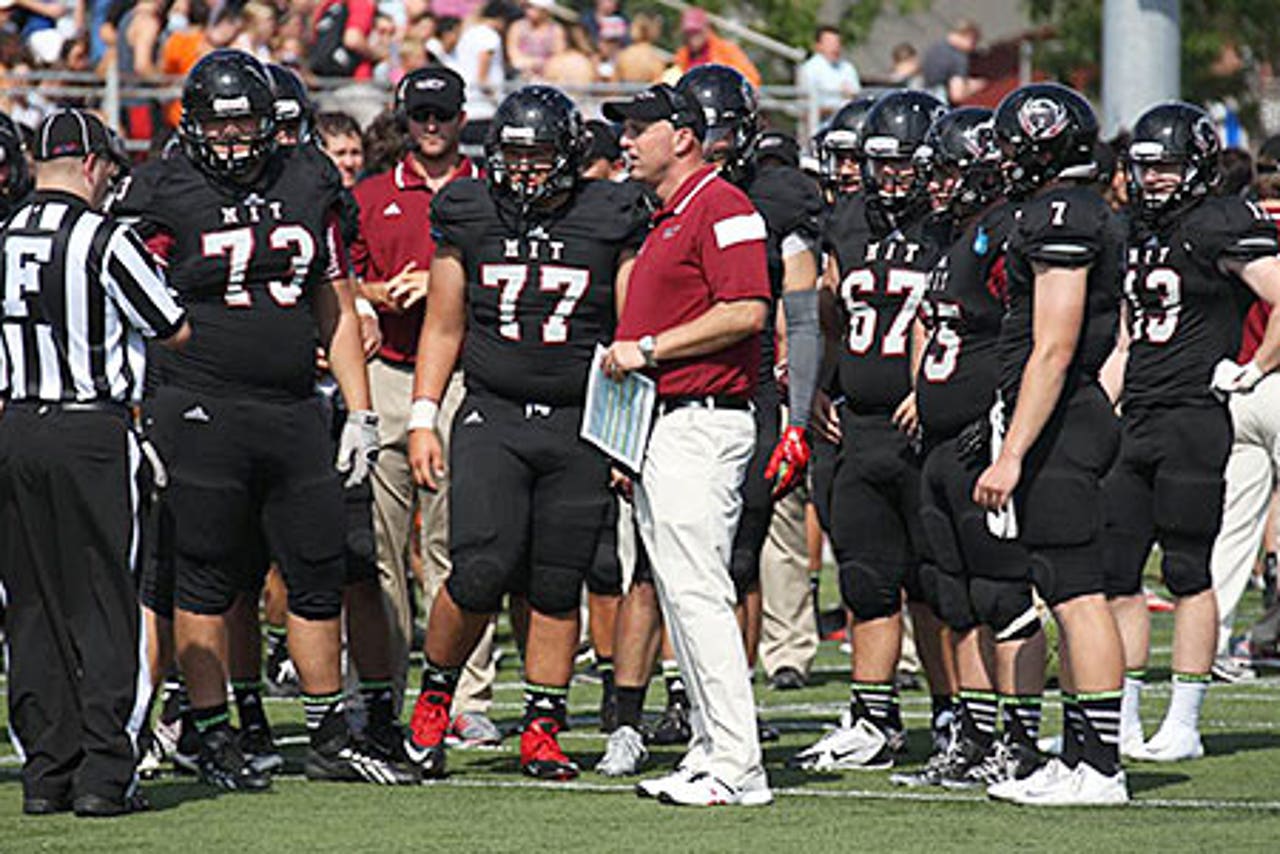 "I think what we have going for us is when we talk to a young man about our program, we don't have to explain to him what MIT is," Martinovich said. "We're just becoming better at identifying the right kids that are a fit for MIT and for our football team at the same time."
"You need to really want to come here," he added, "because there's going to be other schools that are going to say, 'We can tell you right now that you're accepted, but you need to commit right now.' A lot of our competition, in terms of the schools we recruit against, have the ability to do that. The Ivy League schools and some of the other high-end academic Division III football schools, all can do that. We can't, but we've found a system that works for us."
Once the roster is fielded, Martinovich tries to run his program in a way that closely resembles other top programs across the country, but MIT being what it is, even that doesn't always come easy.
Every day, the school has a campus-wide academic-free window from 5 to 7 p.m. — the requirements are such that some students have to be forced not to study — so that's generally when the team practices. And normally, Martinovich and his assistants only have time to meet with position groups a couple times per week.
"With us, it's all about being efficient with our time and really trying to get as much as we can in the time that we have with them, which is not a lot compared to other programs in the country," Martinovich said. "So it's all about quality instead of quantity. … You try to do the best you can with what you have from that standpoint, and they're so driven that most times, that's enough for them because they want to be the best in everything they do around here."
To make up for the lack of practice and in-person meeting time, the team uses an online-based video editing system so players can access and watch film whenever they have time, and time in the weight room has to be worked into every player's schedule differently, depending on his course load.
"School is almost easier during football because you have that structure to the day, where you go to class, get in for a film session, go lift, go to practice, get out, go eat, do work, go to bed, wake up, repeat," Williams said. "So you really get into a rhythm where you can do really well. That being said, school is hard, but everyone here, they all got in and they know how to manage their time."
And when a player starts feeling like playing football is coming at the expense of his studies — well, that's not tolerated on this team.
"I've given kids a day off of football before because they're so overwhelmed with academics, or the combination of everything," Martinovich said. "A lot of times it happens as freshmen because they're still trying to understand how to balance everything. Once they figure it out, it's a little easier but there are tough weeks. Sometimes we have to adjust practice or whatever, but I'm never going to ask my players to sacrifice academics for football here, and they understand that."
When players are on the field, however, it's all business.
"When we're at football we're all football," said Brad Goldsberry, a senior receiver and running back from Elizabeth, Colo. "We're not talking about math equations on the sideline or doing formulas at halftime or anything.
"Guys are putting in the work and making football more of a priority than they were when I first got here, and building guys to not be OK with losing and not be OK with, at the end of the day, going back to lab and doing the same homework and same PSETs or whatever that we were going to do anyway.
"It's really been an attitude shift in that regard — we're still the same students, but just wanting more out of football and we're bringing in guys that are capable of more and are not satisfied with just being at a good school."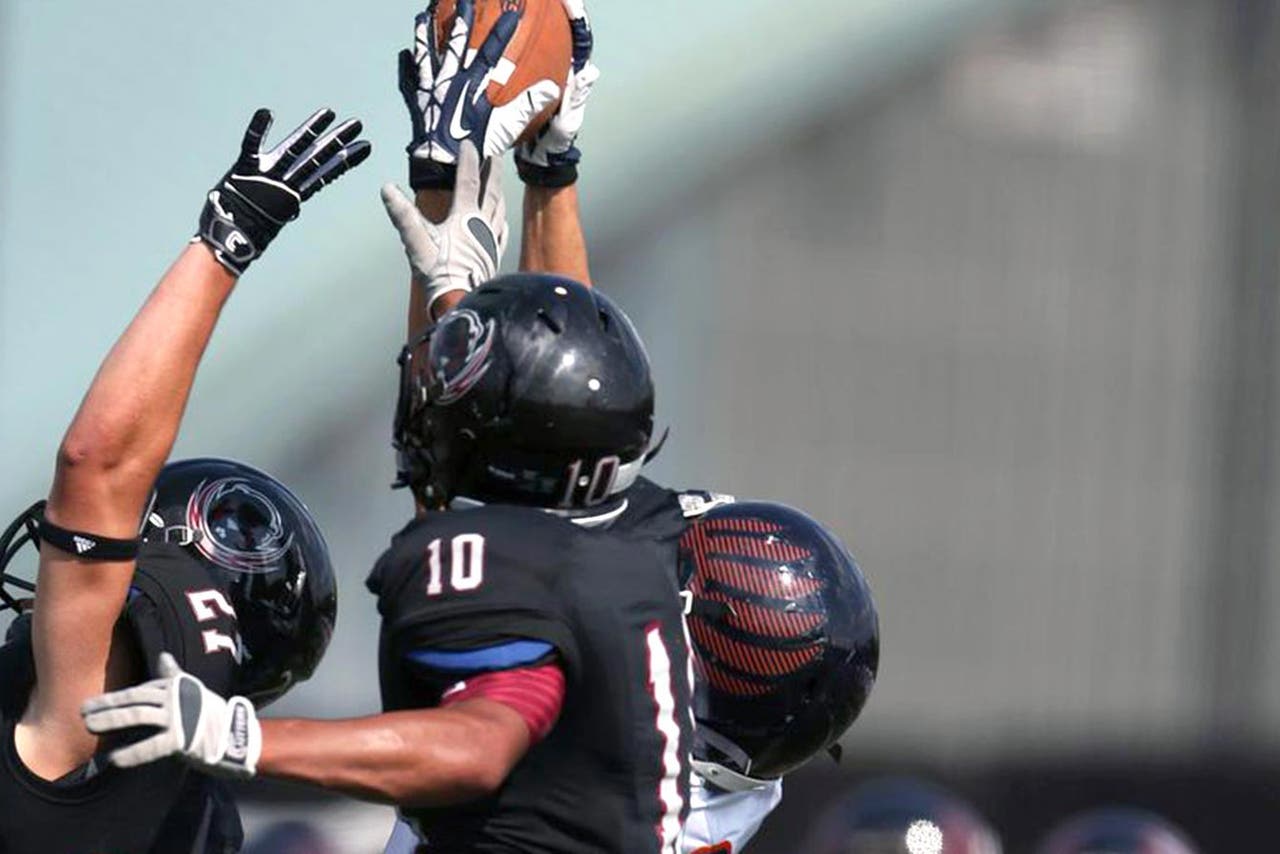 Great plays have been the rule this season at MIT.

On the field, MIT has been winning with a balanced attack that averages 471 yards of offense and 40 points per game and holds opponents to 371 yards and 23 points.
In previous years, the team has leaned especially heavily on the three-year starter Williams, but this season, the focus has turned to running back Justin Wallace, who followed up his 1,000-yard rushing season last year with 1,425 yards and 16 touchdowns on 200 carries so far this season.
Wallace, a senior from Palatine, Ill., was recruited by Yale and Cornell and had discussions about walking on at Northwestern, but ultimately the chance to be a focal point at his "dream school" was too much to overlook, even with an FBS opportunity possibly within reach.
"I'm definitely proud of what we've done in football," Wallace, an electrical engineering and computer science major, said. "I really enjoy it, and that's been my passion for the past eight years now, and when I was going into college, my single-minded goal was to keep playing. … (But) I've never been one for single-person accomplishments. I've always pictured it as contributing to a team effort. Whether I put up 200, 300 yards in a game or 50, all that matters is whether we win or not."
Fortunately, MIT has finally started doing a lot more winning than losing lately.
In a general sense, Engineers athletics has found some success, with ranked teams in several sports and a men's basketball program that reached the D-III Final Four in 2012. But this year, the football program took a huge step with the program's first ever win over Endicott and the team's first victory over perennial NEFC power Western New England since 2008, the latter coming in a 35-34 thriller preserved by a blocked extra point with 42 seconds to play.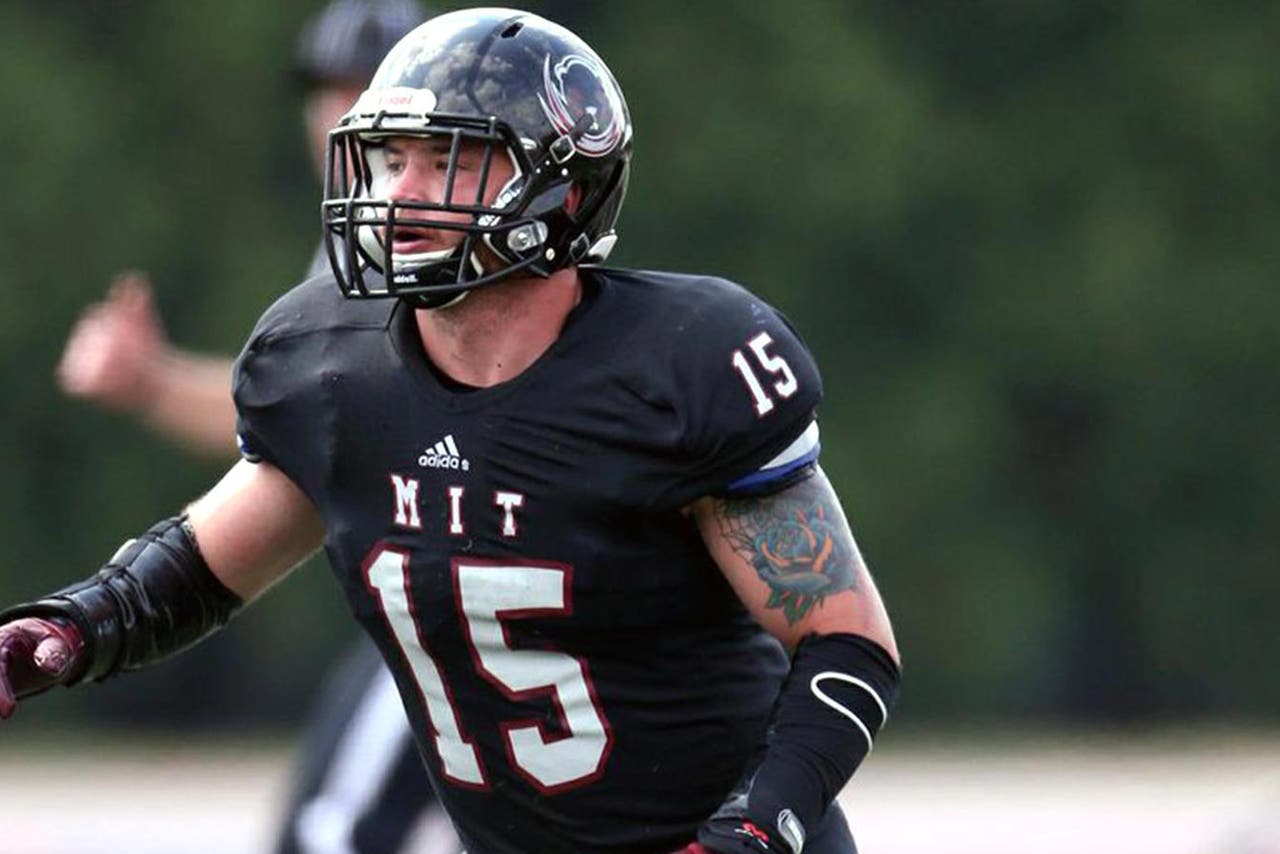 At 5-11 and 225 pounds, with a beard and a half-sleeve of tattoos, Cameron Wagar certainly doesn't look the part of a typical dweeb.
"You can't deny what we've done so far, and you can't say that the teams that we've beaten aren't good teams," Wagar said. "Endicott has been to the playoffs several times in recent years, (Western New England) is always up there, so we're beating good teams in our region and we're just getting better."
Once the butt of jokes, MIT is nothing to scoff at, and the rest of the region is starting to take notice.
"My freshman and sophomore year a lot of teams would talk crap — you know, 'Oh, shouldn't you guys be doing homework?' or calling us nerds or whatever," said Wagar, who, at 5-11 and 225 pounds, with a beard and a half-sleeve of tattoos, certainly doesn't look the part of a typical dweeb. "But last year it decreased quite a bit, and this year barely anybody talks about us being nerds. It's hard to do that when we're whooping up on them."
Now the question is how far the Engineers can go from here.
MIT would seem to have a winnable matchup on the road against Husson, an 8-1 squad from Bangor, Maine, that is also making its first playoff appearance, but beyond that, it's tough to say. Should the Engineers advance to the second round, they'd likely play 9-1 Wesley, the No. 4-ranked team in D3Football.com's national poll (which has MIT unofficially ranked 36th).
Certainly, a championship run is unlikely for MIT, a school that is still in its infancy with respect to competitiveness in football. But thinking like that is what took the program so long to get to this stage in the first place, so the Engineers are not about to revert back to that attitude now. While they may not be a power like Mount Union or Wisconsin-Whitewater just yet, they know that staying on their current path is the way to someday get there.
"It's definitely exciting and it is something that I expected to happen when I first came here," said Goldsberry, who studies computer science and engineering and turned down an offer to play in D-II at Colorado School of Mines to come to MIT. "And I think that's a big reason why the culture is changing. Even though they were 1-8 the year before I came here and were 2-7 (my freshman year), at no time did I not expect to be playing in the playoffs as a senior.
"We're definitely not satisfied with just reaching the playoffs, either. It's not like we have some goal of going to the final eight or four or 16 or whatever, but I don't think we, as a team, know what we're capable of, and I think that the guys on the team realize that, and we don't want to hold ourselves back."
And when you've got the brains to "play school" (and football) at an institution like MIT, why wouldn't you?
"On defense, we talk about how the game on Saturday is not the hardest thing that you have all week," Wagar said. "It's the tests you're studying for, it's the PSETs you're staying up all night to do, so Saturday, for us, is our party. We go out there to party. And if we give up touchdowns, we give up touchdowns, if we give them yards, we give them yards, but we're going to punish them and make them earn it."
"Academics are always going to be the most important thing at this place, but you can excel in other things and be an MIT student," Martinovich added. "And I'm hoping this group is opening some eyes for some people."
You can follow Sam Gardner on Twitter or email him at samgardnerfox@gmail.com.
---