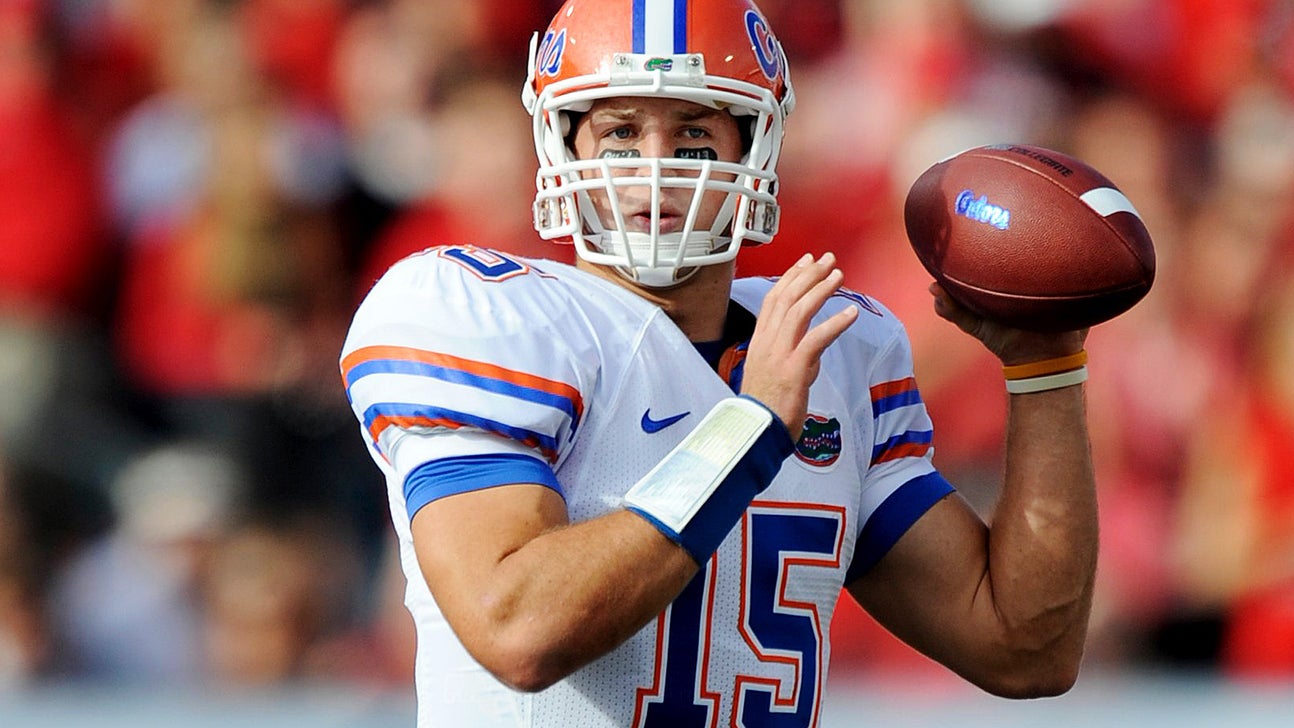 How a playoff would have given Tebow, Gators third title shot in '09
Published
Aug. 12, 2014 1:45 p.m. ET

Editor's note: In his new book, "The Thinking Fan's Guide to the College Football Playoff," FOX Sports senior columnist Stewart Mandel retroactively selects four-team playoff fields for the 2009-13 seasons based on the factors the new selection committee will emphasize. The following excerpt is his case study from the 2009 season.
Over the past decade, "Bracketology" has become its own cottage industry within the college basketball media sphere. Experts like ESPN's Joe Lunardi, CBS Sports' Jerry Palm and others spend the weeks leading up to Selection Sunday constantly publishing, revising and republishing their latest projected brackets. TV talking heads spend pregame and halftime segments emphatically declaring that Gonzaga is now in and St. Joe's is now out of a bracket that the actual basketball committee hasn't even begun devising.
Yet come Sunday night, Lunardi and Palm rarely miss on more than one or two of the 36 at-large selections and get within one seed line of correctly placing at least two-thirds of the bracket.
The truth is, anyone can be a successful Bracketologist by taking the time to understand the committee's published policies, but mostly, by studying precedent. We've had 30 years of seeded basketball brackets with at least 64 teams. Archival RPI data is available back to 1991. While the actual committee members change every few years, their tendencies remain relatively consistent. They place great emphasis on non-conference strength of schedule. And there are certain RPI thresholds above which a team rarely gets left out and below which a team rarely makes it. By Selection Sunday, no more than three or four spots are even up for debate.
By contrast, when it comes to the first-ever four-team football bracket in December 2014, we will have zero precedent by which to predict what the selection committee will decide. The best we can do is look at past seasons and conduct hypothetical exercises based on the CFP's published criteria, which state: "[The committee] will emphasize obvious factors like win-loss records, strength of schedule, conference championships won, head-to-head results and results against common opponents."
Presumably the committee members will form a general hierarchy based on the teams' records and watching them play, but those aforementioned factors – most notably strength of schedule and conference championships – will be used as an unofficial tiebreaker between closely bunched teams.
With all of that in mind, let's conduct some hypothetical selection exercises.
In embarking on the research, I was most curious to find out A) how frequently the Playoff four would differ from the BCS's top four and B) just how many teams in a given year had a legitimate argument for the fourth spot. I used the final BCS standings from each season to narrow the pool to about 10 candidates, but I also randomly re-ordered all but the top two to avoid as much as possible prejudging the anticipated order.
The teams' Top 25 and Top 50 records are based on opponents' BCS rankings. Strength of schedule ratings come from Palm's site CollegeBCS.com, which uses a formula very similar to basketball's RPI (two-thirds opponents' records, one-third opponents' opponents' records.) Ideally, I'd use a more advanced metric, but the BCS is the only one I could find in which past seasons' data don't include the bowl games.
In fact, the trickiest part of this entire exercise is trying to avoid judging the teams on their subsequent bowl performances, many of which you may remember well. But they will not yet have taken place at the time our imaginary committee makes its selections, so you may have to suspend disbelief on a few occasions in the pages that follow.
Alabama: 13-0, SOS No. 4, 3-0 vs. Top 25, 9-0 vs. Top 50, won SEC.
Texas: 13-0, SOS No. 16, 2-0 vs. Top 25, 5-0 vs. Top 50, won Big 12.
Boise State: 13-0, SOS No. 90, 1-0 vs. Top 25, 2-0 vs. top 50, won WAC.
Cincinnati: 12-0, SOS No. 54, 3-0 vs. Top 25, 4-0 vs. Top 50, won Big East.
Georgia Tech: 11-2, SOS No. 37, 1-1 vs. Top 25, 5-2 vs. Top 50, won ACC.
Iowa: 10-2, SOS No. 18, 3-1 vs. Top 25, 3-2 vs. Top 50.
Florida: 12-1, SOS No. 7, 1-1 vs. Top 25, 8-1 vs. Top 50.
TCU: 12-0, SOS No. 69, 2-0 vs. Top 25, 3-0 vs. Top 50, won MWC.
Ohio State: 10-2, SOS No. 34, 3-1 vs. Top 25, 4-1 vs. Top 50, won Big Ten.
Alabama and Texas, as undefeated major-conference champions, are the seemingly obvious top two seeds. However, Cincinnati has a decent head-to-head argument with the Longhorns. The Bearcats have more top-flight victories, including an impressive 28-18 out-of-conference win at 8-4 Oregon State. They also won 45-44 in the snow at 9-3 Pittsburgh the last week of the season with a conference title on the line for both teams.
Texas, by contrast, had just one Top 25 win – a thorough 41-14 demolition at 9-3 Oklahoma State – prior to surviving Nebraska, 13-12, on a last-second field goal in the Big 12 title game. Huskers star defensive tackle Ndamukong Suh exposed Texas's suspect offensive line in that game. However, the 'Horns played a tougher overall schedule and fielded the nation's No. 3 defense, whereas Cincinnati's was a worrisome 48th. Texas gets penciled in for the No. 2 seed.
Compared with the two other remaining undefeated teams, Boise State and TCU, Cincinnati played a tougher schedule and has more quality wins. Boise State has the best individual win of the three, a season-opening 19-8 win over eventual Pac-10 champ Oregon in which it shut down the Ducks' prolific offense. But the rest of the Broncos' schedule – which included seven games against teams that finished with losing records – is so atrocious it's hard to imagine them garnering serious consideration for the top four.
This will likely be a recurring problem going forward for non-power conference schools. TCU, on the other hand, posted the nation's No. 1 defense, notched a 14-10 win at ACC division champ Clemson and clobbered 10-2 BYU (38-7) and 9-3 Utah (55-28). Separating Cincinnati and TCU is extremely difficult. The ex-coaches in the room would probably advocate for TCU due to its elite defense. Others may be swayed by the Bearcats' stronger competition.
Meanwhile, Tim Tebow-led Florida played a Top 10 schedule and posted more Top 50 wins than any team but Alabama, which handed the Gators their sole defeat, 32-13, in the SEC title game. Here, the committee faces a difficult decision whether one-loss Florida's overall résumé is so strong as to push it above undefeated teams and/or teams that did win their conference. Though the Gators had lots of good wins, their sole Top 25 victory came at 9-3 LSU, 13-3. Cincinnati had three such wins.
Meanwhile, though Oregon lost twice, it won its conference and played the nation's second-toughest schedule. The Ducks would merit consideration, but their head-to-head loss to another contender, Boise State, could be a deal breaker. Two-loss Big Ten champ Ohio State also has a case; however, one of its losses was to 5-7 Purdue. Iowa actually has a stronger résumé than the Buckeyes but lost head-to-head and thus lost out on their conference's title.
In the end, there are three serious candidates – Cincinnati, TCU and Florida – for the last two spots. The Gators' SOS is far superior to the other two and therefore negates the fact they did not win their conference. The SOS difference between Cincinnati and TCU isn't huge but the Horned Frogs played just five teams that finished with winning records. That's a tough sell, even if a committee member's eyeball test says defensively dominant TCU was the slightly better team.
BCS Top Four: 1) Alabama 2) Texas 3) Cincinnati 4) TCU
Committee Top Four: 1) Alabama 2) Texas 3) Florida 4) Cincinnati
Cue the outrage!
One year in and you can already see how difficult some of these choices will be. I could make a case for any of the last three – Florida, Cincinnati and TCU. I also can't honestly say that Florida's subsequent 51-24 Sugar Bowl rout of the Bearcats isn't subconsciously affecting my decision. But if strength of schedule is truly as much of a factor as the committee says it will be, then the Gators really do separate themselves.
This result also differs from the BCS-era assumption that the loser of a conference title game is automatically out of the national title conversation. This was a particularly unusual situation in that the SEC title game was a matchup of two undefeated teams, which has never happened before or since. Also, no other team in the country finished with exactly one loss, and the other undefeated contenders played particularly weak schedules.
Florida is the correct choice, but the Gators might not have been so fortunate in another season with a different set of contenders.
To read similar exercises based on the 2010-13 seasons and for a primer on all aspects of the sport's new postseason system, order your copy of, "The Thinking Fan's Guide to the College Football Playoff."
---