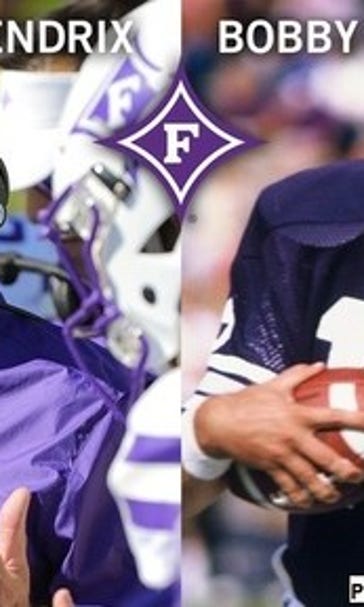 Hendrix, Lamb on opposite sides of the ball for first time
October 19, 2017

(STATS) - They've played together, coached together and been lifelong friends, but on Saturday, Bobby Lamb and Clay Hendrix will coach against each other for the first time.
Lamb will bring his Mercer squad to Furman, where Hendrix is in his first season as the head coach, for a matchup of 4-3 Southern Conference teams. Furman has run off four straight wins and has a 3-1 conference mark, while Mercer is 3-2 in the league bolstered by three straight wins.
Hendrix and Lamb, both 54, grew up in Commerce, Georgia. The played together at Commerce High School under Ray Lamb, Bobby's father, winning a state title.
They both went on to play at Furman - Bobby a quarterback and Hendrix an offensive guard. The Paladins won three Southern Conference titles and finished as the 1985 FCS (then-Division I-AA) national runner-up during their careers.
As coaches, the two spent nearly two decades together at their alma mater, first as assistants (including the 1988 FCS championship season) and later for the first five of Lamb's nine seasons as head coach, with Hendrix the assistant head coach in charge of the offensive line.
Hendrix left for a 10-year stint on the Air Force staff before he returned to Furman last December as a first-time head coach. Lamb has been Mercer's head coach since 2011, and he brought the dormant Bears program back to the football field two years later.
---
---