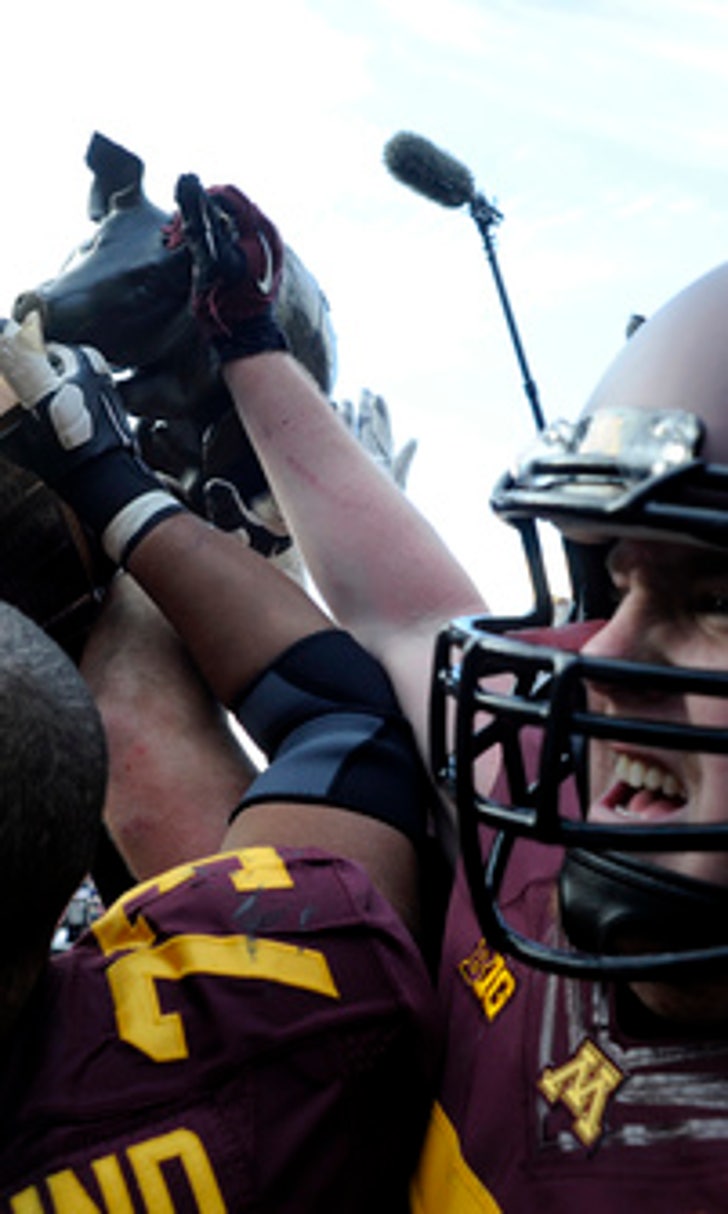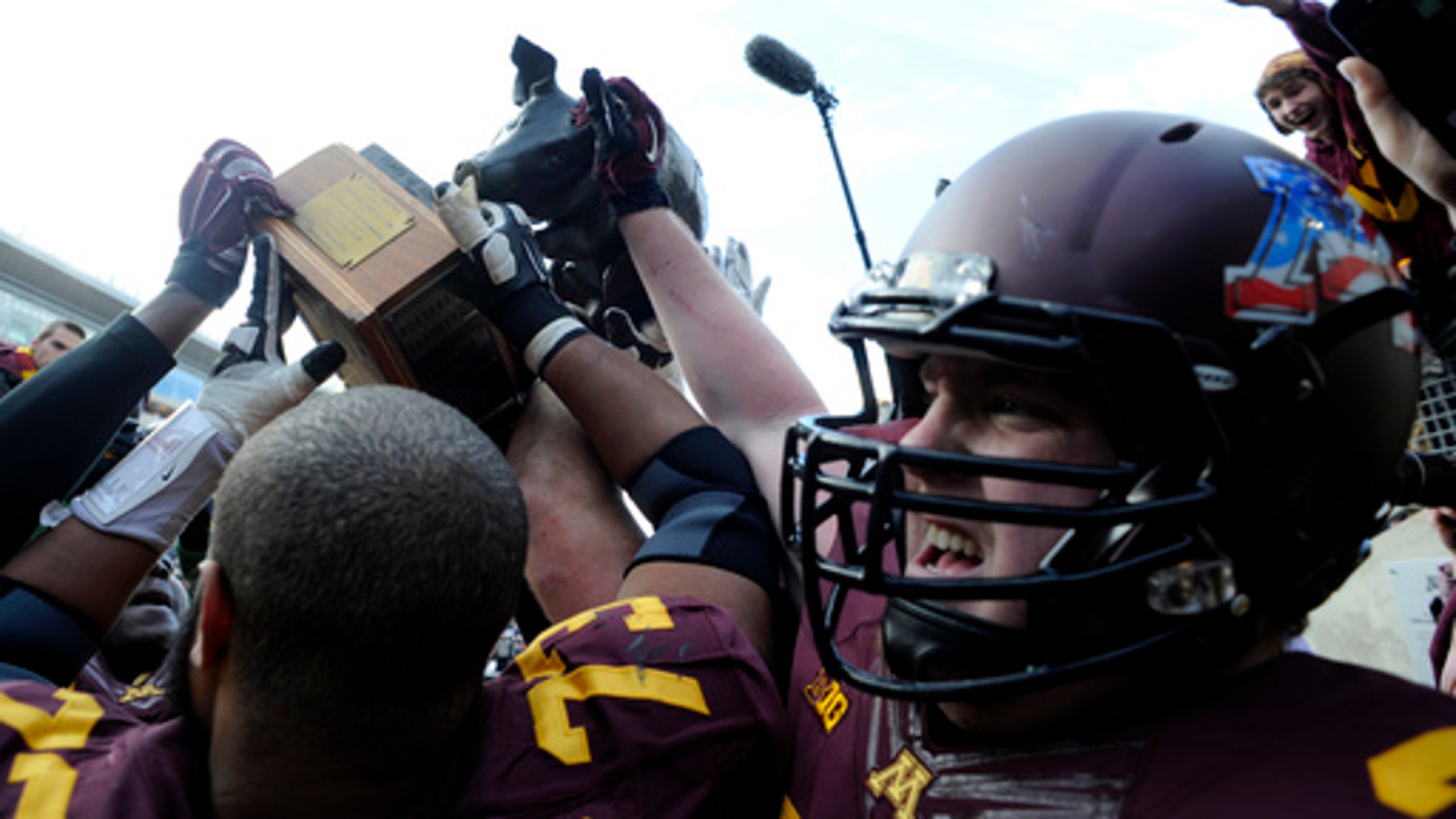 Gophers geared up for Hawkeyes, with pig on the line
BY foxsports • October 7, 2016
MINNEAPOLIS (AP) Mitch Leidner and Minnesota started the week with a much bigger loss than that overtime defeat at Penn State.
The Gophers, already fired up to play for the Floyd of Rosedale Trophy, will have an abundance of motivation for this game on Saturday against rival Iowa.
Dick Johnson, the assistant coach that Leidner and his teammates at Lakeville South High School light-heartedly called ''Magic,'' died of a heart attack last Saturday while Minnesota was on the road. He's the father of Jay Johnson, the first-year offensive coordinator for the Gophers.
The confidant and mentor that Leidner used to talk to every Monday during the season to dissect his performance from the weekend is no longer around. Leidner first met Dick Johnson when he was a sixth-grader growing up in the suburb of Minneapolis. Even as a senior quarterback for the Gophers, Leidner had as close of a relationship with him as with any coach. That made Jay Johnson joining the staff even more poignant this year.
''I wouldn't be where I'm at today without him, and so I was pretty upset about the whole thing,'' Leidner said. ''So I've just got to be there for coach Jay because I know he's upset, too, and I know Magic, what we called his dad, he would love nothing more than to beat the Hawkeyes.''
The Gophers (3-1, 0-1) scored 86 points while splitting the last two matchups with Iowa, their most in a two-game span in the series since 1936-37. Leidner had a lot to do with that, rushing 22 times for 109 yards and a touchdown and completing 29 of 40 passes for 397 yards and five scores without an interception over the last two battles for the bronze pig.
The Hawkeyes (3-2, 1-1) are reeling after their 12-0 regular season in 2015, having already lost at home to North Dakota State and Northwestern.
''We're a few plays away from being 5-0,'' cornerback Desmond King said. ''We know what kind of team we have.''
Here are some key angles to know about the game:
RUN OVER
Another uncharacteristic development for the Hawkeyes has been a soft front seven that has allowed opponents 182.8 rushing yards per game. That's the fourth-worst mark in the Big Ten and 87th out of 128 teams in the FBS, a vulnerability the Gophers are poised to exploit. They're fourth in the conference in rushing, averaging 228.3 yards per game on the strength of sophomores Shannon Brooks and Rodney Smith.
''We're close to really gashing some plays and really giving Shannon and Rodney the chance to even get more yards,'' right tackle Jonah Pirsig said.
THE PRESSURE'S ON
C.J. Beathard was sacked six times by Northwestern, a humbling performance by an experienced offensive line that has long been one of Iowa's strengths. The passing game needs all 11 players to function effectively, though, so the wide receivers can't escape responsibility, either.
''Anything we can do to help C.J. out, running better routes, getting open quicker, anything will help at this point right now,'' wide receiver Riley McCarron said.
KICKING IT
Minnesota's Emmitt Carpenter made all four field goal attempts at Penn State. Carpenter, who took over this season when Ryan Santoso switched to punter, has not missed on nine field goals and 16 extra points.
TRAVELING PARTY
The Hawkeyes have won seven straight games in their opponent's stadium, tied for the fourth-longest active streak in the FBS. That's also one short of the program record, set from 1920-23 when they only played three road games per season.
BORDER-STATE SERIES
Minnesota leads the overall series 62-45-2, including 42-37-2 since Floyd was introduced in 1935. Iowa has won 11 of the last 15 matchups, but the Hawkeyes have lost three of the last four times on the road including a 51-14 thrashing by the Gophers on Nov. 8, 2014.
---