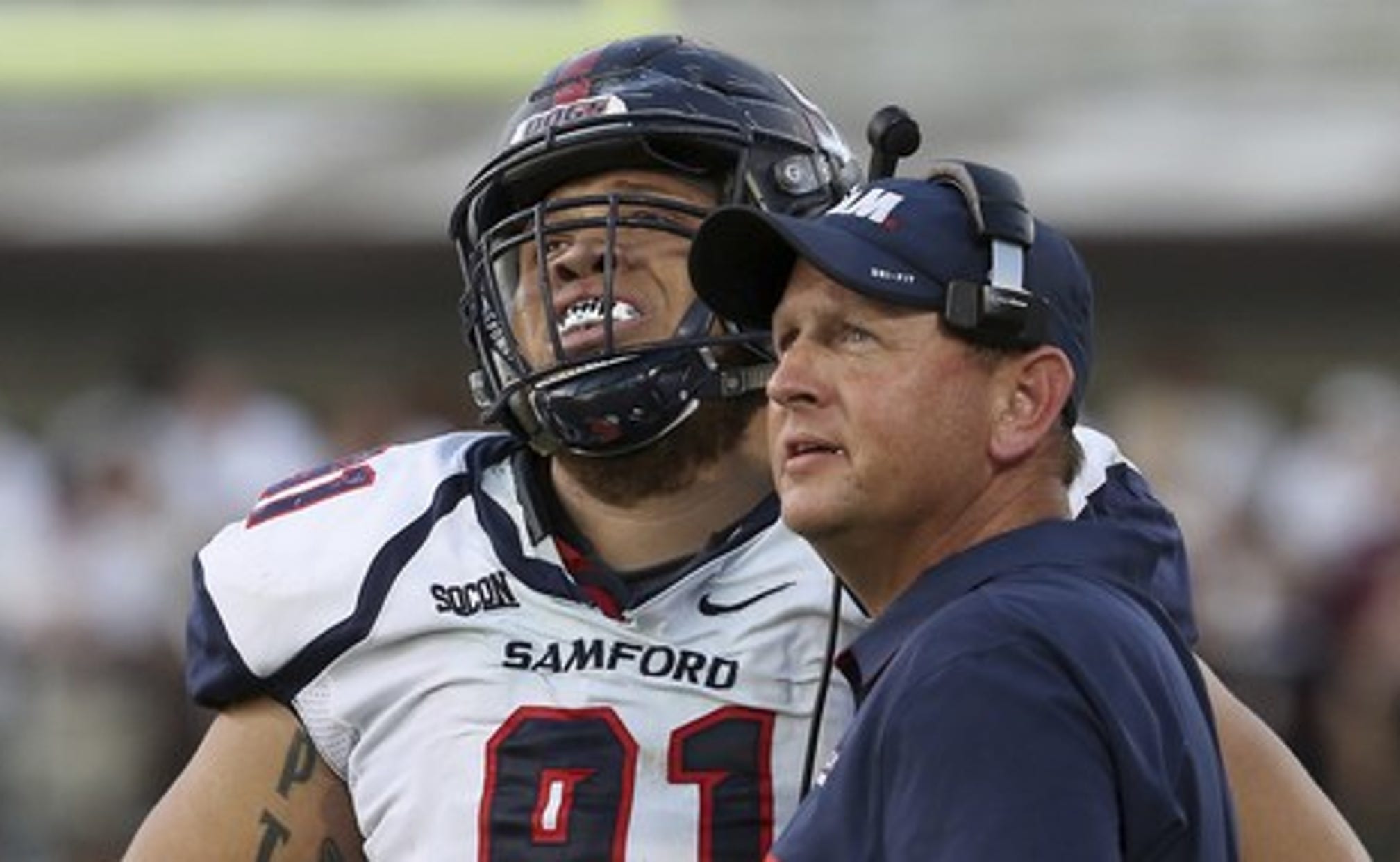 Georgia's Smart, Samford's Hatcher to get reacquainted in Athens
BY AP • September 15, 2017
(STATS) - One's a traditional FBS power and the other's still trying to establish itself as a regular FCS contender, but it turns out there's more in common between Georgia and Samford than their nickname.
Samford coach Chris Hatcher gave Georgia's Kirby Smart his first full-time coaching opportunity 17 years ago, creating an interesting wrinkle when these two pit their Bulldogs against one another in their first meeting on opposing staffs Saturday night in Athens.
Both in their 40s having grown up as sons of successful high school coaches in Georgia, it was the slightly older Hatcher who landed a head coaching job first. Six years after playing quarterback at Valdosta State, after having served as an assistant at UCF and Kentucky, Hatcher took over the Division II Blazers in 2000. One of his first hires was Smart, just two years removed from being an All-SEC defensive back at Georgia, where he served as an administrative assistant in 1999.
Naturally, Hatcher brought in Smart to work with the DBs, but in 2001 he elevated him to defensive coordinator. That was Smart's last year working in relative anonymity. After two years as a graduate assistant at Florida State, Smart landed at LSU in 2004 to be Nick Saban's defensive backs coach. He spent 11 of the next 12 years under Saban, the last eight as Alabama's defensive coordinator before finally getting his first head job last season.
He hasn't forgotten who gave him his start.
''I'm very thankful of the opportunity (Chris) gave me," Smart said Tuesday. "I really enjoyed my time on his staff. Some of my greatest memories are at Valdosta State. I was young then and a whole lot different as a coach. For two years there, I just had a lot of fun, and he's a great guy to work for. ... His dad's a great, legendary high school coach, which we kinda grew up in the same household. So Chris has always been a good friend of mine. He's always been real positive.''
Smart wasn't the only former Georgia defensive back Hatcher hired. He also brought on now-South Carolina coach Will Muschamp in 2000, so Hatcher was a popular man when his former proteges were hired at SEC schools the same week in late 2015.
"They might have been the only ones who wanted the jobs," Hatcher said at the time. "I was an unproven head coach, and the program hadn't been doing good. The pay wasn't good.
"It's always great to see people reach their goals, and I know coaching at Georgia was one of Kirby's goals."
After an 8-5 first season in Athens, Smart's 13th-ranked Bulldogs are 2-0 after a 20-19 win at then-No. 24 Notre Dame last Saturday. They appear to have one of the nation's most promising defenses - the Irish averaged 3.4 yards per play and went 3 for 17 on third down - and a backfield with Sony Michel and Nick Chubb is helping true freshman Jake Fromm hold down the fort under center while Jacob Eason is sidelined.
"They have a great defense, they have a great offense and their special teams are elite in all areas," Hatcher said. "They went on the road and beat Notre Dame, they beat a great Appalachian State team the first game pretty handily. So, we have our hands full."
There were some positives in Samford's last experience against an SEC opponent bearing the nickname Bulldogs. Hatcher's team racked up 627 yards of offense Oct. 29 at Mississippi State and found itself in a one-possession game with the ball in the fourth quarter before falling 56-41.
The Bulldogs, 17th in the STATS FCS Top 25, have won their first two games this season after a 1-4 stretch run that ended with a playoff loss at Youngstown State. But the defensive issues that were abundantly clear in Starkville last October have been evident again early. Kennesaw State put up 545 yards as Samford held on for a 28-23 win in the opener, but it was Division II West Alabama registering 522 that was much more alarming before the Bulldogs escaped with a 49-41 victory Sept. 7.
Hatcher might be more concerned with a ground game that's averaged just 2.9 yards per carry while SoCon offensive player of the year Devlin Hodges carries Samford through the air.
"We've been erratic, which is to be expected, especially offensively with all of the young players we have playing on that side of the football," Hatcher said. "Our defense and special teams have kept us in the games. But the thing about this team is we've been able to fight through adversity in both football games and find a way to win. That's the mark of a really good football team."
---
---