FSU's Cook suspended indefinitely, charged with battery of woman
Published
Jul. 10, 2015 2:44 p.m. EDT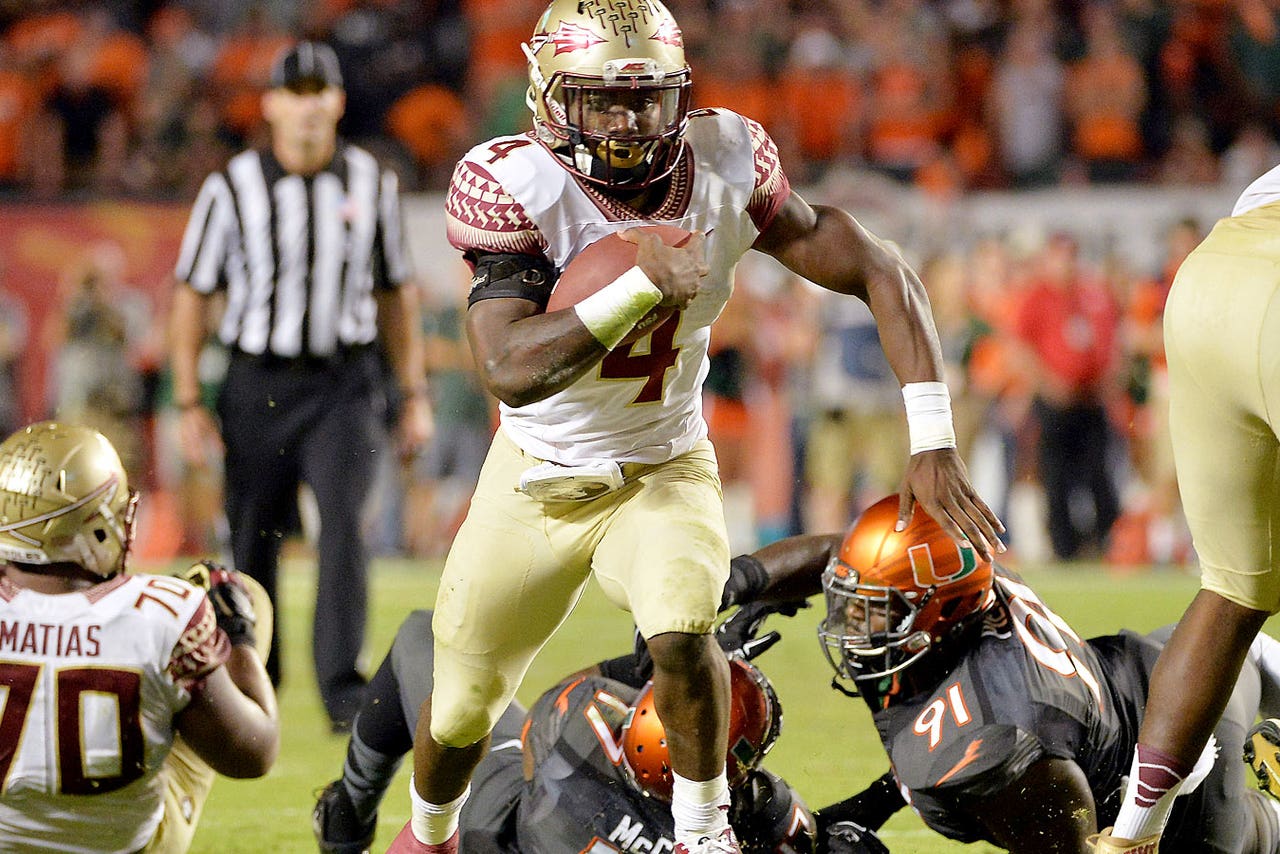 Florida State sophomore running back Dalvin Cook has been suspended indefinitely after being charged with allegedly beating a 21-year-old woman.
The state attorney's office issued a warrant for Cook's arrest. The 19-year-old is accused of punching the woman in the face several times during an argument outside of a Tallahassee bar on June 23.
State Attorney Willie Meggs interviewed the woman and Cook before issuing the arrest warrant on a misdemeanor battery charge. Police are giving Cook the option of turning himself in. He denied striking the woman. Meggs said he found the woman to be "very credible."
The alleged victim reportedly identified Cook in a photo lineup with Tallahassee Police Department investigators on July 1 and said she wanted to pursue criminal charges.
More from ESPN:
According to the Tallahassee Police Department's report, an officer arrived at Clyde's and Costello's at 2:24 a.m. on June 23, ESPN reports.
A witness reportedly told police he saw the incident. According to ESPN, he said he was trying to de-escalate a situation outside the bar, but when an officer working security in the parking lot went inside the bar at closing time the woman was punched in the mouth.
This is not the first off-field incident for Cook.
In June 2014, Cook was one of three Florida State players questioned regarding a bb-gun shooting that caused property damage at Tallahassee apartment complex. Cook was charged with criminal mischief and given pre-trial intervention in December, which he completed last month.
In July 2014, Cook was named as an "associate" in an aggravated assault case in which police were investigating whether two men brandished a firearm at a neighbor at Cook's apartment.
Earlier this week, FSU dismissed quarterback De'Andre Johnson after he was charged with misdemeanor battery of a woman. Meggs decided to charge Johnson after he viewed video of the incident, which happened inside a bar.
In Cook's case, because the alleged incident reportedly happened outside the bar, it is unclear if it was caught on surveillance cameras.
Cook, 19, was named Florida's "Mr. Football" in 2013 and led Florida State in rushing last season as a freshman with 1,008 yards and eight touchdowns.
Cook rushed for 177 yards and a touchdown and caught five passes for 43 yards in Florida State's 37-35 victory over Georgia Tech to win the ACC championship. He also rushed for 103 yards in Florida State's 59-20 loss to Oregon in the Rose Bowl.
Update (6:40 p.m. ET): FSU coach Jimbo Fisher released this statement Friday evening addressing both the Johnson and Cook incidents.
"Recent events at Florida State University involving members of my football team have brought a lot of attention to the school and program," Fisher said. "It is important to me that our fans and the public be aware that I do not tolerate the type of behavior that was captured on video and that was most recently alleged. We spend a good deal of time educating our student-athletes about appropriate behavior and their responsibilities as representatives of Florida State. The majority of our players are exemplary, but clearly we must place an even stronger emphasis on this, and I personally promise we will."
Update: Cook turned himself in to authorities Friday night, according to the Leon County Sheriff's Department.
The Associated Press contributed to this report.
---
---