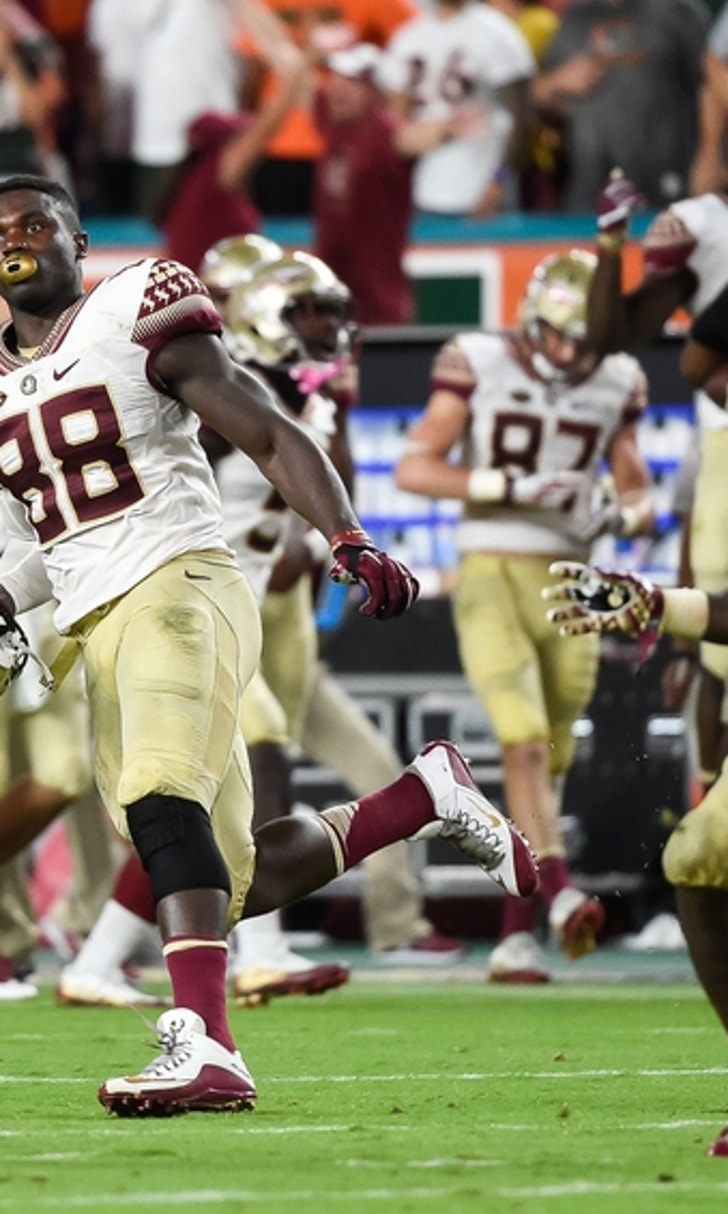 FSU Football: Ole Miss and Tennessee Confident They Get Cam Akers?
BY Fansided and Kelvin Hunt/FanSided via Chop Chat • December 27, 2016
Oct 8, 2016; Miami Gardens, FL, USA; Florida State Seminoles tight end Mavin Saunders (88) celebrates during the second half against the Miami Hurricanes at Hard Rock Stadium. FSU won 20-19. Mandatory Credit: Steve Mitchell-USA TODAY Sports
FSU football is in a dogfight to get the best running back in the class of 2017. However, there's probably only one team actually in the fight.
Five-star running back Cam Akers will choose his future college tonight at 7 p.m., and either FSU, Ole Miss, LSU or Tennessee will get a huge boost to their respective classes.
Ole Miss and Tennessee fans seems to think they have a real shot, while most FSU fans seems quietly optimistic even though the majority of the crystal balls point toward Tallahassee.
Akers is the No. 4 player overall in the 2017 class, and will likely make an impact in his freshman season wherever he decides to enroll.
He'll enroll in January which will aid him in that process.
There are all types of rumors out there regarding his recruiting. No one REALLY knows which school he'll pick. Ole Miss seems to think they just can't lose the best player in the state to an out-of-state school.
Tennessee fans seem to believe Butch Jones can pull a rabbit out of a hat. However, aside from distance, all of the concrete factors makes FSU football the logical choice.
Let's check in with these opposing teams regarding the Cam Akers sweepstakes.
Jan 1, 2016; Tampa, FL, USA; Tennessee Volunteers running back Jalen Hurd (1) runs the ball in for a touchdown against the Northwestern Wildcats during the second half in the 2016 Outback Bowl at Raymond James Stadium. Tennessee Volunteers defeated the Northwestern Wildcats 45-6. Mandatory Credit: Kim Klement-USA TODAY Sports
Tennessee
I have a very strong feeling that Cam Akers shocks the recruiting world and puts on a Tennessee hat tonight. I've heard several sources very close to his recruiting with very encouraging news and at this point, it's hard not to say Butch isn't one of the better closers around the country. I'm not gonna say I'm 100% confident, but I would give it an 85% chance that we land this program changer tonight. 8pm can't get here soon enough.
His parents probably don't even know. I wouldn't trust any "sources" at this point.
I don't have sources or any insider info on Akers, I just have a gut feeling that he will choose us. My gut feeling has been better than Butch's chart on a multiple occasions this season so I am hoping its right again !!
I think we get him too, just seems like with Trey Smith, and Akers being so close to a couple of the others commits, that he'll come home to Rocky Top!!! GBO!!!
Bruh, say what?
Nov 22, 2014; Fayetteville, AR, USA; An Ole Miss Rebels cheerleader takes the field with a flag during a game against the Arkansas Razorbacks at Donald W. Reynolds Razorback Stadium. Arkansas defeated Ole Miss 30-0. Mandatory Credit: Beth Hall-USA TODAY Sports
Ole Miss
Let's get some predictions going with a percentage.

I'll say Ole Miss 60%
100% rebel. Fact, Noles will be very sad tomorrow.
I think he really wants to be a Rebel, but the uncertainty of our program just pushes him to choose the noles… I really hope I'm wrong.
100% rebel. Noles won't mind since they are flipping the Tennessee recruit from Memphis!

Oh man if we could just find a couple of five star lineman to go with him!
99.999999% Rebel. 😎. Freeze may whiff on some LBs but he's not gonna whiff on Akers since the 8th grade.
Here's something not many are talking about. FSU has 2 HS RB recruits already. Two 4* and one of them is creeping up on 5*. If the rumor is true about them flipping this UT recruit, that gives them 3 in their 2017 class. Cam has to know that he is the one and only important RB prospect for this class in Ms. that makes me feel better at least, lol
Rumors that his family let one school know where he was going last night…
Alrighty!
Dec 6, 2014; Charlotte, NC, USA; Florida State Seminoles head coach Jimbo Fisher celebrates after defeating the Georgia Tech Yellow Jackets in the ACC Championship game at Bank of America Stadium. FSU defeated Georgia Tech 37-35. Mandatory Credit: Jeremy Brevard-USA TODAY Sports
Conclusion
I'll be the first to say I'm not sure where Akers will choose tonight. If I had to bet money, I'd put it on FSU football. However, when there's out-of-state distance involved and reportedly a mother wanting him to stay close it gives me pause.
However, it makes me feel better that Akers has visited FSU more than once AND brought him family with him. Jimbo Fisher being one of the best closers in the game doesn't hurt either.
I think Tennessee has absolutely NO shot to land Akers. The Vols are a dumpster fire as a program, and LSU has more of a shot than Tennessee.
Is staying close to home that much of a factor for Akers to choose Ole Miss? Their recruiting class isn't very good and they have a cloud over that program regarding potential sanctions from NCAA violations.
Akers knows FSU is the most rock solid program of the three, and has watched Devonta Freeman kill it in the NFL. He's watched Dalvin Cook the last three years put up crazy numbers.
The FSU football recruiting class is No. 7 in the nation and his commitment would make them top 5. Jimbo Fisher is still in the running for 4-5 more elite players as well.
Be sure to tune in tonight to see how it all unfolds. We'll have coverage regardless of where Akers decides to enroll.
More from Chop Chat
This article originally appeared on
---