Freaks Week: Ranking the Top 20 'Freaks' in college football for '14
BY Bruce Feldman • July 7, 2014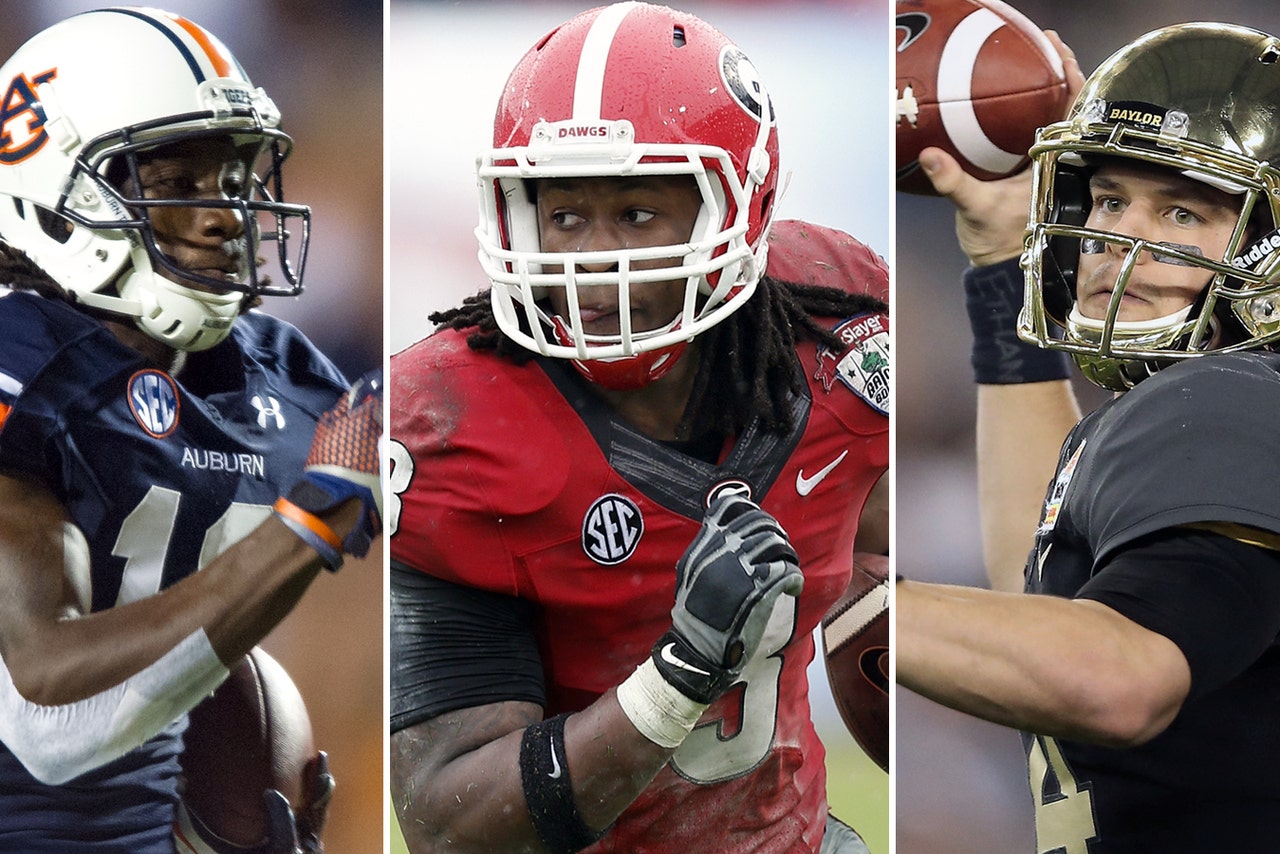 Every offseason for the past decade I've compiled the 'Freaks' list dedicated to identifying the freakiest athletes in college football -- basically the guy in the program who can wow his coaches and teammates.
This year, instead of just the Top 20 list, we're expanding to Freaks Week – five days of content dedicated to the Freaks brand.
We begin today with the master list. Here are your Top 20 Freaks in college football for 2014.
(One caveat: I've kept it to guys who will be on the field this season and who were in the program this spring.)
20. Akeem Daniels, RB, Northern Illinois Huskies
The Huskies' best blocking tailback was missed last season while he dealt with a foot injury that required surgery, but NIU coaches are excited to have the power-packed 5-7, 192-pound Daniels back.
According to NIU Director of Sports Performance Brad Ohrt, Daniels vertical jumped 40.5 inches, broad-jumped 10 feet, 6 inches, and clocked a pro agility time of 3.90.
19. Kyle Friend, C, Temple Owls
The Owls have a couple of huge guys who have created a lot of buzz inside the program with their athleticism.
Dion Dawkins, at 325 pounds, has showed his surprising hops in a dunking contest, but it's the 6-2, 300-pound Friend, who ran a 4.95 40 last week and has benched 225 pounds 40 times, who lands a spot on this year's list. 
18. Jonathan Truman, LB, Kansas State Wildcats
Bill Snyder's program has had quite a knack for taking walk-ons and transforming them into standouts and Truman is the latest, joining the likes of former K-State walk-ons Jordy Nelson, Jon McGraw and Rock Cartwright, among others.
Truman, a former state champion high school wrestler who hopes to become a firefighter after his football career is over, has emerged as an All-Big 12 candidate thanks to his prowess as pound-for-pound the strongest player on the K-State team. At 5-11 and 215 pounds, he can bench press 430, squat 535 and clean 400. On the field, Truman was second on the team in tackles last season with 89, including 13 against OU.
17. Maurice Falls, LB, East Carolina Pirates
At 6-3 and 247, Falls has great size for the Pirates' 3-4 scheme to go with terrific speed (he clocked a 4.47 40) and explosiveness (36-inch vertical). Falls also has a 425-pound bench and 645-pound back squat.
16. Jamil Douglas, OT, Arizona State Sun Devils
A former high school tight end, who weighed 260 pounds as a freshman four years ago, Douglas has blossomed into a standout for the Sun Devils and will become a three-year starter this fall. Now, at 6-4 and 301 pounds, he power cleans 385 pounds, squats 565 and has a body fat measurement in the teens, according to ASU coaches.
15. DeVante Parker, WR, Louisville Cardinals
Charlie Strong upgraded the athleticism across the board at U of L and Parker is a good example of that. The 6-3, 208-pound wideout, who caught 55 passes for 885 yards and 12 TDs last year, was timed at 4.39 in the 40 and broad jumped 10-feet, 10-inches to go with his tremendous range (80-inch wingspan).
Parker's pro agility time was 4.10 and he has benched 225 pounds 17 times, which is also excellent for a receiver.
14. Broderick Snoddy, RB, Georgia Tech
The 5-9, 190-pound junior turned quite the double on March 29. Earlier in the day he spent two hours on the football field taking part in Tech's first scrimmage of the spring. He is making the move from B-back (fullback) to A-back (slotback) this offseason.
Later in the afternoon, he joined the Yellow Jacket track team and sprinted his way to a 10.28 100 meter time and a 20.70 200 time. In the indoor track season, Snoddy broke the school record in the 60. Snoddy is the former Georgia state high school 100-meter champ. Tech QB Justin Thomas is a former Alabama state 100-meter prep king. When the two raced a year ago, Snoddy blew his teammate away:
13. Bo Antunovic, OT, Southern Methodist Mustangs
A few years ago, June Jones struck gold with a former international shot and discus thrower-turned-lineman from Estonia named Margus Hunt, who in 2010 topped our Freaks list before eventually heading to the NFL with Combine numbers that mirrored his college coaches' claims. Now, Jones has another intriguing prospect in the Serbian former three-time all-American in track at UT-Arlington.
"I believe in two years, he'll get drafted by the NFL as an offensive lineman," Jones told me. "In 15 days this spring, he showed us he has the chance to start for us (in 2014). He's a natural in the pass blocking part. I'm really excited about him. He's the most incredible athlete on our team.
"He's a better athlete than Margus. He's more explosive than Margus and he's stronger. He was about 270. Now he's about 285, but he'll be 300. He has a shot to start." Antunovic benched 425 pounds, power cleaned 405, vertical jumped 32 inches and ran a 4.86 40 in spring testing.
12. Chucky Hunter, DT, TCU Horned Frogs
Gary Patterson always has some stud D-linemen and Hunter, a two-time second-team All-Big 12 selection, is an anchor of what figures to be one of the nation's top defensive fronts.
Hunter's weight room numbers: a 520-pound bench, a 460-pound clean and a 750-squat for two reps.
11. Benardrick McKinney, LB, Mississippi State Bulldogs
A former high school QB, McKinney has morphed into a star SEC linebacker, piling up 173 tackles the past two seasons.
Now measuring in at an imposing 6-5, 250, he still has the wheels to go sideline to sideline, clocking a 4.5 40. McKinney's vertical jump also is 34 inches.
10. Raheem Mostert, RB-KR, Purdue Boilermakers
The Boilers went to Florida to recruit the Big Ten's fastest football player.
The 5-11, 190-pound senior won the conference's 60-meter and 200-meter indoor titles, as well as the outdoor 100 and 200.
9. Shane Ray, DE, Missouri Tigers
The Tigers had one of the best D-lines in the country last year with bookend pass-rushing studs, but they didn't have anyone near as fast as the 245-pound Ray, who long-time strength coach Pat Ivey said is one of the most explosive athletes he's ever been around, which is a group topped by NFL star Justin Smith.
Ray has clocked a 4.44 in the 40, vertical jumps over 40 inches, broad jumps over 10 feet and bench presses over 400 pounds. Now, the big challenge for him is if he can help make up for the loss of Michael Sam and Kony Ealy.
8. Nate Terhune, NT, Kent State Golden Flashes
Every year we get a few very unique "metrics" making the case for a guy to merit a spot on the Freaks list. Terhune certainly fits in that category. Kent coaches say the biggest thing that makes them rave about the nose tackle is flexibility, which certainly didn't hurt his amazing recuperative ability.  The 6-4, 265-pound Terhune shattered his fibula down by his ankle on Sept. 14. Exactly four weeks later, he was back in action at Ball State. The next month, he hurdled over a defender on a 61-yard fake punt touchdown that went viral.
"Nate Terhune ran a 4.33-second Pro Agility (20-yard shuttle test) and his flexibility numbers are off the charts -- we do a sit-and-reach and hip and groin measurements," said Kent strength and conditioning coach Antoine Sharp. To provide a little more context on the Pro Agility time: Patriots LB Jamie Collins, one of the freakiest athletes we've seen in the past decade, clocked a 4.32 at the Combine two years ago and LSU's Keke Mingo timed a 4.39.
"We sum up all of the three numbers for a total score, and on average guys that play his position are normally in the low 20's (the lower the score the better), which is OK," Sharp said. "But Terhune's flexibility score was a 6.5, which is off the charts and the only position group to be close to him are the kickers. His exceptional flexibility and work ethic are the reasons why he was so resilient and returned so fast from that injury. If he was not as flexible as he is, there is no way he would have been able to make that exceptional hurdle play."
7. Todd Gurley, RB, Georgia Bulldogs
The Bulldog star has the talent to make a run at the Heisman. At 6-1, 232, he is huge, but this is also a guy who competed for the Dawgs' track team as a hurdler earlier on in his career. He also won the 2011 World Youth Trials in the 110 hurdles with a personal best 13.88 and was fifth in the 100.
This fall, Gurley is going to get some competition in the running back room in the Freaks category from UGA newcomer Nick Chubb, another huge, fast back with track cred.
6. Bryce Petty, QB, Baylor Bears
The Bears have become a go-to for the annual Freaks list as is their quotable coaches, Art Briles and strength coach Kaz Kazadi ("Hand times are for ya mama.") Baylor has some intriguing candidates: 6-8 D-lineman Shawn Oakman verticals 34 inches and runs like a wideout; 225-pound wideout Antwan Goodley runs 4.39 and squats 660; sophomore DT Andrew Billings power cleans 400 and, in high school, broke WWE star Mark Henry's 22-year-old Texas prep state meet record with a 2,010-pound effort (805 squat, 500 bench, 705 dead lift) in 2012.
But we're going with the Bears' Heisman candidate. The hulking Petty has linebacker's size (6-3, 238) and a tailback's burst and athleticism. He vertical jumps 38 inches, broad jumps 10-feet, 5.5-inches, squats 510 pounds and runs a 4.62 40. Over the weekend, Petty provided even more proof of his Freak merits to anyone around the Elite 11 camp in Oregon. Part of a series of challenges run by Team RWB, a group of Special Forces and career military men, Petty was a sight to see toting heavy sandbags up a hill back-and-forth for over a half-hour straight.
When Petty arrived in Waco, he weighed 214 pounds, had a 31-inch vertical and clocked in the high 4.8s. Kazadi said his workout numbers, despite being quite a bit bigger, rival the great RGIII in almost every workout area and some of his weight work. "If you wanted him to go to 250 and make him a defensive end so he was chasing quarterbacks, he could do it," said Kazadi. "If you wanted to make him that old-school, over-the-tight end outside linebacker, he could do it. If you wanted to make him a tight end, he could easily do it. He can do all that."
5. Alvin "Bud" Dupree, DE, Kentucky Wildcats
One of the best things about Wildcat football is this 6-3, 267-pound hybrid LB-DE who made 61 tackles and 9.5 TFLs last season. Dupree, who has vertical jumped 40.5 inches and broad-jumped 11 feet, should light up the NFL Combine.
UK sports performance coach Erik Korem, who came from FSU, said Dupree's speed was clocked at 21 miles per hour on their GPS system.
4. Mike Orakpo, LB, Texas State Bobcats
Brian Orakpo was the No. 1 guy on the 2008 Freaks list for, among other things, benching 514 pounds and vertical jumping 42 inches. His kid brother Mike's athleticism -- in a slightly smaller frame -- is equally eye-popping. The younger Orakpo, at 6-2 and 233 pounds, benches just about 100 pounds more than twice his body weight (560) and incline benches 500 along with a 375-pound power clean, according to TSU coaches. He also has vertical jumped 41.5 inches and been timed at 4.53 in the 40.
New TXST defensive coordinator John Thompson, who has spent three decades in college football including stints at many of the biggest SEC programs, said Orakpo's rare combination of strength and agility reminded him some of Alabama great Derrick Thomas (Thompson was a linebackers coach at Bama when the Hall of Famer played for the Tide.) "This is a guy who can play in pass coverage and also you could play at 5-Technique versus a 300-pounder and he can get his hands inside him," said Thompson. "Derrick Thomas was one of the few guys who I'd ever been around who could do that, but Mike can too. He's so sudden and so strong and just has phenomenal leverage."
In 2013, Orakpo had 10 TFLs and 4.5 sacks, but this fall Thompson plans on playing him at inside linebacker, which he feels is more of a natural role for him.
3. Devon Allen, WR, Oregon Ducks
No team plays faster than the Ducks in that frenetic system of theirs, and this fall they'll get to mix in their newest burner. No one can question the Arizona's native speed cred. Allen's jets are track certified. The 6-0, 190-pound redshirt freshman was just named USA Track and Field's Athlete of the Week for his victory against a field loaded with professional sprinters in the 110 hurdles at the USA Track & Field Championships.
His time was a wind-aided 13.16, which beat defending US champ Ryan Wilson and David Oliver, the reigning world champ. Allen won the NCAA 110 hurdles title last month.
2. Brandon Scherff, OT, Iowa Hawkeyes
Chris Doyle, Iowa's strength coach the past 16 seasons, has worked with everyone from Hawkeye first-round linemen Robert Gallery and Bryan Bulaga to three-time All-Pro Marshal Yanda. "In terms of pure explosiveness, (Scherff) is the best we've ever had," Doyle said. "He's in a league of his own." That really is a mouthful, when you consider that Gallery ran in the 4.8s at the combine and vertical jumped 30 inches despite weighing 323 pounds before becoming the second overall pick in 2004.
He can Jerk 400 pounds over his head, vertical jump 31 or 32 inches and run his first 10 yards in 1.58 to 1.60 seconds, according to the coach. (For comparison's sake on the 10-yard split, Auburn star Greg Robinson clocked a 1.68 at the NFL Combine while Michigan's Taylor Lewan --an old Freaks list guy -- timed his in 1.64, and he ran the fastest 40 among O-linemen in Indy officially at 4.87.)
"He's just super powerful in his hips and lower body," said Doyle, who added that Scherff has packed on 10 more pounds this offseason, now up to 325. "He's extremely gifted genetically, and he's such a great kid to work with because he's as competitive as any kid you'll ever be around and he's extremely positive."
1. Sammie Coates, WR, Auburn Tigers
Last fall, the 6-foot-2, 210-pounder proved to be one of the best big-play threats in college football. Coates was third in the nation in yards per catch (21.5) and averaged a whopping 54 yards per TD grab. Overall, Coates caught 42 passes for 902 yards and seven touchdowns. Anyone who watched the Tigers' game against Texas A&M last season witnessed some of Coates' brute strength when he rag-dolled an Aggie DB (h/t thewareaglereader.com):
Coates' speed and explosiveness became something of an Internet legend two months ago when one of the Tigers assistant coaches tweeted out pictures of a stopwatch for RB Corey Grant showing a 4.14 time and Coates was 4.16. Those times draw plenty of skepticism when you consider that they're a full tenth of a second faster than anything posted officially at the NFL Combine this year (Kent State's Dri Archer blazed a 4.26). Still, on a team loaded with stud athletes, Coates does stand out, says Tigers strength coach Ryan Russell. 
Asked about Coates' 40-time, Russell said they use hand times (which are often faster than electronic times) and they clocked him eight times, dropped out the highest and lowest and said he was at 4.25. Coates' vertical jump: 44 inches. He benches 405 pounds. Maybe even more impressively, Russell said, the wideout did three strict chin-up reps despite have three 45-pound plates strapped to a weight belt around his waist. "He's just a stud," said Russell. "He really has a ton of God-given ability."
Bruce Feldman is a senior college football reporter and columnist for FOXSports.com and Fox Sports 1. Follow him on Twitter @BruceFeldmanCFB.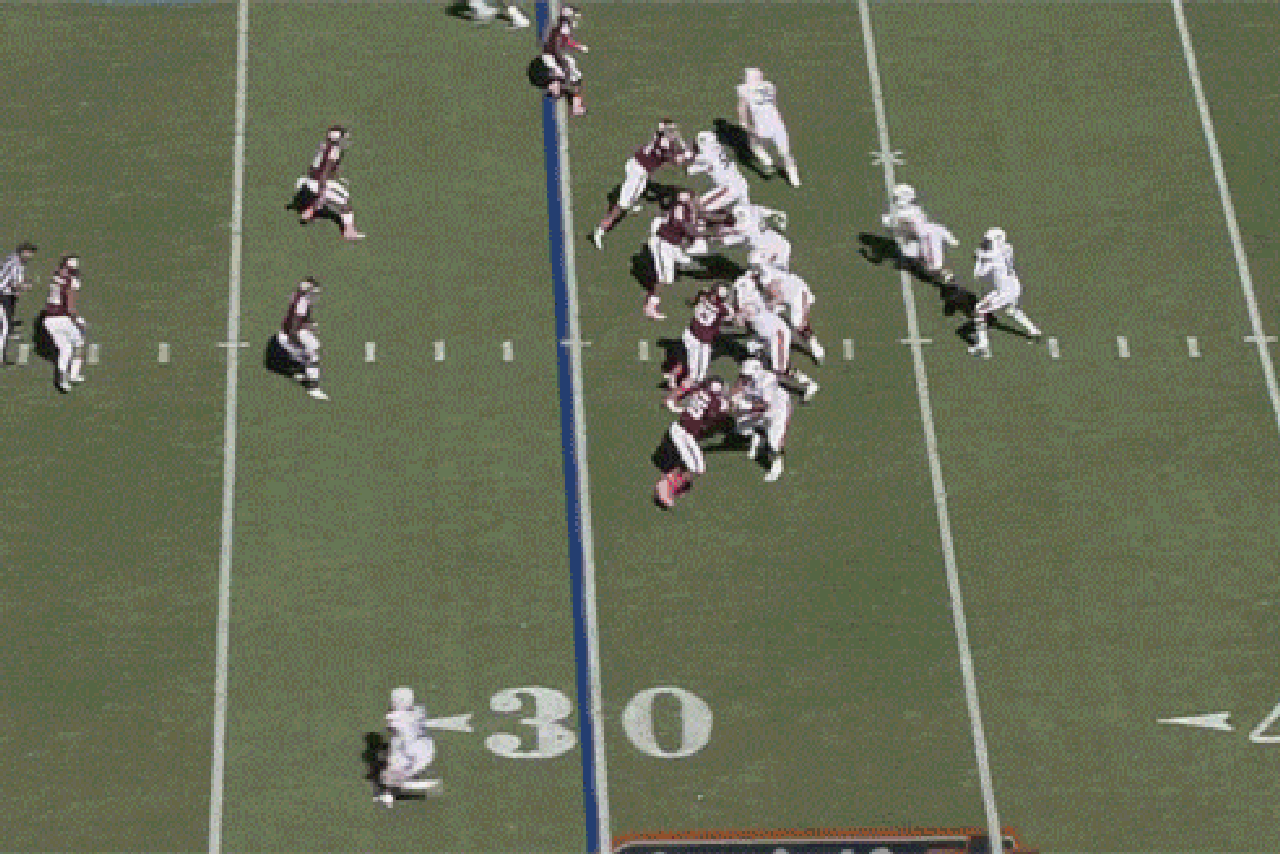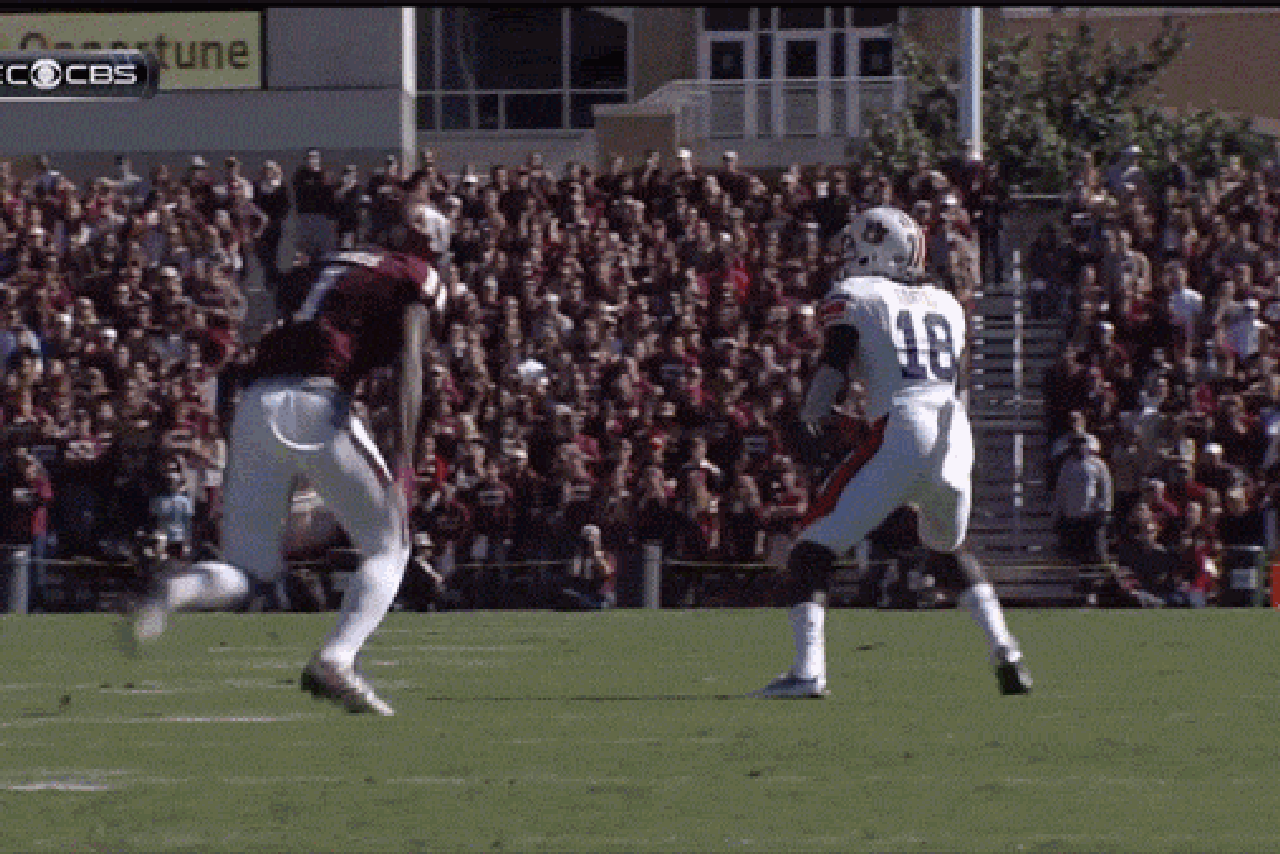 ---