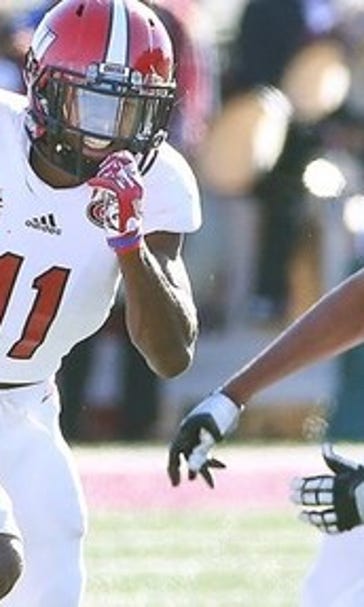 FCS review: Defenses tighten
BY foxsports • October 23, 2016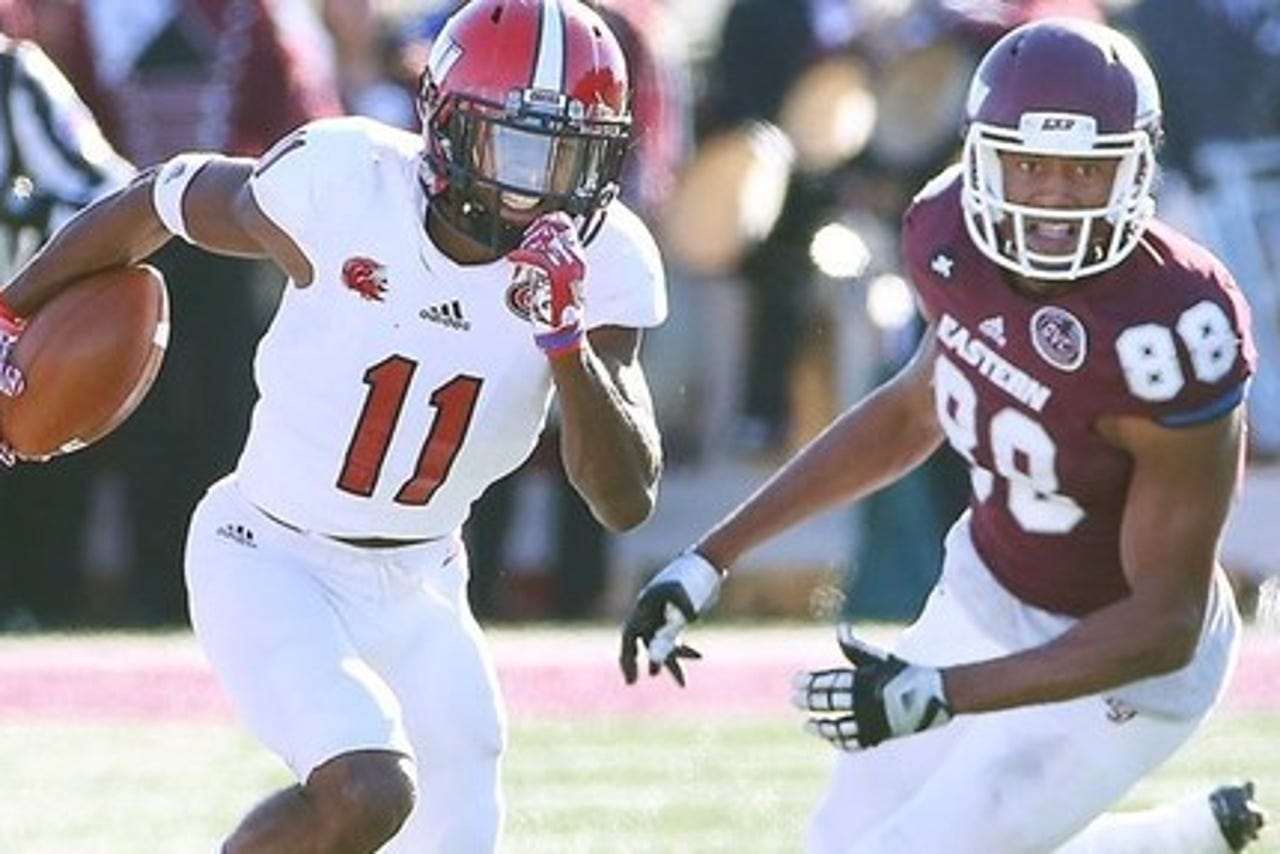 (STATS) - There's no doubt November is calling because it takes defense to win a championship.
And there was plenty of it shining with STATS FCS Top 25 teams on Saturday.
The highlights:
- No. 2 Jacksonville State returned a program-record three interceptions for touchdowns - by Jaylen Hill, Joel McCandless and Reggie Hall - to beat Eastern Kentucky 24-7 in the Ohio Valley Conference;
- No. 4 North Dakota State gained three turnovers in the game's final eight minutes to preserve a 21-13 win at No. 12 Western Illinois in the Missouri Valley Football Conference. The Bison also blocked two field goals;
- No. 7 South Dakota State corralled six sacks and turned two takeaways into touchdowns in a 24-10 win over No. 13 Youngstown State which gave the Jackrabbits sole possession of first place in the MVFC;
- No. 9 Charleston Southern surrendered only 102 yards to Presbyterian in a 38-3 rout in the Big South Conference. It was the fewest the Buccaneers have allowed against an FCS opponent;
- No. 16 Villanova totaled nine sacks and forced a pair of turnovers in a 24-13 CAA win over No. 23 Albany. Linebacker Ed Shockley had 3½ sacks and a fumble recovery;
- No. 17 Coastal Carolina beat Central Connecticut State 33-25 as linebacker Alex Scearce had three takeaways, scoring touchdowns on an interception and a fumble recovery;
- No. 24 Stony Brook made it 10 straight quarters without allowing a touchdown while beating Delaware 28-3 in the CAA. Defensive end John Haggart dominated with 11 tackles, 5 1/2 tackles for loss and three sacks while forcing three fumbles and recovering one.
The regular season is down to its final four weekends in most conferences (all but the two HBCUs, the MEAC and SWAC), and while teams usually just outpunch each other with offense, the ones that go far in the FCS playoffs (think North Dakota State) are adept at making game-turning plays on defense.
---=
SECOND AND 10=
Ten more observations from the FCS weekend:
1.) Any of the top four teams - Sam Houston State, Jacksonville State, Eastern Washington and North Dakota State - have legitimate claim to the nation's No. 1 ranking despite Sam Houston's lopsided first-place vote total last week. What's been most impressive about the Bearkats is what they are doing to opponents in the first half of games. They have outscored teams 122-24 in the first quarter and 227-51 by halftime. They were up 24-0 at the break in a 38-21 win at Nicholls on Saturday.
2.) The team of the week is Northern Arizona, which defeated No. 10 Montana 45-34 for its third straight win. The Lumberjacks (4-4, 3-2 Big Sky) never trailed in the game and built a 45-20 lead through three quarters against a visiting Griz team that had scored a combined 135 points over their previous two games. Lefty NAU quarterback Blake Kemp threw four touchdowns in the first half.
3.) The comeback of the day also came from a Big Sky team, Weber State, which scored 23 unanswered points in the fourth quarter to rally past Southern Utah, 37-36, and remain unbeaten in conference play. The Wildcats (5-2, 4-0) didn't lead until Jadrian Clark and Darryl Denby connected for a 60-yard touchdown pass with 31 seconds left and Taylor Hintze kicked the extra point. Coach Jay Hill's squad knows what it's like to be on the other end of a fourth-quarter rally, as they blew a 21-point lead in the final 10½ minutes against South Dakota and lost 52-49 in two overtimes on Sept. 10.
4.) Three-week layoffs didn't slow two ranked teams - a good sign considering the odd midseason scenario. No. 9 Charleston Southern routed Presbyterian 38-3 as quarterbacks Steve Bucenell and Robert Mitchell had big games. No. 22 Grambling State hammered Mississippi Valley State 59-10 as DeVante Kincade threw four first-half touchdowns and Martez Carter totaled 189 all-purpose yards and scored twice.
5.) Saint Francis is 3-0 in the Northeast Conference for the first time because of its defense. The Red Flash (5-3) have surrendered 10 or fewer points five times, including in each conference win. Jermaine Ponder and Jalen Wells had interceptions of Duquesne quarterback Dillon Buechel in Friday night's 14-10 win - a rematch of last year's regular-season-ending game that decided the NEC title. The Red Flash come right back next Saturday with a big matchup at Sacred Heart (6-1, 1-1).
6.) Surprise, surprise, the Ivy League co-leaders are Harvard and Penn. OK, no surprise at all. At least one of them has won the title in nine straight seasons and all but two seasons since 2000. Penn will host this year's showdown on Nov. 12.
7.) While Murray State's Connor Mitchell was the kicker of the weekend with six field goals in a 40-38 win at No. 15 Eastern Illinois, Columbia freshman Oren Milstein kicked three field goals in a 9-7 win over Dartmouth. He's provided all the Lions' points in both wins this season, also kicking five field goals in a 15-13 win over Wagner on Oct. 8.
8.) The hottest wide receiver in the FCS is not Eastern Washington's Cooper Kupp - for a change. Karel Hamilton became Samford's all-time leader in receiving yards (3,166) with a 208-yard game against Western Carolina. Over the Southern Conference's team last three games, Hamilton has caught 35 passes for 539 yards and six touchdowns.
9.) Opposing teams will have to think twice about scheduling Stetson for Homecoming. The Hatters have been the spoiler three times this season. Saturday's win was the most scintillating, 30-24 at Campbell in their first-ever overtime game. Star safety Donald Payne blocked a Camels' field goal attempt in OT and followed Jed Boudreaux down the field after his teammate scooped up the ball and ran toward the far end zone. A pair of Camels jumped on Boudreaux's back inside the 5-yard line, so he lateraled the ball to Payne, who covered the final two yards for the winning score. Payne finished with 13 tackles, pushing his career total to 502.
10.) Delaware's struggles are a puzzle, but it's certain coach K.C. Keeler should never have been fired after the 2012 season and Dave Brock wasn't the answer. The Blue Hens are 19-23 since the start of the 2013 season and their 28-3 loss to Stony Brook on Saturday (in interim coach Dennis Dottin-Carter's first game) was their fifth straight, marking the longest losing streak since the 1939 team dropped seven in a row. The Blue Hens' post is coveted, so the nationwide search needs to produce a coach who will get a quick turnaround.
---=
A LOOK AHEAD=
Next Saturday's FCS schedule is full of important conference matchups, led by Montana at Eastern Washington and Weber State at North Dakota in the Big Sky, North Dakota State at Northern Iowa in the Missouri Valley, Eastern Illinois at Jacksonville State in the Ohio Valley, Saint Francis at Sacred Heart in the Northeast, Fordham at Lehigh in the Patriot League and San Diego at Marist in the Pioneer Football League.
Also: Big South, Gardner-Webb at Liberty; CAA, Stony Brook at New Hampshire; Ivy, Harvard at Dartmouth; MEAC, South Carolina State at Hampton; Missouri Valley, South Dakota State at Illinois State and Western Illinois at South Dakota; NEC, Bryant at Duquesne; Southland, Central Arkansas at Southeastern Louisiana; and SWAC, Southern at Alcorn State and Prairie View A&M at Jackson State.
The FCS win total against the FBS stands at 10 (tied for fourth-most in a single season) as Samford visits Mississippi State and Wagner goes to UMass.
---