Favored North Dakota embracing the Big Sky bull's-eye
BY AP • July 18, 2017
(STATS) - The motto of the University of North Dakota team has been "Day by Day" since the arrival of coach Bubba Schweigert and his staff in January 2014.
Today, though, is a lot different than yesterday.
Following last year's co-championship in the Big Sky Conference and their first-ever FCS playoff appearances, the Fighting Hawks are facing much higher expectations heading into the 2017 season.
On Tuesday, they were picked first in the conference's two preseason polls - head coaches and media - as Big Sky Kickoff concluded in Park City, Utah. The Fighting Hawks were one spot ahead of Eastern Washington, with whom they shared last year's conference title, going 8-0 against Big Sky foes.
The upstart power's run in the Big Sky will be short. This is North Dakota's sixth season in the conference and the last one in which it is eligible for the championship and its automatic bid to the playoffs. The Fighting Hawks will join the Missouri Valley Football Conference in 2020.
Their impending departure figures to make their bull's-eye even brighter to Big Sky opponents.
"We do realize expectations from our loyal supporters, fan base and others have changed," Schweigert said. "We address our team about what is going on outside the walls of the locker room and stadium versus what goes on inside the walls. We are excited about the added expectations from our fans, alumni and others, it has created quite a buzz in our region and will help fill the Alerus Center, which was the vision we had for the program when we arrived three years ago. As exciting as the buzz can be, our job is to eliminate the outside noise and focus on our job day by day."
The schedule is tougher this year, although North Dakota appears well equipped to handle it. The Fighting Hawks (9-3 last season) face Eastern Washington and Montana again after they missed both teams in last year's unbalanced schedule in the 13-team conference.
After last season, the UND coaches challenged their team to be great during an offseason of conditioning, spring practice and training. Their veteran team - 14 starters return - believes championships are made in the winter, spring and summer as much as the fall.
"We do have much of our personnel returning this year, Schweigert said. "We would like to see our team perform at a high level on a more consistent basis. This means more consistent throughout each and every game and more consistent throughout the entire season.
"We also would like to see more depth on our team than we had a year ago. Our strength staff and coaching staff have worked hard to develop all personnel within our program, but we needed extra effort put into the younger guys. Injuries are part of the game and we need to be able to withstand them to become the championship program that we want to be."
North Dakota boasts senior safety Cole Reyes, the Big Sky's 2016 defensive player of the year, as part of one of the best secondaries in the nation. The offense gets back underrated quarterback Keaton Studsrud and the ground attack features backs John Santiago, Brady Oliveira and James Johannesson, a transfer from Minnesota.
"You know you have to come to play every Saturday," Reyes said. "I wouldn't say (an 8-0 Big Sky record) was unexpected, but it was an accomplishment - we weren't talking about going undefeated in league play. It was great to accomplish that throughout the season."
While North Dakota hopes to pound opponents into submission, Eastern Washington will try to soar past teams, as usual.
The Eagles (12-2), who have a first-year head coach in longtime assistant Aaron Best, are coming off a 2016 season in which they reached the national semifinals. As a first-year starter, quarterback Gage Gubrud set an FCS single-season record for passing yards (5,160) and threw 48 touchdowns.
Northern Arizona was third and Cal Poly fourth in the preseason polls, which mirrored each other except for Portland State and Northern Colorado flip-flopping the No. 9 and 10 spots.
---=
KEY BIG SKY GAMES=
Eastern Washington at North Dakota (Nov. 11) - The 2016 Big Sky co-champs didn't face each other last season. When they last met in Cheney, Washington, in 2014, Eastern won 54-3.
Five More: Northern Arizona at Cal Poly (Sept. 23); Eastern Washington at Montana (Sept. 23); Southern Utah at Weber State (Oct. 14); Weber State at Eastern Washington (Nov. 4); Montana at Montana State (Nov. 18)
---=
BIG SKY FOOTBALL PRESEASON POLLS=
Voted on by Head Coaches
1. North Dakota (6 first-place votes), 130 points
2. Eastern Washington (2), 124
3. Northern Arizona (2), 119
4. Cal Poly (1), 108
5. Weber State (1), 103
6. Montana (1), 83
7. Southern Utah, 80
8. Montana State, 69
9. Portland State, 62
10. Northern Colorado, 60
11. UC Davis, 35
12. Sacramento State, 26
13. Idaho State, 15
---=
Voted on by Media
1. North Dakota (15), 298
2. Eastern Washington (5), 271
3. Northern Arizona (3), 236
4. Cal Poly, 224
5. Weber State, 209
6. Montana (1), 204
7. Southern Utah, 175
8. Montana State, 156
9. Northern Colorado, 135
10. Portland State, 104
11. UC Davis, 62
12. Sacramento State, 61
13. Idaho State, 44
---=
BIG SKY CONFERENCE FOOTBALL PRESEASON TEAM=
Offensive Player of the Year - Gage Gubrud, QB, Eastern Washington
Defensive Player of the Year - Cole Reyes, S, North Dakota
Offense
QB - Gage Gubrud, Eastern Washington
WR - *Emmanuel Butler, Northern Arizona
WR - Keelan Doss, UC Davis
WR - Jerry Louie-McGee, Montana
OT - David Reese, Montana
OT - Randin Crecelius, Portland State
OG - Tyler Strank, Northern Arizona
OG - Demon Taylor, North Dakota
C - Joey Kuperman, Cal Poly
TE - *Andrew Vollert, Weber State
RB -*John Santiago, North Dakota
RB - Brady Oliveira, North Dakota
FB - Joe Protheroe, Cal Poly
Defense
DT - Robert Torgerson, Southern Utah
DT - Anthony Del Toro, Portland State
DE - Albert Havili, Eastern Washington
DE - Ben Sorensen, Sacramento State
OLB - Mike Needham, Southern Utah
OLB - Josh Buss, Montana
ILB - Mac Bignell, Montana State
ILB - Landon Stice, Weber State
CB- Deion Harris, North Dakota
CB - Taron Johnson, Weber State
S - *Cole Reyes, North Dakota
S - Mitch Fettig, Eastern Washington
Special Teams
PK - Griffin Roehler, Northern Arizona
P - Jacob DeMaio, Weber State
RS - John Santiago, North Dakota
ST - Hakeem Deggs, Northern Colorado
* - unanimous selection
---
---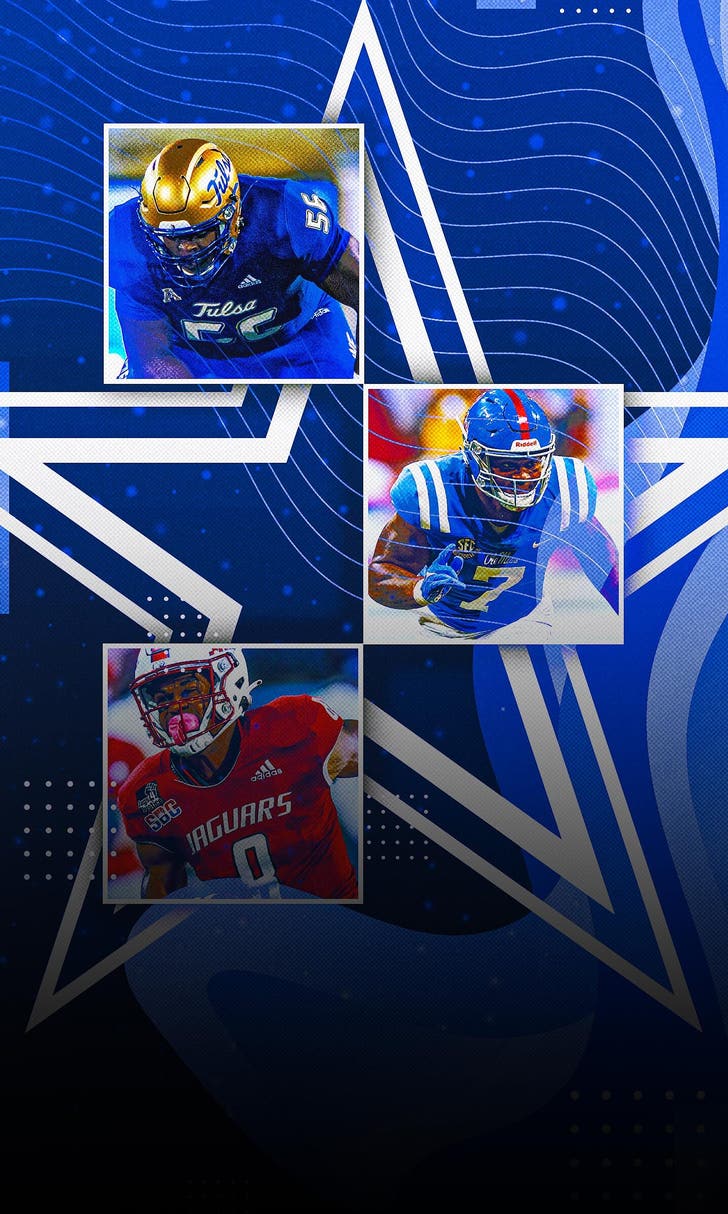 Dallas Cowboys rookie minicamp: Reactions from Day 1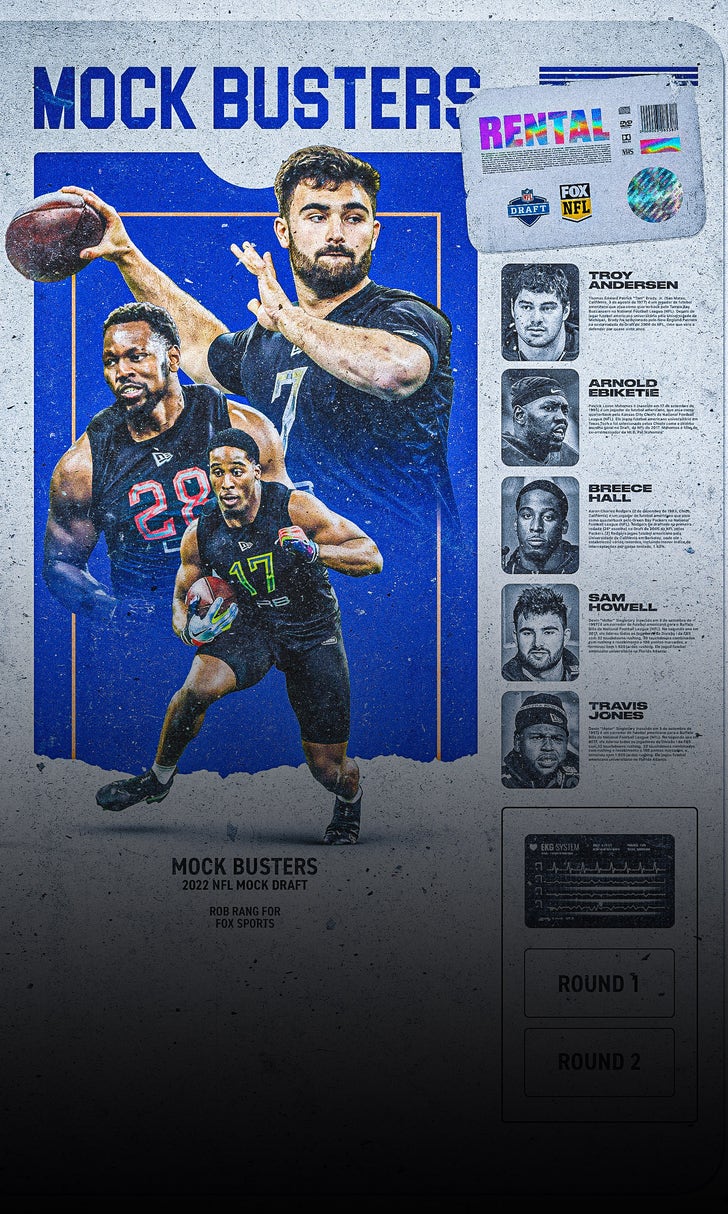 2022 NFL Draft: Sam Howell, Breece Hall among 'mock busters'