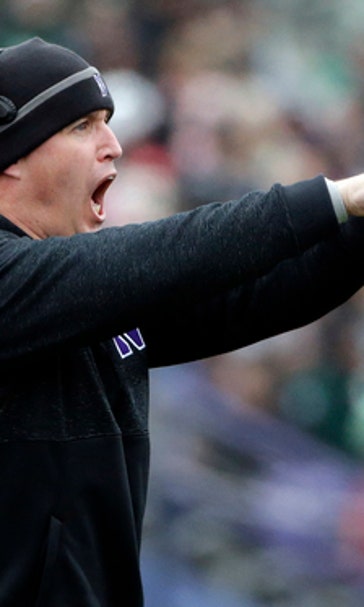 Drama always possible when Wildcats, Huskers meet in Lincoln
November 3, 2017

LINCOLN, Neb. (AP) Northwestern and Nebraska both won thrillers last week, and they could be in for another fantastic finish Saturday if this meeting is like their others at Memorial Stadium.
Since the Cornhuskers joined the Big Ten in 2011, their three games in Lincoln have been decided by a total of eight points.
In 2015, Northwestern ran out the last four minutes for a 30-28 win after the Huskers' two-point conversion pass fell incomplete. In 2013, Jordan Westerkamp came down with a 49-yard Hail Mary from Ron Kellogg III for a 27-24 Nebraska win. In 2011, the Huskers scored with 14 seconds left but couldn't recover an ensuing onside kick in Northwestern's 28-25 win.
The winner Saturday will take sole possession of second place in the Big Ten West. The Wildcats (5-3, 3-2) also hope to become bowl eligible for a third straight year. The Huskers (4-4, 3-2) need two wins to reach a 10th bowl in a row.
Northwestern comes in off a 39-31 triple-overtime win at home over Michigan State. Nebraska beat Purdue 25-24 last week after driving 70 yards with no timeouts for the winning touchdown with 14 seconds left.
''You move forward and you pop in the tape and you look at a very improved Nebraska team,'' Wildcats coach Pat Fitzgerald said. ''We're going to have our hands full in one of the great, great venues in college football and you could argue the best fan base in America. They're rabid.''
Things to know:
---
INJURY UPDATE
Northwestern WR Jalen Brown (lower body) was listed as questionable on the most recent injury report. Nebraska linebacker Luke Gifford (hip) and CB Eric Lee Jr. (concussion) are out; RB Jaylin Bradley (ankle) is questionable and OL David Knevel (ankle), S Aaron Williams (knee), S Antonio Reed (knee) will be available.
PICKING UP THE PACE
Tanner Lee directed the Huskers' two-minute offense so well on the final drive against Purdue that coach Mike Riley has considered going to a faster tempo earlier in games.
''I like attacking and I think there is a place and time for it,'' Lee said. ''We kind of get the defense on their heels and kind of stop them from pressuring sometimes, and just (being) able to complete balls and move down the field like that is something I think we are confident in, so I think it's something we can definitely use.''
TOUGH AGAINST RUN
Northwestern is allowing an average of 94.8 yards rushing the last six games, and the Wildcats will be facing a team that has run for a combined 84 yards in its last two. Northwestern has held top-10 Big Ten running backs Jonathan Taylor of Wisconsin, Saquon Barkley of Penn State, Ty Johnson of Maryland, Akrum Wadley of Iowa and LJ Scott of Michigan State to an average of 56.2 yards per game and just 3.55 yards per carry.
WILDCATS ON ROLL
Northwestern is trying for a fourth straight win after opening Big Ten play 0-2. The Wildcats had been picked second behind Wisconsin in the preseason media poll.
''I think our goals ahead of us right now are just trying to get the best bowl game we can get into and try to win that one,'' receiver Macan Wilson said. ''Looking back on however we finish up, it'll be what it is, and you head into the offseason trying to come out even stronger next year.''
LET'S DO THIS THING
Nebraska coach Mike Riley, with a new athletic director evaluating him during a season that has not lived up to expectations, has been a bit subdued in his media sessions in recent weeks. He was asked if the narrow win over Purdue recharged him.
''Oh, I've been charged. I don't need any recharging,'' he said. ''Obviously, we all know the situation. As far as the team and getting ready to play, it's all a vacuum for me, week to week, and the games are all really, really important and really exciting, so I'm fired up for the next one.''
---
For more AP college football: www.collegefootball.ap.org
---
---