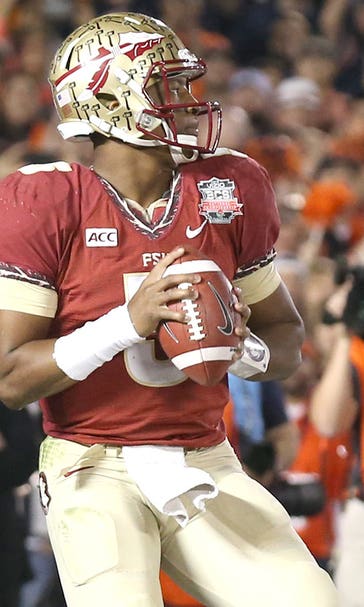 'Doing nothing is always the wrong response' to sexual assault allegations
May 12, 2014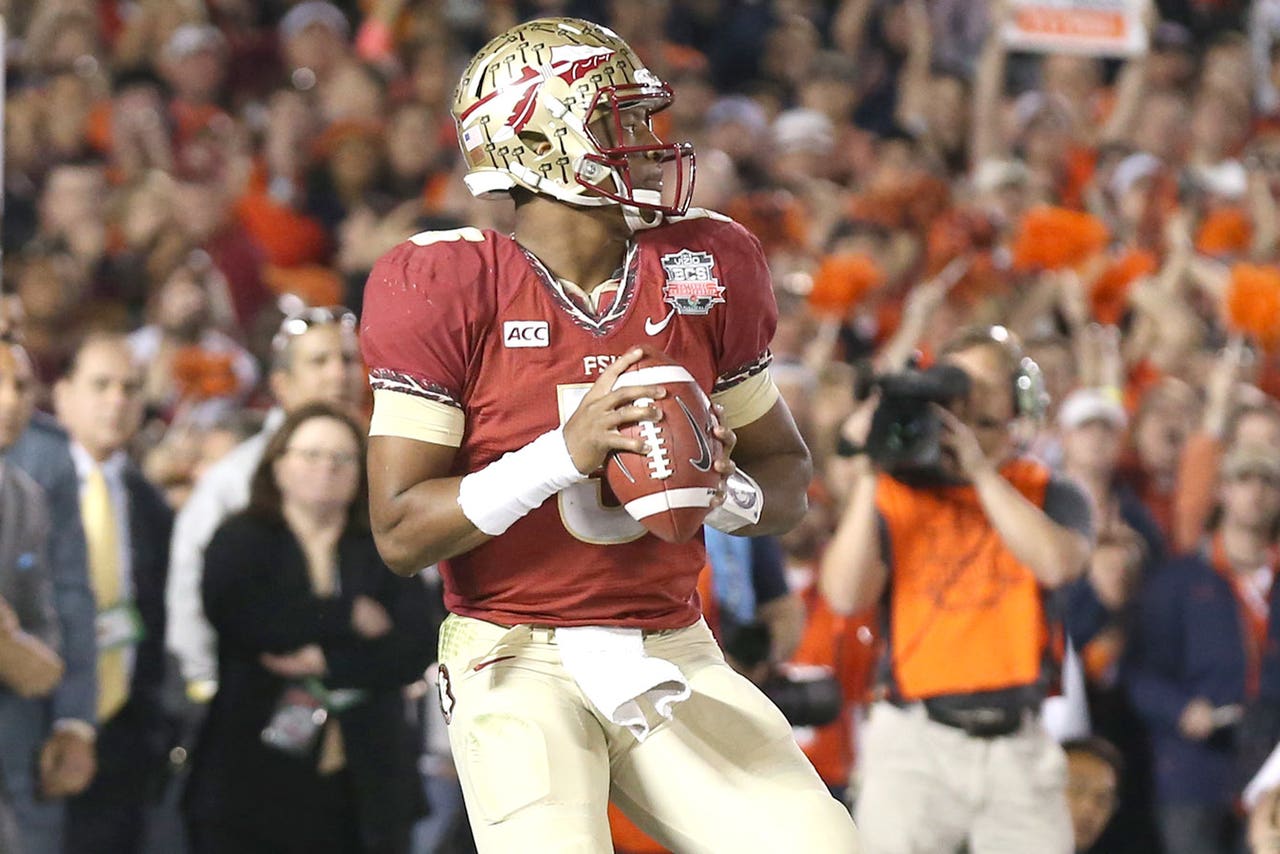 Two powerful motivators – vanity and money – may help explain why so many colleges and universities have allegedly run afoul of the federal gender equity law known as Title IX when it comes to investigating sexual assaults.
And when the accused is a high-profile athlete, those pressures multiply.
At the University of Michigan, kicker Brendan Gibbons stayed on the field for more than four years after being accused of rape by a fellow student, then was abruptly expelled in late 2013.
At Florida State University, star quarterback Jameis Winston played through the run to the 2013 Heisman Trophy and a national championship amid an on-again, off-again investigation of a woman's allegation that he raped her at an off-campus apartment.
Both schools are among 55 colleges and universities across the country facing federal investigations for their handling of cases of alleged sexual violence. (Complete list here.)
No criminal charges were filed in either case.
But Title IX, which guarantees equal access to education for men and women, is supposed to be a powerful tool in the fight against sexual harassment and sexual violence on America's campuses – regardless of whether police and prosecutors bring a criminal case and even regardless of whether the alleged victim wants the school to take action.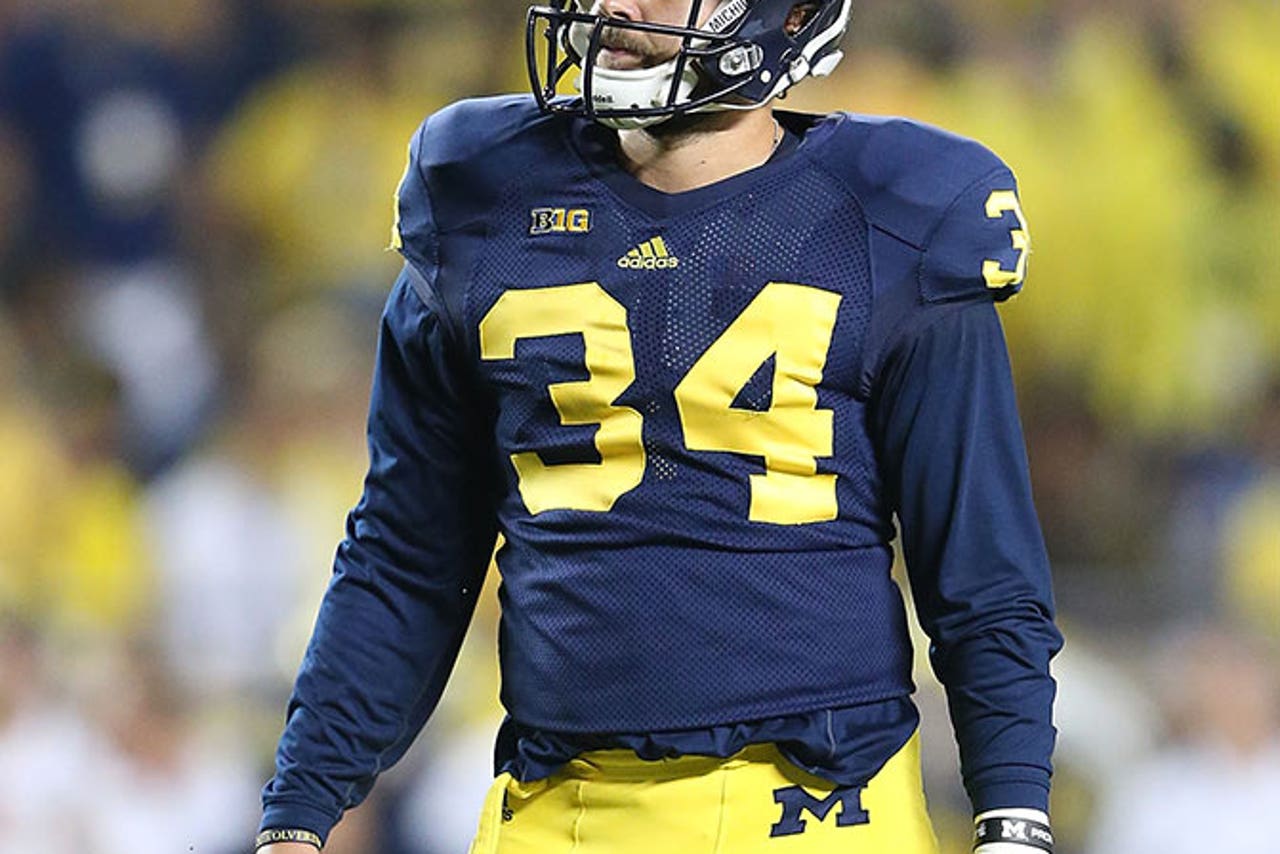 Kicker Brendan Gibbons stayed on the field for more than four years at Michigan after being accused of rape by a fellow student, then was expelled in late 2013.
University administrators are expected to launch "prompt and equitable" investigations of all sexual assaults allegedly perpetrated by students and to take whatever disciplinary action is appropriate.  And the U.S. Department of Education's Office of Civil Rights, which administers Title IX, has told schools that in most cases those investigations should be concluded within 60 days.
But FOX Sports found multiple cases in which that hasn't happened, despite repeated warnings issued by the federal government, beginning in 2001, that laid out in detail the responsibilities university administrators bear in cases of alleged sexual assaults.
"I think that's very accurate – that they haven't done what they needed to do, to get the training that they need to make sure that sexual assault doesn't stop a student, or a student-athlete's ability to get their education," said Nancy Hogshead-Makar, an Olympic gold medalist in swimming who now is a civil rights attorney heavily focused on Title IX. "It takes a real investment. The knee-jerk reaction is tell girls not to get drunk and that will take care of it."
"I think a lot of what we're seeing today is the consequence of the rush to do something rather than do it correctly," Sokolow said.
Title IX was added to federal education law in 1972. Its design was simple – to guarantee equal access to educational opportunities for men and women. The early years of rule-making under the law focused largely on athletics, but by the 1990s, Title IX was also seen as a way to fight sexual harassment in all its forms, including sexual violence.
The U.S. Department of education issued a guide to the law's requirements in cases of alleged sexual harassment – including sexual assault – in 1997, then revised it in 2001. That 2001 guide, which covered 48 pages, called for "prompt, thorough, impartial" investigations of all incidents known to school administrators.
"If harassment has occurred, doing nothing is always the wrong response," federal officials wrote in the document.
Then, in spring 2011, the Department of Education issued the "Dear Colleague" letter – a 19-page directive that made it clear to school administrators that they "must promptly investigate" any case of sexual harassment they know about, or should know about, and then take "appropriate" action. That letter called for investigations to be concluded within 60 days, although it provided some leeway in more complicated cases.
But through the various iterations of the federal government's guidance on Title IX, one constant remained: The cases in which schools were accused of ignoring their responsibilities under the law kept coming.
The University of Colorado shelled out $2.85 million to settle Title IX lawsuits filed by two women who alleged they were raped at or after an off-campus party for football recruits in 2001 – and that school officials fostered an environment that led to the attacks.
At Arizona State, school administrators paid $850,000 to settle a Title IX lawsuit filed by a woman who alleged that she was raped by a football player in 2004 – and that team officials interceded to keep him in school after the attack.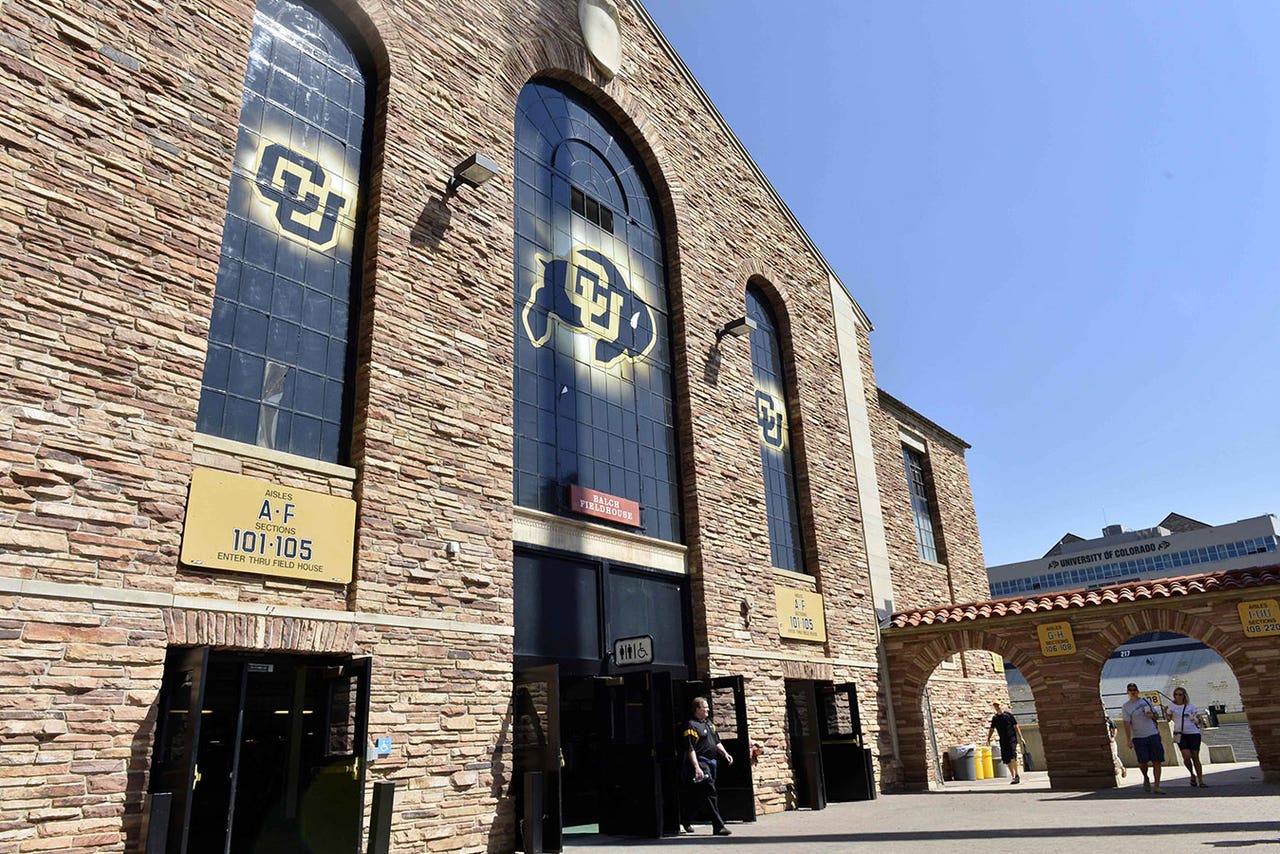 The University of Colorado shelled out $2.85 million to settle Title IX lawsuits filed by two women who alleged they were raped at or after an off-campus party for football recruits in 2001 – and that school officials fostered an environment that led to the attacks.
Each school was required to fund a new administrative position whose sole responsibility was Title IX compliance.
It's not clear how officials at Michigan or Florida State handled the cases of Gibbons and Winston – officials at both universities declined to discuss the investigations, citing federal laws that protect student privacy.
What is known is that Gibbons was taken into custody in November 2009 after a woman alleged that he sexually assaulted her at a fraternity house. He was later released after the woman decided that she did not want to proceed with a criminal investigation, and no charges were filed.
Title IX requires colleges and universities to conduct their own investigations and take action even in such a case. But Douglas Smith, a former Michigan pathology professor, said the woman was told by school administrators that there was nothing they could do because she had not filed a criminal complaint.
Smith ultimately filed a complaint with the U.S. Department of Education's Office of Civil Rights. His complaint is one of two that prompted the ongoing federal investigation of Michigan's handling of the case. In the meantime, Gibbons was expelled from school in December – more than four years after the incident, according to The Michigan Daily.
Gibbons has not spoken publicly about the case, although the following message was posted on his Twitter account shortly after his expulsion: "It's over when it's over."
"We do not speak to specific student disciplinary matters, so I am not able to speak about any specific case," said university of Michigan spokesman Rick Fitzgerald.
Still, he said that Michigan instituted new policies in 2011, following the issuance of the "Dear Colleague" letter, and revamped them again in 2013. Among the changes was the institution of an investigative approach to all reported sexual assaults.
"We're quite confident in the new policies," Fitzgerald said.
At Florida State, FOX Sports has learned that school administrators did not attempt to question Winston about the alleged assault until early this year – roughly 12 months after he came to the attention of police as a possible suspect in a rape reported at an off-campus apartment early the morning of Dec. 7, 2012.
Florida State spokeswoman Browning Brooks said she could not comment on any individual case but that the school "is committed to preventing sexual violence in all its forms on our campuses."
"The university is cooperating fully with the Office of Civil Rights on its Title IX investigation," she said. "We intend to use this as an opportunity to improve support and services to our students and to establish an even higher level of safety on our campuses."
But Smith, the former Michigan professor, and others have alleged that college administrators are often worried more about their school's reputation and the reaction of donors than about the intricacies of Title IX's requirements.
"It's what I refer to as managing the brand," Smith said.
In a case at the University of Montana, one administrator questioned the use of the term "gang rape" after four football players and another man were accused of sexually assaulting a student. School officials used the term "date rape" to describe the incident in all their public statements.
Kathy Redmond-Brown, who brought a Title IX lawsuit against the University of Nebraska in 1995 after alleging she had been raped by football player Christian Peter, said that in too many cases school administrators side with a high-profile athlete rather than an alleged victim.
"It's the fox guarding the henhouse," she said.
Hogshead-Makar, who won three gold medals and a silver medal in swimming at the 1984 Los Angeles Olympics, said money also helps explain why so many schools are accused of indifference when it comes to following Title IX's requirements in sexual assault cases.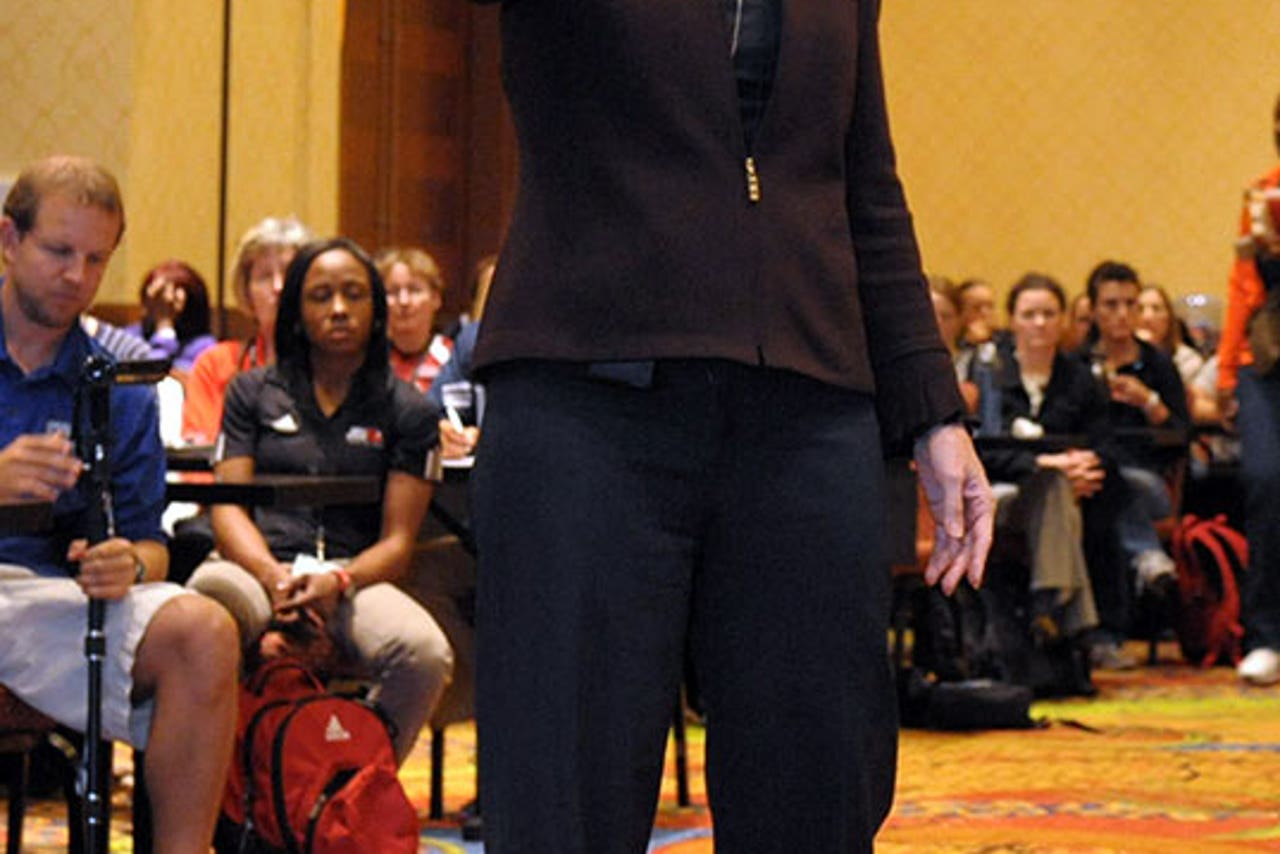 Nancy Hogshead-Makar, an Olympic gold medalist in swimming who now is a civil rights attorney focused on Title IX, says schools let money influence their handling of sexual assault cases when high-profile athletes are involved.
Schools spend big bucks to recruit their top players. And the livelihood – and salaries and bonuses – of coaches and athletic administrators is often tied directly to wins and losses. Successful teams can expect to sell more tickets, more hot dogs, more T-shirts.
"People have a personal economic vested interest in keeping the athlete playing," she said. "And a lot of people's paychecks are dependent on not having that person face responsibility for sexual violence, or any student conduct issue, actually."
The decision by the Department of Education to publicly identify the 55 schools currently facing Title IX investigations in cases of sexual violence – something it had never previously done – came after President Barack Obama appointed a task force to examine sexual assault on the country's campuses. That group's first report called for more transparency in the process.
It's impossible to know how many of the 55 current investigations involve athletes – the subjects of specific cases are supposed to be confidential. However, details about some of the investigations have been made public.
In addition to Florida State and Michigan's issues, there is the case of Rose Richi, one of seven current or former students at the University of Connecticut who filed a complaint with the federal government alleging that the school mishandled their reports of sexual assaults.
Richi alleged in a federal lawsuit that a Connecticut football player raped her in September 2011. She did not initially report it, but after one of her professors heard her discuss the incident as part of a class project in 2013, that professor reported it to administrators at the school. But Richi alleged that no one at the school contacted her – and she and the others contend that Connecticut officials were "deliberately indifferent" to their complaints.
Richard Orr, the university's general counsel, disputed that assertion.
"The University strongly denies that it acted with deliberate indifference to any of the plaintiffs," Orr said in a statement released by UConn. "That is the basic legal claim underlying each plaintiff's allegations, and the university vigorously disputes that claim. Federal privacy law precludes us from publicly disputing the details of the plaintiffs' allegations or disclosing other information from student records, but UConn will be able to rely on those records to defend itself in the litigation at the appropriate time."
The Department of Education can force a school to conduct an investigation if it concludes a proper one wasn't done. And it has a powerful tool to force schools to comply with Title IX: It can withhold federal funds – the lifeblood for all but a handful of schools across the country – from any college or university that doesn't follow the law.
But it's a step that the federal government has never taken.
What's far more common is what the University of Notre Dame's administration agreed to in 2011 – to revamp policies governing the school's response to sexual assault allegations and to take active steps to show federal officials that it was complying with the law.
That investigation was prompted by the case of Lizzy Seeberg, a 19-year-old freshman at nearby St. Mary's College.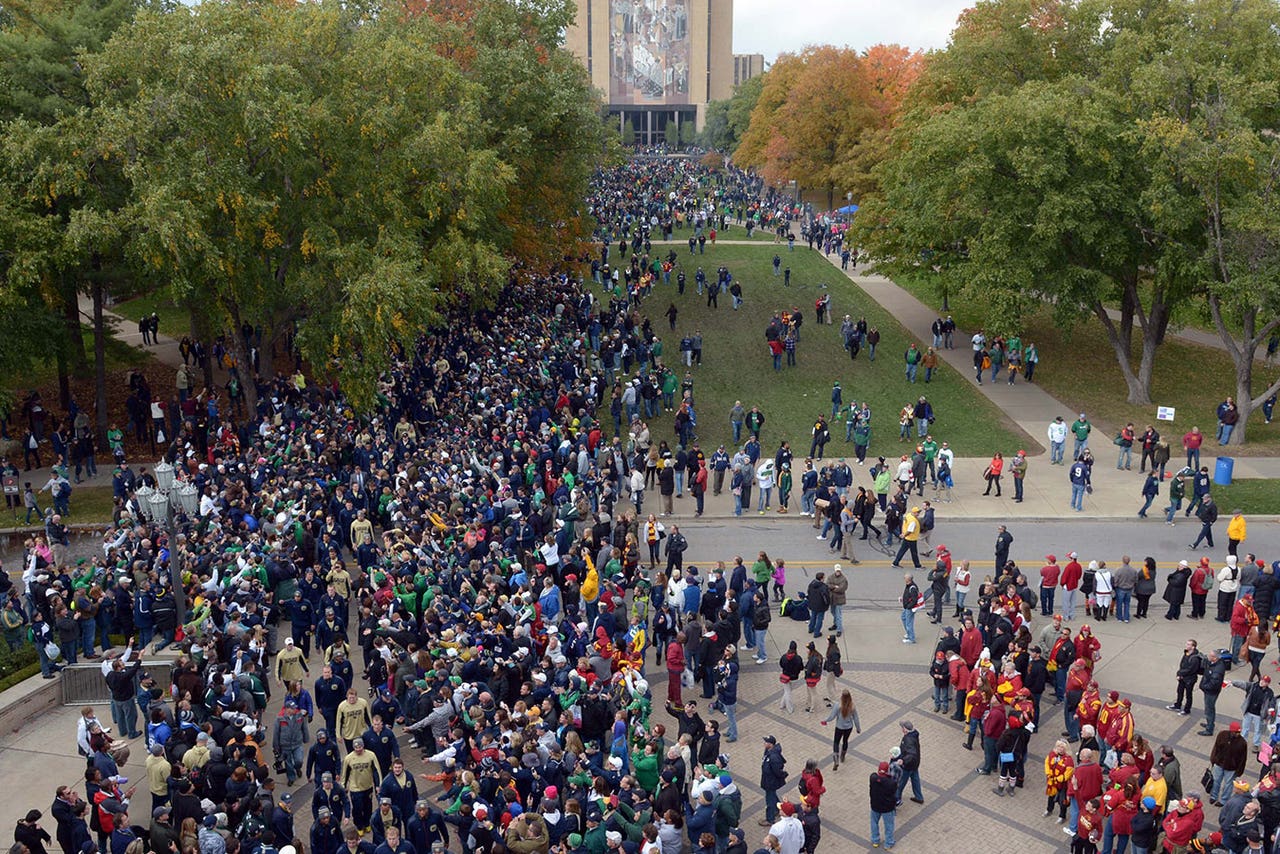 In 2011, Notre Dame revamped policies governing the school's response to sexual assault allegations and vowed to take active steps to show federal officials it was complying with the law.
In September 2010, Seeberg alleged that a Notre Dame football player grabbed her, pulled away some of her clothing and molested her while she protested and cried. But after she reported the attack to police, she found herself the target of ongoing harassment – including a text message from one of the player's teammates that read: "Messing with Notre Dame football is a bad idea."
Ten days after the incident, Seeberg took her own life. No charges were ever filed in the case.
That is not unusual. Sexual assault cases are notoriously difficult to prosecute – there are often no witnesses, and in a situation where the two people know each other, it often boils down to different versions of the same event. Even when physical evidence is present, charges may not be filed.
In the case involving Winston, for instance, police found his DNA on the woman's clothing. And  though she alleged she was raped, Winston's attorney asserted publicly that they had a consensual encounter.
Hogshead-Makar believes she is Exhibit A for what can happen when schools do the right thing.
In 1981, while a sophomore at Duke, she was out for a run when she was attacked by a man who dragged her into a wooded area and raped her.
While police investigated, school administrators moved her to a new dorm away from the woods, gave her a parking pass so she could park close to her room, made arrangements for her to finish classes later, provided counseling and allowed her to redshirt so she didn't have to compete that year. And though Hogshead-Makar believes it was precisely because she was a prized athlete and because her assailant apparently was not a fellow student – he was never identified – that she got the treatment she did, she also believes it shows what can happen when the system works.
"I was a kid in crisis and could have gone off the rail pretty quick and didn't because there were people right there, asking what do you need next, what do you need next," she said. "I am case in point that the worst sexual violence does not need to derail one's life ambitions or education … but that's if somebody gets the help that they need."
But while Sokolow acknowledged there are schools at which administrators are woefully ignorant of the law's requirements, he also said that it's not as simple as just deciding to comply with Title IX.
"What is sort of the right thing to do, or the person who's right in every given case, isn't always clear," Sokolow said. "So I've got any number of cases on campuses, where a victim claims one thing, and another person claims another thing, and then the victim claims retaliation, and the college is left wondering, 'What do we do here?'.
"These things take on a level of complexity that the headlines don't capture."
He also said "there's a degree of no good deed goes unpunished" – pointing out that sexual violence reports surged at Penn State in the wake of the Jerry Sandusky scandal. That prompted the federal government to open a Title IX investigation aimed at determining whether the school had properly followed the law in the past.
---