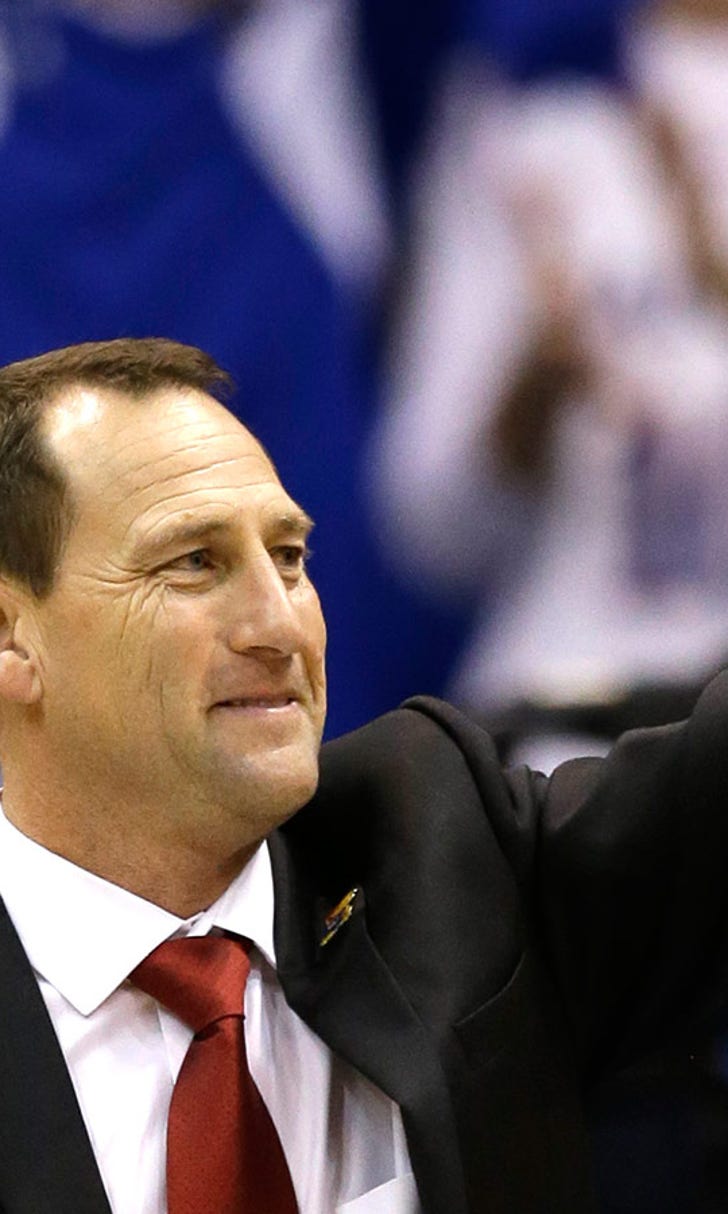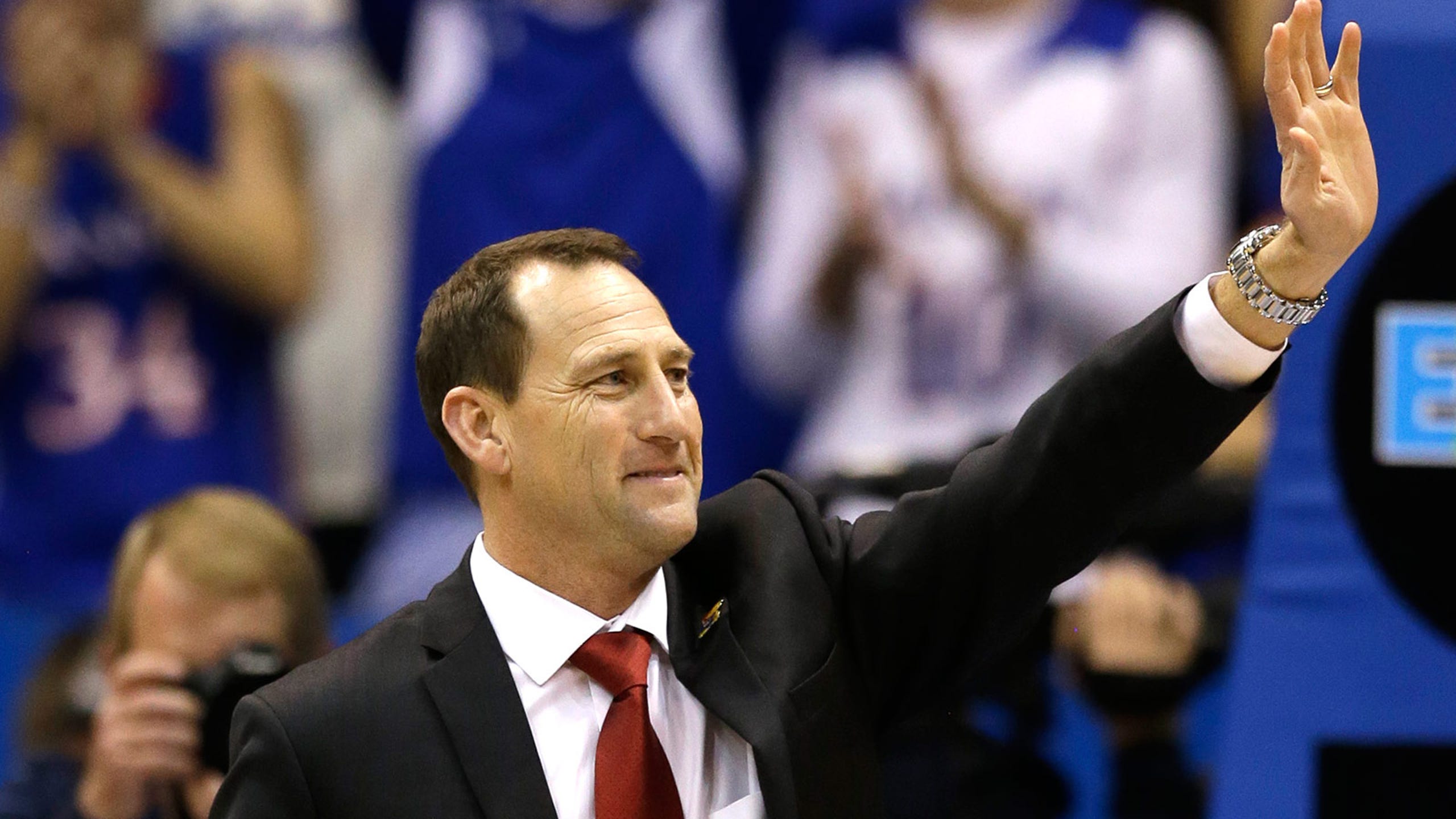 David Beaty introduced as Kansas' third coach in five years
BY foxsports • December 8, 2014
LAWRENCE, Kan. -- When David Beaty was hired to coach wide receivers at Texas A&M, it was not a popular choice.
Beaty almost chuckles when he remembers that these days, sitting in the spacious corner office that overlooks Memorial Stadium. He had been part of a coaching staff that had been fired by Kansas, so Aggies fans were wondering what their coach, Kevin Sumlin, had seen in him.
Turns out that Sumlin saw a tireless worker, ace recruiter and brilliant offensive mind that would help to elevate Texas A&M among the nation's elite.
In short, the same things that Kansas athletic director Sheahon Zenger saw when he settled on Beaty to become the third coach of the Jayhawks in the past five years.
"He's one of the most well-loved, liked guys you're going to meet," Zenger said during an introductory news conference Monday. "We were looking for someone who carried himself confidently, yet with a humble nature, someone who valued substance over style, someone who would undersell and overproduce, and finally, just work hard. What we found in David Beaty is not only someone who exhibits these qualities but is also a highly respected teacher, coach, recruiter and colleague in the football fraternity."
Beaty was hired last week to replace Charlie Weis, who was fired four games into his third season. He met with his new players for the first time in the weight room rather than some meeting room, driving home the importance of hard work from the very beginning. That night, he was unveiled during halftime of a basketball game at Allen Fieldhouse to rapturous applause.
Now, Beaty is eager to get to work.
So after retreating to his new office inside the Anderson Family Football Complex on Monday, he settled into a seat at a small table. While his youngest daughter pecked away on a computer behind his desk, Beaty laid out his plan for taking Kansas back to national prominence.
He wants to establish a strong walk-on program, which has been so productive for rival Kansas State. He wants to lock down the borders when it comes to recruits, to make sure the handful of Division I prospects coming out of the state on a yearly basis don't leave. He wants to hire the best coaches he can find, even if it means taking the same chances Sumlin once did on him.
And he wants to do it all right now. This very minute.
"The last few days have definitely been an experience," Beaty said. "My phone has been -- I don't know if it's working anymore, to be honest with you. But the next few days, they'll be a great challenge, but man, I'm looking forward to it."
Beaty has started to compile his staff by retaining Clint Bowen, who served as interim coach after Weis was let go. Bowen was also in the running for the full-time job, and decided to help his longtime friend by remaining at Kansas as the defensive coordinator.
The rest of the staff will be hired in the next days and weeks, even while Beaty hits the road with a few coaches who remain to recruit. Coaches have until Sunday to speak with prospects before the NCAA begins a "dead period" that lasts into the new year.
"We're going to be on planes, trains and automobiles all over the country, me and a couple of staff members that we have," Beaty said. "It's going to be very business-like in that regard."
If he wins over prospective players as well as he's won over current ones, then Beaty might be able to sew up a solid recruiting class despite the time crunch.
"We're going to work our butts off and earn everything that we get. As a player and a guy from small-town Oklahoma, that's everything you can ask for," Kansas linebacker Jake Love said.
Michael Cummings was recruited by Beaty to play quarterback when Beaty was part of Turner Gill's staff in 2011. Cummings said it feels like everything has come full circle by having the chance to finish his career with Beaty now as the head coach.
"It's crazy, the coaches and the staff we've been through since we've been here, but this is what we have moving forward, so we're in it 100 percent," Cummings said. "It's good to not have it up in the air anymore. We know who we are moving forward, who's going to be leading us moving forward. We're just tired of waiting around. We're ready to get back to work."
---