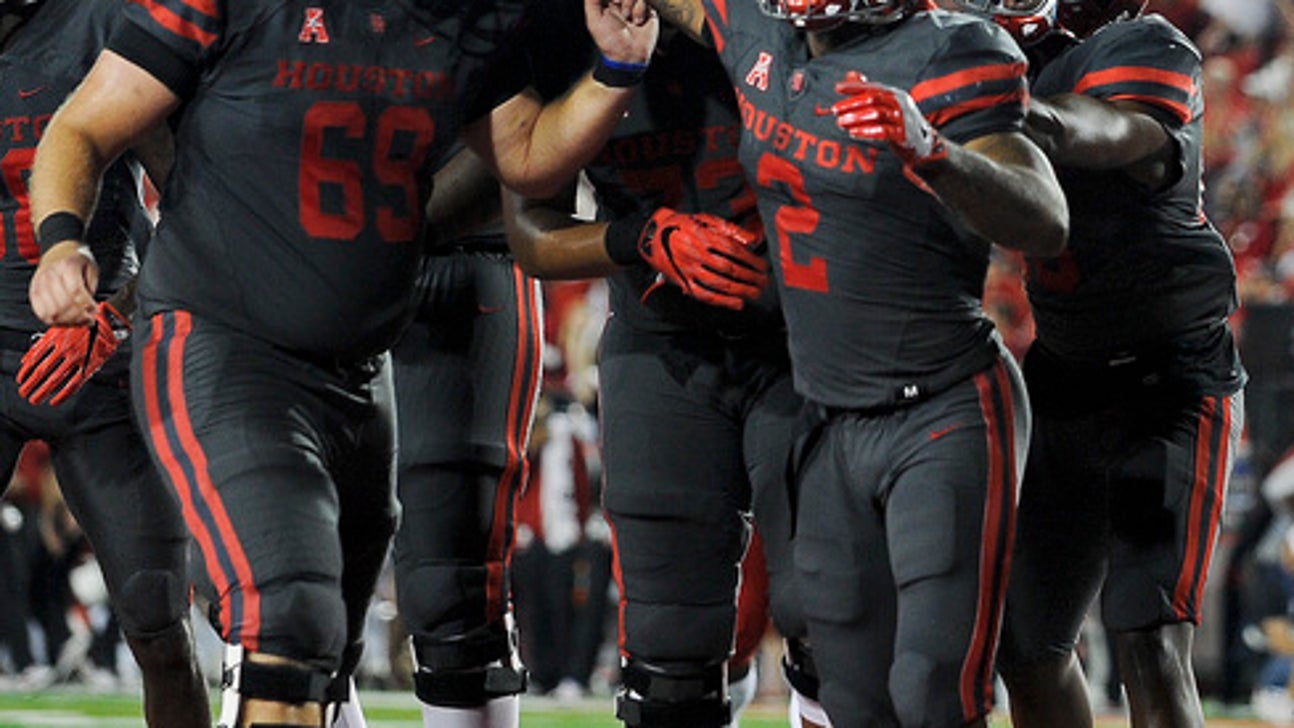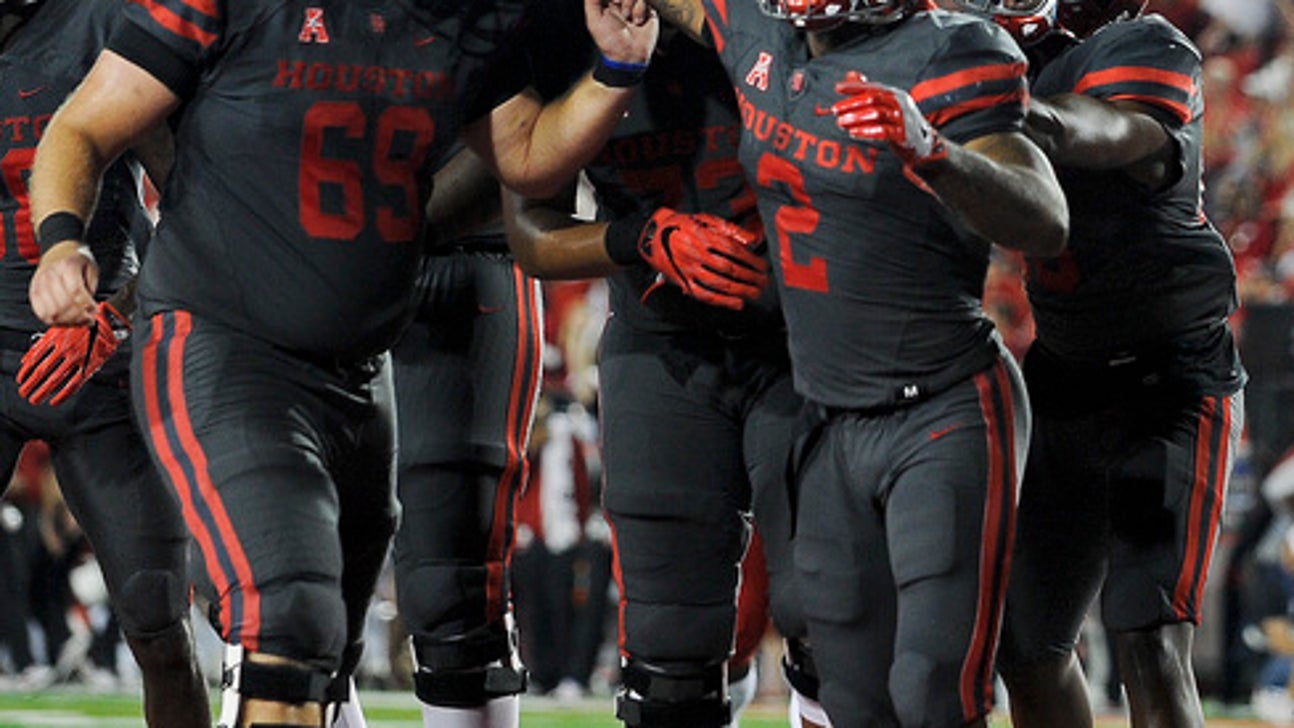 Cougars ruin No. 3 Louisville's playoff hopes with 36-10 win
Published
Nov. 18, 2016 4:40 a.m. ET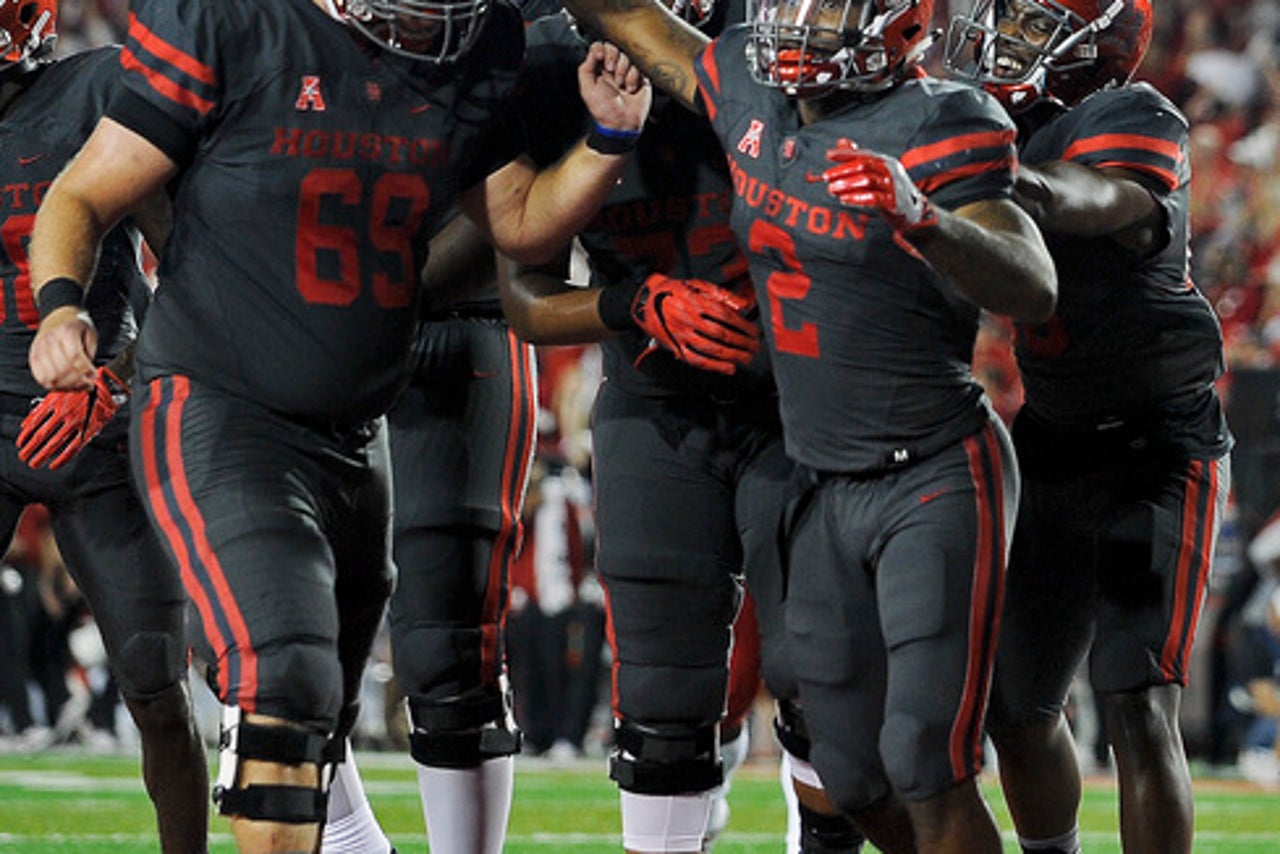 HOUSTON (AP) The Houston Cougars quite enjoyed playing spoiler on Thursday night with their playoff hopes long since gone.
Duke Catalon scored three touchdowns and Houston hurried and harassed Heisman favorite Lamar Jackson all night to propel the Cougars to a stunning 36-10 victory over No. 3 Louisville that dashed the Cardinals' playoff chances.
''I think our guys, they embrace the underdog role,'' Houston coach Tom Herman said. ''When we're healthy, when we're fresh and we have that chip on our shoulder against big time opponents ... we don't change the way we prepare for these kind of games, but I do think our guys have an added motivation.''
Louisville (9-2) entered the game ranked fifth in the College Football Playoff rankings, but was outdone by a Houston team that saw its own playoff hopes foiled by two losses to unranked teams after a 5-0 start .
''Showing the world once again that Houston is the greatest school, a great place to be, a great environment,'' Houston defensive tackle Ed Oliver said. ''We work hard for everything that we ever had and will have. We're legit. We're go-getters. No matter the task, we always come through the other side.''
The victory was Houston's second this season over a team ranked third after the Cougars (9-2) knocked off Oklahoma to open the season and it was their fourth straight win over a top-10 team.
Things went wrong quickly for the mistake-prone Cardinals when they fumbled awau the opening kickoff. Greg Ward threw his first touchdown pass on the next play to make it 7-0. Brandon Radcliff lost a fumble later in the first and Houston added a field goal on the ensuing drive to make it 10-0.
Jackson threw for 211 yards and a touchdown, but it didn't come until the second half.
''That was a heck of a football team in Louisville and a heck of a player in Lamar Jackson,'' Herman said. ''Still in my opinion, nothing's changed. That's the best player in college football, and our defense did a good job of putting pressure on him.''
Houston then scored touchdowns on three straight possessions in the second quarter to push the lead to 31-0 at halftime. Catalon caught a touchdown pass, ran for another score and Houston got the third score in that span on a 50-yard pass by receiver Linell Bonner after a lateral.
Louisville opened the second half with a 12-yard touchdown pass by Jackson, but he fumbled in the red zone on the next possession to ruin a chance to close the gap.
The Cougars were in Jackson's face constantly, sacking him a season-high 11 times and keeping him from hurting them with his feet. He ran for a season-low 33 yards after piling up 338 yards rushing combined in the last two games. The 11 sacks were tied for the most allowed in the country this season.
''Honestly, we try to do this every week,'' linebacker Steven Taylor said. ''It just felt good for us to accomplish this and show the world that we're capable of coming out and being aggressive and doing good at that.''
After Jackson was sacked for the 10th time he threw up his hands and two of his lineman looked to be yelling at each other about who was to blame for his latest takedown.
''It was so loud, you couldn't hear words,'' Oliver said. ''But you could see he was yelling at his o-lineman, but you couldn't hear what he was saying. I'm guessing he was yelling at them for false starts.''
But the Cougars weren't done getting after him just yet. On the next possession he threw the ball away while under heavy pressure from Tyus Bowser and was flagged for intentional grounding, giving the Cougars a safety.
The Cardinals set a season-high with 15 penalties, punted a season-high six times by halftime and the 11 sacks they allowed were more than double their previous season-high. It's the fewest points they've scored since a loss at North Carolina in 2011.
Ward threw for 233 yards and two touchdowns to help the Cougars to the victory that left Cougar fans storming the field to celebrate.
---
For more college football: http://collegefootball.ap.org and https://twitter.com/AP-Top25
---