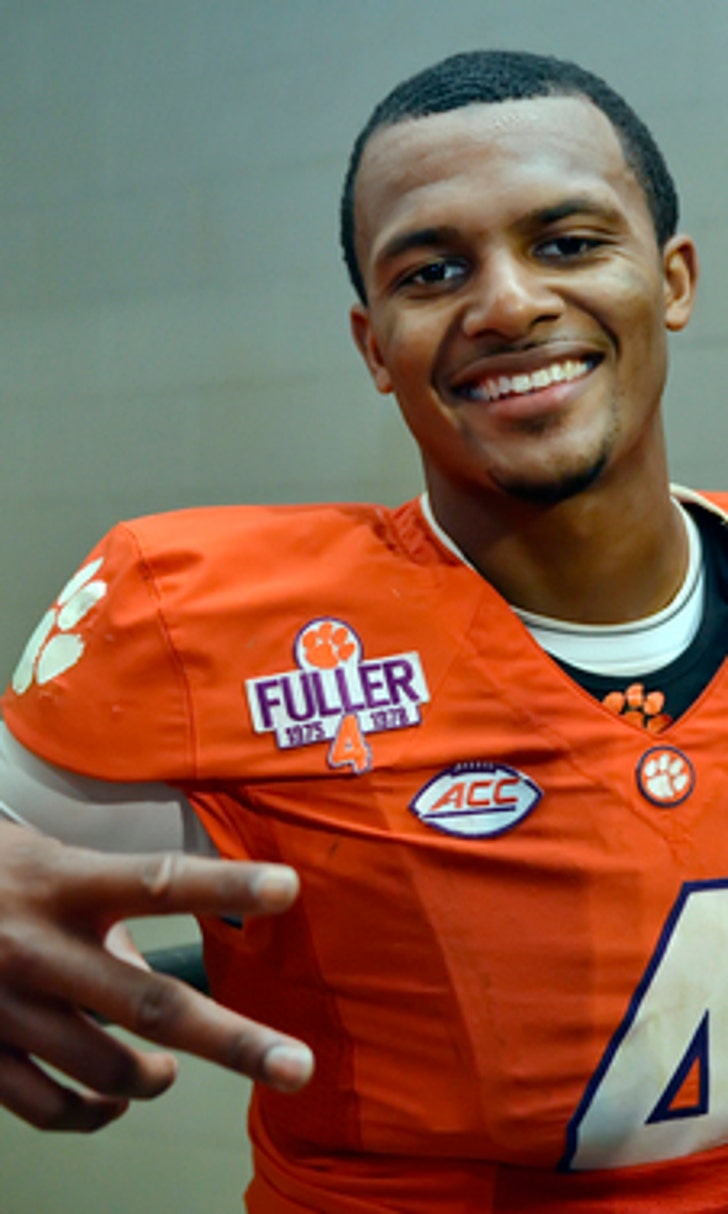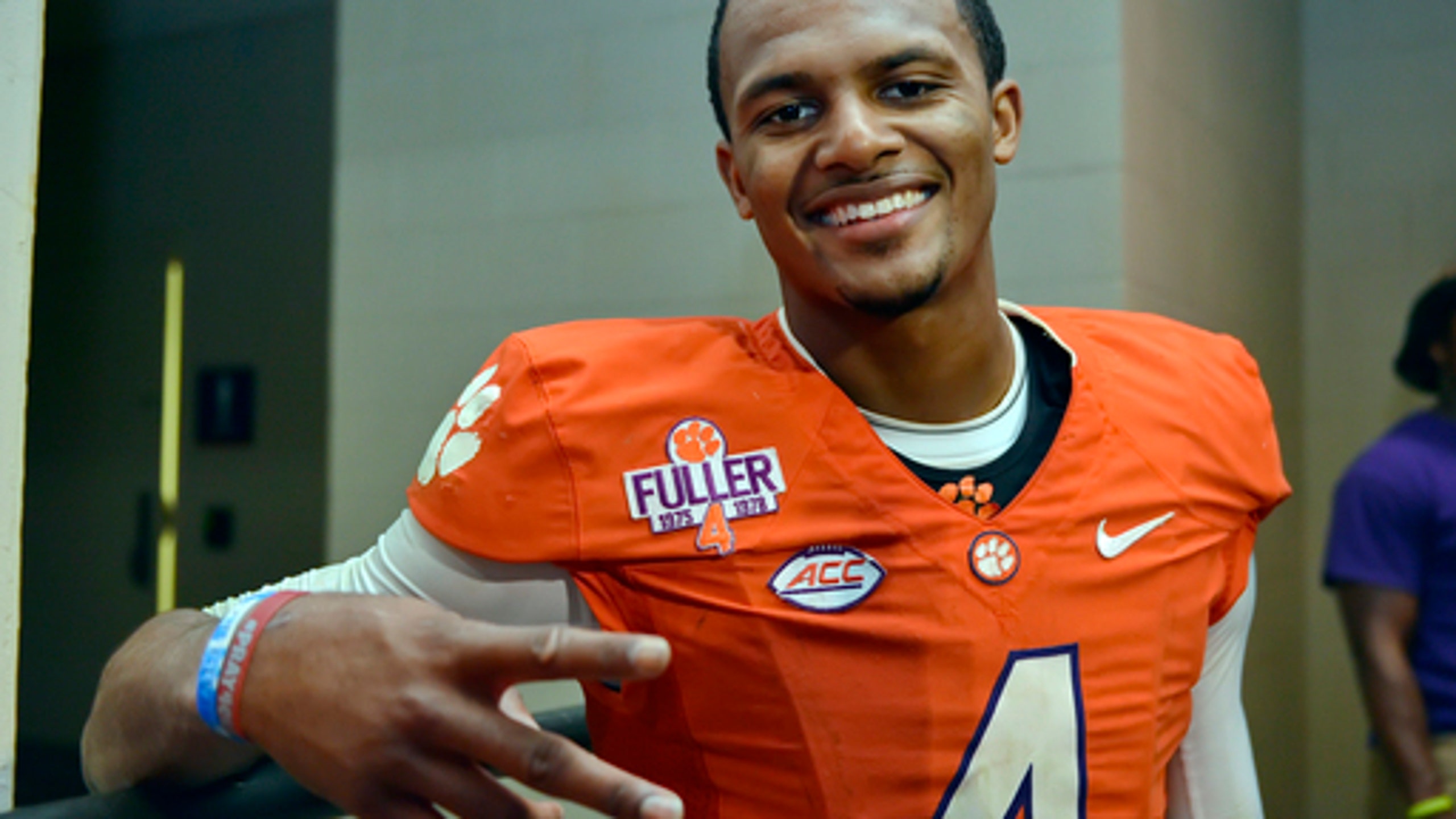 Clemson QB Watson says he's ready for glare of the spotlight
BY foxsports • August 25, 2016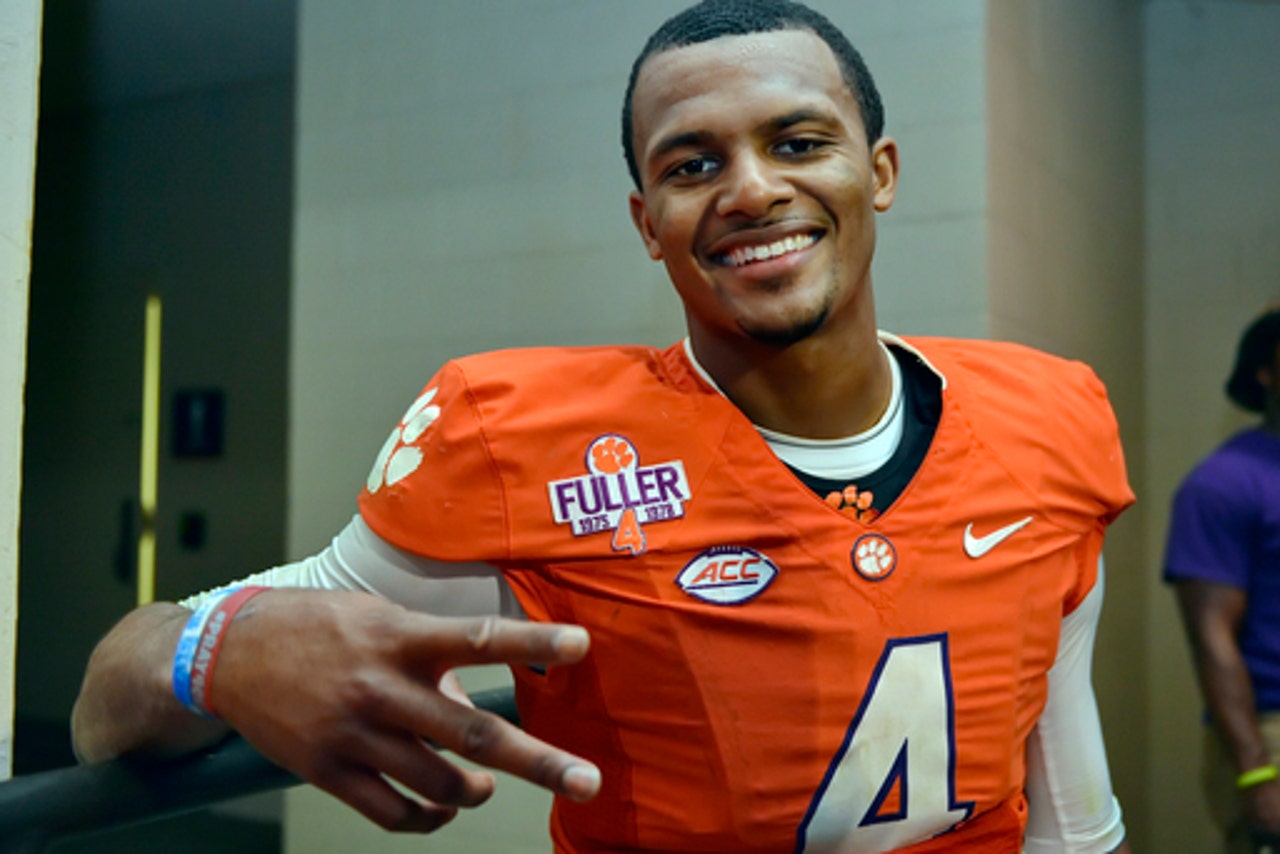 CLEMSON, S.C. (AP) Deshaun Watson doesn't need much more than his tight circle of family, friends and teammates when prepping for the season, even one where the Clemson quarterback could very well be the face of college football.
Watson led the Tigers to a 14-0 record, an Atlantic Coast Conference championship and the national championship game before falling to Alabama 45-40 in the title contest in January.
Watson, who threw for 405 yards and four touchdowns in an eye-popping performance against the Crimson Tide, became the first FBS player to throw for 4,000 yards and rush for 1,000. His poise, calm demeanor and transcendent ability have him a Heisman Trophy favorite and Clemson a championship contender set for a return to the College Football Playoffs.
''I don't really have to say a whole lot to `D-Dub.' He's dialed in,'' Clemson coach Dabo Swinney said. ''He's just a guy that's hungry to be the best.''
He'll try and guide the second-ranked Tigers, who start Sept. 3 at Auburn, to the title - and do it with the glare of the spotlight following his every move.
''I feel good. I'm confident and comfortable,'' Watson said. ''I trust my guys.''
Still, it's not always easy performing to expectations.
Just three years ago and not too far down the road, South Carolina defensive end Jadeveon Clowney was supposed to have the biggest impact on the game after the world watched him pop off Michigan runner Vincent Smith's helmet in the Outback Bowl a season earlier.
Instead, Clowney was outschemed and a tad slower than a year earlier, even pulling himself out of a game shortly before kickoff - and touching off a brief flap with his coach Steve Spurrier - due to injury.
Clowney had a disappointing season, finishing with three sacks - 10 fewer than the year before.
''Anytime you have a big freshman or sophomore year and you come back for your third year, you hear a lot of people talking about, just don't get hurt and just get ready for the NFL,'' ESPN broadcaster Kirk Herbstreit said.
Watson, at 6-foot-2, 216 pounds, has an eye on the NFL. He is widely considered the likely overall No. 1 pick in next year's draft. He said in January after Clemson returned from its championship loss he would look to the NFL if he earned his degree by December - he's scheduled to graduate at the end of this semester - and helps the Tigers achieve their goals.
Watson has purchased $5 million in catastrophic injury insurance, allowable by NCAA rules. Mentally, he's ready to soak it in what could be his final college season.
''I knew the role and the expectations that come with'' playing quarterback, he said. ''It's nothing I can't handle.''
He's certainly handled most everything on the field.
Watson needed surgery to fix his torn ACL in December 2014 and faced untold questions about his health and durability, fears he erased by starting all 15 games and enduring more than his share of hits because of his running ability.
Herbstreit, the former Ohio State quarterback, said Watson is hard-wired to compete.
''I don't think any agents or anybody's going to be able to get to him and tell him to take it easy,'' he said.
Watson hasn't slowed down since the loss to Alabama.
Clemson quarterback coach Brandon Streeter said Watson has worked on the small details of quarterback, like footwork and technique to keep his passes on target. Mostly laidback and soft spoken, Watson's gotten better at his vocal leadership, Streeter said.
Watson has bulked up 25 pounds since his first season to better absorb the hits. He also believes he's more than mentally ready to keep locked into improving week by week and game by game.
''I don't care about previous players that have the hype,'' Watson said. ''I'm not Jadeveon Clowney, I'm Deshaun Watson; so I just focus on me and what I can do for my team. I stay in my own lane and do what I've got to do.''
---